Kokoro Disco-San talk about new EP Sunshine on Razor-N-Tape, Barcelona, Rocafort Records, record collecting and lots more.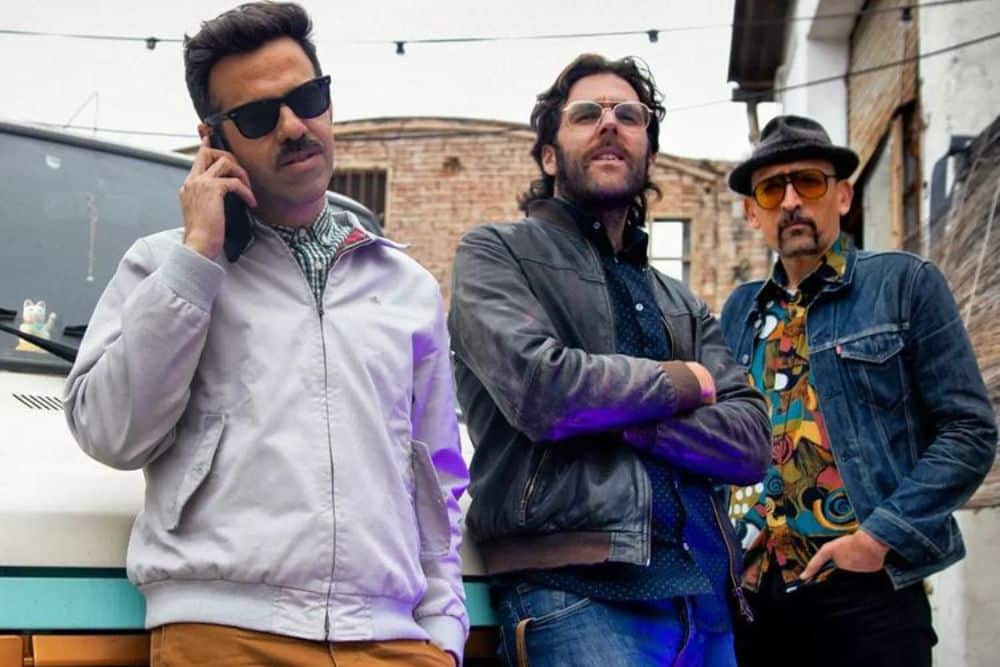 Kokoro Disco-San talk about new EP Sunshine on Razor-N-Tape, Barcelona, Rocafort Records, record collecting and lots more.
An Interview with the Insider for Le Visiteur
Barcelona's brilliantly named Kokoro Disco-San have just releases a brand new 12″ on Razor-N-Tapes Reserve label featuring two originals and two outstanding remixes of the title track by label boss JKriv. They are a trio whose music just screams summer at the top of it's voice. Artists who very much believe in the adage quality over quantity, they first came to attention with the superb Isla Fantasía / Sonic Feeling EP on Rocafort Records.
To celebrate the EP's release the insider spoke to Miguelito Superstar about all things Kokoro Disco-San. They also put together a brilliant sun-soaked disco and house mix which you can check out above, Please give it a share over on Soundcloud if you love it as much as we do.
Hi Kokoro Disco-San
Thanks for talking to us today.
When you hear the name Kokoro Disco San, one immediately thinks you guys are from Japan. How did this brilliant moniker come about? Is there a story behind the name?
Well, we just like Japan and Japanese culture and when in need of a name for the project we wanted something that sounded exotic. That's why we decided to combine the word heart, "Kokoro", with our passion "Disco" and the honorific suffix "San" to make it classier. There's not really a story behind the name, it just sounded cool to us…
Where are you all today? What are you doing?
I'm catching a flight in Malaga's airport where I had a gig last night and I'm going back home to Barcelona. We are all Barcelona raised and based and love living there.
Tell us who the members are of your collective and what part each of you plays?
We are three guys: Lalo López, Javi López (aka Thompson) and me, Miguelito Superstar. We are all fans of classic funk and disco but not with a restrictive vision of it, meaning we also love synth heavy boogie sounds or a good house beat. We are all producers, musicians and DJ's with each of us leaning more towards one thing or another. Thompson is the more electronic focused guy, Lalo is the skilled musician, and I am more focused on DJing as well as in charge of engineering duties.
When did Kokoro Disco San first team up and can you remember the moment you decided this was going to be a thing?
Back in 2018 I met Thompson DJing together in Marula, a nice little club here in Barcelona. I had heard some of his productions and liked them, so I proposed him to do a remix of my band Fundación Tony Manero.
At the final stages of the remix Lalo and I helped him with some guitar tracks and the mixing, and we agreed to help Javi in exchange with a song he was working on. That tune was "Isla Fantasía"
Once it was finished he upload it to Bandcamp. Immediately Rocafort (which is co led by Ivan Muench, another DJ and good friend from Barcelona) proposed a vinyl release so we got together again and started working on a new tune "Sonic Feeling" for the b side. That's when we decided to turn it into a new project and found the Kokoro Disco-San moniker. The whole thing came out pretty good and the 12" sold out quickly.
What is your relationship with the label now? Do you have plans to release more on the Barcelona label?
We're very good friends with Ivan who co leads the label with Phil so the relation is good. We're actually talking about a new 12" in which we're still working. We have two or three songs that will probably be released with them.
The label normally focuses on rare re-issues. Are they doing a lot more fresh beats these days?
Rocafort is mainly about good stuff. They started as a re-issue label but have been putting out new music almost since the get go. They release many funk and soul jazz projects, but I think Kokoro Disco San is their first nu-disco release.
Are there a couple of records on Rocafort that you would recommend?
I'm a fan of the label so I love most of the stuff. Recently they released a reissue of three cumbia 7" which is amazing ( ). All killers no fillers!
Some years ago, they released a couple of afro disco 12" "Mayolye" by Ondeno  and "I Wanna Love" by Papas' that I have played the hell out of. Also the new Papa Orbe Lp is absolutely astounding. Too many good things!
You have all been professional musicians in your own right before KDS. Tell us a little about what you all did before you got together? What other dance music projects have you guys been involved in?
Lalo and I have known each other since high school and have played together ever since. Twenty-six years ago, we started a disco music band called Fundación Tony Manero that has been our main act since.
We have also had other musical projects on the side and have produced together on our own and other's bands records. Lalo's main instrument is guitar though he started as a bass player so he's proficient on both. I've been the singer of the band but have always been interested on the music recording side, so I ended up as the guy in charge of recording and mixing. Thompson has been a music journalist for many years but always combining that with performing, be it with garage rock bands like Los Critters or Boyle Heights or as a producer releasing stuff under different monikers for his Sunshine Dominoes label.
Who would you say the artists are who inspire the music that you make?
We draw inspiration from all the classic disco and funk records of the 70's and 80's, too many to name just one. Each one of us has a soft spot inside the genre: Lalo loves all the sophisticated sounds derived from the post-Chic sound (think Change and all the Petrus – Malavasi productions.
Thompson leans towards the DJ Harvey kind of disco: lots of piano and congas, think "Spring Rain" by Silvetti for instance.
I love all the leftfield disco be it Arthur Russell disco excursions or stuff like "Love Money" by Funk Masters or Disco Dub Band's "For The Love Of money". Both are covers of the same O'Jays tune which I also love, BTW.
Change – Hold Tight
Silvetti – Spring Rain
Dinosaur L – Go Bang
If you had to define the sound of your productions, what words would you use to describe it?
Danceable should be the first but also funky, Latin, exotic…
Where does the magic happen?
Tunes usually start at home with a demo done by Thompson or Lalo and on top of that we start adding stuff. Some of them at home some of them at Nacion Funk Estudios which is the studio I run. It's a medium room (20 square meters) with a tiny control room loaded a 32 channels Tascam mixer, a lot of funky backline (analog synths, old drum machines, a Wurlitzer, assorted percussion…) and some great outboard gear (compressors, equalizers, tape delays…). This is where the tracks are finally mixed, usually by me with feedback from my partners.
Do you DJ as a trio or separately?
We have never done a DJ set together. Thompson and me, who are the ones who do it more often, have sometimes DJ'd together, but never the three of us together. Now that you mention it, we should do it: It'd be good fun!
What kind of vibe can be expected in a KDS set?
As someone said explaining the atmosphere of Nicky Siano's The Gallery: music that makes you "want to put on a skirt and spin".
Can you highlight three tracks that we might hear at a KDS gig?
Lalo's choice: Teena Marie "I Need Your Lovin'"
Thompson's choice: Street Corner Symphony "Street Corner Symphony"
Miguelito's choice: Bohannon "Let's Start The Dance"
I guess you're all big vinyl collectors! What kind of rarities might we find in your stash?
I can only speak for myself and my collection. I've been buying records for more than 30 years now, but I've never been too obsessive about it. I love buying records on flea markets and finding cheap records. Of course, I love an original edition and the fetish of a good vinyl and every now and then I've paid for them, but more than anything I like having records and playing them to people.
Who has the biggest vinyl collection? And who has the best collection out of you all?
I can't be 100% sure but I think mine is the biggest. I haven't counted them in many years, but I guess is around 3 or 4 thousand records. About which one is the best I'd say that a record collection is good as long as it serves its purposes. You may have only thirty records but if they're the ones that make the deal that's the best collection for that particular collector.
How do you go about sourcing new music?
I like Bandcamp: I like how they deal with artists, I like how it's built and I like the editorial line they have. I've discovered a lot of great music in there. But the best source to discover new stuff is always friends with similar tastes.
Have you got any special places that you like to go to dig?
In Barcelona I enjoy digging in Barcelona City Records and Wah Wah Records, lots of records and great selection and crew. But I also like looking for records when time I go to a new place, it's fun!
Is vinyl important to you guys as a format?
I like vinyl because is what I grew up with. When I started buying records CDs didn't even exist and when the CD fad came in I, luckily, wasn't too thrown away by it. So, I kept buying vinyl until it became fashion again. And let me tell you something, the years when everybody thought vinyl was over were the best years: lots of nice stuff at super affordable prices! Those were the days!
As a production collective, what role do you all play in the process?
The usual process is Thompson comes up with a demo he works at home, Lalo enhances harmonies and melodies and records instruments, and I provide sound design and mix the whole thing. Of course, we all have our saying in each other's parts and try to come up with something we are all happy with.
Would you say you have a specific production process that you follow and did you follow the same process for the Sunshine EP?
The process is usually similar. We start with a demo, often a Thompson track, but sometimes it's someone else's. From there we do some sessions at the studio and sometimes after that Lalo or Thompson lay some tracks at their home studio. We do some editing and mixing back in the studio and that's more or less it.
When was the Sunshine EP made, and what was the inspiration for it? Did it come after lockdown? Talk us through the two original tracks a little…
We actually started working on "Sunshine" two days before the lockdown started here in Spain and continued working on it each one from his own house. I was able to skip out and work at the studio, so I was putting everything together there. Once the tune had taken shape we felt it would be nice to have a proper piano performance, that's when we contacted our friend Manuel Dabove and asked him to record the piano part. Since he was locked down with his girlfriend Clara Gispert, who happens to be a singer, we asked her to re-record a vocal hook we weren't too happy with. We also asked her if she could try something over the chorus which was instrumental at that point, and she came with a wonderful hook.
The other tune "Jungle Deep" was started a bit later in the same way. As the lockdown eased down we were able to do a session with Ernest Martinez, a percussionist with who we had played for many years, and he helped us create the jungle atmosphere we were looking for on that particular tune.
Sometime later, when we were already talking with Razor-N-Tape about the release we decided to lay a vocal part on "Jungle Deep". Me and my girlfriend wrote some lines and then called Marina Molina, a singer songwriter from Puerto Rico based in Barcelona, to record it. The final result came out wonderful although the vocal version is not featured on the vinyl, and it will be available as a digital file.
How did you hook up with Razor-N-Tape?
Once both songs were finished I sent them to some labels I liked, Razor-N-Tape was the first to answer and we were very happy since it was on top of our list. That was it, just an email and I think it took Jason one day to answer saying "I want it!"
Have you been fans of the label over time?
I've been following Razor-N-Tape for some years now. I like most of their releases, but I especially like the fact they are not restricted to re-edits but also release new productions which I find really interesting. I think the high quality of their output is what has make RNT such a strong label.
Can you highlight a few RNT favourites that you guys might play in your sets?
They have such a huge output that is difficult to keep note of everything they put out but I've played to death the Felipe Gordon and Vagabundo Club Social Edits as well as the Tom Noble Edits. The first Jungle Fire remixes 12" is also a must. But I think the one I like best of the ones I own is the Kan Sano 7", great vibe and a killer Roy Ayers' cover.
What are you guys working on at the moment?
We're working on three songs. One is a vocal old school house affair with some disco thrown in, the second has a Brazilian flavour and the third one is an atmospheric Balearic beat.
What are you next ambitions for Kokoro Disco San?
We'd love to keep releasing stuff with labels we love. To be honest, we haven't thought much more beyond that.
Have you got some gigs coming up that you want to drop here?
No we don't have any Kokoro Disco San gigs just now, only our own gigs and gigs with other projects.
When you're not making music, what do you guys like to do to relax?
A good drink on a good terrace with some nice music on the background is always a good way to spend our spare time.
Thanks for your valuable time!
For more info please check:
Kokoro Disco-San Instagram: https://www.instagram.com/kokorodiscosan/
Kokoro Disco-San Twitter: https://twitter.com/KokoroDiscoSan
Razor-N-Tape Facebook: https://www.facebook.com/RazorNTape/
Razor-N-Tape Soundcloud: https://soundcloud.com/razor-n-tape
Razor-N-Tape Instagram: https://www.instagram.com/razorntape/
Razor-N-Tape Twitter: https://twitter.com/RazorNTape
Love this? Check out more from Razor-N-Tape HERE.
Like what you hear? To help support LV Online buy us a coffee via Ko-FI. Click HERE
Tags:
disco
,
Kokoro Disco-San
,
razor n tape