Lorenz Rhode talks synths, collaborating with Jamie Lidell and playing live with Dam Swindle.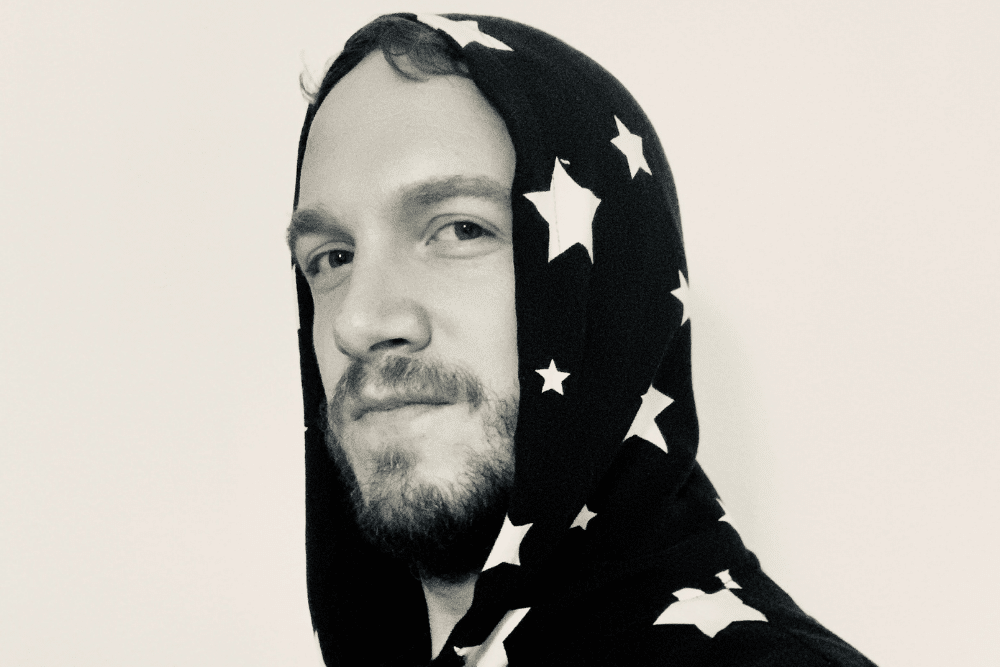 Lorenz Rhode talks synths, collaborating with Jamie Lidell and playing live with Dam Swindle.
Like what you hear? To help support LV Online buy us a coffee via Ko-FI. Click HERE
German producer and renowned keys wizard Lorenz Rhode is an artist we have been following for some time. Having released tracks and EP's with some of our favourite labels including Compost, Exploited, Dirt Crew and Heist he has been been creating a fusion of music which is both cool and underground but equally warm, fun and approachable fusing house and Nu disco and discernible funk edges. As a live artist he has made a huge name for himself and has worked with some of the most recognisable names on the scene including worldwide tours with Detroit Swindle, Purple Disco Machine and Jamie Lidell. Most recently he has also co-founded synth duo Sound Support with Dam Swindle's Lars Dales, you can check out their brilliant debut mixtape at the bottom of this interview.
A man who clearly likes to keep busy whilst devoting his time to his love of synths Lorenz also works a sound designer for legendary manufacturer Sequential and has been leading a 15-piece orchestra, RTO Ehrenfeld on German TV late night 'ZDF Magazin Royale' since 2016.
Lorenz latest release see's him land back on Dirt Crew with the Sandpaper EP on which he collaborates again with UK legend Jamie Lidell with whom he has a long history. It's a fabulous EP featuring a stunning energised vocal from Jamie on lead track Sandpaper, it's a track which fuses many genres from soul to house and which will garner serious crossover plays, as such it's a powerful finale to 2020. The EP also features an ace Sound Support remix and the Detroit edged groove of On the Nightshift as well as an instrumental version of Sandpaper.
To celebrate the release of this stand out EP we tracked Lorenz down to his studio for a good old chat about the release, collaborating with Jamie Lidell, his career, playing live with Dam Swindle and his favourite synths.
Grab the Sandpaper EP from: https://ffm.to/dirt129
Hi there Lorenz,
Many thanks for speaking to us today.
In 10 words or less how would you describe the musical ethos of Lorenz Rhode in 2020?
Working keeps you sane 🙂
Please can you give us three tracks from your discography which you would say are quintessentially Lorenz Rhode? 
Back (Compost 2007)
One of the first records I put out, this tune was just the B-side… and years later I got mail from Japan informing me that pop locking dancers everywhere were using it for their choreographies. I loved that!
On Top (Dirt Crew 2017)
One of the deeper house tunes I've made while I was living in Berlin. I'd just been working on presets for the then upcoming Sequential OB-6, the modulating stab sound is one of my own patches. One of the nice things about doing sound design for synths: You end up with material for yourself 🙂
Lukas Lehmann – Q&H (Lorenz Rhode remix) (Footjob 2017)
A remix for a good friend, Lukas from Darmstadt who's hosting fantastic parties there at Galerie Kurzweil.
Bit funny how it basically has 2 separate halves, but I like the result anyway. Main chords are again an OB-6 preset / pattern.
Your latest release see's you team up again with Jamie Lidell with whom you toured with back in 2013. How would you describe the EP and can you give us a bit of history about the release?
Sandpaper came together super convoluted! Starting point was that tour you mentioned – while rehearsing in Nashville in 2013 we also made a tune together, a cover originally. It was supposed to go on a video game soundtrack, but that didn't happen… years later I refreshed the instrumental and sent it to Jamie, who wrote and sang the Sandpaper vocal. And then I threw away that instrumental and made a new one 😀
I'm happy with the balance now. The backing is uncluttered yet organic and gives Jamie's performance the breathing space it needed. I love his timing, it's super lively, and with a backing this sparse the elements start to really 'dance' with each other.
Then there's the B-side, On the Nightshift. One of those infinitely looping chord progressions, had it stuck in my head forever and finally made it into a track.
The remix is done by Sound Support, the new project I recently launched with Lars Dales – I asked Lars to make the start, he went for an electro vibe which gives Jamie a completely different, more mellow backdrop. When I joined in added Clavinet chords and strings – we thought it's a nice and unusual combination!
Jamie is another favourite artist of ours, his Multiply album is very special indeed. If you had to pick one favourite track of his that you played when you were touring with him what would it be?
I'm particularly fond of the album we toured together, the self-titled 'Jamie Lidell'. The most fun track to play was In Your Mind, it's insanely funky, and since we were playing just as a duo (later joined by drummer Brian "Willie B." Wilson) I played as many parts as I could. Quite a workout, I was looking forward to that song every night.
There's a recording of a gig in Antalya actually, sound quality is poor but you get the vibe.
You are of course a renowned as being a huge synth lover, please can you describe your production set up that you used in the creation of the Sandpaper EP and what is the one piece of equipment or plugin that is utterly essential in creating the sound of Lorenz Rhode.
Sandpaper is built from just a handful of elements: For the bassline I played an old Minimoog, the plucky synth is an equally old Roland SH-2000. A Hohner String Melody for the organ-ish long chords, and at the end there's a hi-string from the Ensoniq ESQ-1.The Rhodes is a great Kontakt sample made by a friend, Christian Frentzen, and the drums are mostly… Logic's factory 909 samples. Some dirt added via 707 tracks I once recorded through a really bad mixer.
The one piece of equipment, hmmm… if I've had a signature bass sound, that's the Prophet 5 on unison. I've used that for many years. If you listen to Justify or the Big Love and Breakin remixes, that's all that same bass. Bursting with power and funk.
In recent years the Hohner Pianet Duo is an instrument I can't do without. And I've really maxed out the OB-6, I've used it on eeeeverything. It's the best modern synth I've come across. It's also my main machine on the TV show.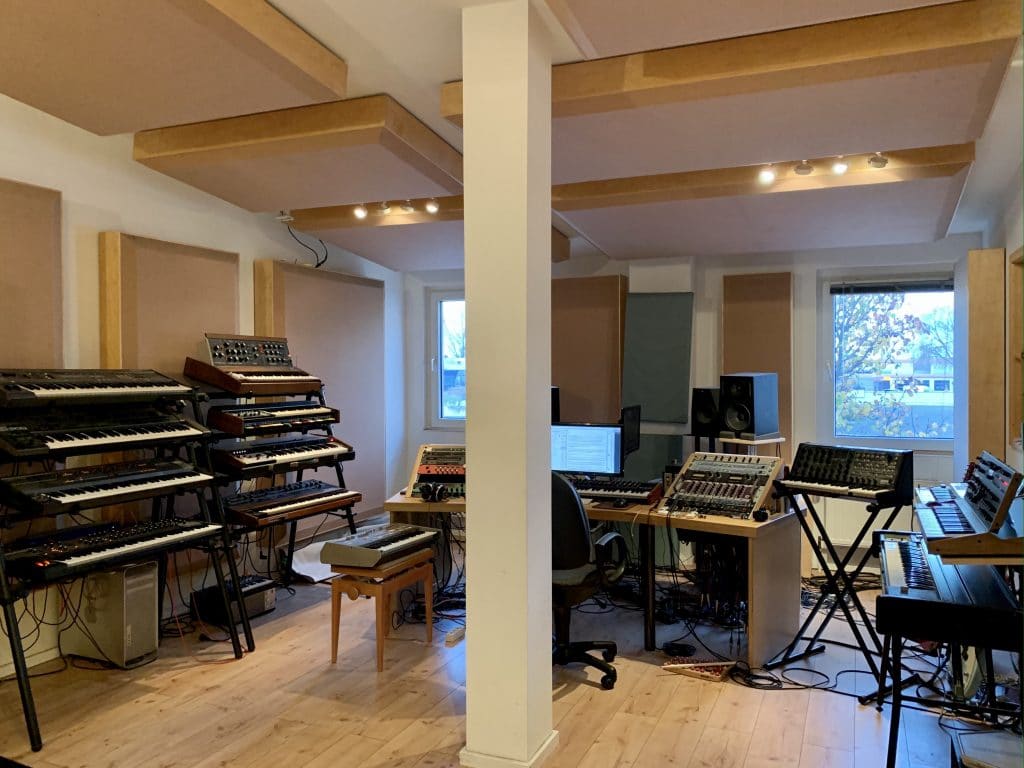 If you could take any synth ever made with you, what would be your desert island synth and why?
Oh no! Just one right? In the end it has to be the Prophet-5. Of all the synths I have this has the most musical tone. Just like an expensive acoustic instrument. Press one key and listen, it won't get boring. To be precise, others have an equally 'noble' tone (Minimood, MS20), but I prefer polyphonic synths cause I come from the piano.
Another instrument that you are becoming synonymous with is the Talkbox, how did your love for that instrument come about and what is it that you love about it?
The start was by chance – a friend sent me his original Heil/Dunlop talkbox because he didn't get much out of it himself (thanks so much, Sascha!). I love many things about it – I can do acrobatic soul vocals that I could never sing, and it's almost like a personality switch, because by default talkbox is always over the top and extroverted. It hits my sense of humour I guess. I made a song attempting to explain the whole thing recently!
One of the things that we love about your music is the eternal feeling of joy which shines through it. How important is it for you to make music which has that seemingly eternal zest for life running through its DNA and which is almost the antitheses of what has been going on around the globe over the last couple of years?
That's a very good question. I've wondered myself why I tend to make uplifting music. It's not that I'm a 24/7 happy person. But making music can have totally different functions for different artists. I respect 100% if an artist channels sadness, pain, … into music. It's just not my way. When I make music I want it to energize me. That's the function you referred to – joy to battle the bad things 🙂 But that doesn't mean there's never melancholy in my music. Maybe I'm hearing things, but to me it's there.
You are definitely an artist who appears to thrive on collaborations, how important is it for you personally to work with other artists in order to bring your own musical projects to life and do you have any other collaborations in the pipeline that we should be looking forward to?
When I feature on somebody else's track I enjoy not having to take care of every aspect, for a change – it's liberating to just provide inspiration and your performance and that's it. Then when you have someone like Jamie sing on your own tune it completely transforms whatever you were working on. And something I never had before is an actual duo – now recently Lars Dales (Dam Swindle) and me started Sound Support, turned out we're crazy productive together and have 3 more EPs lined up already. Can't wait for the next session.
As for upcoming ones, yes – I've been working with PDM again and Demuja too. On my next EP's there's going to be a vocal by my friend Marga, and Gustaph and I have started working on something.
One of my own favourite Lorenz Rhode collab moments is your Red Bull Live with Dam Swindle recorded in Amsterdam which is overflowing with energy. What are your recollections about that particular set?
Ah yeah, that was the third iteration of the DS live show. Maarten and me were sharing synth jobs and Lars was in control of all the drums / arrangement / samplers / FX. At that point we'd been touring it for a while and were "in the zone" I guess… Normally I don't like streaming my performances because you always make mistakes and then they're out there, but that set didn't have many mess-ups. Glad there's a recording we can go back to and remember 🙂
Please can you give us 3 artists who you would say have directly influenced your own musical style?
One has to be D-Train. It's not just another 80s funk band, they had this club mindset… The arrangements are quite restrained, and then suddenly there's a brilliant cadence or bridge where Hubert Eaves III. Briefly shows off what he could do all the time.
Don't wanna say Stevie cause everybody says Stevie but… Stevie? 🤷‍♂️ What can you do. He's music.
And one influence on me has definitely been Nintendo games. My plan for my next life is learning Japanese early so I can go and work for them.
2020 has obviously been a very difficult year for the electronic industry with most gigs, festivals and international events falling foul of the Covid-19 lockdowns and restrictions across the globe. How have the Covid restrictions affected you on a musical front and have you found it to be a period where it was easy for you to create?
If I'm being honest, it hasn't affected me too much. The 2 projects most likely to be cancelled had both just gone on a hiatus anyway: The DS live show and the German late night show where I'm the musical director, "Neo Magazin Royale". So I was planning to spend this year in the studio, and voilà. I've even been more productive yes. Part of that was escapism for sure. The news was annoying me, the shouting kept getting louder, no chance for nuance anymore… so I just went to work. With the TV show's orchestra, the "RTO Ehrenfeld", I made a series of 12 rather elaborate remote music videos, it was a lovely way of lifting all our spirits.
With a light at the end of the tunnel with several vaccines in the pipeline, what are you most looking forward to musically post Covid?
We're making plans for bringing the RTO Ehrenfeld on the road again as soon as it's feasible to do so. Lars and I wanna put together a Sound Support live show, that should be a blast. And personally I miss simple things – the crowded buzzing feeling of a club. Being surrounded by people and being slightly tipsy.
What else can we expect from Lorenz Rhode over the next 12 months?
Somehow there's more in the pipeline than I've ever had: The Sandpaper EP with Jamie has just released, soon after that there'll be the next Sound Support EP's. I'm putting together another solo EP for spring that's going to be more mellow and Italo. Collabs with PDM and Demuja are finished, I've contributed some synths and strings to a major German pop album that's coming up. And our TV show just restarted in a bigger fashion, now called "ZDF Magazin Royale" – that's a full time job in itself
For more info on Lorenz Rhode please check:
Facebook: https://www.facebook.com/lorenzrhode
Soundcloud: https://soundcloud.com/lorenzrhode
Instagram: https://www.instagram.com/lorenzrhode/
Twitter: https://twitter.com/LorenzRhode
Tags:
Detroit Swindle
,
Jamie Liddel
,
lorenz rhode
,
purple disco machine
,
Sound Support