Tina B Talks Jazzy Sensation, Madonna, Arthur Baker, Beat Street and Rockers Revenge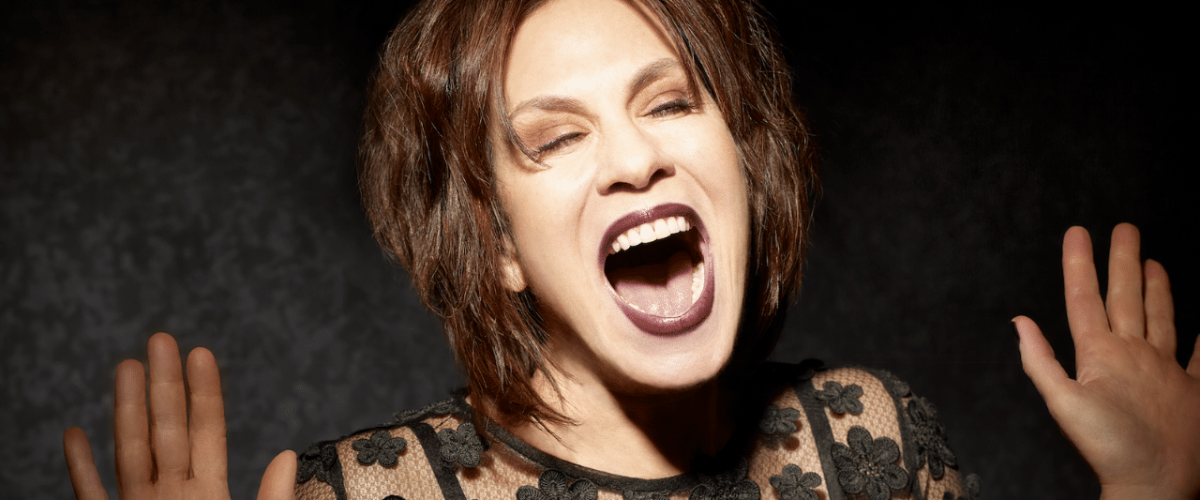 Tina B has had a hugely impressive career dating back to the early 80's recording backing vocals for many of Arthur Baker's projects, including all time classic North End, and then as part of Rockers Revenge who's legendary track 'Walking on Sunshine' was a smash on both sides of the Atlantic and a key early electronic dance track. Indeed Tina B was very much there at the nexus of many scenes also appearing with Afrika Bambaattaa and the Jazzy Five on Jazzy Sensation which landed on Tommy Boy. Her own smash Bodyguard was also a dance hit in the US, with a video directed by Beastie Boy Adam Yauch.
Tina's career has taken her across the globe supporting some of the biggest names in music including Imagination, Jimmy Cliff, Madonna, Al Green, U2 and Bruce Springsteen.
Leaving the pop world behind in the mid 90's Tina studied Opera in New York and has recorded both classical and pop crossover tracks. Making her home in London in 2000 Tina continued her studies for 15 years appearing regularly in the city and on UK TV and radio.
Now back in New York Tina is working on new music including with Arthur Baker on his remix of New Orders 'Be a Rebel' and a new Rockers Revenge LP.
Her latest solo track to drop is a brand new version of Jazzy Sensation on Midnight Riot Records which features wicked mixes from Moodeena and Yam Who? and is already causing some serious mischief on the Traxsource charts as a promo with a full release coming on 14th June.
I spoke to Tina about her long and fascinating career and also her brand new single.
Grab Jazzy Sensation here: https://www.traxsource.com/title/1585584/jazzy-sensation
Tina B Talks Jazzy Sensation, Madonna, Arthur Baker, Beat Street and Rockers Revenge
Hi there Tina,
Thanks for speaking to us today.
Growing Up
Let's go back to the very start. What was it like for you growing up in New York and who were your own musical inspirations when you were young?
New York (especially Brooklyn where I was born) was an exciting and scary place when I was growing up-and very inspiring! I always felt I was part of something artistic and special. I feel very fortunate to have grown up in the midst of an amazing musical legacy which remains relevant to this day. My earliest influences were Motown and the Beatles and then as a teenager it went towards rock'n'roll, with my idols being Grace Slick/Jefferson Airplane and Robert Plant/Led Zeppelin. Then came funk and disco, and that was where I initially landed professionally.
First musical steps
What led you to your first steps to a career in music?
I started singing before I could talk, entering talent shows as a young girl. I fronted my first band when I was 11, and continued to front rock bands through university, as well as participating in musical theatre productions. I had always hoped I could sing for a living and my first professional foray came working with Arthur Baker, who I met at university and who I was married to at the time. I sang backing vocals on various projects he was working on at the start of his career, such as Kind of Life (Kind of Love) by North End on West End Records and Happy Days by North End featuring Michelle Wallace on Emergency Records. We realized I was quite good at singing backing vocals and I loved it, so quite a career developed out of that (my first most notable feature being on Madonna's "Holiday"). My solo career officially started when Arthur asked me to lay down a rap and some vocals on the B-side of of Jazzy Sensation by Afrika Bambaataa and the Jazzy Five. From there I joined Rockers Revenge and then went on to do an LP for Elektra Records which contained "Honey to a Bee". It blows my mind that people still love and listen to that song. I have never stopped singing, I still take lessons and have done so since the early 80"s
Northend feat  Michelle Wallace – Happy Days
Early career
Your early career saw you working across a variety of genres, what are your memories of those early recording sessions with Rockers Revenge and Afrika Bambaattaa?
This was the dawn of something new and I felt it, it was very exciting! Rap was just getting going and I believe I may have been the first white female rapper with Jazzy Sensation, and perhaps one of the earliest recording artists to have a letter for her last name. When I first heard the track of Planet Rock (Arthur played it for me at 4am when he came home from the first recording session), I knew something major was going to happen. We were all feeling a bit surreal. The sessions with Rockers Revenge were like magic, we clicked and sang together so well (and we still do after all this time).
Afrika Bambaataa & Soulsonic Force – Planet Rock
When did you first realise that you were onto something really special with Rockers' Revenge 'Walking on Sunshine' which became a global underground hit and is still widely referenced today?
When I heard "Walking on Sunshine" playing in a store, and saw the reaction to it on the dance floor, I was so thrilled. Being in Rockers Revenge was a great experience-people so loved Walking on Sunshine which was incredibly uplifting and we heard it everywhere for quite some time. Our gigs were always packed and we had such an amazing time.
Rockers Revenge – Walkin' on sunshine
New York Scene
What was the music scene like for you personally in New York at that time and what were your favourite hang-outs?
I love music and dancing and so I loved going out. We were out almost every night of the week if we weren't working in the studio. There was a growing music community in NY and everyone knew each other, so it felt like being part of a big extended family. We knew all the Deejays and often would spend hours hanging with people in the booth. I typically went to the Funhouse, Private Eyes, Danceteria and Nells.
Inspirational Tracks
Which key tracks from those momentous early 80's days by other artists would you say inspired your own musical creativity?
I Want to Thank You by Alicia Meyers
This track was huge in the clubs even though its mellow and I loved the style of it, especially Alicia's musical style. It really helped and inspired me to develop an approach to singing the music we were making.
I.O.U by Freeez
My vocals are featured heavily on this track and it was another step in defining my approach to the music we would create. Also it is a great pop song and so it inspired me to write pop/dance music even though it was electronic.
Girls Just Want to Have Fun by Cindy Lauper
This track inspired me for vocals as well. Some say my voice was similar to Cindy's and I studied with her voice teacher for almost two years after this record was released. It's also the first record that sported an Arthur Baker dance remix (and spawned the age of the dance remix for pop records) and much of the music we created after this was pop/dance/electro.
Musical journey
Your musical journey over the last four decades has been inspirational working alongside many of the legends of the music industry. What for you are some of the key moments that have led you to where you are right now in 2021?
I had so many amazing people to learn from over the years.
Of course there was Arthur Baker and Rockers Revenge, which put me in the spotlight and showed me how much I loved performing.
I worked alongside some great studio singers, and learned so much from them-especially Jocelyn Brown. I listen to the work we did together on Johnny Dynell's "Love Find a Way" and it's so fresh!
I loved doing supporting vocals and working with Freeez, New Order, Madonna, Carly Simon, Billy Crystal and others was so inspiring. Then there were the dance remixes we did, most notable in my mind was Bruce Springsteen's "Dancing in the Dark". And writing songs (and performing on them) for such artists as New Edition, Jeff Beck and Tevin Campbell was so awesome.
Playing myself in the 1984 break dance movie "Beat Street" and working with the likes of Grandmaster Flash was huge fun. So many people have seen that film multiple times and it's so nice to be involved with a project that has meant so much to so many people, and still remains relevant today.
I also learned so much from the producers I worked with along the way, Arthur Baker, John Robie, the Latin Rascals, Andy "Panda" Tripoli, Shep Pettibone, Junior Vasquez, I'm forever grateful to have had the chance to work with and learn from them.
3 essential Tina B tracks
Please can you give us three tracks from your discography which you would say are quintessentially Tina B?
Well of course there is the original Jazzy Sensation, which helped create my artist name and sound, as well as lead the way for my vocal style.
The Kryptic Krew feat Tina B – Jazzy Sensation
My self-titled Elektra LP featured two songs that I think have stood the test of time and that people still listen to-and represent my style from that time.
The first is "Honey to a Bee", which was in a way a cross between Planet Rock and I.O.U. musically. It was labelled "freestyle" but it was electro pop and ahead of its time. When I performed it back in the day people went nuts! I am still performing it now, mynext gig is in November 2021 in Florida. It defined Tina B.
Tina B – Honey to a be
The second is "Queen Beat", which was a rap record written by Arthur Baker and Ed Fletcher (aka Duke Bootee from Grand Master Flash and the Furious Five). I love the power in this rap and the soft vocal, along with the electro song-another trademark!
Tina B – Queen Beat
This album also featured "Nothings' Gonna Come Easy", written by me together with Arthur Baker, which I sang in the film "Beat Street". Another classic electronic pop song that people still listen to.
Beat Street – Tina B
And last but not least is "Bodyguard" which was written by me with David Cole of C&C Music Factory. This was a fusion of R&B, disco, electro and pop and a fun track to sing and dance to. It showcased my voice and my writing chops, the evolution of Tina B.
Tina B – Bodyguard
Sound Right now
How would you describe your sound right now in 2021?
My sound is somewhat of a fusion of pop, R&B, dance and rock, which is not surprising given I love all kinds of music. I want to make people happy with music, so I would say it's a happy sound!
Jazzy Sensation (Midnight Riot)
Please can you tell us about your most recent release 'Jazzy Sensation' which has just landed on Midnight Riot. What's the vibe of the release and how did it all come about?
It's a bit of a long story. I did a vocal on a record in 2019 by Arthur Baker called "BT's Happiness"
Arthur was playing it at the Amsterdam Dance Event and Andy Williams from Midnight Riot asked him about it. After that Andy and I started talking about me doing something for Midnight Riot and the pandemic hit so we put new music on hold. Then Andy had the idea to remake Jazzy Sensation. It's so timely, it's the 40th anniversary of the initial release and with this production, it sounds as current and timely as ever. Also Jazzy Sensation was recognized as the most important rap record of 1981 in Shea Serrano's 'The Rap Year Book' which highlights the most important rap record every year since 1979.
Check the book here: https://books.apple.com/us/book/the-rap-year-book/id1049237001
As described by Shea Serrano, Jazzy Sensation is "…a fun song, a happy song. But it's also quietly the design for rap as a countercultural movement." Its very exicting to have been a part of defining a new musical movement that is still so relevant today and I am extremely grateful that we are able to continue the musical legacy today and share Jazzy Sensation with a new generation. And a great way for Tina B to relaunch her solo career!
Career Tips
You have been a recording artist for four decades now. What tips can you give to artists who are starting out on their vocal career on how to achieve such incredible longevity of career?
You have to be willing to follow your heart and flow with the tides. The most important thing to me has been making music and performing and so however you can find a way to do that should be your first priority, not what other people say or do.
And finally what else can we expect from Tina B in the next 12 months?
I'm working on some more dance-oriented tracks which I hope to put out in 2022. I am also very excited about working with Rockers Revenge and hopefully touring to support my records as well the Rockers tribe upcoming album release. I am also writing music for other projects, who knows what the future will hold there?!
For more info on Tina B please check:
Tina B Website: https://www.tinabmusic.com/
Midnight Riot Facebook: https://www.facebook.com/MidnightRiotRecords/
Midnight Riot Soundcloud: https://soundcloud.com/midnight-riot-records
Midnight Riot Instagram: https://www.instagram.com/midnightriotrecords/
Midnight Riot Twitter: https://twitter.com/MidnightRiotRec
Love this? Check out more from Midnight Riot HERE
Like what you hear? To help support LV Online buy us a coffee via Ko-FI. Click HERE
Tags:
Midnight Riot
,
Tina B