A Man Called Adam – LV Featured Artist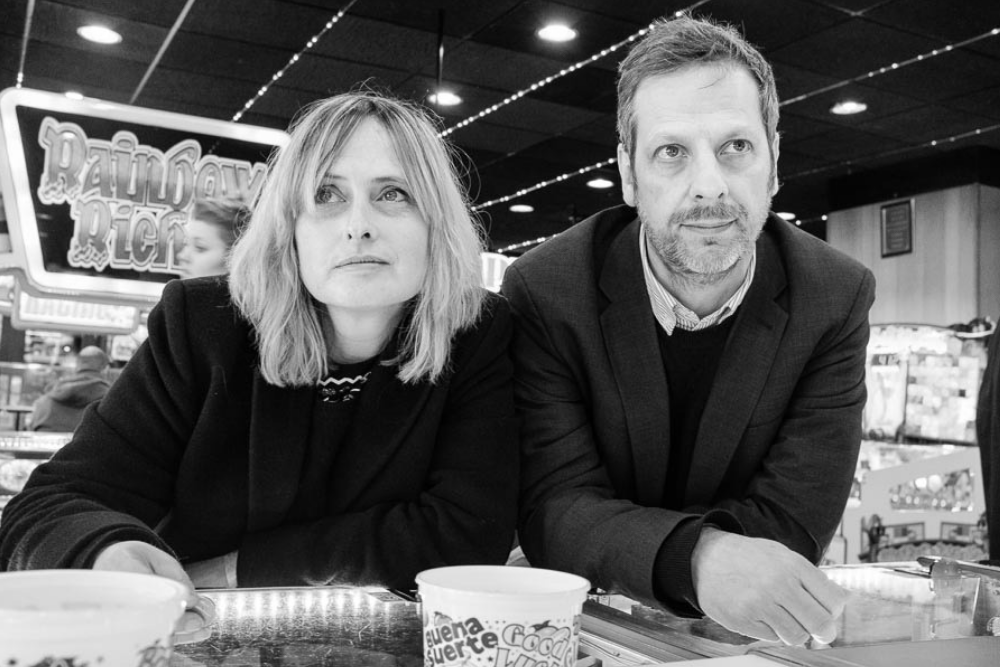 A Man Called Adam – LV Featured Artist
One of the UK's most renowned electronic acts A Man Called Adam are making a very eagerly anticipated comeback after an extended hiatus. Indeed it's been 2 decades exactly since their last long player Duende. In between they released a string of brilliant singles up until the middle of the 00's and their collected works digitally at the start of this decade however there has been no new music for many years. Their new album Farmarama has just dropped on the Other Records LTD label and it is an incredible slice of Balearica perfectly merging many different electronic genres. It's as approachable as it is ridiculously cool. You can buy it HERE
We spoke to Sally Rodgers and Steve Jones about their return to releasing music and asked them for some of their key A Man Called Adam tracks along with a couple of tracks which influenced the current sound of A Man Called Adam. You can also check out our premier of  their brilliant track Paul Valery At The Disco below.
Congratulations on the album it's a hugely accomplished and exciting release.
Sally: Merci beaucoup
Steve: Thanks.
Firstly the easy question, why now, what made you bring back A Man Called Adam after such an extended lay-off?
Sally: Not that easy! I don't know really. We've been making music all the time just not as A Man Called Adam. When we work as AMCA we have to dig deep emotionally and creatively so I guess we just weren't ready to do that until now. And then suddenly we were.
Steve: I've been studying and teaching at De Montfort University, and they suggested Sally come over to play some AMCA material live with me. We tried the set up again shortly after that at Outlaws Yacht Club in Leeds, and were surprised at how much we (and the audience) enjoyed ourselves. Things have continued from there.
How would you say that your sound has developed since you last released as A Man Called Adam and for our readers who haven't come across your releases how would you describe your sound?
Sally: I guess we've done a lot of very experimental music in the interim, that's where we went really. We spent 5 years in a barn in Cornwall with 6 speaker feedback loops set up, blowing water into buckets and recording it. Steve studied sound design, I studied poetics. I guess that all found it's way into this record. But I've been DJing a lot in the last few years and so the production has a bass heavy, quite lo-fi sound I guess inspired by the music I play out. A recent review of the Schleissen stuff we did for Emotional Response called it 'Technological Balearik' with a 'k'. I liked that.
Steve: We've tried to keep the feeling of improvisation when writing new material, working fast and loose rather than spending ages ironing out all the imperfections. I suppose you could describe it as electronic pop, but it's perhaps not obvious at first.
The name of the album Farmarama is quite unusual name. Derived from one of the songs on the album what does the name stand for and how did you arrive at it and can you give us a bit of history about that song.
Sally: We spent time in Cornwall recording some of the album and we wrote that song there with our friend and co-write on half of the album tracks, Paul Smith. He'd sent me a little sketch earlier and the bass line was just killer. So we started with that. The room where we record has picture windows looking over lush green fields with cows and geese and pigs grazing and when you opened the curtains I thought it was like switching on the Farmarama. Like some Blade Runnerish, computer simulation you'd dialled up. I thought life is a bit like that. You dial it up everyday.
Steve: Much of the album was recorded in remote locations, where we could make lots of noise. Cornwall, the Lake District. But quickly you realise how the countryside is as tightly managed as any urban space: a Westworld for city-dwellers.
Paul, what was it like to write and record with Sally and Steve on this album?
Paul: It's a real joy to work with Sally and Steve. Everyone tackles the writing process differently but we all clicked from word go! I am very proud of the work we have done together and am looking forward to performing the new album live.
For our readers who haven't come across the band before please can you give us 3 of your tracks which you would say are quintessentially A Man Called Adam.
Techno Powers
Sally: It was a kind of breakthrough track for us. It was jazzy (we were Jazz kids) but it was machine music. We'd done one single for Gilles on Acid Jazz, APB, similarly cutting up our live multitracks but this was better, more evolved.
Steve: Definitely Techno Powers, before then we'd been mainly a live outfit. With the new technologies of MIDI and cheap samplers we discovered we could completely change all the sounds by scrolling through different settings: it sounded like the stuff that was coming out of Detroit and Chicago. (We were lucky it got picked up by pirate radio stations like Centerforce and it was a big tune for Harvey and Choci's Tonka soundsystem)
Barefoot In the Head
Sally: We experienced Acid House (the music, the parties, and yes, the drugs) and we made a record about it. Sometimes everything just falls into place and that record was one of those for us.
Steve: We'd cut a white label of Barefoot, all euphoria, bleeps and the Mediterranean sea. Then by chance went to Ibiza, and as Sally says, everything seemed to fall into place.
Que Tal America
Sally: I think Roberto (Rob Mello) and Luke (Solomon) brought Chez Damier and Ron Trent to our studio in Gospel Oak. They wanted to hear what we were doing so we played them this little cover of 2 Man Sound's Que Tal America we'd been messing about with. They wanted it for Prescription and that was just super-cool for us. Hearing Tony Humphries mix all 4 versions into something completely new was a career highlight.
Steve: This was something we'd play live, and recorded the track very quickly. When Chez Damier heard it at our studio and wanted to release it on Prescription Records, we went all out and made it the ultimate DJ tool. 4 different versions in various states of dub, cut really loud onto vinyl.
Or Easter Song:
Sally: José wanted something for his 2nd Café Del Mar compilation. The deadline for delivery was approaching and we had this track, another – like Estelle – we'd co-written with Eddie Parker. He played an Elizabethan flute on it, it had lovely melodic content but we were struggling to make it into something we were happy with. It just didn't seem to fit with anything out there. The deadline came and we sent it off with much angst and trepidation. It was as though the listeners made sense of that track for us.
Steve: We really didn't think anyone would pick up on a 9-minute incantation that used Baroque tuned flutes, and had no real structure when everyone was bang into Progressive House. I got cold feet and wasn't sure about the song, until we heard it played at sunset at Café del Mar. Then it made sense.
What was the key equipment that you used in creating Farmarama?
Sally: It's pretty lo-fi. My studio mic broke so rather than replace it I recorded the vocals with my trusty old handheld SM58. The push controller for midi instruments, I like marimbas and mallets. There's Roland 303 and 808 in there. Steve's crazy analogue keys and apps. There's live stuff from Fergus Quill (bass) and Josh Ketch (percussions) and Paul is great with those real sounds – electric pianos and orchestral sounds.
Steve: We're big Ableton users for recording, mixing and editing. I'm interested in hand-held, mobile devices so there are iPads, apps and a Mute synth in the mix.
What can we expect from A Man Called Adam now that you are back together, will there be supporting gigs and can we expect follow up records?
Sally: Well we're doing Kala, Ricci and Campo Sancho festivals and we've got fantastic mixes (Prins Thomas and Carrot Green) for the first remix 12inch. And incidentally, we never broke up, we just didn't record as AMCA for quite a while!
And finally please can you give us 2 tracks which you would say have influenced the current sound of A Man Called Adam.
Suzanne Kraft – No Worries
Sally: This was a big DJ track for me when we started the album and it really influenced the album's production sound. It's lo-fi but everything is crisp and it just sounds great on a big system.
Cerrone – Hooked On You (Kon's Nite Time Remix)
Sally: This is a total Harvey tune. The combination of Jazzy riffs, disco rhythms, horns, Jocelyne's vocals. Everything has space to breath. It's such a happy song, beautifully crafted, killer on the dancefloor. We can only aspire to that!
For more info on A Man Called Adam check;
Facebook: https://www.facebook.com/AManCalledAdamHQ/
Soundcloud: https://soundcloud.com/amca-2
Tags:
a man called adam
,
balearic