LV Disco Selectors 31 – Peter Matson [Underground System]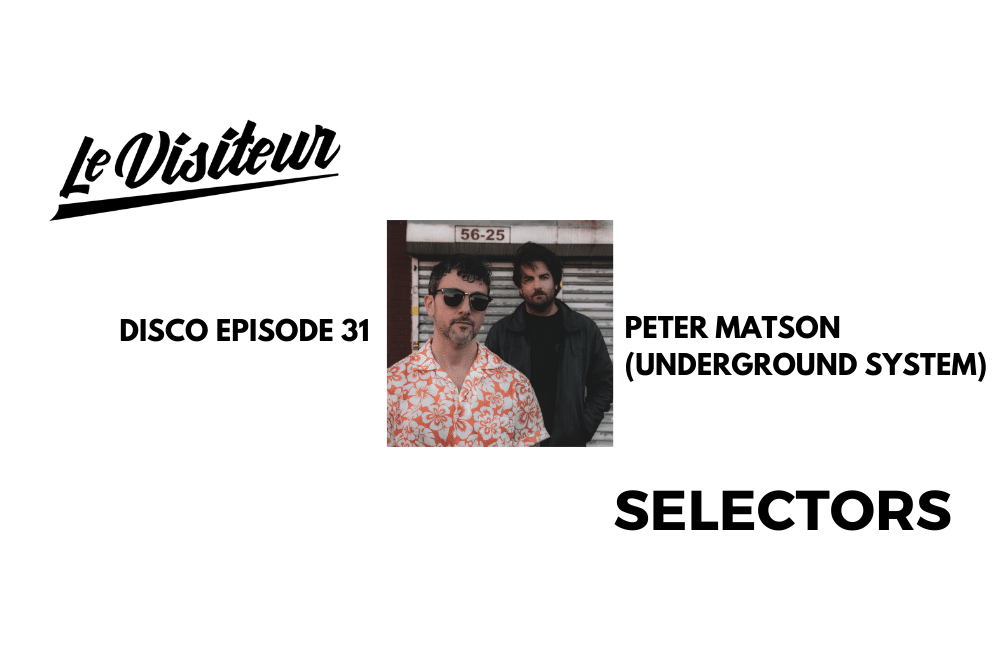 LV Disco Selectors 31 – Peter Matson [Underground System]
Like what you hear? To help support LV Online buy us a coffee via Ko-FI. Click HERE
Cover photo features JKriv (Left) & Peter Matson (Right)
Next up on the mighty Heist Recordings is a classy collaboration EP from NYC heads JKriv, of Razor-N-Tape fame, and Peter Matson, front man of the excellent Underground System who have drafted in some of NYC's most talented players to bring it to life. As you would expect from this fully loaded team of artists and producers the Bigtime EP is outrageously hot. From the Balearic Nu disco come Proto house of 'Ewesse Ye' which also see's Auntie Flo lend a hand conjuring up a throbbing afro tech remix. New Friend opens the blinds to see the sun streaming in on it's Balearic balcony whilst closer Bigtime is provides club gear aplenty with it's soaring loopy brass licks and chants.
It's a real top of the class release which drops on the 26th, Check it here: https://jkriv.bandcamp.com/album/bigtime-ep
To celebrate the EP landing Peter Matson jumped behind the decks to record a real barnstormer of a mix for us combining his own tracks with tracks from the new EP and some of his favourite tracks from his recent DJ sets. Check it out and please give it a share over on Soundcloud and help us spread the Peter Matson love x
Q1: What can you tell us about the theme of the mix and what are some of the key tracks for you?
This mix was a fun one to sequence for me. It feels caught in the middle of a compilation type approach and the way I would play in a club. I haven't released music in a couple years, and I have a lot of new work I'm excited about, so I chose to make this a pretty equal blend of original material from upcoming releases and some of my favorite tracks I've been leaning into since re-opening and starting to DJ again.
One of the key tracks here for me would be the opener 'New Friend' that I produced with JKriv for our 'Bigtime EP' that's out now on Heist. We've been sitting on it for a little while and I'm excited to get it out into the world now! It still holds up to me as a proper piece of music I really enjoy listening to and am not sick of! Haha. It was made extra special in that we recorded a few of our dear friends to really bring the tune alive, some heavyweight players here in Brooklyn: Jim Orso on Drums, Stuart Bogie on Sax, Eric Biondo on Trumpet, and Morgan Wiley on Piano.
Another standout tune here on the clubbier end of the spectrum, towards the end of the mix, is another recent Heist offering, Crackazat's 'Alfa'. After about a year and a half of not DJing to a club the first couple times I dropped this at the right moment it just completely blew the roof off. Restored that feeling of a middle of the night adrenaline rush, those goosebumps of live interaction with a dancefloor, we all missed in 2020. Another Heist ace of a track.
Q2: How does the style of mix here compare to how you would approach a live DJ set?
We're going on a journey here, oscillating between some slow burning disco, house, and afro influences, which is the base of how I mix live as well, though I'd prefer not to nit-pick genre name-based descriptions. Having a good amount of time off the last while and slowly returning to playing solidified my intuition on the way I should approach things as a club mixer, and this collection is able to translate a bit of that sensibility into a recorded mix.
I'm always searching for a thread of subtle, sometimes esoteric, emotion that tells a story in tracks I select to DJ, but without sacrificing the necessary forward movement that's needed to captivate a dancefloor. I won't touch things where the groove, sonics, attitude, or musical performance are missing for what I feel needs to happen at that moment. Should feel tuff and as engaging as possible, while allowing for some natural peaks and valleys to unfold.
Q3: Which other artists DJ mixes do you find yourself coming back to time and again and do you have a favourite that you gravitate towards?
Mix influence wise, I'm rounding the corner on around 10 years as a DJ in NYC, and I do remember my first mix that I found and fan boyed out on for a long time as I was getting my vinyl chops together was a Move D Boiler Room mix from about 2012, I believe? His concept of pulling nothing but what some might say is "good music" into a club setting, it's a huge ideal for me. Theo Parrish's tune 'Serengeti Echoes' will forever be stuck in my head thanks to that mix.
There are a lot of other mixes out there that I've loved jamming, maybe another curveball from this year that I resurrected from a while back has been Carl Craig's Detroit Love mix comp. As my band was putting out an old track of ours on the same Planet e series earlier this year, I popped that one on and re fell in love. Got to see Carl play on a Monday night towards the end of the Defected Croatia festival this past summer (I went with JKriv who was playing it). It got me into the full rave zone and sent me with a head spinning off to recovery mode in France.
Grab the EP from: https://jkriv.bandcamp.com/album/bigtime-ep
For more info please check:
Jkriv Facebook: https://www.facebook.com/jkrivmusic
Jkriv Soundcloud: https://soundcloud.com/jkriv
JKriv Instagram: https://www.instagram.com/jkriv/
JKriv Twitter: https://twitter.com/jkriv
Peter Matson Facebook: https://www.facebook.com/petermatsonmusic
Peter Matson Soundcloud: https://soundcloud.com/petermatson
Peter Matson Instagram: https://www.instagram.com/petermatsonmusic/
Peter Matson Twitter: https://twitter.com/realpetermatson
Heist Facebook: https://www.facebook.com/HeistRecordings/
Heist Soundcloud: https://soundcloud.com/heistrecordings
Heist Instagram: https://www.instagram.com/heistrecordings
Heist Twitter: https://twitter.com/HeistRecordings
LV Disco Selectors 31 – Peter Matson – Tracklist
JKriv & Peter Matson – New Friend (Heist)
Peter Matson – PB (ca va) (Bastard Jazz 2022)
Sammy Barbot – New Mexico
The Juan Maclean – Panic in Fort Greene Park (Razor-N-Tape)
PBR Streetgang – Special FLX (Skint Records)
Peter Matson – The Right Way (Bastard Jazz 2022)
Peter Matson – Call & Answer (ft. Ibibio Sound Machine, Faze Action Remix) (Bastard Jazz 2022)
JKriv & Peter Matson – Ewesse Ye (Feat. Samy Love) (Heist)
JKriv & Peter Matson – Ewesse Ye (Feat. Samy Love, Auntie Flo Remix) (Heist)
The Mabon Dawud Republic, Dele Sosimi – Na Lie (M. Caporale Remix) (MoBlack)
&lez Feat. Nomvula Sa – Qondisa (MoBlack)
Clive From Accounts – Tell Me (Razor-N-Tape)
Quantic – Heaven or Hell (AUS)
Crackazat – Alfa (Heist)
JKriv & Peter Matson – Bigtime (Heist)
Tags:
Heist Recordings
,
Jriv
,
Peter Matson