The Emperor Machine – Top All Time 10 Synth Jams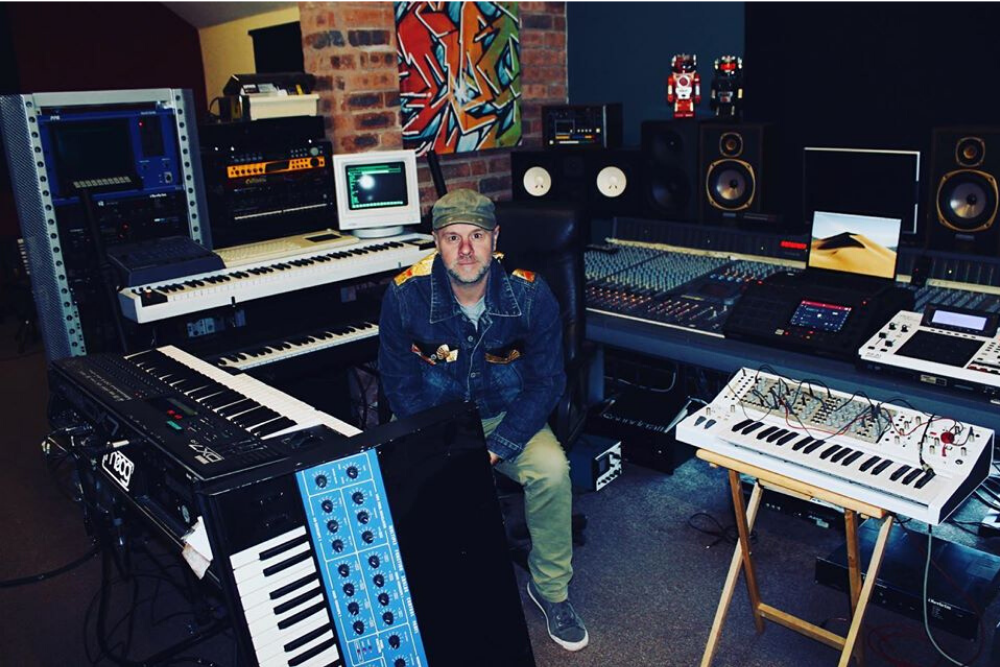 The Emperor Machine – Top All Time 10 Synth Jams
UK based synth virtuoso Andrew Meecham aka The Emperor Machine has a long and impressive musical pedigree. Renowned for his incredible live shows he is currently unleashing a brand new show featuring a dizzying list of equipment including dual MPC's and a vast array of synths and samplers which allow him to improvise, revise and inspire as he performs.
Andrew will be well know to anyone who has been part of the scene. He was part of both Bizarre Inc and Chicken Lips, two acts who left an indelible mark on the electronic scene with a long list of classic evergreen club tracks between them. Since those heady days Andrew has worked as a solo artist with a long list of original tracks and remix heat to his name including working on tracks for The Knife, The Rapture, Erol Alkan, Andrew Weatherall and Daft Punk. As the list suggests Andrew's reputation among his peers is that of a superbly talented artist.
His latest incarnation as The Emperor Machine is as exciting as anything that has come before. His latest release House De Lowe which is out now on Skint is a masterpiece which you can check below. Warm yet powerful synths fill the speakers demanding your attention, it's a track packed with disco edged funk as powerful drums drag you straight to the dancefloor. This is a track with future classic written all over it. You can grab it along with two excellent alternate reworks from Beatport via https://www.beatport.com/release/house-des-lowe/2784
As one of our final key features of the year we are hugely pleased to speak to The Emperor Machine about some of the synth masterpieces which have inspired him as an artist over the years. It's a fantastic list featuring key tracks from some of the legends of the electronic genre including Kraftwerk, Giorgio Moroder and The Human League.
The Emperor Machine – Top All Time 10 Synth Jams
Giorgio Moroder – From Here to Eternity
What's Giorgio using on this track? Moog modular or a Roland SYS 700 or both? I can usually tell but this foxes me. Absolutely fantastic track! Probably my favourite Moroder track of all time, more so than "I Feel Love"
Giorgio never disappoints with so much emotion from his synths.
I'm a massive fan.
Fad Gadget – Love Parasite
I first heard Fad Gadget in the 80s on a compilation album. A friend of mine had "Ricky's Hand" on repeat for what felt like months. Not much I can say about this track apart from I love it! It's almost got a proto house vibe and the vocal melody reminds me of The Doors – Riders on the Storm.
Kraftwerk – Expo 2000
I remember buying a 12" promo of this from a car boot and feeling really lucky. What a find! Not a scratch on it! This compilation wouldn't be complete without a Kraftwerk track, and I know that I've chosen two. Not to be predictable but this is such a moving track, I play it a lot when I'm warming up to DJ, it's perfect if the mood is right.
Klaus Weiss – Constellation
Stumbled across this when delving deep into Bandcamp one evening. I had never heard of him before I'm ashamed to say. There is so much more of his music that I need to buy. This is the first track that I bought and I plan to dig a lot deeper…Love how the synths sound so clean, natural and not over produced.
The Human League – 4JG
Great track from The Golden Hour Of The Future album.
I loved this LP, I was given the CD and was also lucky enough to bag the limited 12" too. The album is raw demos of Human League. Absolutely fascinating! This is the LP that inspired me to buy a Roland System 100 …
It took me ages to find one on ebay and I ended up buying it separately from all over Europe as I couldn't find a full complete system. The model 101 keyboard came from UK, followed by the 102 from Germany, 104 sequencer from an auction, 103 mixer from Europe somewhere, I'm still hunting down the matching speakers.
John Foxx – Underpass
The whole Metatronic LP is amazing as I'm sure everyone knows.
My copy belonged to my sister, I used to sneak into her room when I was about 12 and listen to it. I've got two copies now – one may or may not belong to my sister. This takes me back to what first inspired me in relation to synths. I always used to wonder what an underpass was – there wasn't any where I'm from. This is a really nostalgic track for me.
Bernard Szaijner – Welcome to Death Row
Another car boot find, great album, reminds me of getting up every Sunday digging for gold. I like the sequenced rhythms in this track, it's got some really interesting sequences and I love the mix of piano and synth. He is someone that I would like to spend more time researching. I'm sure that there will be some more untapped treasure.
Kraftwerk – Autobahn
Bit of an obvious choice but it's essential and in my playlist as I have to religiously play the whole LP when I'm flying on a plane as I don't like taking off! This helps.
Tonto's Expanding Head Band – Cybernaut
I got this LP from my partner in crime Dean Meredith. We did a swap for something, I can't remember what but I'm sure that I got the better deal.
Always reminds me of rewiring the studio, it's so calming, keeps me focused and on track. Beautiful synth soundscapes.
John Carpenter & Alan Howarth – 69th Bridge
Best film ever! Every track is mega inspirational to me especially this simple track. I think that it is simplicity at its best. It's really hard to know when to stop sometimes when programming. Less is more.
House Des Lowe by The Emperor Machine on Skint Records is out now!
Check it on Beatport – https://www.beatport.com/release/house-des-lowe/2784
For more info check:
The Emperor Machine Facebook: https://www.facebook.com/TheEmperorMachine
The Emperor Machine Soundcloud: https://soundcloud.com/theemperormachine
Skint Records Facebook: https://www.facebook.com/skintrecords/
Skint Records Soundcloud: https://soundcloud.com/skintrecords
Tags:
Bernard Szaijner
,
Georgio Moroder
,
John Carpenter
,
John Foxx
,
Klaus Weiss
,
Kraftwerk
,
Skint
,
The Emperor Machine
,
The Human League
,
Tonto's Expanding Head Band