Adeline talks Solo EP's, Kraak & Smaak, Escort, and Playing Live.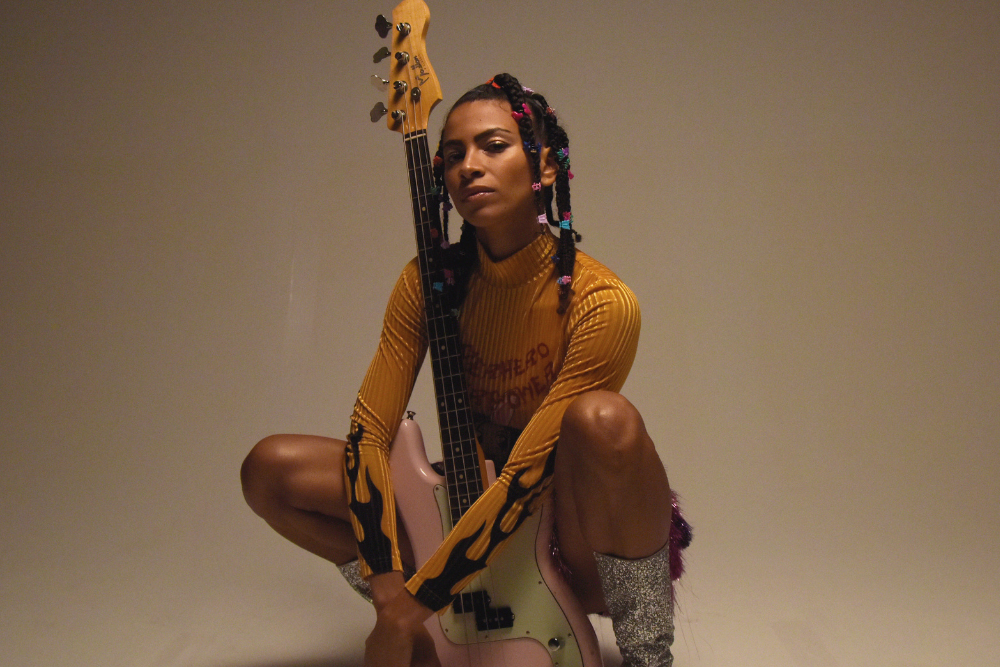 Adeline talks Solo EP's, Kraak & Smaak, Escort, and Playing Live.
Adeline made her first mark on the international scene as the super talented front woman of Nu Disco gems Escort who had a series of well loved singles and tours during the 10's. Throughout that exciting period Adeline also had a steady solo career with some great singles and regular guest vocal appearances. Since 2018 she has stepped the solo side of things up a notch with 2020 seeing the release of her brilliant 7 track EP Intérimes fusing funk, old school soul and RnB. It's a wonderfully warm album, beautifully written and produced which brings to mind some of the stand out artists of the last couple of decades including Erykah Badu and Raphael Saadiq. The EP is genuinely that good. It also comes with a partner remixed EP with mixes from blog favourites Young Pulse and Kraak & Smaak among a selection of very talented producers.
Adeline's latest release see's the Kraak and Smaak Remix of After Midnight from Intérimes land on Boogie Angst's Boogie Beats Volume 2 EP along with classy tracks from Titeknots, Get To Know & Scruscru. You can check the premier below.
We caught up with Adeline to chat about her album, her ongoing collaborations with Kraak & Smaak and her plans for the next year.
Hi there Adeline,
Thanks for talking to us today.
In ten words or less how would you describe the musical style of Adeline?
A modern twist on 70's funk soul era.
Please can you give us three tracks from your discography which you would say are quintessentially Adeline?
• Stay Up
Somehow this one brings all of my influences in one track but also I think still sounds new?
• Twilight
A lot of bass, lot of vocals, 70's feel, modern twist
• When I'm Alone
Because it's all the way 70's disco and the most fun song of mine to play live
When you were growing up which vocalists were you influenced by and what did you learn from those particular artists that you have put into practice for your own career?
I had several really distinct phases. Each artist I "obsessed" over led me to the next step vocally. They showed me examples of what I could do with my voice, but also what didn't work for me.
When I was a child, I was all about the divas, belting along to Mariah, Whitney and Céline.
Then as a teenager in the late 90's, it was all about R&B. The runs and the nuances. Brandy, SWV, Toni Braxton. I could win a quiz on early 2000 R&B haha
I got into jazz soon after that and spent a lot of time learning jazz standards, singing in piano bars. Jazz opened up my horizons a lot and really helped train my ear.
BUT THEN, in my late teens old I fell into the funk pool and it was like seeing myself in the mirror for the first time!
By then I had already realized that I music made between the mid 60's and late 70's was what suited me best. Singing along to Aretha Franklin felt more comfortable vocally than any other singer I had tried (please know that I am NOT saying I can sing like Aretha! I'm strictly talking about range here..)
Prince and Chaka Khan where the turning point. I totally lost my mind when I discovered Chaka. My world vocal world became whole.
In short: the high held stingy funk notes of Chaka, the fluid sultry falsetto of Prince and the gospely gritty soul of Disco divas like Linda Clifford or Dee Edwards is the dream vocal blend I want when I grow up.
What are your first memories of the house and Nu Disco scene, how did you get involved specifically in recording Nu Disco vocals and who were the key people in your early career who helped guide your career?
I was working and performing at this venue in the LES called Nublu. I was singing with this dope Hip Hop collective called The Real Live Show and my good friend and rapper in the band DJ Stimulus one day brought up his friend Eugene Cho who was looking for a new lead singer for his band Escort.
I quickly joined Escort and my whole career took a different turn.
Please can you give us some history about your recent EP Intérimes and it's associated remix album.
Intérimes is was released in July this year. I produced it all with my production partner Morgan Wiley (from Midnight Magic, Hercules & Love Affair). Together we form a production duo called Nightshade.
This EP is the follow up of my first solo album. It is the representation of my evolution as a solo artist. Narrowing down on one sound and direction while still using most of my influences.
All of the songs refer to a different time of the day and different side of love.
I'm super happy with all of the remixes! They really all brought up a different side of each track. Middle remixed by Young Pulse became a 80's boogie vibe.
Kraak & Smaak turned After Midnight into an undeniable dance floor moment while DJ Moma put an Afrobeat spin on it!
Pastel brought Stay Up into the cool modern R&B realm and Blue Lab Beats totally flipped Just Another Say from a ballad into a London burner.
I released a Twilight Challenge on Juneteenth with different artist writing their own new song to the instrumental. The Twilight Challenge was a compilation of 7 versions from Black artists from around the world and the proceeds all go to Until Freedom.
You have built up a great working relationship with Kraak & Smaak. How did you first meet them and what is it like to work with them?
We were first introduced in 2015 when K&S did a remix of a song I did with JKriv called Redo. I was already familiar with their music and was super happy to have them on. That song was actually the first solo material I released so looking back, it's pretty symbolic to realize that they were supportive from the beginning.
When I decided to release the song After Midnight this year, I automatically knew I wanted remixes for this song. I always want to keep a foot in the disco / dance scene and K&S were the first producers I thought of for a remix. I was very honored when they accepted.
Please tell us about the live music scene where you are based. Which artists from your local scene past and present have inspired and encouraged you and what parties that you love going to have helped your musical evolution?
I'm clearly biased but New York City is the best city in the world for live music!
I'm particularly thankful for smaller venues that support up and coming artists like Sultan Room, C'Mon Everybody, Babies All Right, Elsewhere.
We also had some magical nights at Brooklyn Bowl, both with Escort and with my solo project.
For local artist killing it live: Midnight Magic, Illustrious Black, Underground System, Denitia, Madison McFerrin, IGBO.
In terms of parties, anything that JKriv is involved in is always a fun time, Tiki Disco, Everyday People, I had some fun nights DJing at Ponyboy.
You have already had a great career, what would you say are your career highlights to date?
Thank you so much! I don't think I am there yet at all. My solo career actually only started a couple years ago officially so I have such a long road ahead of me. But I've been very lucky to have some key moments in my career.
The highlights with Escort were being on Rolling Stone top 50 and headlining Montreal Jazz Fest. With solo project I'd say playing Afropunk, playing in Japan, my latest single Mango with Kamauu. Actually I am realizing that every single time I hear that someone likes my music, it is a highlight moment and a victory.
Please can you give us three tracks by other artists which have been released during your career which you would say have helped continue your own love and passion for House and Nu Disco?
Midnight Magic – Beam Me Up
The best nu disco track hands down. Also Tiffany Roth is my idol.
Crazy P – Like A Fool
Kiki Kyte – Disco Chick (Roller Boogie Mix)
Vocals! She really sounds like an original singer from the time and I want her to be super famous.
You have already been party of some great collaborations Are there any artists out there who you would love to work with?
Anderson .Paak (my favorite artist of today) , Kaytranada , Shapeshifters , Dam Funk , L'Impératrice.
2020 has obviously been a very difficult year for the electronic industry with most gigs, festivals and international events falling foul of the Covid-19 lockdowns and restrictions across the globe. How have the Covid restrictions affected you on a musical front, have you found it to be a period where it was easy for you to create and what changes would you most like to see coming in across the Electronic world to help it flourish moving forward?
I haven't played a live show in 6 months and that's so difficult. I really miss the stage deeply and it pains me to not be able to share all my new music on stage.
I'm a stage addict and playing my music live was always the best way for me to sell new material. But like all challenges, this one comes with positive sides.
Not being able to tour has forced me to develop my creativity visually (I directed 3 music videos which I never thought I could do), and I have been totally living at the studio. My answer to all of this right now is: keep writing, keep creating, keep making music.
What else can we expect from Adeline in the next 12 months?
Hopefully a constant upward trajectory, definitely a new EP, more fun collaborations and maybe finally a tour!
For more info please check:
Adeline Facebook: https://www.facebook.com/AdelineMusicOfficial
Adeline Soundcloud: https://soundcloud.com/adeline-michele
Adeline Instagram: https://www.instagram.com/adeline/
Boogie Angst Facebook: https://facebook.com/boogieangst
Boogie Angst Soundcloud: https://soundcloud.com/boogieangst
Boogie Angst Instagram: https://www.instagram.com/boogieangst/
Boogie Angst Twitter: https://twitter.com/boogieangst
Boogie Angst Bandcamp: https://boogieangst.bandcamp.com
Tags:
Adeline
,
Boogie Angst
,
kraak smaak
,
nu disco