Ben Spalding on a Career in Music, Michelin Stars & Creating the PuzzleProjectsGroup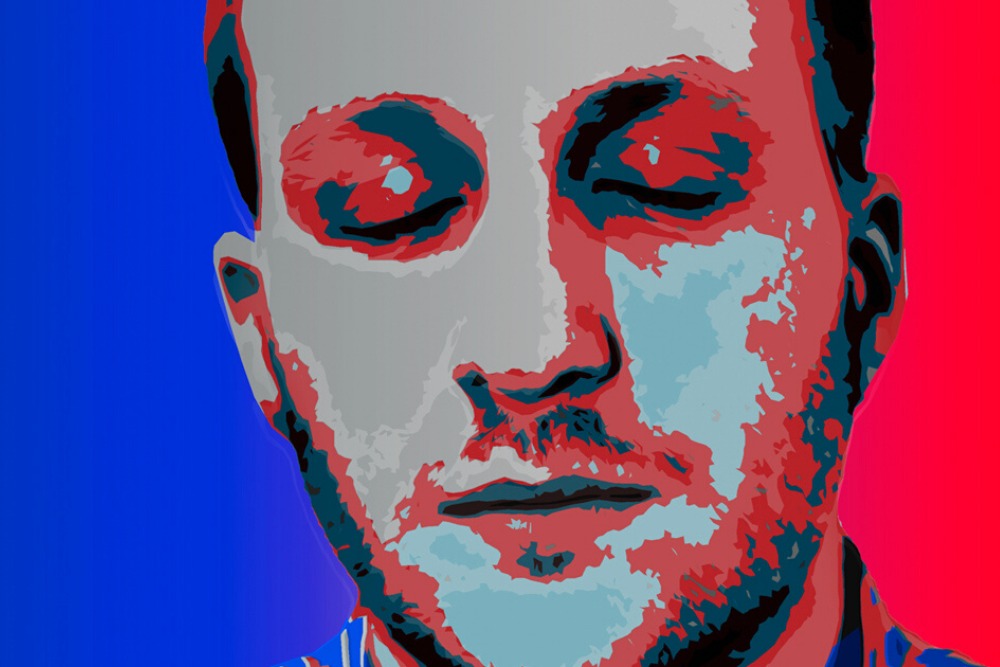 Ben Spalding on a Career in Music, Michelin Stars & Creating the PuzzleProjectsGroup
It's safe to say that Ben Spalding has taken a rather different route into the music industry than most of our usual DJ's and producers who we have featured. Ben's initial background was as a chef where he was hugely successful being part of teams in four countries winning 1, 2, or 3 Michelin Stars during his training years. Ben would push on from there in his own right winning a series of national and international awards and building a reputation as a creative and pioneering chef and concept creator.
Over the last few years, Ben has moved slowly away from food and ever further towards a career in the music industry. From utilising music in his cooking performances to setting up his own musical group in 2016. Ben's PuzzleProjectsGroup now comprises a popular artist mix series & record label PuzzleProjectsMusic as well as PuzzleProjectsCreate – a 360 agency for artists and businesses and the rapidly growing Nomadic party concept Puzzled. Ben's parties had a bumper year in 2019 with 8 shows in 8 countries before like everything else, coming to standstill due to the Coronavirus pandemic. His label PuzzleProjectMusic released had their first release last week which promptly went straight to the top of the DL charts on Juno.
Check the dub below and you can grab it from: https://www.junodownload.com/products/b4ck-to-l1fe-ol-dirty-blades-oyela/4604090-02/
Indeed over the last 9 years, Ben has curated & personally performed either through cooking or DJing at over 845 shows in 35 countries.
Ben's taste and selections in music is varied, playing everything from Boogie, Soul, Jazz, Hip-hop, Rare Disco, Nu-Disco, ranging to all shades of House & Techno. Likewise for the label which has no mandate or schedule other than to concentrate and aim for quality.
We spoke to Ben about the PuzzleProjectsGroup, his Professor Puzzle alter-ego and how music has resonated through his career. Ben also put together this cracking mix for us which has clocked up just shy of 4k listens in only a few days. Please give it some reshare love on Soundcloud if it rocks your party.
Hi there Ben,
Thanks for speaking to us today.
You have had a phenomenal career in food what led to the change of career moving towards working into the notoriously difficult music industry?
Hey John!
Thank you very much for having me on Le Visiteur Online fella, I vibe off what you and your team have built and do for the scene. I will aim to give you and readers a good insight into me and PuzzleProjectsGroup. Your questions were excellent and not easy to answer without some real depth – sorry, it's my all in or out motto I have. Ha-ha!
There are three reasons what led to the change that all kind of clicked at the same time for me back in late 2017.
1. From the age of 16- 31 years old I chose to dedicate myself to working in the food scene, I gave everything I had and much more on a mental, emotional and physical level to learning to cook in some of the toughest and most famous Michelin starred kitchens on the planet, then leading onto creating and operating my own business and food projects that I did globally. These establishments I trained and evolved in were no joke, I worked countless 16-20-hour days and up to 110 hour working weeks on my feet, things move at a very intense pace, at the highest standard with military precision. Working like this for so long makes you extremely thick-skinned. Discipline and organization were demanded of you and often you are in extremely uncomfortable atmospheres where psychological and physical violence, is a regular occurrence. People can leave some of these establishments regularly because they quite understandably can't cope with it. It's not a job deciding to work at that level, it is a lifestyle. It's a LOT better now in the industry, but back then these places were savage! If you truly wanted to learn how to cook and operate a serious kitchen then you needed to be broken down and rebuilt as a person before any skills got drilled into you – you needed to want it at that level and be willing to take a lot of sh*t to get through it, learn and deliver excellence. I have witnessed and been part of experiences in the food world that would make Kitchen Confidential look like Disneyland. When you are so immersed in the kitchen and team circle (who you see more than anyone else every day), often, depending on the establishment you are working in or the operation you are running – it takes over your life completely – everything else – the things that truly matter in life, get left behind; family, friends, girlfriends, kids, special occasions, summer holidays, Xmas Eve and NYE off, just normal things that normal people do!! No human mind, body or soul is meant to cope with that intense and sustained level of pressure and fatigue to cook professionally at that level for that long. Due to spending so much time committed to that career, It sounds crazy but I felt like an alien sometimes and very socially awkward in normal environments! I was constantly anxious and on edge. The after-effects of spending so much time working in these intense environments. I was craving and needed to have a better personal and professional life balance. To feel happier and balanced in my mind and to have some normality in life to enjoy other things in my life I care about. It took me until my early Thirties to action this.
2. In 2011, I was twenty-five years old and things started blowing up for me. I started getting booked to tour the world, the music gigs were straight-forward enough to just show up play, but the food gigs were something else entirely. In 2011 I was starting to create and execute my own food and music concepts, they were unique and pioneering – some of which became extremely successful, some also failed miserably! My teams of extremely dedicated people and I were putting on shows that over the years became increasingly more curious, progressive, elaborate and crazy. Depending on the style of booking and show clients wanted or public event we chose to hold, they often became a groundbreaking social experiment of highly complex and thought-provoking food, music, concept design, av and hospitality. I had pushed things to such a wild extent with the cooking that there were no rules. You weren't just coming for dinner to eat anymore, you were coming for a show, which is all good and well but when it is your name and your ass on the line, and things are going sideways from one of a million reasons, as can happen in the scene – the pressure can turn you f*cking mad – obsessed even. I mean, we were often arriving onsite for a show at 7/8 am in the morning, or travelling from a show abroad the night before, then spending the whole day setting the space up, cooking a 15/20/25 course tasting menu then breaking it down and loading the van up at 3 am and back to HQ to unload! It could end up in up to a 22-hour working day! It was total insanity, but we were pushing like crazy to deliver something memorable, which we often did but it required so much time and energy to deliver it. When you do this 2,3,4 times a week or every other week for years and years, it is exhausting. I was consistently putting myself well outside my comfort zone to learn and develop (but also as I love doing that ha-ha). In the years that followed, obviously, I was getting older and starting to feel it more on a physical level but I was also starting to suffer extreme mental health problems including depression and anxiety from being exposed to that level of success and pressure so young – the kind where you spend weeks on end curled up in a ball on the sofa and shut yourself off from everyone. I was really f*cking ill at one point; I entered an extremely toxic cycle of self-sabotage which is the worst place you can ever be. I nearly died twice. I had everyone in my life worried sick. When I started to get control of that situation, I realized I hadn't been enjoying cooking or had been at my peak for some time. I had kind of been pushing myself to do it which meant I was unhappy every day and in turn seeking happiness in poisonous things. So, I needed to re-think at length, how the rest of my career and life and how it was going to look, how I could still do things I am extremely passionate about and wanted to learn and develop. And just be a bit easier on myself and the people I love. I still love food and cook at home regularly and with my kids, but in early 2018, I started the transition and applied the same passion, skill set, drive and work ethic I had in the food scene to the music scene. Early this year after the Covid-19 outbreak which stopped everything for everyone – I decided to work hard and make the move into music full-time as a DJ, Producer, label head and event curator.
3. The music industry ism of course, equally challenging to learn and have notable success in but FAR less punishing mentally, emotionally and physically. Music is the best therapy, right? For me, creating food and music is exactly the same, both scenes are about pleasing people. If you decide to professionally do one craft, I mean seriously, and give a sh*t about it, then your job is to transport people away from all the bullsh*t in their life for a short period of time and stimulate them regardless of the intensity. I feel both art forms are about pleasing through the human senses, achieved through telling a story with your personality injected into it with lots of energy points, creativity, timing, restraint, balance, teasing and surprise. It should be packed full of provoking human emotion and sometimes nostalgia. There is so much for me to learn every day now and I love that and need that. I feel it is infinite what you can create and achieve in the scene. So as I learn and develop more over the coming years I hope to be able to leave my mark on the underground music scene and I hope that people will respect and appreciate what I have contributed to a buzzing and exciting underground scene.
Looking back over your food career what were your career highlights?
Blimey, there so many John, I am a working-class lad, I was in a bad way in my younger years, then I was kicked out of high school – I was told I would never amount to anything. Apart from one truly incredible teacher Sharon Nixon who has always believed in me and became a personal friend. I finally found a path forward and then I just put my head down, took a lot of sh*t and grafted relentlessly, I never had any special doors opened for me, I had to earn all of it through sacrifice and bloody hard work, so all of it was a buzz! Here are some I thought of straight away and I should add, that there are hundreds of professional chefs, waiters, managers, workers who gave up a lot of time in their lives and believed in my vision and what I was doing and put up with my chaotic and mad ideas over the years. NONE of this was possible without them. You know exactly who you are.
1. Being a part of all of the teams when we were awarded Michelin stars. An establishment winning a Michelin star is the equivalent of winning a Grammy in music or an Oscar in film. Some teams I played a pivotal part in us achieving this. There is no greater award in the food scene -where the awards happen one day a year and it's all a surprise until the day. It is the hallmark of excellence and a great feeling after all the sh*t you have to go through! (For the other 364 days in the year ha-ha.)
2. I was headhunted to become Executive Chef of Aqua Restaurant in the Shard building in London, UK. I managed a team of over 40 chefs and was responsible with the other heads of departments to lead and manage a restaurant team of 200, also overseeing the operation and targets of achieving a multi-million-pound annual food revenue. It doesn't get much bigger than that in a serious management role. That was a real buzz seeing my creations sent out in that iconic building and environment overlooking London. The view from my office was 31 floors up! The building used to gently move when it was a storm outside as it was so high up.
3. In 2014 was approached and booked by Coachella Music festival in the USA and my team and I were brought out for both weekends of the festival to deliver one of my food and music concepts called 'StrippedBack' in the VIP section of the festival. We cooked for some huge celebrities. Also, during those three weeks at the festival, we cooked a private show – a 23-course tasting menu for fifty of the most powerful people in the music business in the USA at the house in Coachella valley of one of the owners of Goldenvoice & BBC who organize Coachella. That was a crazy show. We went all out. It took months of planning and days to prepare. One of the waiters came up to me, a straight-talking dude from NYC at the end of the night and said to me "how the hell did you get these people to stay in their seats at a dinner for nearly 4 hours, these people don't wait for anybody." Just a truly mad and beautiful trip, we cooked some great food in often a challenging festival environment, had a lot of fun and got absolutely off our tits for a lot of the 3 weeks we were there. Shout out to my man Carl Poynton! An incredible chef and man who was equally responsible for so much of our success during the 2013-2015 period around the world. Very fond memories.
4. Being on the front cover and the main feature in Restaurant Magazine was cool – the equivalent of being on the front cover of DJ mag.
5. I did a mind-boggling multi-sensory collaboration in Autumn in an underground chapel in a London graveyard with The London Royal College of Arts. That was out there in terms of a food show. Eerie vibes but badass! Wonderful creative minds involved in that project – Professors and experts in fields and then me and the gang ha-ha.
6. I once cooked a six-course tasting menu on an open-top double-decker bus going around London in February 2017. It was freezing, dangerous, a logistical shitstorm and completely nuts! I remember the coal from the BBQ flying everywhere and I remember two of the chefs breaking down in tears it was so tough mentally, but we got the vibes going again when the PR firm rep gave us a megaphone! I was just singing out of it on the top deck – making people laugh and smile who were walking the streets. But to execute food like that and make people happy in that highly restricted environment is the real highlight.
7. Headlining the Great Food Festival in Singapore in 2017 was massive. There were some world-class Chefs and talents there and  literally a who's who of the press world from countless countries. I also did a ridiculously luxurious B2B dinner in a Michelin starred restaurant in Resorts World Sentosa with a super lovely and brilliant German chef. It was just a wonderfully inspiring trip. I was eating pigs' intestines and loads of offal for breakfast most days! the tour rep was so shocked ha-ha. I also remember having loads of people outside the hotel I was staying in who just cornered me every morning as I got into our ride to the show venue. It's a bit mad like that in parts of Asia. They are so passionate about special food experiences – I dig that.
8. Launching the Abu Dhabi Food Festival in 2017. I was booked by an ambitious forward-thinking event booker called Timothy Hocks, who has always been a big support to me, and a progressive luxury event operator called Festember to come out and curate three highly ambitious dinners in mad locations in Abu Dhabi. (1.) Next to the Louvre Museum. (2.) In an abandoned shipyard. (3.) On the beach underneath one of the main bridges next to the Persian Sea. They closed the bridge down for the dinner from what I can recall. The first dinners of its kind in Abu Dhabi.
9. I have curated some crazy exciting and maximum vibe events for some huge DJ's Producers, Label heads and Festival owners in dance music over the years all over the world, Ibiza, Australia, UK, Croatia, Italy – massive global names who work hard, love their food and to party, I am not going to name people but let's just say that dinner started and ended then often descended into a crazy party that often went on for days. I don't think there is anything that I haven't seen go on at these gatherings of big characters. Total madness!
10. Being listed in the iconic Times newspaper's 100 people to watch in England in 2012 – that was cool. It opened what I was creating to a completely new spectrum of people. What was even cooler was being above The Rolling Stones. I think I was number 50 or something and they were lagging back in 58 ha-ha!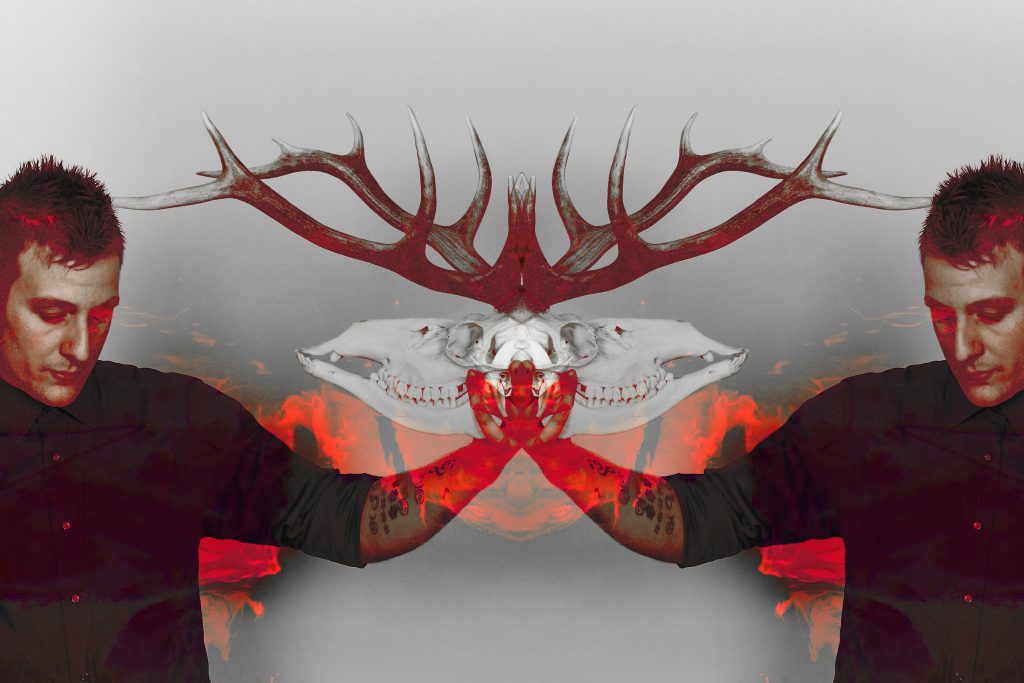 What is your own background in music which made you want to move into the industry full time?
I had quite an eclectic blend of sounds to be around and inspired by growing up. My lovely mum Rose was a Motown, soul and boogie lover.
My late father Maurice was a classical music fanatic and a truly wonderful human. I grew up with my dad only from the age of a young child and every single evening at around 6/7 pm every day he would play only classical music proper loud until 11 pm or later on weekends. He would be creating or writing a lot, cooking or drawing cartoons or telling funny stories from his professional motorbike racing days where he broke nearly every bone in his body. He was totally and wonderfully bonkers! (In a great way). Such a huge character with very strict principles and would have it out with anyone based on his principles. You felt his energy when he entered a room. He was always making you laugh or kicking off about something silly which was funny itself, especially to my brothers and me! My school mates all thought he was totally nuts!
One of my brothers Hugo was heavy into Hip-Hop or genres of rock n roll like ACDC. My other brother Andrew is a big character, a major gig lover, heavily into Indie-pop like Pulp or Blur, some more mellow genres, then went through a huge phase of some leftfield acts right through to Miguel Migs and loads of others and used to send me a lot of music. Andrew – is one of the most driven people I know and has been a huge influence on me in terms of owning a 'go-getter' mental attitude to life.
I have been obsessed with music daily since I was a child. I remember being crazy into Hip-hop from the age of about 11 and going with my dad to Richer Sounds music shop in Brighton and getting a full Cambridge audio cd, amp and speaker set up for a joint birthday and Christmas pressie. My mates would come over after school every day and we would get blazed and listen to all the classic Dre, Xzibit, Slick Rick and also loads of bootleg hip-hop and material that I used to buy from some of the amazing old record stores in Brighton too. I hammered that thing and would rarely let anyone curate the sounds for our sessions for years.
In my late teenage years, I got really into dance music and DJ'ing, my mates and I among other naughtiness used to regularly sneak out of home at night and go to and play at naughty illegal raves in the Sussex downs, triple-dropping as we were climbing the monumental hill to the chalk pit where they used to hold them in ha-ha! It was total hedonism and awesome – the sounds and the energy from people I experienced there were infectious for me. People were so free, down to earth and against the system, it was f*cking real and I loved it. Those experiences open your mind and shape you as a person. At 16/17 years old I was at cross-roads between going into food or music. I chose to learn to cook as my full-time job starting in Brighton where my Head Chef Dan used to play sick sets a few times a month at the brilliant but now-closed Zap Club on the seafront. I was completely obsessed and immersed with music the whole way through my food career. The kitchen lads and I were always raving on the weekends after work at iconic clubs like Concorde or Audio in Brighton, UK. I vividly remember the legendary Hed Kandi nights before they blew up – electric vibes, those nights used to go off, then in London at Fabric or Ministry of Sound or The End. Summers when we could, we would go to festivals or lots of gigs in Camden. During my food career, I went on to live and train as a chef in 5 countries; UK, New York, Australia, Norway & Sweden and it was the same in every place I worked – nearly every colleague I had loved a party and loved the music scene in some form. Melbourne, Australia was a huge imprint on me, lots of weekends spent at venues like the legendary Revolver or festivals like the magical Rainbow Serpent with a great group of people there. I got a set of 1210s on moving to south London and was on them every day and we always had a crack on at my flat wherever I was living in London – always a bunch of random characters coming back from a show at Ministry of Sound or Fabric on the weekend's ha-ha.
I played vinyl-only from 2007 – 2017. In 2017 I adapted and evolved with digital. I felt there was so much more progress to be made learning and utilizing the software and tools available. I am extremely curious and often spotting elements of tracks that I feel can be enhanced or manipulated in some way to create higher energy points. So much more potential and endless possibilities. I don't even get into this vinyl Vs. digital ongoing argument. You are a clown if you even contribute to that. Spend your energy and time testing, creating and progressing! If the music grooves, it grooves. You can use a tape deck or 30 pieces of hardware if that is what works for you and works for you and the crowd. The vibe and quality of the music fitted to that environment at that exact time are all that matters. I know exactly the style of energy and the direction of the music I want to curate to fit that environment at that time of day before I step into the booth. I only play and mix music I love.
On the performance side of things, from 2010 onwards I played countless gigs all over Europe either at bars, clubs, rooftops, friends' houses, after parties, staff parties. I enjoyed the party side slightly more ha-ha! So, I never really thought about or tried to take music seriously as a craft. I was always asked by people the name of or where they could get the tracks I was playing or the mixes after a gig, I just kind of laughed it off not taking it seriously but when I decided I was going to enter music full time as my profession – I started uploading my mixes to Soundcloud in 2019 and the feedback was overwhelming, just the messages from people were really moving. I started strengthening and creating new relationships with promoters, bookers and clubs. Many I was already connected to or had partnered with through past events somewhere in the world.
Last year was massive for me. I toured and played in 19 countries. Overdid it slightly on the travel and not looking after myself! I caught Bali flu then pneumonia arriving back in Oslo. I was in intensive care for 4 days and hospital for 2 weeks in Oslo. Lesson learned!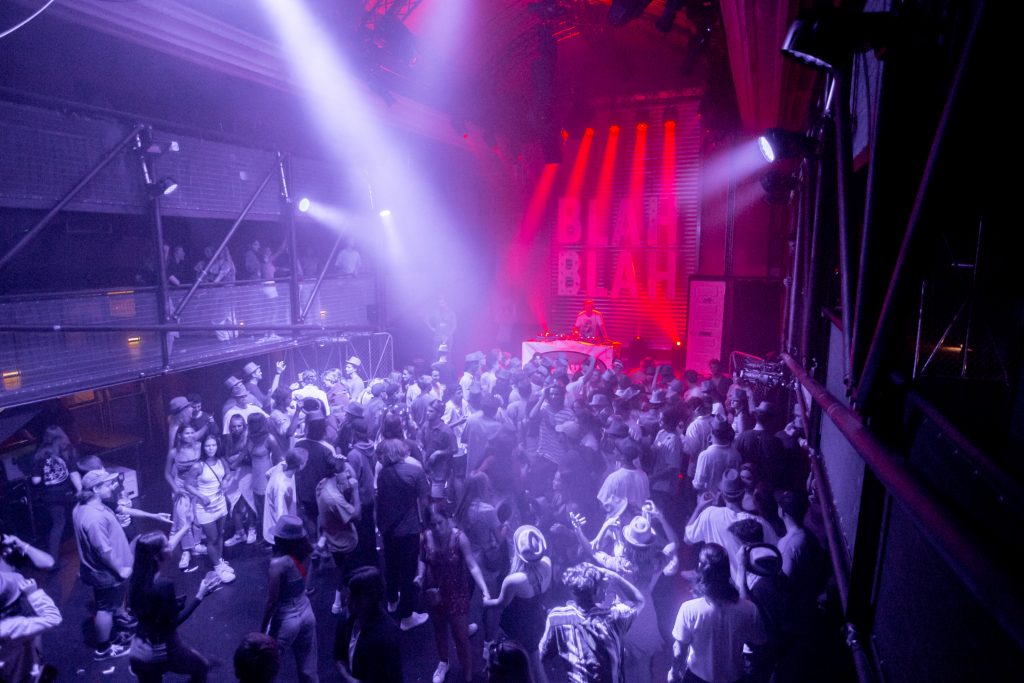 (Ben on stage at the Rechabite hall in Perth on 07.12.19)
Which professional & personal lessons that you have learned in your previous career would you say are now paying dividends for you with setting up and operating PuzzleProjectsGroup?
I have been dealt some traumatic and challenging situations in my life from child years. I have been at rock bottom more than once and it is the single hardest place you will ever be apart from a serious illness. I feel stronger than ever before, particularly mentally. Here is a mixture of professional and personal lessons here that I have learned in my life journey and work for me personally.
1. Be very careful who you trust but be willing to trust every new person you meet.
2. Think and live your life positively. This saying used to really piss me off until I understood it and how to achieve it – which is easier said than done. To achieve this you need to go on a deep and uncomfortable journey within yourself, your soul and your heart to heal the trauma, the hurt and where you may have been done wrong by other people and then learn how to love yourself first, then everyone else will follow.
3. Always aim to do everything thoroughly, professionally and consistently and ensure you are fully covered from a legal standpoint.
4. Sleep, think and meditate on decisions that are potentially huge for your personal life or your team and/or your business.
5. Meditation, yoga and ice baths or ice-cold showers, I have some combination of them all every single day. This will change your life completely and channel your energy. Reset your mind as much as possible. I make big decisions daily on a personal and professional level, so this is essential, and I enjoy the extremeness of it. Thoughts become crystal clear after doing so every time. It blows my mind every day just how much strength and power the human mind possesses when you learn to unlock and tame it.
6. Remove negative and toxic people from your life, drown out the noise and let any rude, bitter, jealous and unreasonable haters hate. Any human who behaves like this is hurting inside for whatever reason and until they address their own issues, failures and insecurities, they will continue to project their negative energy onto other people including you. That is simply human nature, not hippy talk! Only an ignorant person will dispute this – I know as I was ignorant and in denial for a long time in my life. Convert any negative energy into positive energy and just let your work do the talking. That silences negativity every single time.
7. When people underestimate you or your ability, don't take you seriously or write you off for whatever reason. Let them. It is the most powerful fuel for progress.
8. Make time for people always no matter who they are, where they are or what they do if they are genuine, kind and polite – which usually shines through, then they deserve your time, talk to them, reply to them. I must get several hundred messages a week, but I always make time to reply as soon as I can and I always will.
9. Have patience and understand that tomorrow is a new day to achieve your personal and professional goals.
10. You are unique, you have it all inside of you to achieve your passions and ambitions beyond your wildest dream, stop blaming your past or current life situation, who has done you wrong, what you don't have or who is doing better than you and check yourself! It won't be easy; it isn't meant to be easy! Change that mindset. Own it. You can do it!
11. Stay clear of booze and gear! That shit will poison and ruin your mental and emotional balance, everything and everyone around you.
12. Everyone has their opinion of you and what you could do better, but they don't do the job or live your life so stop worrying about what anyone thinks of you, it's a total waste of energy. No one really truly cares! Just do YOU!
Please can you tell us a little about all the different strands of the Puzzle group?
This is a big question to ask John! It took me many years to even be able to know how to answer this question.
The group is so vast and varied now, but I will summarize as briefly as possible.
PuzzleProjectsGroup: Is the umbrella brand to the following brands which are at various stages of establishment or growth.
• PuzzleProjectsMusic – Global Record label & long-running global guest mix and artist feature series.
• PuzzleProjectsCreate – A 360 agency supplying seed stage, established or global businesses of any type with full and extensive social media creation and management, artwork, film, copywriting, legal templates and everything needed to establish, refine or grow a brand presence without the silly prices. We currently look after 12 clients around the world across multiple industries. We are open 24/7. BY creatives for YOU!
• PuzzleProjectsFood – Hospitality consultancy worldwide & occasional high-profile food events.
• PuzzleProjectsTalent – This is going to be a small but serious Artist gig booking agency where we will handle everything for an artist's gig bookings highly efficiently and make sure they are protected – Launching 2021
• PuzzleProjectsCharity – Charity supporting mental health sufferers, initiatives and addicts. I will do something really big with this over time as this truly matters to me. I have a huge idea for this, but it needs some serious investment and support to make the impact I want it to on people in need.
• PuzzleProjectsShop – All Puzzle merchandise and wacky items! I have some very fun ideas, currently being developed for this with some of the team – Launching 2022
• PuzzleProjectsFilm – This is a really exciting ambition and idea I have had for a while. It is still at the seed stage but forming quickly. – Launching 2023
• Puzzled – Naughty, loose global parties where artists from either the guest mix series or who are signed to the label perform alongside me and local artists from that area in the world. We are in the middle of refining the brand ahead of a series of shows around the world next year.

Your 'The PuzzleProject Sessions' Mix series recently passed its 100th edition. Explain about it and what have been some of the highlights for you?
Yes! Well as you know, we do a series for a labour of love – there is zero financial gain to be made from it but endless riches in vibes!
I started the series in early 2016 and have curated it for four and a half years. It grew into a bit of a monster and some hardcore fans listen every day and the stats are strong but it's still only a baby really. There is so much I want to improve and redo on it still, but bit by bit. I know that it can be better presented and promoted, and I am working on that in my spare time as much as I can.
You know it's funny, I need to say that I think a lot of artists have become cynical towards the guest mix concept. A bit like chefs towards pop-ups. Sometimes I reach out to artists and it's almost like I have asked if I can murder them ha-ha! Of course, their schedule permitting. I fully respect it's a sizeable time and effort commitment from the artist and series curator and of course, it has to fit in line with the series artwork and brand and narrative but let's not forget here, it's all about the artist! The series just shines the spotlight on you. I am honoured when anyone asks me – whoever they are. What greater compliment or marketing & promotion opportunity for an artist, their music and passion is there?
My goal was to create and build a respected platform for listeners and for the artists to be proud of contributing to. I didn't want to create a 'mix series' – I wanted it to have some depth, heart, plan and foundation behind it. The criteria were and still is to showcase a fair balance and shout about hidden, established or megastar Musical talent. No favouritism or only elite artists. That's bullsh*t. This mentality is exactly the same situation of what has created the often-seen same pool of artists getting bookings at many parties and festivals. Sure, these artists are unquestionably amazing and thoroughly deserve it but there are so many talented, hungry, hard-working and driven acts out there that deserve an opening and more intense support and promotion. This is the real sh*t.
I feel very strongly that it's about how well that artist selects, curates and tells their story through the mix and interview to the best of their ability at that time. It's always evident when someone really puts effort in. That is what inspires me and continues to inspire me. Over the next few months, there is a really exciting array of hidden talent contributing their sound and story to the platform. I am hunting every day for new talent.
I take the role of curating the series deadly seriously. I run it as professionally and human as I can, with lots of love and try to be consistent while also incorporating my own learning curve into it on how to package it better, promote the artists better and leave a small legacy behind it. I look at the early features I wrote, and they were shocking – my grammar and writing would have made you cringe John ha-ha! I had to check myself and learn to do it properly, which was hard, it took time and a lot of trial and error.
I have always listened and thought about the submitted mixes at length before going ahead to upload them as I didn't want the series to ever lose its values of quality, diversity and variety.
I often invite some of the previous artists back for a second or third time, I have spent several thousand hours of my life building the series, I believe in the artists who join and I am investing and spending my time, money and energy to showcase them – I continue to do this because I LOVE it. I love learning about them, talking to them, writing about them. I get a huge vibe off connecting with new music lovers and artists. Whoever they are, wherever they are, whatever level they are at, but they have to be serious about it, still have fun and enjoy collaborating but just take it seriously and make the effort to push it too.
I don't want to pick out certain artists or mixes for highlights as I think that is disrespectful. I appreciate and dig all of their styles in their way.
You recently moved over to Norway. How have you found the music scene over there?
The country is jaw-droppingly beautiful. I can't get enough. I have been to the main clubs like The Villa and Jaeger which are great spaces. I saw one of the puzzle family Kellini play in Oslo too, he is such a lovely human, and a deadly selector and producer – shout out to Kjetil! I had to behave that night though ha-ha so couldn't stay long. Up until COVID-19, I have personally found the music scene close-knit as it usually is everywhere, so it's been tough to get spaces to use for shows too. I have played a couple of good shows and have one coming up in Oslo in a club in the centre. I have had many positive conversations, phone calls and emails – when bookers can be bothered to reply, ha-ha, nothing new there! It's not too often I find an 'on it' booker who has their game face on and is organized and ready to make something happen. I am currently looking for a long-term venue partnership in Norway. Just got to keep pushing to connect with the like-minded ones. Reach out if you are reading this.
Please can you give us 3 tracks which you would say have directly influenced your own musical upbringing over the years?
Sorry, had to go large. I have chosen five that are from my adult years as I remember them better. I think these tracks are timeless, beautifully arranged, I have played at home or on tour endless times and will continue to and I have beautiful memories associated with them. They spread love, positivity and sound unforgettable on a big quality system.
Deep Burnt – Pepe Bradock
I will never forget hearing this timeless track for the first time as the closing song at Fabric in London. I think it was Booka Shade playing – maybe 2007 or 2008? Sorry, I can't be sure – I was off my chops so it's a blur ha-ha. It was 9 or 10 am and there were only about sixty people left on the floor. Lights came on, it was over, all the gremlins looking at each other processing the incredible music we had just raved to for the last 10 hours. The lights went back off, the cheers followed, then they teased 'Deep Burnt' in ever so slowly. The rest is history. One of my most powerful connections ever with fellow clubbers and watching an act perform. The perfect selection at that perfect moment. Can you believe this track is 21 years old!! It will sound this good in 200 years!
Please Stay – Matthieu Fauborg
I think this track is as close to perfection as you can get. Bordering on genius. The way the track elements slowly and perfectly build in at a perfect pace. I re-worked this track very lightly, adding some more percussion and acapellas and played it a few times last year as an opening and closing track in my sets and it just sets people off every time. Beautiful composition and many varied emotions in it. You can feel the pain of the artist who made it.
Good to You – BY Makam
Timeless and I think literally perfect. I just cannot hammer this enough and will never stop. Great as an opening track, mid-set or closing track – it delivers every time. I have a lovely memory of crowd connection playing this last summer in New York. It's beautiful seeing people's reaction when they hear it for the first time. The Teddy Pendergrass vocal just oozes love and soul and the groove Makam put together is perfect for it.
If Only – BY Liem
I heard this for the first time in 2017, shortly after it was released at a club in Berlin. I fell in love immediately with it, what a beautiful music video too. I layered a dialogue clip from the film Pulp Fiction over it and played it a few times last year – even though it's a soulful, emotional jam, this pumps big peak-time.
Sum Good Music – BY Scott Grooves
Scott Grooves is one hell of a talent. A wildly under-appreciated artist and song! Again, very versatile, I have played this as an opening track, mid-set or closing track. A timeless, beautiful song.
You also produce under the moniker Professor Puzzle, what can you tell us about that and when can we expect to see the first releases?
I had been making plans for a few years about starting the production journey. I started making my first edits last year and they are littered throughout my DJ sets on my Soundcloud page. I started learning to properly produce music recently – there is so much to learn but I love that, it will take years and years to get where I want to with it – but that's cool, it's important to enjoy the process. I am in it for the long run. I have endless ideas for tracks, so my focus is on the most crucial task of learning the right software mechanics to tame and shape these ideas. I am creating music I love and working to create a very specific sound that I love as a raver and will tear dancefloors up and you want to lose it too on a big system.
Currently, as we speak, I am co-producing music with the fantastic Berlin-based Ronald Christoph – we had been speaking for some time and it felt right to work together. He has a wealth of experience and quality and a Jedi-like composure about him which I really dig. We both bring all the necessary ingredients and set-up needed to create and release quality underground music. We are creating specifically peak-time House and Techno club music. I will visit him in Berlin soon. That is all I will share at this point.
For Professor Puzzle, I am currently working with a wide variety of extremely talented musicians for bespoke samples which I am testing out to then create a much deeper, darker, twisted, rolling style of sub-genres of Minimal, House and Techno music. I will not release any details just yet until I am confident everything is in place. This will take some time, but no need to rush, I want the sound to be extremely potent and consistently progressive. Everything about Professor Puzzle needs to be a separate world from my real name if that makes sense. To achieve this, it requires a huge amount of thought, learning, trial and error to reach the sound I have in my head and get it to reality. It will be music designed for the naughtiest, loosest ravers and dancefloors out there.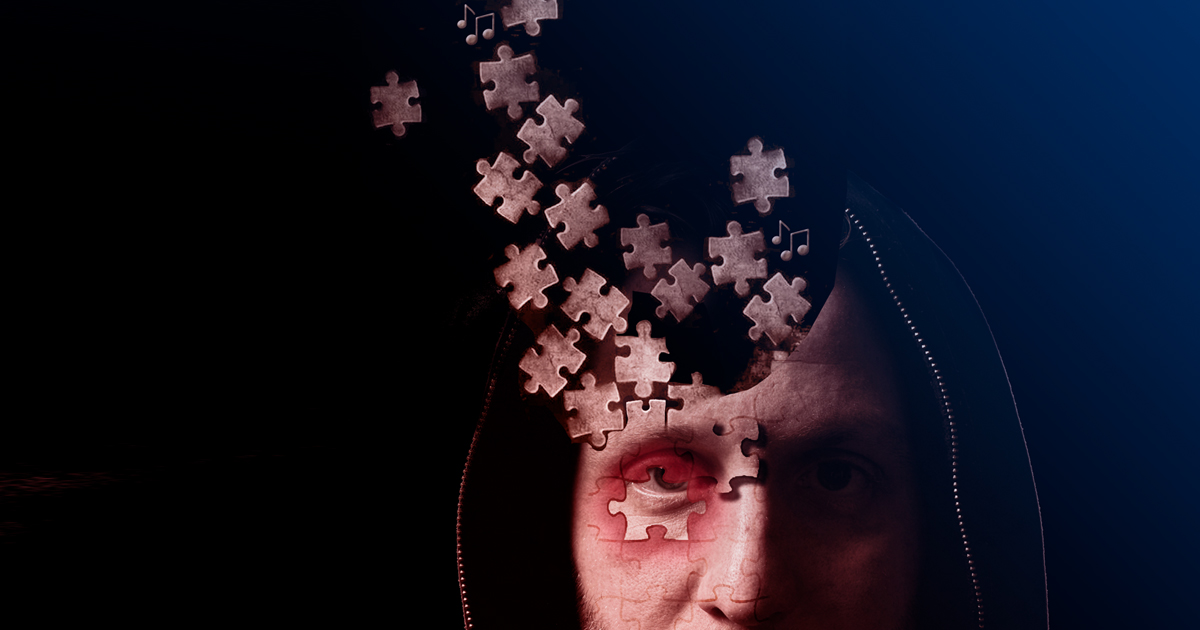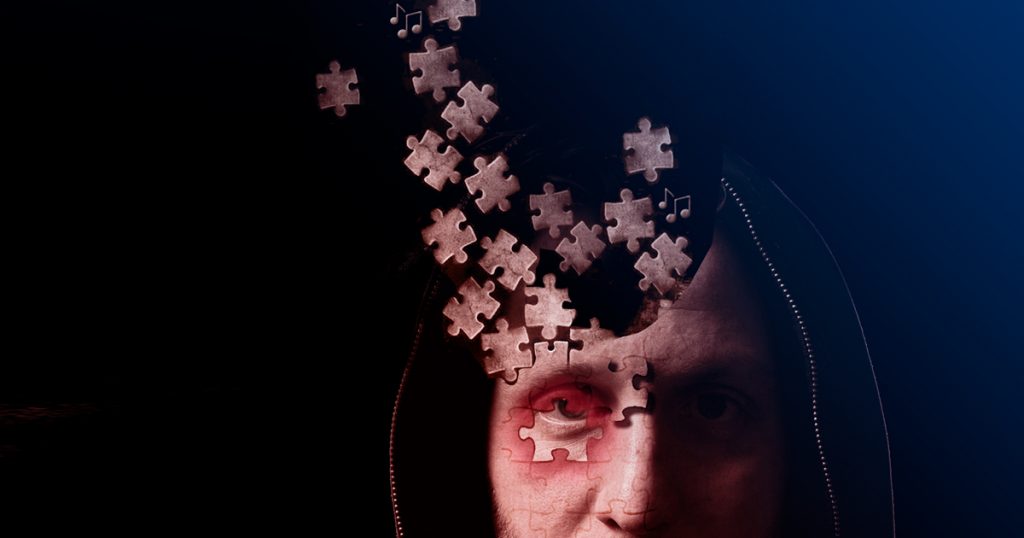 Professor Puzzle
What else can we expect from Ben Spalding and PuzzleProjectsgroup in 2020?
From me personally: I am focusing on looking after my mental and physical health first and foremost and being a great father to my two children and role model to my stepson and being good to the people in my life. My partner and I also have a third child due in 5 weeks – a little boy, which we are buzzing about!! So, it's pretty crazy on the kids front!
From me professionally: I am focusing on sensible and zero pressure goals as a DJ and Producer and doing right by the people I commit to working within the group and doing things to the best of my current ability. Obviously due to COVID-19 things are quiet so I will only play once in Oslo this year and at a 9-hour Puzzled show at Your Mom's House nightclub in Denver, the USA on Saturday 14th November this year. The brilliant Monsieur van Pratt is coming up from Mexico to perform too alongside several local Denver artists and me. We will go to work big time on that dancefloor.
Moving into 2021 – I have rescheduled half of my planned 2020 USA, Mexico and Canada tour for April 2021. Later in 2021, I will do return tours of Australia and the far east. There are some exciting long-term partnerships there, shout out to the Unbound lads Callum and Hayden who are going to be major players in our scene in the future. There is so much I want to explore with lighting, AV and room production during shows to increase energy points – it's endless and so much fun.
Aside from that, there are several other huge ongoing discussions with operators to collaborate and there are a few locations I am keen to break into in the world. I am always looking for the right operators and partners globally, but this is always the challenge. Endless hunt.
But most importantly and after all this serious talk, my biggest task is on me to self-discipline myself to keep the difficult and fine balance of working logically, efficiently and professionally within my own set out procedures, but still leaving enough room for me to forget all the rules, all the brand sh*t, all the social media, all the contracts and routines and do what I love most – create and have fun!
From PuzzleProjectsGroup;
I can't put into words to you to begin to describe the stress, pressure and failure I have gone through in my career and life to get to this point. Only as recently as a few months ago did I feel for the first time in my life that the puzzle had started to come together. As I write, there are now 13 key people working in the group who are all fantastic. I feel extremely lucky to work with them, to be inspired by them and I have a no-bullsh*t relationship with them all and encourage them to tell me straight if an idea or brief is stupid or unnecessary or too much. The ability to have this kind of relationship with them is ESSENTIAL and means only one result – progress.
We have many active collaborations ongoing around the world on a huge, diverse range of projects. PuzzleProjectsCreate is proving to be a brilliant driver for things right now. It is growing rapidly by the day. What is most important to me is to keep progressing, creating and innovating but not compromise the quality of what is put out. If I feel we start struggling with that, then we simply slow down, do things properly. No pressure.
The business and brands have a huge way to go but as long as we move forward and enjoy it. I have lived a long period of my career doing something I wasn't fully in love with and I am not going back there.
Financially – I need to continue to be logical and make sensible decisions and reinvest any profits back into the brands and driving those motherf*ckers hard, you don't do what I am trying to do with profit in mind. It doesn't work like that. In ten years', time, then of course profit needs to be a key factor and I hope by then the 360 agency is booming, and the record label is successful, and the parties are selling out's every time, but I don't expect any of that. I am just continuing the path that feels right to me.
I can't tell you how far this all will go, but all I know is that it will be somewhere that we will be able to contribute positivity and support for several industries and people in it and that is a real buzz knowing that.
Hope everyone enjoyed the insight and dig the mix; it was nice to drop the tempo and go a bit deeper into the deep and mellow spectrum of disco and boogie edits and share some unreleased tracks from the artists in PuzzleProjectsMusic.
B x
For more info and links to Ben and all of PuzzleProjectGroup please check:
Ben Spalding Soundcloud: https://soundcloud.com/benspaldingofficial
Ben Spalding Instagram: https://www.instagram.com/BenSpaldingOfficial
Professor Puzzle Soundcloud: https://soundcloud.com/PuzzledOfficial
Professor Puzzle Soundcloud: https://soundcloud.com/ProfessorPuzzleOfficial
PuzzleProjectMusic Soundcloud: https://soundcloud.com/puzzleprojectsmusic
PuzzleProjectGroup Facebook: https://www.facebook.com/PuzzleProjectsMusic
Tags:
Ben Spalding
,
house music
,
PuzzleProjectsGroup
,
PuzzleProjectsMusic