Chopshop Mine for Disco Crypto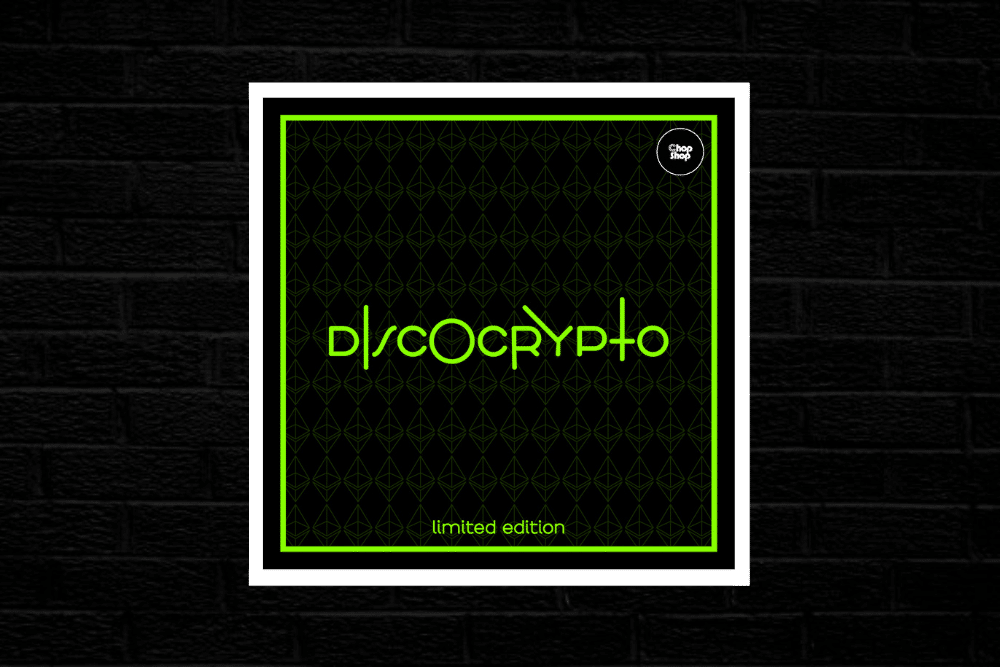 Chopshop Mine for Disco Crypto
Chopshop has been one of the key labels at the forefront of the disco world for more than a decade now. Covering everything from classic edits through original disco and house music Chopshop has earned it's place in the panthenon of labels which paved the way for Disco's renaissance. It's a label which has hosted many of the best names on the disco scene including Hotmood, HP Vince, Situation, Vaudafunk, Cordycep, Andy Buchan and of course our own Le Visiteur.
Now the label is moving things forward at an impressive rate with a hugely exciting project where they are aiming to be the first ever label to release a digital EP with an NFT which can be traded and sold afterwards using the same blockchain technology that bitcoin is founded on.
This project has now come to fruition with the imminent arrival of the Disco Crypto EP. We caught up with George Kelly the man behind the label to discuss Chopshop and Disco Crypto.
You can bid directly on the EP here: https://app.rarible.com/token/0xd07dc4262bcdbf85190c01c996b4c06a461d2430:169251:0xc3b46b8836f32f0164333f2fd4dc17d3b21f92f6
Please can you tell us a little about your Chopshop journey since you set the label up to where it is now in 2021.
The label started for fun and out of love for music and it featured just a handful of artists. We started with limited edition vinyl runs and later we moved in the digital space. 11 years later we have over 150 releases with more than 70 artists. During this period we experimented with 2 other sub-labels that are now defunct, Undercover Operations and Our Records.
What would you say in the musical ethos of Chopshop right now?
Nothing has changed since the beginning, we like funky things that can get a party going, nothing too serious and because of that we cover a wide range of music without following a specific trend.
Please can you give us some tracks released by the label which you would say are quintessentially Chopshop?
George Kelly (AKA Dj Butcher) – The Music Turns Me On (Greg Wilson Edit)
Things took off from this. Greg Wilson asked to do a special mix to open his set at Glastonbury festival back in 2011 .
Chopshop 10 years Disco & House
This compilation marked our 10 year birthday and features some of our most funky work.
All of the Chopshop team, there too many to mention and everybody is a star in their own right. Have a listen to our most recent stuff here: https://soundcloud.com/the-chopshop-music
Your latest project as Chopshop is perhaps one of the most exciting projects that we have read about recently with the impending launch of the Disco Crypto EP and how this might very well be the future of music production. Please can you tell us a little about the back ground to the project?
For the past year sales have been plummeting and disappointing. We have been looking into new and creative ways to generate some income for both label and artists. We realised by using blockchain technology our music can serve as a digital asset, both to it's creator/artist as well as to it's buyer. In simple words, mp3 and wav files associated with a digital token (NFT) have an aftermarket value that can be traded and sold instantly via your phone. As such, we decided to invest, innovate and experiment with Disco Crypto which we aim to be the worlds first tokenized music EP.
So this is similar to 3lau's recent album auction for his Ultraviolet Vinyl NFT Collection?
Very much so. 3lau is an innovator above anything else and he deserves mega congratulations for his achievements. He is the first to tokenize his music in general and the first to release a solo album this way. His success went onto being featured on the New York Times with his record breaking auction, selling 33 vinyl records for roughly 12 million USD in one day last weekend.
Following his first for solo album, two weeks later we announced and are about to claim the worlds first tokenized EP with the label and a group of 5 artists working together .
How do you go about creating a non fungible token?
There is a learning curve for those that do not know how crypto currency works or what it is but once you become familiar with the various applications and processes it is fairly easy for anyone to download an app on a phone and create, buy or sell an NFT in a matter of minutes. The token can be associated with anything physical or digital. For example you can attach wav files or digital artwork in mp4 but also vinyl records, t-shirts and about any other merchandising you can think of. Most transactions are done by using Ethereum, all fiat currency's like dollars or euros are irrelevant here.
If you purchase the fungible token how does that work, do you need special wallet to store it like other cryptocurrencies?
Yes and it is actually pretty cool. You can store crytocurrencies as well as digital collectibles on the same wallet and trade at any time, globally, instantly and directly from your device.
How does blockchain work with regards to how the EP is transferred?
There are many platforms such as rarible.com that you can create, buy and sell NFTs. The process of creating an NFT on the blockchain is called minting and it involves adding content and specifying amount of copies to be created. Minting an NFT comes with a fee and once created it cannot be altered or tampered with. The content that is associated with the token is locked inside and reveals after purchase, in our case the music and artwork. If any of the content appears elsewhere, this means it is fake and worthless as it is not associated with the token. Furthermore, as there is a risk of people trying to impersonate somebody else, the seller, in our case Chopshop Music, has been verified by Rarible and features a small verification tick on the logo to ensure creator authenticity. After purchasing the token, buyers can view the content instantly on their device as well as transfer or list for sale at any price they choose. In looser terms, any digital piece of art can now act as an investment similar to the second hand vinyl or art market. Block chain technology also allows for every single NFT copy to trace all transactions back to the original creator for eternity ensuring that it can not be counterfeited or tampered with, in any way.
What does the fungible token contain?
Disco Crypto EP includes the following 4 exclusive, nowhere to be found elsewhere tracks.
Andy Bach – Jump
George Kelly featuring BnC – Superballin'
HP Vince – Disco Crypto
Vaudafunk – Nice To Antibes
Upon purchase content reveals including
4x .wav files
4x 320mp3 files
1x Animated Artwork HD
1x Jpeg Art
Which artists are involved with the Disco Crypto project?
We have selected 5 artists from the Chopshop Music roster that have been with us for years but also newcomers (to the label) that are very dedicated and passionate about their work and music.
From Netherlands HP Vince, from Germany Andy Bach, from Italy Vaudafunk and a collaboration with Greek usual suspects George Kelly and BnC. We also partnered with Athens based Kuluri creative for designing our graphic and video campaign as well as the special animated cover that is included in our EP.
In many ways this reminds me of when Wu Tang Clan sold one copy of their album Once Upon a Time in Shaolin. Do you think that the music industry will continue to move towards creating art which is available in much smaller numbers in the future allowing artists to charge more for it?
It is not about the pricing. It is done for independency and exclusivity. Today everybody takes for granted that they can open a radio or streaming platform and listen to music, our work, for free but also commonly disregard our digital files as if they are worthless. It is much more productive and definitely much more interesting and exciting to go to a gig or listen to a show that includes rare music. And when we mean rare, it is quite literal. More specific Disco Crypto can be found only via the token which is limited to 100 copies . The music included will never be uploaded on any streaming or pay for download platform not by Chopshop Music or the participating artists. Even if you are interested in listening to it, just to see what the fuss is all about, you will have to purchase. So the notion of rare music is quite fascinating. For DJs and producers it's to own such rare pieces which only a small handful of others in the world have access to and be able to share with their following. Not all music has to be done this way, just a small percent can make a difference. If this means people can make profit just by supporting their favourite artist in the long run, that is even better and a win for everybody.
Where will we be able to purchase the Disco Crypto EP?
The release goes online 12 March 13:00 UTC on rarible.com and is limited to 100 copies.
First come, first served.
What tips do you have for budding label owners out there if they are looking to get involved in the crypto business?
At the moment we are innovating and experimenting, there is no preceding event in history to run back to and try and make an educated guess what is to happen next? This is why Disco Crypto is the first of its kind and will be claiming the world's first tokenized music EP. We invite you to follow and support our journey into the unknown.
What are your plans for the label over the next 12 Months?
We will concentrate in creating more digital products as we aim to be on the forefront of this new space. Also, we will soon be launching our sample library packs. Chopshop Sample Libraries. We have been working on this for 5 years now and we are currently in the process of developing plug-ins for the Native Instruments Kontakt sampler that will come included in our libraries. All in all, pretty exciting stuff for an otherwise devastating year.
For more info on Chopshop please check
Website: https://www.chopshopmusic.art
Facebook: https://www.facebook.com/ChopshopMusicGR
Soundcloud: https://soundcloud.com/the-chopshop-music
Instagram: https://www.instagram.com/chopshopmusic_gr
Twitter: https://twitter.com/chopshopmusicgr
Tags:
chopshop
,
disco
,
Disco Crypto