Detroit Swindle – 7 Random Q's [Heist Records]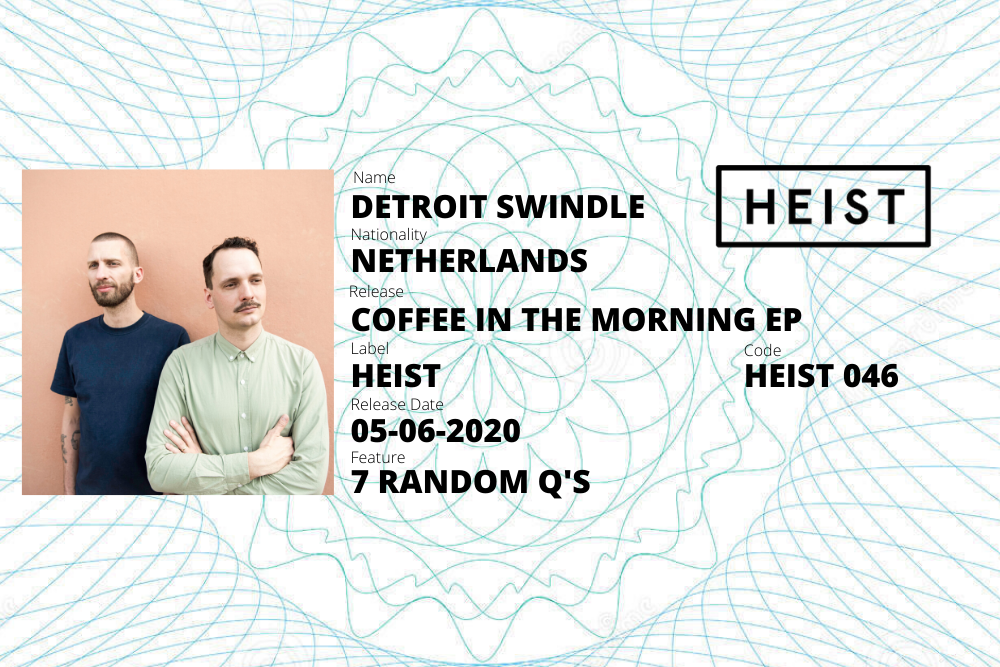 Detroit Swindle – 7 Random Q's [Heist Records]
Our regular readers will know that we've been firm fans of Detroit Swindle and their label Heist since Day 1 of Le Visiteur Online. Their music is both exceptionally cool and also perfectly crafted to cause all sorts of ridiculous celebratory spectacles on the dance-floor. It's therefore always a major cause for celebration when a new Detroit Swindle release lands in our mailbox.
Their latest 12″, which touched down on the 5th June, is another gleaming release packed with four serious club cuts. Lead track Coffee In the Morning is a top of the class peak-time rolling bassline disco edged pumper. Featuring a brilliantly hooky vocal from Jitwam the keys are intense and with the addition of some incredible brass this is a track which simply delivers on all counts. If you could imagine the perfect marriage of classic house, contemporary production and high energy Jazz it would likely sound just like this. It also comes as a handy dub for the dj's out there who prefer their tracks with a little less in the way of coffee related vocal discussion.
Also featuring is another original track Move out Of The Way. It's a warm and high energy slice of house music also with a firm classic feel. The synths are beautifully energetic, add in some top class drum and percussion along with ear worm vocal loops and it's another sure fire club track.
Closing the package out Norwegian Disco Don Prins Thomas pipes in with a brilliantly contemporary disco remix of Coffee In The Morning. Moving the Saxophone to front and centre this is exactly what a remix should be. It's funky and hugely engaging, the type of track which causes both uncontrollable smiles and dancing. Another dancefloor hit.
All round then this is another classic addition to the Detroit Swindle discography, you can listen below.
To celebrate the release of Coffee In the Morning we asked Detroit Swindle some very random questions. Check them out below!
Grab the release from:
Digital: https://store.detroitswindle.com/download/heist046d
Vinyl: https://store.detroitswindle.com/download/heist046
Detroit Swindle – 7 Random Q's [Heist Records]
What's the last thing that made you laugh?
Because of not being able to go to the hairdresser I've taken it up to myself to cut my own hair (beard). I was very proudly growing a manly 'Corona' beard and by accident I shaved a big piece off. I ended up shaving my entire beard (that I've not shaved for almost 10 years). The result was a baby face I've not seen in a decade. I started crying a bit but when I got out of the bathroom my girlfriend saw my face and burst out in laughing. We ended up rolling on the floor laughing. This was a couple weeks back and I got my beard back (thank god!)
What do you do when you need some downtime?
That's a strange question in these times because almost 50% of my time is now downtime haha. But working out is a big part of my routine. It's a must for people with our lifestyle. Also for Maarten and me, cooking is a big part of our day. We both love food and we love getting to the bottom of certain recipes and styles. I've recently started making Tonkotsu ramen from scratch and Korean Kimchi. Maarten is always finding new things to make pickles of.
Are you able to keep plants alive?
I'm the biggest cheater when it comes to plants because I only own plants that don't require much attention. Hahaha. My house looks like a lush green oasis but I picked all my plants to only require a little bit of water every two weeks (or basically whenever I think of it). My pièce de résistance is a huge Euphrobia cactus which doesn't need any water for half of the year. Perfect!
What is your secret weapon recipe in the kitchen?
Whenever I have friends over I make my own version of 'Tamago Kake Gohan'. It's originally a breakfast dish but I make a bigger & badder version of it with a piece of marinated salmon. It constitutes of sushi rice, raw egg, soy sauce, Furakake (Japanese magic sprinkles) and Katsobushi (dried fermented tuna flakes). It's basically Japanese Risotto on speed.
If you could go for a walk with a famous person who would it be and what would you tell them?
I would walk with Scottie Pippen and ask if he could just talk to me. Just talk to me Scottie, lay that bassy voice on me and tell me everything will be alright… (and also maybe to tone it down on the teeth whitener).
What's your guilty pleasure?
My guilty pleasure by far is playing video games. I play way more games than I'm comfortable to admit. Haha. I've recently finished 3 full single player campaigns of different games on different platforms. The Witcher (with expensions) on Switch, Horizon Zero Dawn (with expansion) on PS4 and The Last Of Us (Remastered) on PS4. I'm a 15 year old boy trapped in the body of a 38 year old.
Do you like cats?
I LOVE CATS. They own such contradictory traits. They're the most crazy, annoying, funny, scary pooping machines I've ever encountered. We both own a cat. Maarten's cat is an annoying brawler called 'Mies'. I own a 7kg red haired fatty named 'Baas'. He is simultaneously the sweetest and the scariest conscious entity I know. Also he knows exactly what to do to wake me up and get food which to me is the smartest and most annoying thing wrapped into one.
For more info check:
Detroit Swindle Facebook: https://www.facebook.com/detroitswindle/
Detroit Swindle Soundcloud: https://soundcloud.com/detroitswindle
Heist Recordings Facebook: https://www.facebook.com/HeistRecordings/
Heist Recordings Soundcloud: https://soundcloud.com/heistrecordings
Tags:
Deep House
,
Detroit Swindle
,
Heist Recordings