Don Carlos Talks Dream House, Wolf Music, Manuel Darquart and Mr Fingers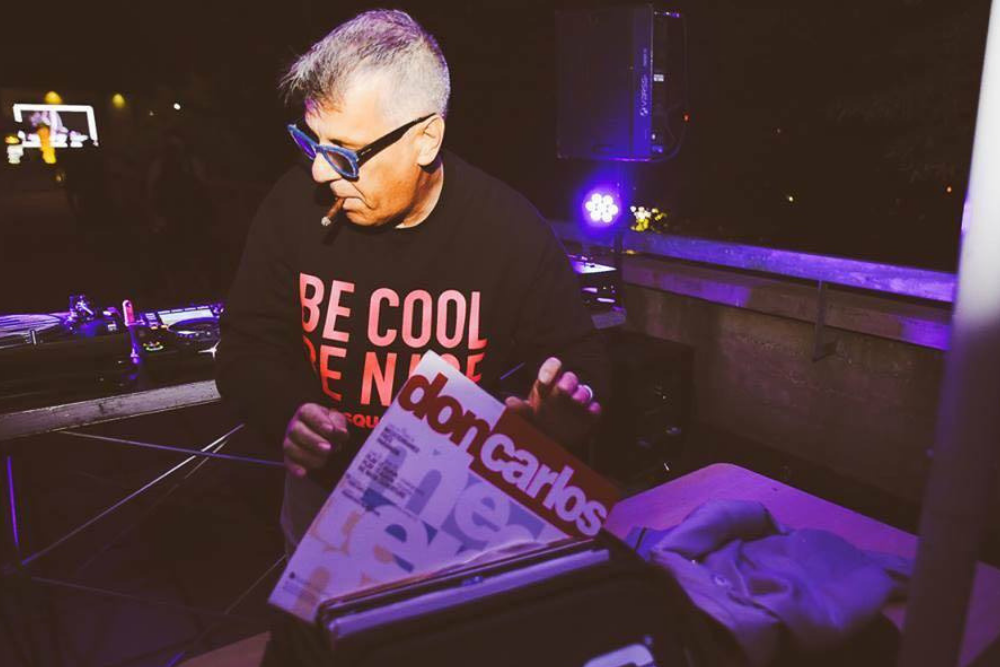 Don Carlos Talks Dream House, Wolf Music, Manuel Darquart and Mr Fingers
Like what you hear? To help support LV Online buy us a coffee via Ko-FI. Click HERE
An interview by the Insider for Le Visiteur
Wolf Music are soon to release Manuel Darquart's second EP with a remix by House Legend Don Carlos. It's a match made in heaven as one of the progenitors of the Dream House scene steps up to remix a duo who are very much keeping the sound alive today in 2021. Wolf music said of the remix:
"Don Carlos is an artist synonymous with a rich and wonderfully evocative sound. His music brings instant escapism from a grey London setting and transports you to thoughts of sweltering Italian open air clubs where hedonism rules and the drinks are free! It's house, it's Balearic, it's deep med and it always fizzes with joie de vivre. This craft is exactly what we wanted to wash over the EP. The Don did not disappoint and we are honoured to add a name of such stature to the WOLF discography…"
To celebrate the release Don Carlos put together a fantastic Classic Italian Dream House mix for our Worship series. He also spoke to The Insider at length about his career and his plans looking forward. Check it all out below and please give the mix a share over on Soundcloud and help us spread the love.
Grab Manuel Darquart's Keep It Dxy 10″ featuring the Don Carlos Remix from: https://www.phonicarecords.com/product/manuel-darquart-keep-it-dxy-pre-order-wolf-music/174551
Thank you so much for talking to us Don Carlos!
Tell us where you are at the moment? How are things for the good people of your home town?
I am on Lake Maggiore in the province of Varese. For now, life proceeds normally apart from some restrictions, thankfully they are much less rigid than in the past months.
How has the last 18 months been for you with the pandemic situation?
It was a cold shower. I never thought we could deprive ourselves of everyday things like hugging a loved one, playing clubs, having a pizza or a coffee or going on vacation. Let's just say that life has been really hard. My strength has been not to lose heart.
What did you do to pass the time over this period?
In these two years I have put together some tracks for my next album and I have done some remixes. I am currently finishing editing the second compilation (Paradise House 2) for Irma Records, where I'll be bringing some new life to a couple of the tracks. I did quite a few remixes and all for new generations who wanted my version of their tracks.
When we think of Don Carlos, are minds are cast back to days of dream house. The most significant release being 'Alone'. Can you remember when you made this track? How did it begin?
Alone is the record that made me popular across the globe. Still today I receive messages of appreciation from many DJs and producers. Alone came together fairly quickly in the studio, the piano, the bass, and the layers of the Moog carpets made me take off as soon as I heard it complete. People often expect the same type of record from me or something similar, but in my mind, I am always looking for something innovative, which does not always coincide with what many expect. But I do believe that if we hadn't made 'Alone', we would have missed out on something important in clubbing.
Lots of people say you made one of the greatest house records of all time, alongside artists of other timeless classics like Larry Heard. I hear you are a big fan of Mr Fingers, right?
If I hadn't listened to Mr Fingers, I would not have loved house music so much. He has influenced a lot of my musical choices. I also believe that in a lot of house music today and in past, there are echoes of Alone too.
So much music has a really short lifespan these days. What other records do you think are also timeless?
I loved and still love Tears by Frankie Knuckles, and Satoshi Tomie, Do You Love Me by Lil Louis, Indulge by Neil Howard, Tonight by Those Guy and, What About This Love of course!
There is so much music being made now with tracks often produced in a really short amount of time. What is your view on that?
I believe that there are very good young producers at the moment who want to express themselves by making records, but many believe that by spinning a sample here and there, they have made their own track. Labels need to think about what music we will reflect on in coming years.
You are a lover of Philadelphia Soul. Would you say that you encompass this in your sound in some way?
I loved and love, the Philly sound. It was a fantastic period. Even today, I often plays tracks from that period in my sets, but now in music and above all in house music today, a lot of DJs only look for the loop.
You describe your sound as 'Paradise House'. What does that mean to you?
Paradise house for me is a musical world where those who listen to that sound are mentally captured by the sound. You are overwhelmed by the melodies and harmonies, the sweet sounds, the powerful bass, and the piano that takes you into a whirl.
Tell us about the remix you've done with Manuel Darquart. How did this remix happen?
I had heard Manuel Darquart' s EP from SHINE PR, and it seemed to me that the music had gone back 30 years. It immediately captured my attention and when Sharon asked if I could give it a go, my version was born.
What have you done to the original track?
Keeping the integrity of the original, we changed some elements like the piano and made the track more hypnotic.
Do you have other remixes going on right now?
Yes, I just finished a remix with Robert Owens voice of DJ Fedex entitled Need You.
What do you do to relax?
To relax I walk 20/30 km every day, smoke cigars and listen to good music. I like to cook, I watch football matches, movies, especially action, and I love comedies.
Where is your favourite place to be?
My favorite place is the island of Praslin in the Seychelles. I've been there a many times. I'd love to go back soon.
If you didn't spend your life making music, what do you think you would have done?
I would have done some work in fashion, I really like to follow new trends.
Who do you think is a good example of a human Don Carlos?
I believe that Martin Luther King had the vision of a better world. Even today hearing his speech on August 28, 1963, in front of the Lincoln memorial in Washington, makes you shiver. Sadly, we are far from the dream he had on civil rights.
Where will you be spending this summer and what will you be doing?
I will stay at home on the lake and carry on working on my projects, hoping that the restrictions on the clubs will soon be removed and we will be able to live again. Maybe I will go to Puglia for a few days at the end of September, between the sea and a project called Mediterranean Key Collective, that I am working on with Nico Lahs and Michele Lamacchia.
Thank you so much for your valuable time Don Carlos.
It's my pleasure..
For more info please check: 
Don Carlos Facebook: https://www.facebook.com/doncarlosalone/
Don Carlos Instagram: https://www.instagram.com/doncarlos_official/
Manuel Darquart Facebook: https://www.facebook.com/manueldarquart/
Manuel Darquart Soundcloud: https://soundcloud.com/manuel-darquart
Manuel Darquart Instagram: https://www.instagram.com/manueldarquart
Manuel Darquart Twitter: https://twitter.com/manueldarquart
Wolf Music Facebook: https://www.facebook.com/wolfmusicrecordings
Wolf Music Soundcloud: https://soundcloud.com/nysoul
Wolf Music Instagram: https://www.instagram.com/wolfmusic/
Wolf Music Twitter: https://twitter.com/WOLFMusic
Tags:
Don Carlos
,
Dream House
,
Manuel Darquart
,
mr fingers
,
wolf music