FSQ On The Making of Their Modern Funk Masterpiece 'Reprise Tonight' on Soul Clap Records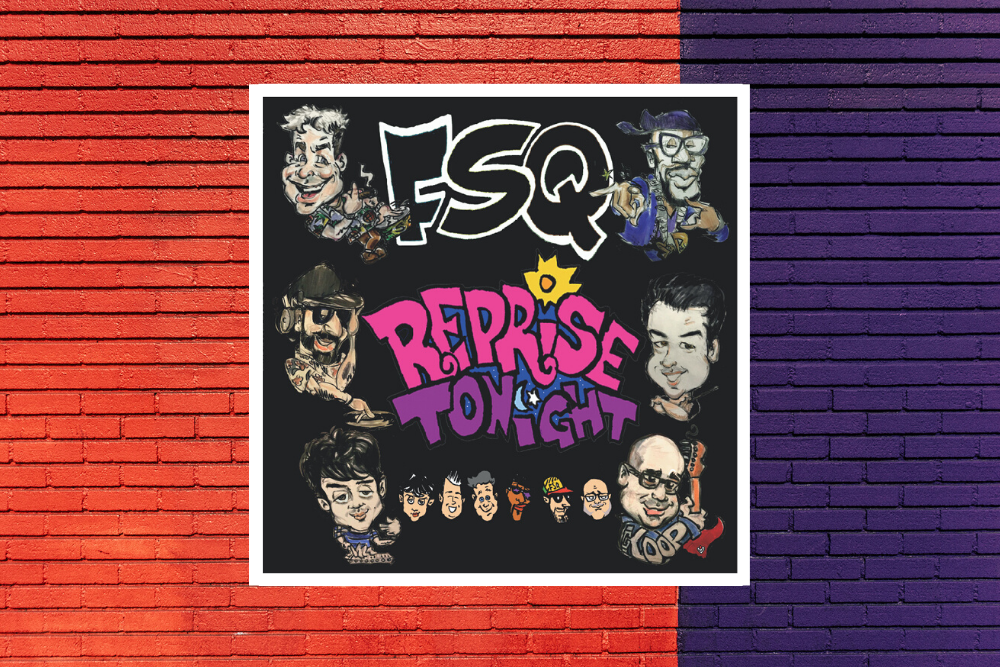 FSQ On The Making of Their Modern Funk Masterpiece 'Reprise Tonight' on Soul Clap Records
FSQ are a band unified by a deep love of all things funk from classic jams through P-Funk and right through to the hottest funk fueled disco and house cuts from today's finest producers. After years together refining their sound they are now ready to release their debut LP 'Reprise Tonight'.
As you would expect from a band which boasts many scene luminaries and graduates from George Clinton's legendary Parliament-Funkadelic it's pretty spectacular. Joining FSQ members Chuck Da Fonk, Chas Bronz, and One Era are Nona Hendryx, Fonda Rae, Denise King, Dolette McDonald, Michael The Lion, Billy Bass Nelson, Trey Lewd, Morgan Wiley and P-Funk doyen himself George Clinton. It's an incredible array of talent. The project also carry's the torch of the sadly departed Sa'd Ali, a founder member for FSQ, whose essence can be felt throughout the DNA of the release.
The album is out now fittingly via Soul Clap Records who have been an instrumental part of the FSQ journey so far. You can check a mini mix of all the tracks above.
You can grab the album out via: https://fsqofficial.bandcamp.com/album/reprise-tonight
We spoke to the band along with some of the collaborators about the album and asked them to choose their favourite track from the album. It's a fascinating insight into the making of this modern funk masterpiece.
FSQ On The Making of Reprise Tonight
Chuck 'Da Fonk' Fishman – Reprise Tonight
The song and album title track "Reprise Tonight" was written in 2008 as a sequel to the FSQ song "Break The Funk". I had moved to San Francisco from Philadelphia in 2006. I was limited in my ability to get out on the music scene because of a relationship I was in at the time; my ex was very harsh about me going out. I got this brief window – a chance to go out and experience the clubs of San Francisco – The Elbo Room, Public Works, Monarch SF – and I wrote a song about it with the lyrics : "Breaking The Funk – We do it Again – This is the funky funky reprise my friend.".
I asked Philadelphia based jazz savant Jason Fifield, from the 70's Philadelphia disco scene to give this song life. We found Denise King, a backup vocalist from Philadelphia International Records disco era, who brought so much verve. After the tune was cut, I was shopping this song as a single and Michael The Lion, record label mate on Soul Clap, had an idea to release it on his then record label, Young Robots. DJ Ayres, his partner in the record label at the time, gave the song an extra East Coast hip hop shine on the final mix down.
G Koop (Rob G Koop Mandell) – Vibe Out Now
I was working with Prozack Turner, a California based rapper, producing some of the beats on rap cuts he made with his group Foreign Legion. At the time I was known as the sample replay king for my prowess in terms of recreating riffs from old records using instruments versus straight sampling them. Chuck asked for an introduction to me via Prozack.
Chuck brought me this track, "Vibe Out Now" which at first was really just an Ableton synth thing he made with Loose Shus, a California Bay Area Nu-Disco producer. Dripping wet synthesizers permeate Loose Shus tracks. "Dancefloor Democracy" and "Reprise Tonight" were the other two demos he came with to my Oakland, California based studio.
I believe it is beyond important to make sure the drums knock on any track ; it's an obsession. instantaneously the sound of the first 3 album tunes came up 100% when I applied my production methodology to what demos Chuck had going. I added drums and strings to "Reprise Tonight". Then I reworked "Vibe Out Now" adding a funky drummer beat and James Brown rhythm guitars, as well as a scorching Ernie Isley styled lead fuzz guitar solo.
Chuck blessed me by bringing a lot of older musicians through the studio – Prince Lasha George Clinton, Billy Bass Nelson. We were fortunate in 2011 because George Clinton & Parliament Funkadelic (P-Funk) did a long run of San Francisco and Oakland California (Bay Area) concerts for George's 70th birthday – in fact, 11 shows across 2 weeks. Billy Bass Nelson, the original bass player from Funkadelic, was a huge part of the group's first three albums – "Funkadelic", "Free Your Mind and Your Ass Will Follow" and "Maggot Brain". Fortunately Billy had rejoined the group for this P-Funk tour which meant we could work together. I funked up "Dancefloor Democracy" with Billy playing bass and guitars which totally changed up the track's style from Loose Shus led Nu-Disco to real FSQ dirty funk. George's son TreyLewd also laid down guitar on the track, and handled vocals.
11:00AM — Chas Bronz (Tate Masimore)
The final cut for the album, "11:00AM" went through several iterations. One Era and Chuck got Billy Bass Nelson in One Era's Philadelphia studio to work on the music for the tune. I took the digital session after Chuck and Matt (One Era) wrapped it up. I was so excited to work on all this music with Funkadelic's Billy Bass Nelson, so I wound up staying up all night working on it up in Boston, including laying down 80s italo disco synths and a two minute extended guitar solo. Let's just say I went ham and extra extra on the track. If you hear the original demo, it's completely different ; I totally rearranged the music they cut. I'm a perfectionist and I drove Chuck nuts because he loved the first version of the guitar solo I put down. But I recut the solo a few more times, really focused on making it the exact way I wanted.
Chas Bronz (Tate Masimore) – 11:00AM 
"Reprise Tonight" is dedicated to Sa'd The Hourchild Ali who as the 3rd original member of FSQ was behind so many of our great FSQ DJ performances across the globe. Sa'd was also really great at keeping our name in people's mouths and ears in the dance music world, and advocating for our success. He introduced me to disco mix legend Tom Moulton which I am so grateful for. Sa'd was also an amazing A&R guy and he knew how to connect people, and also select the right musical talents for any track. It was Sa'd's wish to get Fonda Rae on the FSQ album, and after much trying we got her over to Morgan's Transmitter Park Studios for a vocal session.
Unfortunately, Sa'd had passed away several months earlier before the session happened. Fonda did such a great job of delivering Chuck's lyrics about the struggle to get home after one long extended party and after party. I love the lyric that goes "After 24 hours, can you still call it 'after hours'"?  It's so funny that I worked so hard on that guitar solo, because I had no idea Fonda would be singing behind it when I cut it. If you listen at like 6 minutes into "11:00AM" she's singing along with my guitar solo; that's epic! She's doing little vocal copies of my guitar licks and saying things like "play it for me one time". Of course Fonda! I'll play as long as you like!
One Era (Matt Coogan) – Dancefloor Democracy
Chuck often comes to me with already finished tracks that he feels need a "One Era" shine. I play all kinds of instruments, but I work at a music retailer that has a big focus on drums and percussion (Steve Weiss Music), so I often think about rhythm first when updating a track with my ear. I travel all over the world buying percussion instruments for the company; once I went to Wuhan, China to buy rare huge metallic gongs. Chuck wanted to update "Dancefloor Democracy", streamline the tune's raw funk and add a bit of a Eurodisco / Georgio Moroder vibe. But first I started with those percussions given my knowledge of the rhythm arena.
Listen close to "Dancefloor Democracy" because beyond the congas I laid down, there are woodblocks in the mix, vibraslaps, a guiro (a scratching kind "itch" of sound), cabasa (shaker type sound with steel balls) and even a Cuíca (looks like a drum, but inside it has a stick that you rub with a piece of fabric and oil to produce a "howling " sound). So now you have this Afro Brazilian flavored percussion layer underneath a dark disco funk cut. I still delivered the Eurodisco feel through synth arpeggios and big filter sweeps, and some 80s synth drums. To really trip Chuck out, I wrote a whole new expanded coda to the song where I could also show off my funky rhythm guitar skills, even though Billy and TreyLewd had laid down so many other guitar parts. The tune wound up being an epic 9 minutes long after I finished, but I guarantee you'll love every second of it.
O-Man (Graham Richards) – The Infinite Reprise
G Koop always leads with a confidence that inspires great performances from his team, self-included. We went to Berklee College of Music together, along with Anthony Caruso. The three of us, make up an act known as G Koop & O-Man. So I was excited to come work with him on this one, and another tune, "Peel Back".
For the "The Infinite Reprise" Chuck wanted to emphasize the melodies of the original tune "Reprise Tonight" via a big wall of sound, full woodwinds, horns etc. I was asked to figure out how to make that happen. The song acts as an instrumental interlude on the record between "Dancefloor Democracy" and "Peel Back"
We called in my brother Dave Richards for his brass skills on the marching band breakdown and he looped in percussionist Scott Brian and tubist Mike Rinta to fill out the band. I love collaborating with family and working on big instrumented productions like this. You can see more of all of the kinds of instruments we play around with in our G Koop & O-Man YouTube music production video series, where we take you inside how the three of us work together to make lush hip hop beats. Check the videos out via: https://www.youtube.com/user/ramgrichman
Morgan Wiley (also of Midnight Magic) – Peel Back
Charlie, Eli (Soul Clap) and I were working at my recording studio Transmitter Park Studios in summer of 2017 on Nona Hendryx's debut EP for Soul Clap Records, titled "Keep Funkin'". While we had initial demos to play with we actually got to write the bulk of it and record with Nona at the studio, including the title track, and another one called "I Feel Joy". Nona is an incredible songwriter and producer beyond just being a vocal performer. We tacked on working on "Peel Back" during these sessions since this was an extended time we had with Nona. Chuck had the lyrical concept for "Peel Back" but was struggling with writing the parts for Nona, so she just jumped in and wrote all the hooks, crazy lines like, "I can rock the house like Mickey mouse", "like an ATM I'm cashing out" or this verse:
Watch me, throw down
To the funky beat with the freaky sound
Watch me, roll up
Like I own the joint, who can I anoint?
Watch me, roll out
In a puff of smoke, even if I'm broke
Sa'd The Hourchild Ali (FSQ), Chuck and I were just standing back in amazement and she wrote it all up and then laid down the scorching vocal. Chuck wanted to also capture a party vibe, like the sound of club goers on the track, so Nona brought in a whole choir behind her for an additional vocal session. You can hear the party going on during breakdowns in the song, where like her singers are at an imaginary bar asking for drinks.
It was a complicated track for me to edit and mix down because of all the vocal parts, and Chuck already came in with like 15 minutes worth of 40 tracks of instruments laid down by him and G Koop & O-Man, but the final product is rewarding to listen to.
Dolette McDonald (Talking Heads, Sting, Laurie Anderson) – What They Don't Know
Chuck persuaded me to sing on his track, "Shaking My Damn Head" which came out as a single in 2016. In 2017 we were fortunate enough to be able to perform that song live, and a few others like songs I used to sing with Talking Heads – "I Zimbra", "Burning Down The House". That year, Chuck brought me to Miami Winter Music Conference and to the legendary club Cielo NYC. Working with FSQ is nothing less than a delightfully creative experience. It was organic… natural… unforced. I know it sounds cliche, but by the end, we were like family.
Chuck sends me his lyrics and music, and I record vocals in Savannah, Georgia in the local studio there. I just cut them and hope he likes what he hears, because he doesn't send me any phrasing or arrangement instructions. I have to sing it like I hear it and feel it.
With "What They Don't Know", a song Chuck sent to me in 2018, I recorded that over a year ago, so I hadn't heard it since then. I feel like it's relevant for the times, the lyrics – one phrase
You can check the album out via: https://fsqofficial.bandcamp.com/album/reprise-tonight
For more info check:
FSQ Facebook: https://www.facebook.com/fsqofficial/
FSQ Soundcloud: https://soundcloud.com/fsqofficial
Soul Clap Records Facebook: https://www.facebook.com/soulclaprecs/
Soul Clap Records Soundcloud: https://soundcloud.com/soulclaprecs
Tags:
Chunk Da Fonk
,
Dolette McDonald
,
FSQ
,
FUNK
,
G Koop
,
Morgan Wiley
,
O-Man
,
One Era
,
soul clap