Hazmat Live's Top 10 Soul Clap Bangers and 'No Ordinary Love' Premier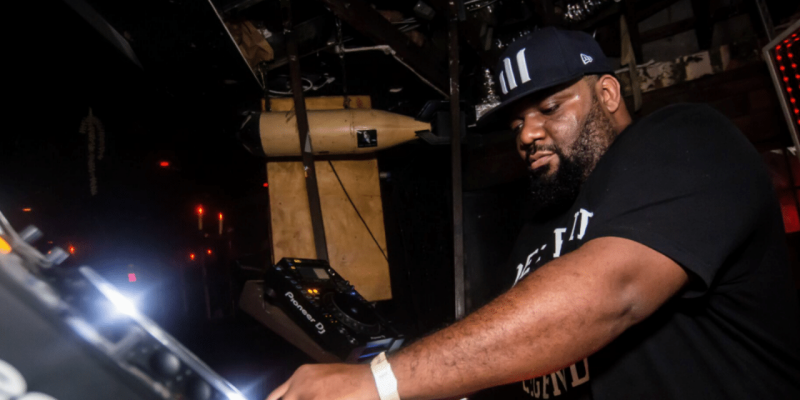 Hazmat Live's Top 10 Soul Clap Bbangers and 'No Ordinary Love' Premier
Like what you hear? To help support LV Online buy us a coffee via Ko-FI. Click HERE
Detroit's Hazmat Live is the first artist back on the newly re-invigorated House of EFUNK records. He has a long an impressive history in the music industry which has seen him collaborate with many stand-out acts including former Gap Band front man Charlie Wilson, the Four Tops and Amp Fiddler. A musician, producer, Techno artist & Talkboxer, his live show caught the imagination of Soul Clap when he performed with the Scott Groves Overdubs Band at their House of EFUNK marathon party at Detroits TV Lounge where his "talk box magic had on jaws on the floor."
His debut solo release on House of EFUNK Records is an incredible version of Sade's classic No Ordinary Love, completely reimagining the track with his harmonized talk box magic as he delivers a wonderfully funky version. The release also features Charlie Soul Clap, Delano Smith and Antwon Faulkner on remix duties all adding their own brilliant takes on the track.
Our premier today is the Charlie Soul Clap Instrumental which strips away the talk box vocal to reveal the classic Detroit machine funk underneath.
House of EFUNK presents Hazmat Live – No Ordinary Love is out on 4th March grab it from: https://www.juno.co.uk/products/hazmat-live-no-ordinary-love/862105-01/
To celebrate the release we asked Hazmat Live to pick his 10 favourite Soul Clap bullets for us.
Hazmat Live's Top 10 Soul Clap Bangers
SOUL CLAP RECORDS / SYNTHESIZER GIRLFRIEND FT NTEM & HAZMAT TALKBOX
This has to be one of my all time absolute favourite Soul Clap records.
SOUL CLAP RECORDS / GLEN BOO/ SOUL CLAP SOCIAL EXPERIMENT SAMPLER PT 2
Great booty drums on this track
SOUL CLAP RECORDS/ NONA HENDRYX & SOUL CLAP/ I FEEL JOY ( FEEL THE SPIRIT)
This is pure space soul and I love it.
SOUL CLAP RECORDS/ AFRIQUA / IGNANT
Super funky space bounce from Soul Clap Records here.
SOUL CLAP RECORDS / LIFE ON PLANETS / ONLY YOU
I love the Life On Planets funky grooves on this.
SOUL CLAP RECORDS / RIO MAGDALENA ( HAZMAT LIVE REMIX)
I love this because this was truly one of THE MOST fun remix projects I've ever undertaken!
SOUL CLAP RECORDS / ITALO FUNK VOL. 2 / COCCOLUTO / GO GOBLIN
As a true synth nerd, this record really moves me!
SOUL CLAP RECORDS/ CAPOFORTUNA/ DUPO LA TEMPESTA
When the full groove finally drops in I love it! Hell yeah.
SOUL CLAP RECORDS / ITALO FUNK VOL.2 / ROCCO UNIVERSAL / SOMEWHERE ELSE
The drums on this track really sing to me.
SOUL CLAP RECORDS / LONELY C/ CLASS OF '99
I love this record for a few reasons. First, it's the year I graduated high school, second, it's like mega man made an electro song. Who wouldn't love that?
For more info please check:
Hazmat Live Facebook: https://www.facebook.com/Hazmatlive
Hazmat Live Instagram: https://www.instagram.com/hazmatlive/
Hazmat Live Twitter: https://twitter.com/HazmatLive
Soul Clap Records Facebook: https://www.facebook.com/soulclaprecs/
Soul Clap Records Soundcloud: https://soundcloud.com/soulclaprecs
Soul Clap Records Instagram: https://www.instagram.com/soulclaprecords_/
Soul Clap Records Twitter: https://twitter.com/soulclaprecs
Tags:
Hazmat Live
,
soul clap
,
Soul Clap records