Hot Toddy Discusses Remixing Smoove & Turrell and Shares His remix Knowledge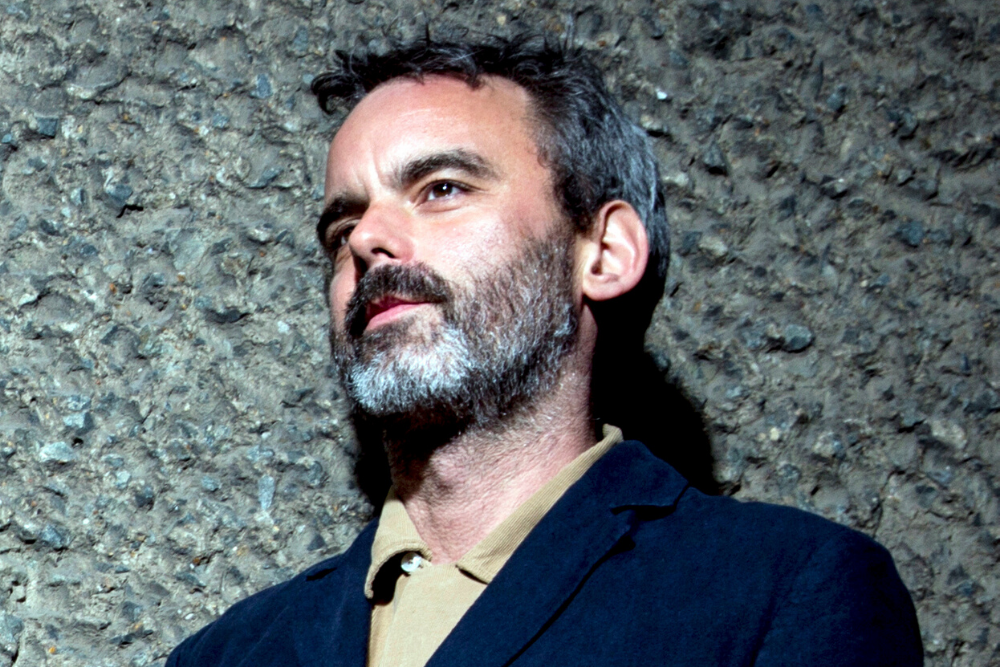 Hot Toddy Discusses Remixing Smoove & Turrell and Shares His remix Knowledge
Half of the brilliant production duo which has given us so much musical joy as Crazy P, Hot Toddy is a hugely respected solo artist who has been crafting essential modern disco and groove infused house since 1999.
Chris Todd has been involved in music since a very early age when he used a 4 track home set up, school drum machine and a Uni Akai 1000 to begin his musical outpouring.
It's been a lifelong musical mission for Hot Toddy which has seen him collate all of the many different musical styles he has encountered along the way into his own unique brand of essential dancefloor bliss.
Over the years there have been well lauded albums, singles, EP's and remixes galore for some of the scenes luminaries including Joey Negro, Seamus Haji, Fred Everything and Kraak & Smaak.
His latest project see's him remixing Jalapeno Record's lauded band Smoove & Turrell's track Elgin Towers from their superb current album Stratos Bleu. The Hot Toddy Vocal and instrumental mixes are sun infused slices of Balearic soul. The type of life affirming tracks which transcend the musical decades.
You can grab the Hot Toddy Remixes of Smoove & Turrell's Elgin Towers from: https://SmooveTurrell.lnk.to/ElginTowersRemixes
We spoke to Chris Todd the man behind Hot Toddy about the Smoove & Turrell remixes and his storied career. We also discussed how he approaches remixing, his studio and he gave us a few tips that we can put into practice on our own remixes.
Hi there Chris,
Thanks for speaking to us today.
You have been active in the industry for more than 20 years now. Going back to the very beginning, what were the crucial moments which led you towards a career in electronic music?
A move down to Nottingham in 1993 to study was where I really got on the path. Back then, Nottingham had an amazing vibrant music community and one of the best underground house scenes in the county. I was a bit of an indie kid back then and the Nottingham scene really opened my eyes to clubbing, electronic music and the joy of sampling! It was here that I met many of my musical mates which are still very much a part of my life now, I met Jim (Crazy P) in my final year and we're still making music together after nearly 25 years……..Jesus!!
How has you journey over the last two decades informed you musical style now and how would you describe the musical ethos of Hot Toddy in 2020?
In the early days it was all about finding cool samples to build tracks from. I didn't have much equipment and having a sampler was the best way to knock up tracks on a very small budget. I loved the production sound of old disco records and would try and emulate that as much as possible. Later, with more experience and equipment I've attempted to create this sound more from scratch, my tastes have become a bit more eclectic but samples still play a very important role. I don't have any creative overall vision, I always yearning to make music that makes me feel something passionate, something that stirs the soul.
Please can you give us three tracks from your discography which you would say are quintessentially Hot Toddy?
Down To Love
A tune I wrote with a good friend of mine, Jennifer Rhonwen. The starting point was the vocal hook, which Jen sang to me, I could hear the potential, and got her in the studio. We tried to make a full song but couldn't quite crack it, so kept it simple vocally, it worked a treat!
Mutha Sucka
Bit more on the housey tip, but still rooted in disco. Sample based cut up jam which I've had lots of fun Djing with,
In The Genes
One of my favs. Full on disco jam. From a production/ writing point of view, apart from the crowd noise this is all original material, I'm pretty proud of this one.
Your latest project saw you create two sublime remixes for the brilliant Smoove & Turrell. Please can you give us some history about those remixes and can you tell us about the vibe that you were aiming for?
As Crazy P, me and Jim did a S&T remix, Beggar Man's Disco. I also did a Kraak & Smaak remix that featured John Turrell, called Back Again. Elgin Towers is my first proper Hot Toddy remix for the guys. Trevor, from Jalepeno, sent me their album to have a listen to to pick a track. I gravitated towards Elgin, I could hear a soulful, Yacht Rock, Michael McDonald vibe in the vocal which is often present in John's singing and the gospel choir was a big plus! I came up with the basic idea on an acoustic guitar just jamming along to the vocal and a drum loop, and built the track up from there. I was really pleased with the result but it wasn't exactly dance floor friendly, so I knocked up the dub in a more disco Balearic fashion.
Of all the remixes you have ever done, which two are you proudest of and why?
Crazy P – Never Gonna Reach Me
Probably my most well known remix. I really enjoy doing Crazy P remixes, it gives you the chance to really take a track that you've spent days working on as a collective, and put your own stamp on it and take it in a totally different direction.
J Boogie – Go To Work
A fav track to DJ with. I love the feel of it, dusty production, with a groovy rollerskate disco vibe!
What do you think makes a truly great remix?
I think any remix that manages to re-imagine the original material in a new way, so that the source material plays a key part but is transformed by the remixer, fusing their sound and character into it, is a box ticked as far as I'm concerned!
In the 20 plus years since you started releasing music, technology has changed dramatically. How has your studio setup changed over the years and what do you currently produce on?
In the early days its was based around an Akai sampler and an Atari computer, Back then this was the most affordable setup for most people. These days I work on a mixture of in the box software and outboard gear. Analogue keyboards play a very important part these days and keep the studio fun and more interactive than just sitting in front of a computer. I use Logic as a DAW and fav keyboards include Juno 106 & 60, Korg Odysssey & Prologue and Nord Electro and Leads.
What would you say are the key studio ingredients which go into creating a hot Toddy remix such as the ones for Smoove and Turrell? Are there particular pieces of equipment or plugins which you come back to time and time again and which are essential in creating the Hot Toddy sound?
Not really! I'm a musician so that will always inform what I'm doing. I started my musical journey on the guitar and play a bit of keys so there is often a fairly strong musical element in what ever I do. I have a big sample library of stuff I've collected over the years and that's often the source for my drums and textures. But, if I'm pushed' then maybe the one consistent bit of kit would be the Juno 106, its my absolute fav, sounds amazing and its so easy to use.
Please can you give us your three favourite studio tips for up-and-coming producers specifically with regards to creating a remix?
Have fun, play, mess about. That's what music creating's all been about for me. Try not to worry about producing something specific and narrow, more often than not you'll fail. Keep your mind open and enjoy yourself.
Don't be hard on yourself if you have a non productive day in the studio and haven't come up with any decent ideas. This happens to me and it used to really bum me out. Those magic musical moments are often rare and far between. In between it's a lot of experimentation and dead ends! BUT, these aren't wasted journeys. They all help steer your musical development, and sometimes you'll come back to something you dismissed and may find you like it, or it transforms into something else. Where you're at mentally will inform you perception of music, and this changes all the time.
When choosing to do a remix, try and find an angle. You don't necessarily have to like the track, but you might be able to hear the potential of a phrase in part of the vocal, or a cool guitar riff. If your struggling to find an angle, probably best avoid!
What are your personal favourite Hot Toddy related career moments so far?
I have a fondness for the early days producing in out of a bedroom in Nottingham. Back then I had no expectations, everything was fresh and fun and free from experience, expectations and baggage! My early releases on Neon Heights were a lot of fun, and we had a crew of people in Nottingham who were knocking out some really interesting music. Getting my first album signed to Paperecordings was a very proud moment though.
How difficult has it been to adjust to the down time without being able to get out and gig during the Covid 19 lockdowns and what musical projects have you been working on while housebound? Is it a period where you have found it easy to create?
It's been a odd one. At first I enjoyed the break from the gigging, with Crazy P and Hot Toddy I've had a very busy few years recently. Now I really miss it, the social aspect, the travelling, and the gigs of course. As with most musicians in our scene, the gigs are an important focus point, they're the primary source of income and the music I make in the studio is made for a room full (hopefully) of dancing people!
I've enjoyed working at home and I'm lucky that I can continue to work and produce in that environment, many can't. As far as being creative, yes, I've had my moments but it's been up and down. The lack of outside stimulation has been problematic…but all in all, it's been ok.
Which artists do you think are really standing out in the remix world at the moment and who are pushing the remix as a format on?
Thatmanmonkz
I've really liked his productions for a few years now. He's got a great raw production style, a keen ear for a sample and has knocked up some tasty remixes…here's a new un:
Inkswel – Too Late (feat. Stan Smith) (Thatmanmonkz Remix)
Medlar
I've been an admirer of Medlar for a while. His productions are always cleverly inventive, another master of the sample. He's done a cracking remix for Crazy P, recently remixing The Witness from the last album, out soon. Here's a corking one from last year, afro space funk disco anyone??
Dele Sosimi – You No Fit Touch Am (Medlar Remix)
I know I'm biased, but my Crazy P band mate Jim under his Ron Basejam guise has been knocking out some beauties recently, and is up there with the best, check this beast out:
Catching Flies – New Gods (Ron Basejam Remix)
And finally what else can we expect from Hot Toddy in 2020?
I have a new EP coming out on House Of Disco in a few weeks, called Still We Are. A few more remixes, a couple for Luke Soloman's Powerdance project and one for Sidwho? Hopefully some new stuff if I can strike the elusive gold in the studio!
Grab the Hot Toddy Remixes of Smoove & Turrell's Elgin Towers from: https://SmooveTurrell.lnk.to/ElginTowersRemixes
For more info on Hot Toddy and Smoove & Turrell please check:
Hot Toddy Facebook: https://www.facebook.com/Hot-Toddy-194138443939801/
Hot Toddy Soundcloud: https://soundcloud.com/hottoddy-1
Smoove & Turrell Facebook: https://www.facebook.com/smooveandturrell/
Smoove & Turrell Soundcloud: https://soundcloud.com/smoove-and-turrell
Tags:
Hot Toddy
,
Jalapeno Records
,
Smoove & turrell