Jimpster – 7 Tracks Which Massively Influenced My Career (LV Legends)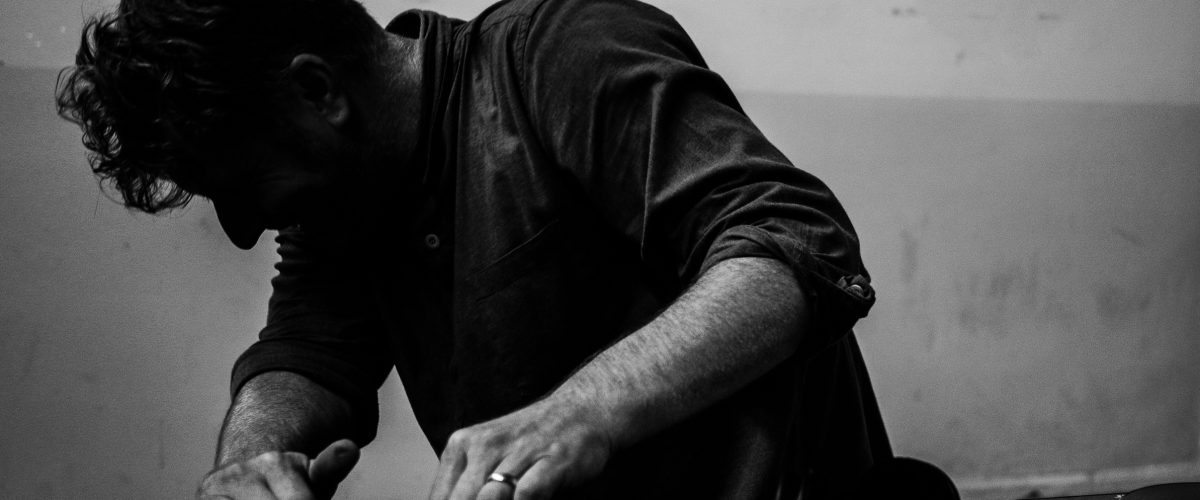 Jimpster is easily one of the most respected House producers working today. With a career spanning 30 years he is a renowned DJ who pre Covid was to be found in the finest clubs all over the globe. He is also behind the wonderful Freerange and Delusions of Grandeur labels who have a long pedigree of both breaking essential new artists along with hosting EP's from some of the finest names in the game.
Jimpster is a key tastemaker for our scene whose deep discography has helped craft the worldwide sound that we now know as deep house. Along the way there have been many key releases from his groundbreaking albums including Messages From The Hub, Amour and Silent Stars to his 100's of EP's and singles. His landmark singles include English Rose, Dangly Panther, A Love Like This, Can't Stop Loving, These Times,  Porchlight And Rocking Chairs and most recently One.
Jimpster has also in huge demand as a remixer for the vast majority of his carrer. He has crafted dance-floor gems for among many others Osunlade (Mommas Groove is still being hammered by Moodymann), Solomun, Kollektiv Turmstrasse, Josh Wink, Bob Marley, Seal, Terrence Parker, Detroit Swindle, Hot Since 82 and Danny Howells. It's clear to see that he is equally respected by both his peers and also true artistic legends for whom he has an unerring ability to turn in stand out works, flipping their tracks and making them essential dance-floor gems.
Jimpster's latest release is the Smile For A While EP which lands this week on Freerange. Comprising three tracks it see's Jimpster in wonderful form and it has already been receiving plays and praise from the Spinna, Jamie 3:26, Osunlade and many more.
Comprising three tracks it was recorded during the first weeks of worldwide Covid lockdown with the aim of spreading positivity and optimism. As we always expect from Jimpster it's rich, deep, multilayered and the production is quite frankly spectacular. Make sure that you check it out below order your copy.
You can grab the EP from: https://freerangerecords.bandcamp.com/album/smile-for-a-while
Jimpster is one of the most influential producers we have in the UK. To celebrate the release of the Smile For A While EP we spoke to him about the tracks which have helped shape his career over the last 30 years both in terms of tracks which have influenced him and also where those influences have led.
This is a fascinating insight into the musical path that he has followed for the last three decades.
Jimpster – 7 Tracks Which Massively Influenced My Career (LV Legends)
Going back to 1990 for this first one. The birth of the rave scene and me and my mates had started being able to get in to our local club called The Braintree Barn even though we were underage.
It was an eye opener to say the least with sweat dripping off the roof and people climbing the walls, quite literally. I must have just picked up the Frank De Wulf record, probably from Our Price, and remember completely shaming myself in the club by asking Joey Beltram to play it. Jesus, makes me cringe thinking about it now. The whole place is absolutely going off and I trudge over to the booth to make a request! I'd just started making very basic tracks myself, learning how to use an Akai S900 sampler and C-lab sequencing software on an Atari. At the end of 1991 I sent 8 tracks to London label Jumping' & Pumpin' who were one of the decent labels I'd been following at the time, and they signed them up. They came out in 1992 under the name Flag, and this is one of the slightly more listenable tracks called Wonderful Day. The production is pretty bad. I mixed the whole thing on a four channel mixer straight to DAT with a keyboard amp in mono for my monitoring, but they've got a certain lo-fi charm I guess.
Frank De Wulf – The Tape (Remix)
Flag – Wonderful Day
Around 1993 I moved to Manchester to start a music course at Salford college and it was an amazing place to be at that time. It was a proper melting pot of musical scenes and you could go out any night of the week and listen to house, techno, drum n bass, hip hop, jazz, disco, you name it. I'd started to meet other musicians in the city who were forming bands, playing funk and disco in local bars and I was listening to more and more jazz and fusion but still producing tracks and experimenting with sampling and programming beats. LTJ Bukem was doing his thing and becoming massive with tracks like Horizons and Drum n Bass was getting deeper and more musical. I can't remember where I picked up this record from Icons aka Blame and Justice but I loved the way it joined the dots between Detroit techno futurism, IDM, ambient, deep house and drum n bass. It had the energy of club music but really intricate programming of the beats and the lushest pads and melodic synth stuff. Coffee table drum n bass was the term they coined for it, and you can hear the influence of a track like Stratosphere on one of my very first Jimpster tracks called Quarterlist which was on the first ever Freerange release in 1996.
Icons – Stratosphere
Jimpster – Quartalist
When this Jazzanova remix of Ian Pooley dropped in 1998 it seemed to signal a new era for those of us who weren't just following the house and techno scenes, and I guess it could be considered a watershed track for both the 'Nu Jazz' and 'Broken Beat' scenes that were about to emerge. Jazzanova had this incredible sound to their production which made all us bedroom producers realise that we had to up our game and like the previous track from Icons, it was the way they bridged the gap between house, soul and breakbeat but with a new sophisticated and punchy sound that made it such an important track. All of a sudden I was listening to much more house music again, rediscovering Prescription and Guidance releases from a few years previous and trying to make my own spin on a house not house sound which was more minimal but still warm and with a soulful touch. You can hear my attempt on this track called Deep Down which came out in 2001.
Ian Pooley – What's Your Number (Jazzanova Renumber)
Jimpster – Deep Down
A year later in 2002 I was working on my second LP and wanted to include a vocal track with Simon Jinadu who I was on the same college course with. We share quite similar taste in music, being big into Steely Dan and George Duke. He's a great keyboard player so has no problem coming up with these big vocal harmonies which give him a unique sound but he is also an excellent lyricist. I'm a sucker for a good ballad and have always loved downtempo, soulful classics from the likes of Minnie Ripperton, Denise Williams, Chaka Khan and then the blue-eyed soul of Michael Mcdonald and Bobby Caldwell. But George Duke is the real master for me. Timeless music which continues to influence so many artists to this day. I think Jinadu managed to capture a bit of his vibe on his vocal for State Of Mind.
George Duke – Starting Again
Jimpster – State Of Mind
Dangly Panther dropped in 2008 at a time when I felt I was settling into a deep house groove with my productions and starting to find my own sound which was something of a UK spin on classic US house. My drums were getting punchier and my mixes were getting fatter and this was resulting in my tracks making a bigger impact on the dance floor. In my opinion nobody epitomises hypnotic and minimal deep house more than Kerri Chandler. During the mid 2000's he was absolutely killing it with a string of mutant, synth-heavy jams which were tough and banging yet still warm and soulful. Bar A Thyme is the anthem but I really love The Invaders (The Panic) for it's bold minimalism and I owe a lot to Kerri for inspiring me to make tracks like Dangly Panther and many of the remixes that I was working on around this time.
Kerri Chandler – The Invaders (The Panic)
Jimpster – Dangly Panther
Who doesn't love a high energy, percussive workout DJ tool which creates a little tribal magic on the dance floor? This Louis Benedetti remix of Vincent Montana's The African Track is one of those go to weapons which will work in lots of different settings with different crowds and helps either reset the vibe or transition to a contrasting sound. I absolutely love the energy that live percussion brings to a house track, loosening up the groove and instantly transporting me to a different world. On Silent Stars I tried to bring together these tribal elements, keeping things very drum-focused but with breaks and sporadic musical elements which keep things interesting. Similarly to the Montana track, Silent Stars works in tougher sets or pitched down a bit for the warm up and got played by DJ's as diverse as David Morales and Danny Rampling through to Detroit Swindle and Dixon.
Vincent Montana – The African Track (Louis Benedetti Mix)
Jimpster – Silent Stars
I'm not sure where house music would be if it wasn't for Chicago's Trax label. It pretty much defined the genre and their releases will continue to inspire generations for years to come. I've always loved the sound of the Roland TR707, the machine that maybe featured on more Trax records than any other, and although I never owned the original machine it's an easy one to recreate using software as it's a sample-based piece of hardware anyway. I'll Never Let You Go comes as close to the blueprint of house music as possible for me, with a rolling analogue bassline, simple string pads, digital pianos, an ethereal vocal, all underpinned by a robust 707 groove. Quite a few Trax records include some spoken word elements and some venture into hip house territory and that is something I wanted to try and put across in my own way on my most recent single One.
William S – I'll Never Let You Go
Jimpster – One
For more info on Jimpster check:
Jimpster Facebook: https://www.facebook.com/jimpster.freerange/
Jimpster Soundcloud: https://soundcloud.com/jimpster
Freerange Facebook: https://www.facebook.com/FreerangeRecords/
Freerange Bandcamp: https://freerangerecords.bandcamp.com
Delusions of Grandeur Facebook: https://www.facebook.com/Delusions-of-Grandeur-337255673024451/
Love htis? Check out more LV Legends features HERE
Like what you hear? To buy us a coffee and help support LV Online via Ko-FI click HERE
Tags:
Deep House
,
Delusions of Grandeur
,
Frank De Wulf
,
Freerange Recordings
,
George Duke.
,
ian pooley
,
Jazzanova
,
Jimpster
,
kerri chandler
,
Trax Records
,
Vincent Montana
,
William S