LV Disco Selectors 26 – Jungle Fire [Razor-N-Tape]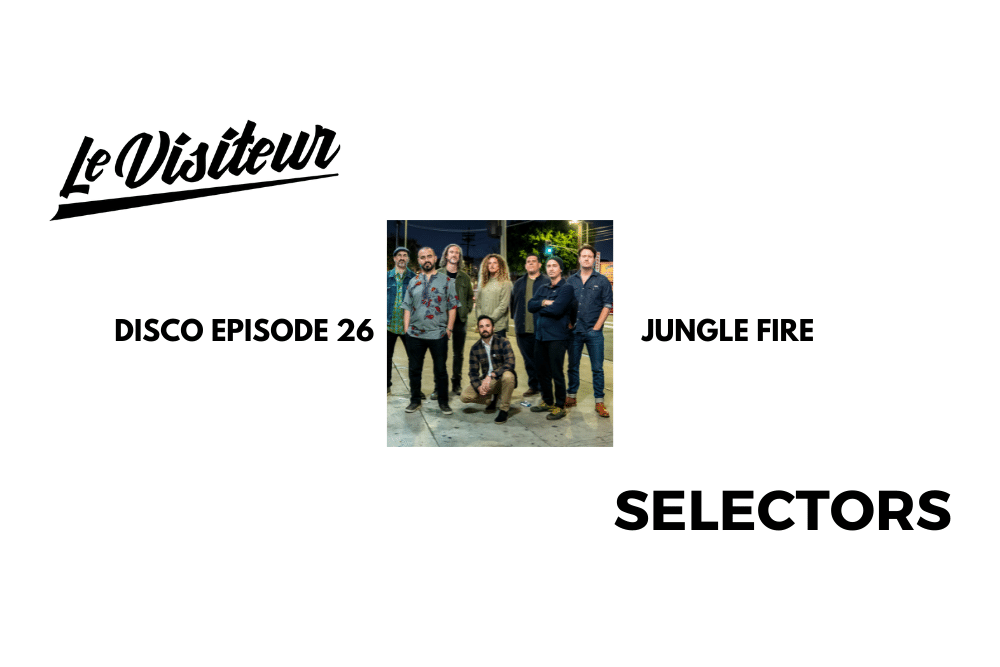 LV Disco Selectors 26 – Jungle Fire [Razor-N-Tape]
Like what you hear? To help support LV Online buy us a coffee via Ko-FI. Click HERE
Los Angeles based Jungle Fire was conceived as a one off jam between friends way back in 2011. Safe to say it went rather well as they are now approaching their 10th year as a band and have built into a formidable 10 piece who with a huge support across the globe from fans and DJ's alike. Among their tastemaker supporters they can boast the likes of Craig Charles and Gilles Peterson (BBC), the Paris DJs (France), Rich Medina, Garth Trinidad (KCRW), Cut Chemist, DJ Numark and NPR, to name a few.
Making a very welcome return to Razor-N-Tape after their excellent 2018 outing Firewalker EP they have just released the Atomico EP packed with a a brilliant selection of top of the line remix talent. Stepping up to the re-mixing desk are Colombian favourite Felipe Gordon, Razor-N-Tape's own JKriv, DJ Nu Mark and band members Samual Miles and Patrick Bailey. It's a wonderful EP full of vibrant sounds and energy, a must have summer 2021 release.
To celebrate the release Jungle Fire put together this triumphant mix for us and we also spoke to them about the mix and the EP. There is a also a full tracklist along with a description of each track used below.
Hi Jungle Fire
What's can you tell us about the theme of this mix you did for us?
The mix is a celebration of the EP ( Jungle Fire on Razor-N-Tape Reserve, released 3rd September) It was done by Patty B and the goal was to pay homage to some people that inspire us and also give some love to homies that we are in awe of.
What should we drink while we're listening to it?
Whatever's good for you, really! As long as it does the trick. J
Where was the mix recorded?
The mix was done in Patty B's desert retreat. He had some fun with his audio rig while making it, too.
What would be the ideal setting to listen to it?
We've listened to it while driving, chillin' at home and walking around. Whatever works, really! As long as you are able to bob your head, it's all good.
What's more important, the track you start on or the track you end on?
We weren't thinking so much in those terms, but rather HOW to start it and end it. But we did choose the more up tempo stuff for later on just to ramp things up a bit.
What you're favourite track in this mix?
That's a tough one! It's ALL good with us, really. Pat's audio wizardry is always great, though.
What were the first and last records you bought out of interest?
Don't remember the first one! Lately we've been digging releases from friends, like Orgone and Superfonicos.
If you could collaborate with anyone in time, who would it be?
Any of our heroes, including Fela and Manu Dibango, would be stellar. But I think we all would LOVE to have been able to do something with Juan Pablo Torres.
Have you got a favourite mix you always listen to ?
We love mixes, but we're usually on the making them side of things. J
What's coming up next in the world of Jungle Fire?
We are working on several new releases, including a couple of experimental EPs and collaborations with singers we love. All geared up to begin celebrating our 10th anniversary next year.
Anything else you would like to tell us?
Thank you for your support. Let's keep the love flowing.
Grab the EP from: https://junglefiremusic.bandcamp.com/
Jungle Fire LV Disco Selectors 26 "Atomico" Tracklist and track descriptions:
The Sensational Comrades Rock Band – "Bullwalk"
Kicking things off with this mid-tempo head nodder from Nigeria. An inspiration to the group!

Joe Gibbs & The Professionals – "Jubilation Dub"
This is a Joe Gibbs' dub of the Dennis Brown tune "Repatriation".. Heavy on the fx and Extra heavy on the bump. Also very inspiring!

Jungle Fire – "Biri Biri (Samual Miles Remix)"
Jungle Fire drummer Sam Halterman's re-work of the track "Biri Biri" from the band's 2021 self-titled LP. Conceived in a moment of isolation during the initial days of the lockdown. A nice escape to the inside!

Discotron – "Slicker Than Your Average (Original Mix)"
Elements of Herb Alpert and Biggie mixed into a nu-disco banger for good measure!
Jungle Fire – "La Kossa (Snake In Da Bronx Dub)"
Jungle Fire guitarist Patrick Bailey's boogie disco dub of the track "La Kossa" from the band's 2017 LP titled "Jambú". Conceived in one of those "what if we played the Bronx in the 80s" head space moments.
The Ogyatanaa Show Band – "Disco Africa"
This was a staple of the Jungle Fire live set for years when the band first started. A nice paradigm to learn from!
DJ Nu-Mark – "Atómico (DJ Nu-Mark Remix)"
The one and only DJ Nu-Mark chops the Jungle Fire tune Atomico up into dancefloor perfection!

Cos-Ber-Zam – "Ne Noya (Daphni Mix)"
An obscure gem from Togo unearthed by Analog Africa, re-worked / edited by Daphni aka Caribou. Soulful and funky!

JKriv – "La Kossa (JKriv Elektrikossa Dub)"
Righteous dubbed out acid elements sprinkled over a pulsating rubbery groove

Natural Rhythm – "Jive"
Throwback to the late 90's with this classic from So-Cal House legends and Jungle Fire homies Natural Rhythm. Check them out and show them some love, y'all!

Felipe Gordon – "Atómico (Felipe Gordon Remix)"
Colombian juggernaut Felipe Gordon takes Atómico fully nuclear with a stomping bass-heavy house remix. A scorcher…
Josh One – "Contemplation (King Britt Funke Mix)"
Throwing it back again, but this time to the early aughts with this King Britt anthem originally by Josh One and Jungle Fire guitarist Patrick Bailey.
For more info check:
Jungle Fire Facebook: https://www.facebook.com/junglefiremusic
Jungle Fire Instagram: https://www.instagram.com/junglefiremusic/
Jungle Fire Twitter: https://twitter.com/jungle_fire
Razor-N-Tape Facebook: https://www.facebook.com/RazorNTape/
Razor-N-Tape Soundcloud: https://soundcloud.com/razor-n-tape
Razor-N-Tape Instagram: https://www.instagram.com/razorntape/
Razor-N-Tape Twitter: https://twitter.com/RazorNTape
Razor-N-Tape Twitch: https://www.twitch.tv/razorntape
Razor-N-Tape Bandcamp: http://www.razor-n-tape.bandcamp.com
Razor-N-Tape Spotify: https://open.spotify.com/user/m25h7a3w9wp0nuhqgi6td3q3j?si=9ca5d4f2dc564d12
Tags:
felipe gordon
,
Jkriv
,
Jungle Fire
,
razor n tape