Martin Brodin Talks MB Disco, Lil Louis, Chicken Lips, Lauer & Semitone Shuffle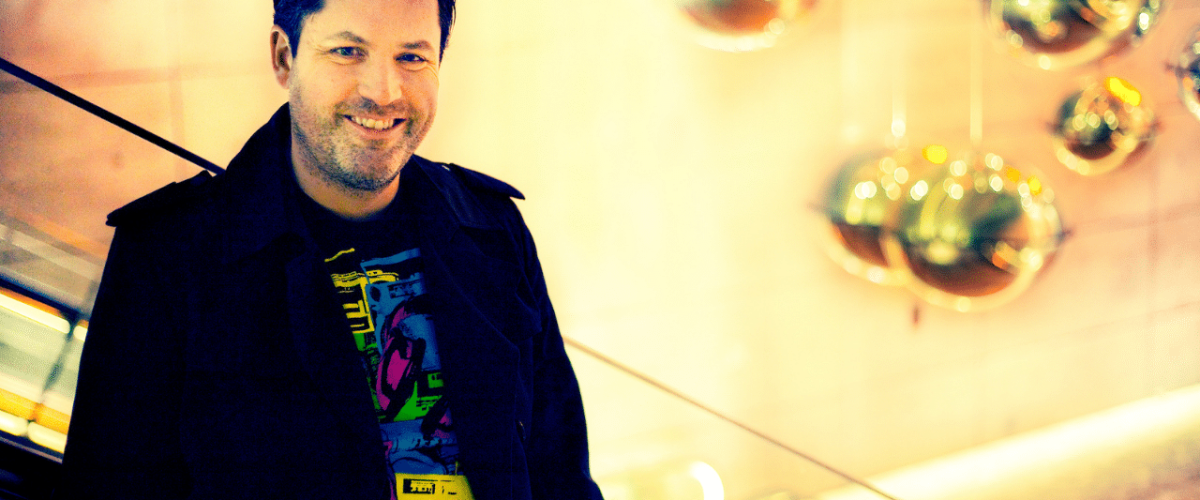 Martin Brodin Talks MB Disco, Lil Louis, Chicken Lips, Lauer & Semitone Shuffle
Martin Brodin's MB Disco was a real go to label from 2010 to 2014. During that time it captured the energy of the European electronic house sound with releases and remixes from Ilija Rudman, Aeroplane, Kasper Bjorke, The Glimmers, Drop Out Orchestra, Giorgio Moroder, Psychemagik, Ray Mang, Chicken Lips, Copycat and of course Martin himself.
The label burned brightly and then one release into 2014 stopped abruptly and barring a one-off release in 2019 has stayed in mothballs ever since.
Now Martin is relaunching the label and dusting off his own studio and stepping back onto the scene with the release of two ace remixes of his 2005 track Semitone Shuffle, one from Martin and one from Lauer.
It's a brilliant release with both remixes coming from completely different angles. Lauer's rolling bassline is packed with energy giving it a touch of Giorgio Moroder panache whilst Martin's Hulabaluba remix has a touch of Italian / Balearic feel about it with it's warm and euphoric keys, stepped bassline and swirling atmospherics.
You can grab it from: https://www.traxsource.com/title/1606909/semitone-shuffle-reworks
To celebrate the release Martin has put together a rather tasty summer poolside mix for us, it's full to the brim with laid back and sun infused funky gems.
We spoke to Martin about his career, MB Disco and his plans for the future.
Hi there Martin,
Many thanks for speaking to us today.
Going back to the very start Martin where did you grow up and where are you based today?
I grew up in a small village outside of Malmoe, called Akarp (Åkarp in Swedish). I stayed there until my early 20's, when I moved to Malmoe and I have lived there ever since.
Firstly please can you tell us about your musical journey, how did you become involved in Electronic music?

I guess it all started in my early teens in the beginning of the 80's, listening to artists like Yello, Depeche Mode, Kraftwerk and so on. I was an avid record collector and bought as many records as I could get hold of from these artists and others. It was electronic music from day one. Then later on I found out about the cool sound of disco music and got excited again, digging deep into the history of disco music and soul music from the 70's. I have always collected records, for as long as I can remember and already at age 13 I started to buy records at flea markets and sell the ones I didn't want. From the profit I bought the records I wanted. I had this early dream of having my own record store, which also happened in 1996. Yell Records was the name and it was up and running until 2001. We sold new and used stuff ranging from club music to hip hop and soul/funk. The cool thing about the store was that some of my customers were aspiring music producers, they always handed over demos for me to evaluate. One thing led to another and I started two labels, Yellhouse Records (for the more club house stuff) and Deeplay Music (deep-jazzy-soulful house). The latter was the label that created a platform for me to be in the music business. The label got instant recognition with releases from people like Physics, Martinez and Dalminjo to name a few and from that time, I've been running various labels and also worked for other labels as well. In 2010 I started MB Disco as an outlet for Nu-Disco stuff. And I guess that's why we are here now with this interview.
Can you remember the first house record that you ever bought?
Back in 1989, I bought Lil Louis – French Kiss, the day after I heard it in a club in Torremolinos, Spain. It was a magic moment. That bassline is hypnotic and when the classic sexy break comes in, everyone was in ecstasy. I was 18 the time and simply had to buy it!!
What was your journey to setting up MB Disco originally and what was the original ethos of the label?

Initially I started it as an outlet for my own releases. I started to produce more Nu-Disco stuff and thought it would be cool to keep everything inhouse. That's why it's named MB after my name. Me, myself and I, you know.
But with that said, the first release was by Ilija Rudman and not me. So my plan was not super solid. Quite quickly I gave up the idea of doing only my own stuff, since people recognised the label rather quickly.
Were there any particular labels or artists at that time gave you inspiration as to how you wanted MB Disco to look and sound?

Yeah, there were many actually, but the ones that stood out at the time were Nang, Eskimo and Permanent Vacation.
Please can you give us three tracks from the MB Disco discography which you would say are quintessentially MB Disco?
I hit a homerun when I got the opportunity to release a few tracks from Giorgio Moroder. His synthesizer disco-ish sound is right up the alley of MB Disco. Pointing out one of them is difficult, but I choose The Chase. I did the remixes together with Daniel Lindeberg from Drop Out Orchestra, and I'm really proud of them.
Secondly, another cool project we had was when electro pioneer Newcleus gave us the permission to remix his ultimate classic Jam On It. I contacted Chicken Lips who I thought would do the track justice without messing around too much. And what a remix it turned out to be. Electro-disco can we call that?
Last but not least, the soulful release Cool Too Make A Million with Cool Million . It features the high and mighty Leroy Burgess on vocals. It comes with remixes from Ilija Rudman and Drop Out Orchestra. I like the variety of all the mentioned songs. I would say that's the label's strength, to fit all the disco styles in one house.
What led to the decision to put a halt to the label originally and why bring it back to life in 2021?
Good question and I don't have an exact reason behind it. I guess being a daddy of a kid who was born in 2010 changed life a bit. My focus shifted a bit, trying to be there as much as possible in his early years. I didn't have as much time as I wanted to be able to run a label. My philosophy is that I need to do it 100%.

Please can you tell us about Semitone Shuffle, what was it that made you choose that track from the label relaunch and what attracted you to Lauer to remix it and tell us about the vibe of the remixes?

Semitone Shuffle was the first track I ever produced back in 2005. It's been an old time favourite of mine since then. Originally it was a melodic Detroit house/techno track. Inspired of Underground Resistance type of vibe. I thought it would be cool to remake the track as an introduction to myself and the label after a few years absence. I've been listening to Lauer for a long time and his direction lately with a bit of an Italo-Disco vibe was intriguing. I think it was a cool take blending two different styles and he gave the track a super energetic feel. I love it. My own remix takes a totally different direction with a more groovy laidback feel to it. I wanted to offer two different styles on this release.
What are your plans for the label going forward?
Growing organically to put the label on the map again. We had a great following back then and hopefully we can do the same thing now. The music business has changed a lot since I stopped so it's all about embracing all the new aspects of it. But the main focus now is having as much fun as possible. We have loads of nice releases lined up, just finalising everything as we speak. We will feature some cool names on each release, I can promise you all that. Both digital and vinyl releases.
Do you have any good tips for any aspiring label owners out there?
Follow your heart and stick to it.
Do it for the fun of it.
Dare to make mistakes, don't hold back on anything.
Simple rules but it will pay off in the end.
What can you tell us about the mix that you have put together for us, what's the vibe and which tracks really resonate with you?
Simply put, a feelgood summer mixtape. Summer just started here when I put the mix together and I wanted to present the jolly-feelgood-spirit I was in at the time. All tracks resonate with me, but to mention some of them, here we go. When you arrive at track 10, here's where the mix turns in to a feeling that is hard to beat. Track 10-12 is simply magic to my ears. I even put in an old Deeplay Music release as track 12. It perfectly fits the bill
During its first lease of life you had an uncanny knack of spotting the hottest up and coming talent for MB Disco. Which artists do you think are on fire right now? 
Woow, so many to mention and so many to forget. But here are three names that I think are super cool. Poolside, Satin Jackets and Chromatics.
What else can we expect from MB Disco and Martin Brodin in 2021
It will be a mix of new tracks from myself and others. I will also dig deep in the back catalogue and see if any tracks will make sense to give new life to. I will try do as many releases on vinyl too. I think it gives a greater value to the label and the artists on board.
For more info please check:
Martin Brodin Facebook: https://www.facebook.com/martinbrodin
Martin Brodin Soundcloud: https://soundcloud.com/martinbrodin
Martin Brodin Instagram: https://www.instagram.com/martinbrodin1/
Martin Brodin Twitter: https://twitter.com/mbdisco
MB Disco Facebook: https://www.facebook.com/mbdisco
MB Disco Soundcloud: https://soundcloud.com/mb_disco
MB Disco Instagram: https://instagram/mbdisco
MB Disco Youtube: https://youtube.com/mbdisco
LV Disco Selectors 24 – Martin Brodin [Summer Poolside Mix] – tracklist
1. Funk Sinatra – Lover Lover Not A Brother 00.00
2. Agency – Lean In 04.44
3. Serge Gamesbourg – Bring Them Back Together 08.12
4. Mark E Quark – Doin It Right 12.30
5. Rayko – Space Love Boat 16.53
6. City Group's Band – Our Time (Young Pulse Remix) 20.43
7. Paul Older – Hu Man 25.10
8. Ten City – Be Free (Emmaculate Shannon Chambers Remix) 29.40
9. Gerd Janson / Jacques Renault – Never Saw Never 33.25
10. Fred Everything – Here (Now) (Prins Thomas Diskomiks) 38.05
11. Midnight Magic – Beam Me Up (Prins Thomas Diskomiks) 44.08
12. Dalminjo – Soul Exp. 50.13
13. Lauer feat Fabrizio Mammarella – Altalenanti 55.59
14. Martin Brodin – Semitione Shuffle (Lauer Remix) 59.51
Tags:
Lauer
,
Martin Brodin
,
MB Disco