Moment Cinetique's Monthly Spins – December's Deep House Essential 9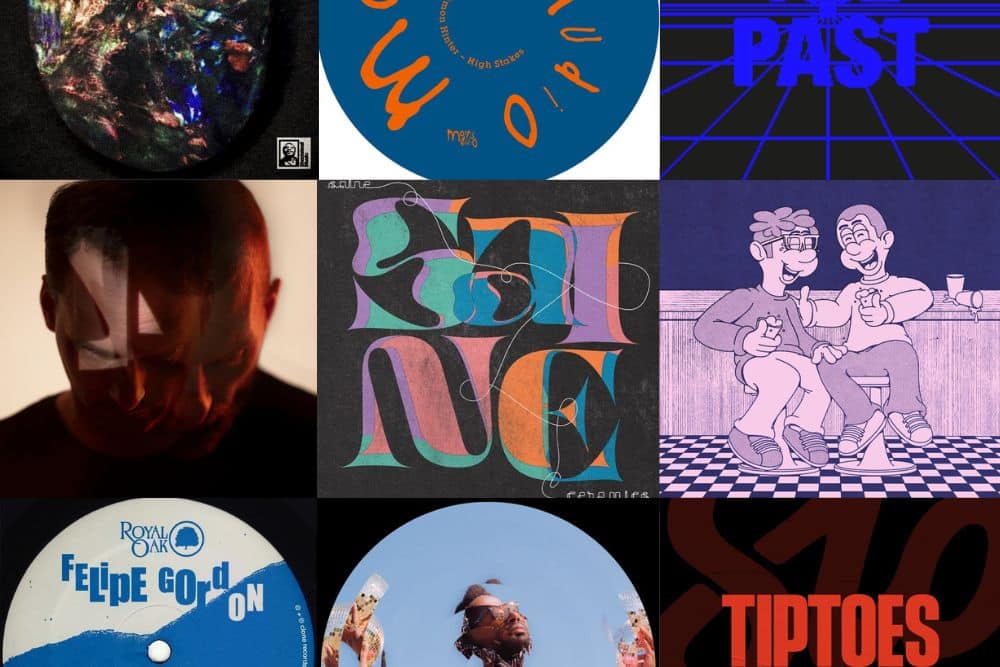 A thousand apologies for it being so long since I last submitted a column, sometimes the trials and tribulations of regular life get in the way. Though the fleeting moments I've been able to concentrate on music recently have seemed sweeter than ever because as they say; absence makes the heart grow fonder. It's been that long that my label has even managed to have it's own release with Intr0beatz's What I'm Saying EP, have it do very well in the charts for over a month and I didn't get chance to shamelessly plug it in this column 🙂 Thankfully there's been a huge influx of amazing music recently that I can pontificate about instead and as always I've put it together into a mix that you can check above.
For those who are interested of course you can check out Piano Cat from the Intr0beatz EP below and grab it HERE
Moment Cinetique's Monthly Spins – December's Deep House Essential 9
Tiptoes – Mars Landings
Release: The Akai Samurai Strikes Again
Label: Slothboogie
Fresh off the success of his track Cuss Tomato being rinsed everywhere recently Tiptoes returns to Slothboogie with an EP that showcases the spectrum of quality he's able to produce.  There's room in an extended set for all four tracks from the EP, building from the nagging funk of Brotherman to the thumping Filter House of Techno Woo. Strings and Mars Landing fit somewhere in the middle with both featuring a deep warmth that still packs enough of a punch to extend the energy on the dancefloor.
Traxsource: https://www.traxsource.com/title/1912177/the-akai-samurai-strikes-again-ep
Simon Hinter – High Stakes
Release: High Stakes EP
Label: Morris Audio
Simon is another producer that manages to provide a variety of styles on the EPs he releases, though all the tracks are tied together with an unpolished (in a good way) and raw style that I love. High Stakes is my pick from this latest EP on Morris Audio with a recurring key stab pattern that runs for the length of track being joined phasing clavs, laser fx and a cameo from some deeper pads, bridging the gap between the accompanying looping house tool of Toasty and ethereal deepness of First Love.
Traxsource: https://www.traxsource.com/title/1900871/high-stakes
Saine – Bounce
Release: Ceramics
Label: Omena
Full length albums are quite a rarity within the genres I tend to operate, especially ones that actually feel like an album and not just a collection of tracks that somebody threw all together  to bulk out what could have essentially been an EP. Finnish producer Saine has managed to create a body of tracks that genuinely come together as an one piece of work with an analogue journey swaying through electronica and the deeper side of house. Bounce is my pick which I think will work best in a club environment.
Traxsource: https://www.traxsource.com/title/1900871/high-stakes
Cor.Ece – Possibly Impossible (Crackazat Dub)
Release: Dancing To Keep From Crying (Extended)
Label: Razor-N-Tape
Cor.Ece is an American singer/songwriter who has teamed up with producers including Razor-N-Tape's own Jkriv to create an authentic sounding 80s house inspired EP, his sincerely soulful voice soaring above vintage electro soul synths and rhythms. Crackazat's jazzy dub house reworking layers Cor.Ece's vocals over improvised keys for a high class interpretation with a more up to date vibe.
Traxsource: https://www.traxsource.com/title/1911901/dance-to-keep-from-crying-extended
Retrogott – Like This (Damiano von Erckert Remix)
Release: Damiano von Erckert  – The Past the Future
Label: AUS Music
Damiano von Erckert describes his latest LP on AUS as a "soundtrack for lovers and fighters who want to slow down time and create new patterns to open up new dimensions in their lives as ravers dancers and people of the night." Which sounds about right. There's some Detroit Techno vibed rollers and bits of sweeping electronica but it's interjected by some incredible moments of euphoric deep house with Think Different and Rave#06 being a couple of my favourites. His remix of Retrogott's Like This goes back to his earlier style of production of dusty house with chopped hip-hop vocals and samples bedded with an ethereal vocal layer.
Traxsource: https://www.traxsource.com/title/1897045/the-past-the-future
Felipe Gordon – Can't You See?
Release: Impresiones Acidas
Label: Royal Oak
There seems to be exciting times ahead for Felipe as he embarks on a journey with a new band project going back to his live music roots which have been becoming more present in his solo house music releases over the last few years. The title track of the EP sees him team up with highly talented guitarist Greco Murillo to create an intricate combo of jazz and acid house but it's the running live bass, keys and nagging synth stabs of Can't You See? that I really love.
Traxsource: https://www.traxsource.com/title/1897316/impresiones-acidas
thatmanmonkz – In My Mind feat. Dnae
Release: Uncut Gems
Label: Shadeleaf
Hailing from our own fair city of Sheffield thatmanmonkz has been a revered producer/DJ for the last decade and with this release on his own Shadeleaf label he has collated some previously unreleased, vinyl only and freshly tweaked (Uncut) gems.
Full of low slung, soulful, jazz laden cuts the LP is a great showcase of Scott's signature styles with In My Mind being one of the more House vibed tracks off the release, Dnae's absorbing vocals contrasting to great effect against meandering analogue chords and punchy bass.
Bandcamp: https://shadeleafmusic.bandcamp.com/album/thatmanmonkz-uncut-gems-album
Dam Swindle – More Love
Release: Keep On Swindling Pt.3
Label: Heist
Dam Swindle return with the 3rd instalment of their Keep On Swindling series which has showcased their new music that moves away from deep towards a more world music influence house sound plus some reworkings of some of their back catalogue. There's new versions of The Wrap Around from the duo themselves plus a techno tinged reworking from DJ Bone and Yorkshire legend Nightmares On Wax brilliantly updates 64 Ways.
From the two new tracks I pick More Love as the stand out track, it's pretty simple but a great weapon to switch up a set with repetitive rave stabs over an effectively simple bassline.
Traxsource: https://www.traxsource.com/title/1913559/keep-on-swindling-pt-3
Laurence Guy & J. Peacock – Can't Find Her
Release: You Do The Best To Hide The Good Parts of Yourself
Label: Shall Not Fade
Seen as the temperature is dropping but we're entering party season I'll finish with an uplifting disco house number from Laurence Guy's latest EP on Shall Not Fade. The whole EP is a collection of choppy and uplifting house with the EPs title track providing the same dusty euphoria vibe as previous Laurence Guy tracks such as Your Good Times are Here.
My personal favourite and winter blues antidote Can't Find Her is a feel good disco house weapon about which SNF's release blurb notes "It was the father of long-time pal and confidant J Peacock whose record collection provided the intricate tapestry of samples that forms 'Can't Find Her'. It's a story of losing yourself, and regaining your purpose by indulging in the unifying potential of creating music collaboratively." Which is fair enough.
Traxsource: https://www.traxsource.com/title/1890527/you-do-your-best-to-hide-the-good-parts-of-yourself

Dave Platts is a designer, DJ and producer and is behind the brilliant Sheffield based Deep/Disco/House label Moment Cinetique.
Moment Cinetique Info
Moment Cinetique Facebook: https://www.facebook.com/momentcinetique/
Moment Cinetique Soundcloud: https://soundcloud.com/momentcinetique
Moment Cinetique Instagram: https://www.instagram.com/momentcinetique/
Moment Cinetique Twitter: https://twitter.com/momentcinetique
Moment Cinetique Bandcamp: https://momentcinetique.bandcamp.com/
Like this? Check out more Moment Cinetique Essential Spins HERE
Like what you hear? To help support LV Online buy us a coffee via Ko-FI. Click HERE
Tags:
Aus Music
,
Cor.ece
,
Dam Swindle
,
Damiano Von Erckert
,
Deep House
,
felipe gordon
,
heist
,
Laurence Guy
,
Moment Cinetique
,
Morris Audio
,
Omena
,
razor n tape
,
retrogott
,
Royal oak
,
Saine
,
Shadeleaf
,
Shall Not Fade
,
Simon Hinter
,
Slothboogie
,
Thatmanmonkz
,
Tiptoes