Moment Cinetique's Monthly Spins – June's Deep House Essential 9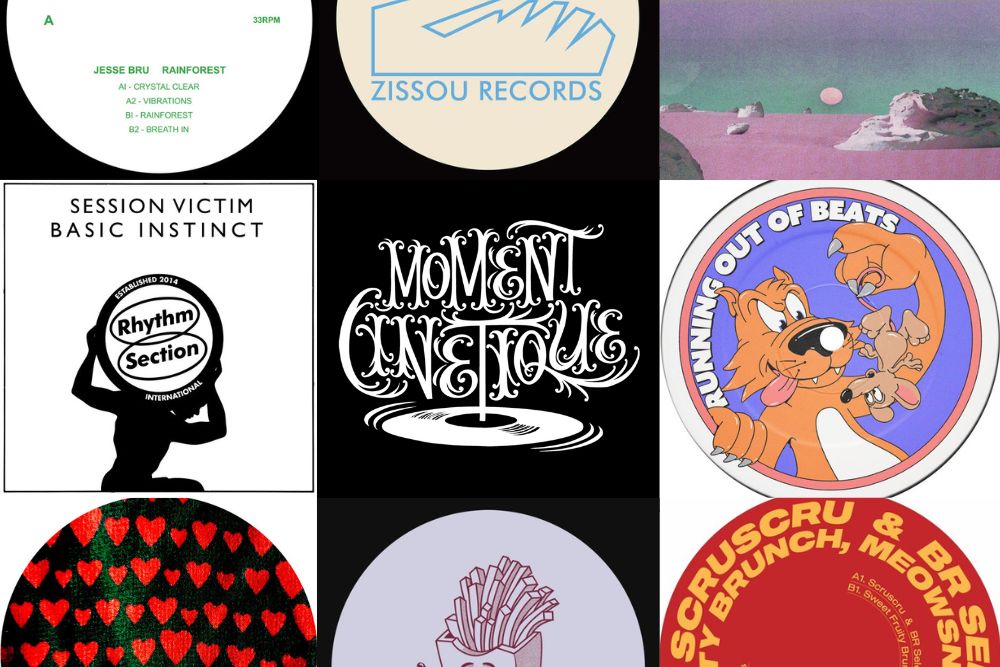 Moment Cinetique's Monthly Spins – June's Deep House Essential 9
Like what you hear? To help support LV Online buy us a coffee via Ko-FI. Click HERE
Again it seems I start a column by apologising for how quiet we've been over the last few months, we are working (honestly) silently behind the scenes and there will be releasing new music from Tommy Vicari JNR, Simon Hinter, Intr0beatz and hopefully debuts from a couple of producers that we really admire. We're just waiting on a couple of tweaks to the masters, a couple of tracks to be finished off but mostly on me to get over a mental block and come up with some kind of artwork. I am still keeping my ear to the ground with new releases though and as we approach summer releases are coming thick and fast.
You can check all of Moment Cinetuiques essential 9 below and label boss Dave also put together a mix of the tracks which you can check here. Please give it a share over on Soundcloud and help us spread the love.
Moment Cinetique's Monthly Spins – June's Deep House Essential 9
Artist: Meowsn
Track: Wistleman
Release: Catmousegame 2 EP
Label: Running Out of Steam
Meowsn returns to Running Out of Steam with a follow up to last year's Catmousegame EP on Running Out of Steam. There's the same high quality authentic hip hop styled production but this EP is far more DJ and dancefloor friendly than the first instalment whilst keeping his trademark complex groove and warmth. Hip Hop skit Drunkcat is opens the EP which then follows up with six cuts of awkward sample heavy house, Wistleman is our favourite from this selection with it's infectious walking bassline and 80s styled detuned brass creating a track that's familiar but still something that's pretty unique in today's scene.
Traxsource: https://www.traxsource.com/title/1805374/catmousegame2
Artist: Mat Chiavaroli
Track: Watcha
Release: Some Dee in My Life
Label: Quintessentials
One of our favourite labels brings a release that's perfectly timed for welcoming in the summer season as Italian producer Mat Chiavaroli delivers an EP of pumping disco-styled house with a side note of deep. Here by My Side is a useful smooth deep house tool and 02. 08. provides some high quality, smile inducing house vibes but we're in love with the warm disco strings of Watcha. Early-Cody-esque, cinematic & funky house music that you could picture ringing out of the terraces of Europe this summer or soundtracking your speedboat adventures powering over Lake Garda.
Traxsource: https://www.traxsource.com/title/1797674/some-dee-in-my-life
Artist: Sweet Fruity Brunch / Meowsn / Replika / Scruscru & Br Selekta
Track: Basement Vibes
Release: Scruniversal Vol. 1
Label: Scruniversal
Scruscru kicks off his new Scruniversal imprint with a 4 track vinyl release showcasing a team of our personal favourite producers. The previously mentioned Meowsn' slightly changes his style with the far more laid back but calmly beautiful S, Replika also keeps things low-slung with the dirty funk of  Hot Shapes and the label boss teams up with BR Selecta for a skippy, energetic deep bordering on garage affair in Feel This Lov. All of these tracks can easily stand on their own and they'll be on our playlists for a long, long time but our own label artist Sweet Fruity Brunch comes up with our favourite in Basement Vibes. SFB is highly revered by a lot of the DJs I speak to and deserves a much bigger share of the spotlight so it's great to see him getting out there. Basement Vibes is a perfect showcase for his talents, euphoric live keys, clever little edits and top class percussive groove programming. Pure gold.
Juno: https://www.juno.co.uk/products/scruscru-br-selecta-replika-scruniversal-tunes-001/869213-01/
Artist: Session Victim
Track: Orbits of Dust
Release: Basic Instinct
Label: Rhythm Section
German Duo Session Victim grace Bradley Zero's Rhythm Section label at the end of May with a 5 track collection of sultry deep house. Trying to Make It Home is possibly the most club-friendly track of the release with it's staccato stabs interchanging throughout but I'm picking Orbits of Dust as my fav, with it's constantly flowing brass tone being really effectively joined with a simple yet powerful bass tones.
Traxsource: https://www.traxsource.com/title/1775886/basic-instinct
Artist: Jesse Bru
Track: Vibrations
Release: Rainforest
Label: Aterral
Canada's Jesse Bru links across the pond for the latest release on Carlo's Aterral . Jesse's style is a perfect fit for the relatively young label that's been crafting a position of prime, (what I'd personally class as) pure deep house bordering on minimal at times. Vibrations is my choice from the EP, it supplies chunkier percussion with a infectious vocal chop for a real dancefloor weapon.
Soundcloud: https://soundcloud.com/aterralrecords/sets/jesse-bru-rainforest
Artist: Elvis27
Track: Not Big Enough
Release: The Ville Komp Vol. 2 – Combined by Zita Mowa
Label: Selville
South Africa has crafted it's own style within Deep House over the past couple of years with a steady stream of unique first-rate productions coming from an ever growing pool of talent. Kaysoul seems to have broken through in 2022 but there's a collection of producers also deserving some of the limelight and Zito Mowa's Selville Records is doing a great job of showcasing them. The Ville Komp Vol. 2 is a vast release 16 tracks that offer the clunky percussion, ethereal atmosphere and complex compostion of the SA sound, I've chosen Not Big Enough from Elvis27 as I love the hook of clanging bells/keys that runs throughout but there's a wealth of tracks worthy of much praise on this LP.
Traxsource: https://www.traxsource.com/title/1794796/the-ville-komp-vol-02-compiled-by-zito-mowa
Artist: Speckman
Track: Something Still
Release: Big City Days
Label: Zissou
It's an all Hamburg affair as DJ/Producer Speckman features on the latest EP from Zissou. The tracks on the EP vary in style making the release a great tool for switching up sets. There's hints of acid breaks on Run, stripped down slap bass on Big City Days with Meow and Desperate Housevibez offering some more sample based moments which I wish had be progressed with more typical house arrangements as both offer really great themes. Something Still is our pick though with a bouncy bassline underpins soaring pads and vocal snippets for a really effective club track.
Traxsource: https://www.traxsource.com/title/1780638/big-city-days
Artist: Evenn
Track: Can't Stop Dancing (Hard Drive Library Remix)
Release: Turismo EP
Label: Pomme Frite
Even though we mainly side with the deeper side of house music we definitely have time for the more jackin' and pumping side if it's done well, the majority of sets need their high-octane moments and the Hard Drive Library Remix on the latest EP of Pomme Frite is the perfect tool for the job. The standard of Evenn's originals stand out high about the usual output of the Jackin' House genre with the techno labelled High Klub also being downloaded for when things need to get a little tougher. The HDL remix of Can't Stop Dancing really caught my attention though as it's overdriven kick/snare combo really drive the track forward with the drop after the main break surely resulting in dancefloor energy.
Traxsource: https://www.traxsource.com/title/1794754/turismo-ep
Artist: Seb Wildblood
Track: For Emotional Use Only
Release: do you feel it too?
Label: all my thoughts
Acclaimed DJ/producer Seb Wildblood releases his second album via his own imprint all my thoughts, a heady mix of electronica, the emotive and the deeper side that although it touches  on several styles is largely aimed at the dancefloor. For Emotional Use Only doesn't really stand higher than any other track on the album, the entire LP is a triumph, but it's feel-good classic house piano chords and infectious vocal loop mean it'll probably feature heavily in many a DJ set this summer and may even have the potential to cross over to the more mainstream dancefloors.
Traxsource: https://www.traxsource.com/title/1789011/do-you-feel-it-too
Dave Platts is a designer, DJ and producer and is behind the brilliant Sheffield based Deep/Disco/House label Moment Cinetique.
Moment Cinetique Facebook: https://www.facebook.com/momentcinetique/
Moment Cinetique Soundcloud: https://soundcloud.com/momentcinetique
Moment Cinetique Instagram: https://www.instagram.com/momentcinetique/
Moment Cinetique Twitter: https://twitter.com/momentcinetique
Moment Cinetique Bandcamp: https://momentcinetique.bandcamp.com/
Like this? Check out more Moment Cinetique Essential Spins HERE
Tags:
All My thoughts
,
Aterral
,
Elvis 27
,
Evenn
,
Jesse Bru
,
Mat Chiavaroli
,
Meowsn'
,
Moment Cinetique
,
Pomme Fritte
,
Quintessentials
,
Rhythm Section
,
Running Out of Steam
,
Scruniversal
,
scruscru
,
Seb Wildblood
,
Selville
,
session victim
,
Speckman
,
Sweet Fruity Brunch
,
Zissou