Natasha Kitty Katt Talks about Scottish House & Disco Fest, Edinburgh, Ghetto Disco, the sensational Jocelyn Brown, Craig Smith, Al Kent and much more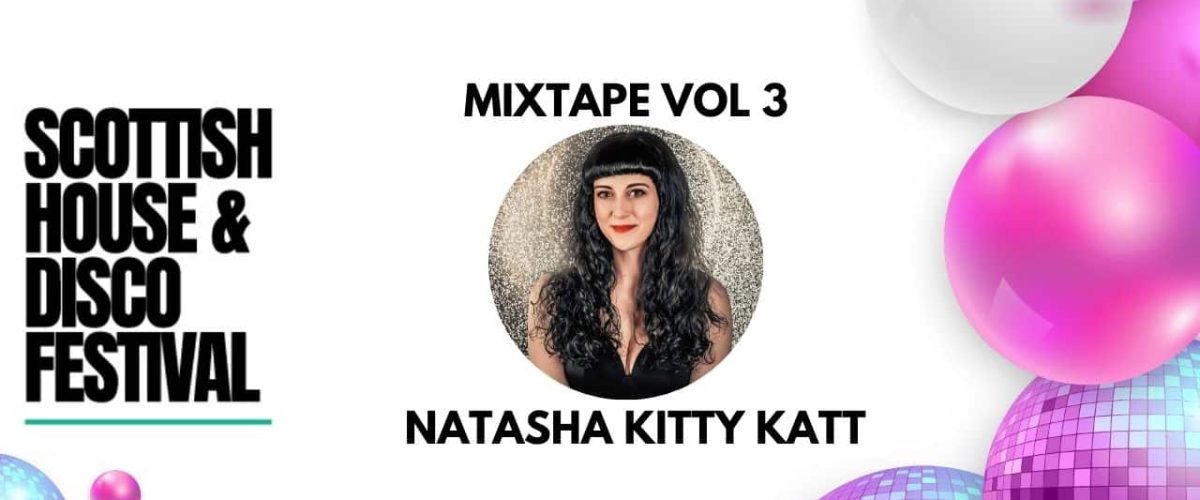 Natasha Kitty Katt Talks about Scottish House & Disco Fest, Edinburgh, Ghetto Disco, the Sensational Jocelyn Brown, Craig Smith, Al Kent and much more
Natasha Kitty Katt's rise through the disco and house scene has been nothing short of meteoric over the last few years and deservedly so. From starting out with bar and club gigs in Edinburgh she has become a firm fixture on the world scene with a strong discography and gigs in literally every corner of the globe. It's a rise that has been built through both hard work and via a huge knowledge of the music built up since childhood.
Having seen Natasha play on many occasions I can attest to her skills behind the decks, each set a carefully crafted selection of all that is great with the disco both modern and classic.
Natasha is back in Scotland on the 16th April to play at the Scottish House and Disco Festival at SWG3. You can grab your tickets for that packed event here: https://bit.ly/SHandDF
I took the opportunity to catch up with Natasha about her career to date, to find out who she will be checking out on the 16th and how her record label Ghetto Disco is coming along. Natasha also put together a very tasty Scottish Disco and House mix for us which you can check here.
Hi there Natasha,
Thanks for speaking to us today.
Musical Upbringing
I think it's safe to say that you were born to spread the gospel of disco around the globe. What was your musical upbringing that has led to such an incredible career in such a short period of time?
It's no secret that I was brought up in a soul-obsessed household and to this day my dad has been my biggest influence, mentor, and inspiration. An avid record collector and fantastic teacher, he kickstarted my journey. Thanks pops!
First Disco Records
What were some of the first disco records that you remember buying?
Loleatta Holloway – Hit & Run
Jeff Perry – Love Don't Come No Stronger
Although I would say this is more on the modern soul vibe!
Edinburgh
You were brought up in Edinburgh, which club nights did you go to in the city and who were the DJ's who really inspired you in Edinburgh when you were starting out on your club journey?
I remember seeing Ladies on Rotation and that really sparked my journey in becoming a DJ. I went along and witnessed a full female line-up rocking the decks and I knew it was for me. I had the knowledge behind me, I just needed to learn the craft and that became my mission. I started out when I was 21 and I've never looked back.
Can you remember your first ever DJ gig and what were you playing at the time?
I brought a big bag of soul and disco records to a wee bar in Edinburgh, where there was even a seat behind the decks. It was a fantastic night, and I will never forget it. Big shout out to my pal, Scott Lawrie.
What are some of your favourite places to play in Scotland?
I love playing SWG3, that place is so special. I have had some great times at Cabaret Voltaire, the Tunnels, the Caves and Sub Club to name a few!
How would you describe your own personal DJ style in 2022?
Intergalactic Disco Vampire.
3 favourite own tracks
You have been a prolific producer over the last 5 years, please can you pick three tracks from your discography which bookmark that period and which are quintessentially Natasha Kitty Katt?
1. Ninja Dance
2. Bumpy Night
3. Kosmic Oscillations
You are appearing at the Scottish Disco and House festival on April 16th, what are your tips for the festival, who will you be checking out?
I will be checking out my good friend, and all-round superstar Mousse T, Nicky Siano, the Midnight Riot crew and of course, the sensational Jocelyn Brown. I also love and am honoured to play alongside such top notch local talent as Al Kent and Craig Smith.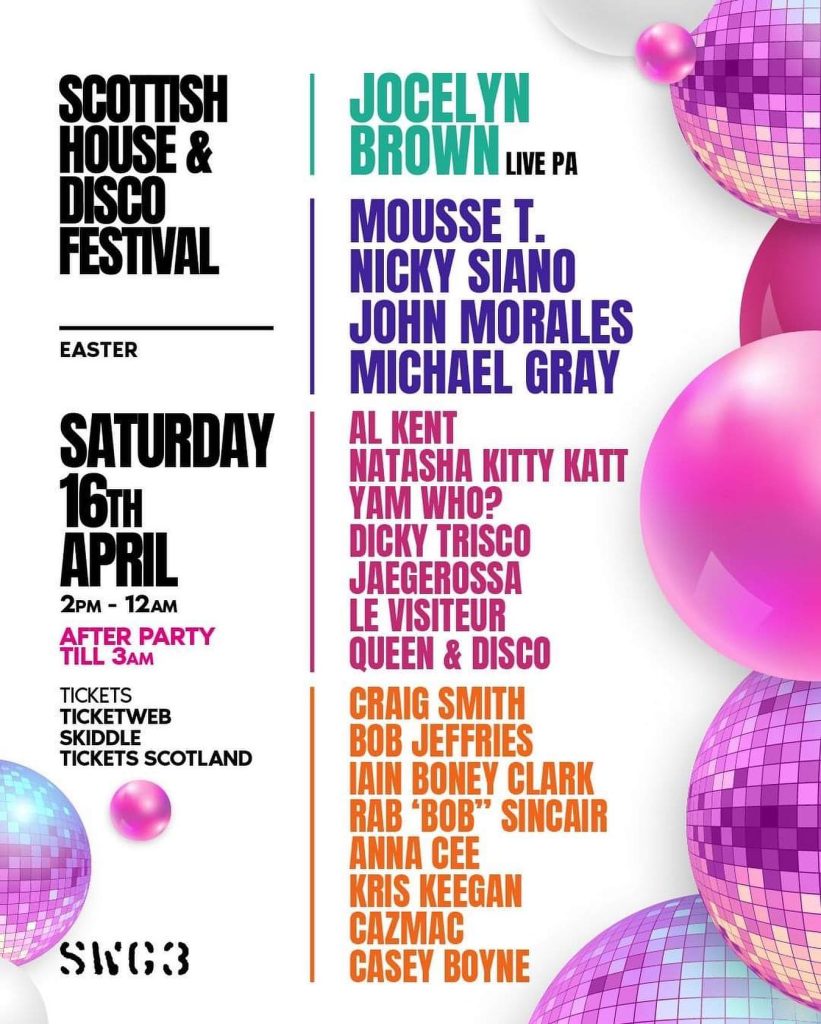 Jocelyn Brown
Is there a particular Jocelyn Brown track that you would love to hear her play on the 16th?
Yes It's a track she did with Raven called So In Love, I've never heard her perform it live before.
Al Kent
You mentioned Al Kent, he's obviously the one of the leading lights of the Scottish Disco scene and a regular feature here on LV. Do you have a favourite record that he has released?
The Loneliest One!
Ghetto Disco Records
You are also behind the Ghetto Disco Record label, what was your journey to setting up the label?
The idea for the label came from my radio show, 'The Ghetto Disco Show' which I used to co-host with my dad. The caliber of guests was outstanding and Serge Gamesbourg made edits specifically for his guest mix. As a result of this, we saw an opportunity to create a label based on high quality edits and original Disco / House. Since then, the label has evolved into a more Cosmic Disco / House stratosphere.
What are some of your key releases that you have worked with on Ghetto Disco?
I will always have a place in my heart for my debut EP on the label, which featured a track called Twisted Katt, followed by Return of the Cosmic Bitch. Kosmic Oscillations also fits into this space as it's my first ever all original EP and the sounds come straight from my soul.
What can we expect from your set on the 16th?
A journey through Disco, Soul, Funk & The Cosmos.
Disco Talent
The Disco scene is in incredible health at the moment, which artists do you think are doing the business right now?
I really love my good friend and producer, Antenna. In terms of production work, he is my favourite. In terms of DJs, I look to the likes of Sadar Bahar, MCDE and Red Greg for inspiration.
Glitterbox
You have been a regular at Defected Records Glitterbox parties all over the globe. What do you think is the secret sauce which has seen the Glitterbox brand explode worldwide?
I think Defected / Glitterbox have built a really inclusive brand that gives something to everyone. Age, gender, sexuality, are no barrier, it's a safe space where you can enjoy music.
Where do you think the disco scene will be in 5 years and how would you like to see it progress in Scotland?
I think we need more in Scotland. I can never get enough Disco in my life!
This Disco and House festival is a welcome addition.
What else can we expect from Natasha Kitty Katt in 2022?
More music, mayhem, and plenty gigs 🙂
For more info please check:
Natasha Kitty Katt Facebook: https://www.facebook.com/NatashaKittyKatt/
Natasha Kitty Katt Soundcloud: https://soundcloud.com/natasha-kitty-katt
Natasha Kitty Katt Instagram: https://www.instagram.com/natashakittykatt/
Natasha Kitty Katt Twitter: https://twitter.com/DJNattKittyKatt
Natasha Kitty Katt Online: www.natashakittykatt.com
If you love this please check out more on Natasha Kitty Katt HERE
Like what you hear? To help support LV Online buy us a coffee via Ko-FI. Click HERE
Tags:
Al Kent
,
craig smith
,
edinburgh
,
Ghetto Disco
,
natasha kitty katt
,
Red Greg
,
Scottish House & Disco Festival