Shaka Loves You Talk about Joints n Jams Volume 2, BombStrikes, Glasgow, Craig Charles, Playing Live & More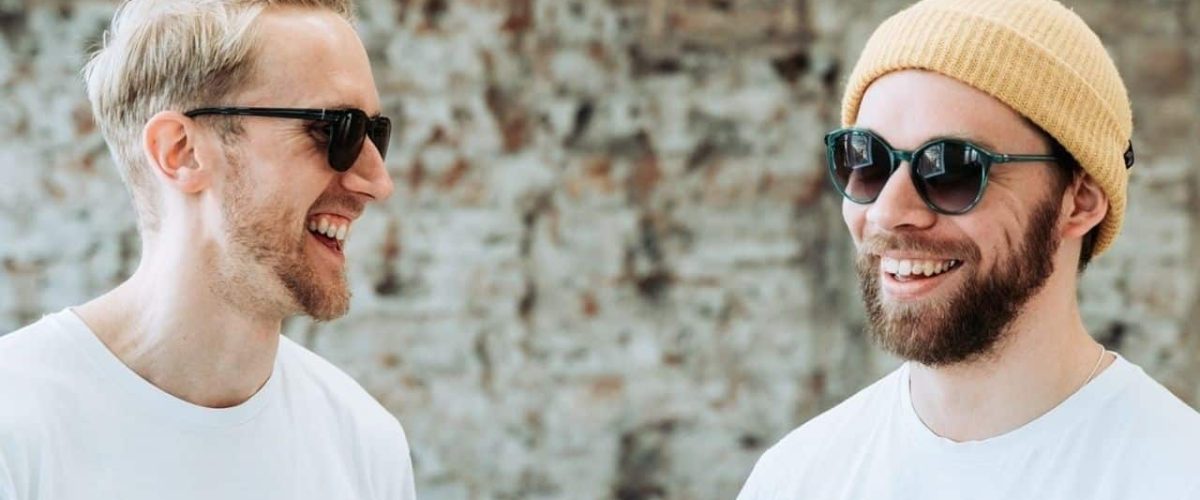 Shaka Loves You Talk about Joints n Jams Volume 2, BombStrikes, Glasgow, Craig Charles, Playing Live & More
Like what you hear? To help support LV Online buy us a coffee via Ko-FI. Click HERE
Shaka Loves You have been a duo who we have regularly kept tabs on over the last couple of years. Building up a fantastic relationship with ace UK label BombStrikes they have had a solid release schedule with multiple singles and their funky as hell Joint's N' Jams mix compilation. Now they are back with the second edition of Joints N Jams and it's another slice of feel good compilation bliss featuring 21 tracks all perfectly mixed and designed to get those feet moving straight off towards the dancefloor.
You can grab Joints N Jams Vol 2 here: https://fanlink.to/JnJ2 We shared the Premier of the lead single In My Arms from the album a few days ago, check out what we had to say about the single here and the premier is below.
I spoke to Jamie and Marty from Shaka Loves You about the album, Glasgow, their favourite BombStrikes moments, their celebrated live show, Craig Charles and loads more!
Hi there Jamie & Marty,
Many thanks for speaking to us today.
So you two have worked together for over a decade now. Where are you both from and how did you first meet?
We're both from the highlands, Marty's from Aviemore and I'm from the Isle of Skye. We first met when we both worked as ski & snowboard instructors in Glasgow about 12 years ago!
What was it that led you to form Shaka Loves You?
It was basically because we didn't have any gigs in Glasgow so we decided to start our own night. We never intended for it to become what it is now so it's been nice to see it evolve over the years.
The last decade has seen you put in both the hours and the miles with Shaka Loves You. From playing student unions to now supporting some of the legends of the scene and showcasing your skills at festivals across Europe, you have gone on to build up an incredible reputation as serious party starters. What would you say is the secret to your live success?
It's hard to pinpoint any specific secrets to our success but its pretty much hard work and a lot of luck! We've been extremely lucky over the years to get some amazing support slots and great festivals.
What can our readers expect from Shaka Loves You when they come to see you live?
Hopefully a great party! We try and keep our sets fun and maybe squeeze in a few unknown gems that people might not have heard before.
You are now based in Glasgow which undoubtedly has one of the best club scenes anywhere in Europe. What would you say it is about the Glasgow crowds which have consistently made it such and exciting and colourful scene over the years?
They're always just right up for a party! There's never usually much pretentiousness with the crowds and they can be really open to hearing new things which makes our job really fun and easy!
What are some of your favourite places to play in the city?
Our favourite spots are either Nice and Sleazys where we have our own residency or the legendary Sub Club is always a delight to play.
What are some of your gig career highlights?
Our career highlights are probably getting to support some of our musical heroes. Jazzy Jeff was a dream come true to warm up and meet him. They say never meet your heroes but Jeff couldn't have been nicer to us!
What tips do you have for our readers who might just be starting out on their gig career as far as travelling and preparing for gigs and festivals is concerned?
Always be professional and on time and try and find a balance between having fun and being healthy while travelling. That's easier said than done a lot of the time though!
Over the last couple of years while we have been living through the Covid lockdowns you have been focusing on your production skills, releasing some classy originals along with some choice edits. What are some of your favoruite own releases of the last couple of years that you would recommend checking out?
Hard to choose our own music that we like but these have been fun to play out and see peoples reactions;
How important would you say Craig Charles show has been for the funk and soul scene and the UK and for your own careers?
Yea, he's been really important to us. He's been a great champion, not only of our music, but of lots of up and coming dj's and producers. I don't think we would be where we are now without the support from Craig and his show.
Your latest release sees you land back with the excellent BombStrikes label for a second in your series of Joints n' Jams mix albums. Please can you tell us about the series, how it all came about and what we can expect from Vol. 2?
Yeah, so this is our second compilation album on Bombstrikes and we were honoured to be asked back to do another one in the series. It's always a treat to work with Tim and Glenn on a project like this and we're super happy with how it's turned out. We've tried to capture the essence of what we're about and we've got tracks on there ranging from funk & soul through to house and disco, a real mixed bag!
You have built up a fantastic working relationship with Bombstrikes, what is it about the label which keep you coming back for more releases with them?
The guys at the label are so good to work with. They always go over and above what a label needs to do for a release and they always work closely with us at all stages of the process to make sure everyone gets the most out of it!
Other than your own what are your favourite Bombstrikes releases from the last couple of years?
There's a lot to choose from but probably either Natasha Kitty Katt's disco funkin compilation or X-Ray Teds funk n beats Vol.8. Both are amazing compilations with plenty of gems to choose from.
Musically your releases have maybe moved away from the hip-hop, funk, disco fusion to more of a disco house direction recently. Has this been a conscious decision or just a musical evolution?
Bit of both really, we've ended up playing more disco/house sets recently and I guess that's come out in the music we've been writing. We've still got a love for hip-hop and funk though so we might still release some more music along those lines in the future.
During the Covid Lockdowns you also built up a strong following around your regular live streams and have kept that going with the Joints n' Jams radio show and Livestream. What can you tell us about those shows, where we can find them and what to expect when we tune in?
Our livestreams have taken a backseat a little bit since getting back to more regular gigs. We do The Soul Train stream on the 2nd Tuesday of every month at 4pm. We'll also be starting a new monthly Joints n Jams Radio show in April so keep an ear out for that. You can watch our streams at twitch.tv/shakalovesyou or keep an eye on our soundcloud and mixcloud pages.
Which artists out there right now on the funk and disco scene have really been turning your heads recently that you would recommend that we check out?
We love Art of tones productions at the moment. They're always on point and super funky. Of course DJ's like Folamour and Young pulse are always guaranteed to get us going too!
And what else can we expect from Shaka Loves You in 2022?
A new radio show, lots of new music and a busy festival season! We're really looking forward to getting back on the road and playing music to people again!
You can grab Joints N Jams Vol 2 here: https://fanlink.to/JnJ2
For more info check:
Shaka Loves You Facebook: https://www.facebook.com/shakalovesyouofficial/
Shaka Loves You Soundcloud: https://soundcloud.com/shakalovesyou
Shaka Loves You Instagram: https://www.instagram.com/shakalovesyou/
Shaka Loves You Twitter: https://twitter.com/shakalovesyou
Bombstrikes Facebook: https://www.facebook.com/Bombstrikes
Bombstrikes Soundcloud: https://soundcloud.com/bombstrikes
Bombstrikes Instagram: https://www.instagram.com/bombstrikes/
Bombstrikes Twitter: https://twitter.com/Bombstrikes
Tags:
Bombstrikes
,
disco
,
disco house
,
Glasgow
,
Shaka Loves You