Alex Blex's Delicious French Disco Top 10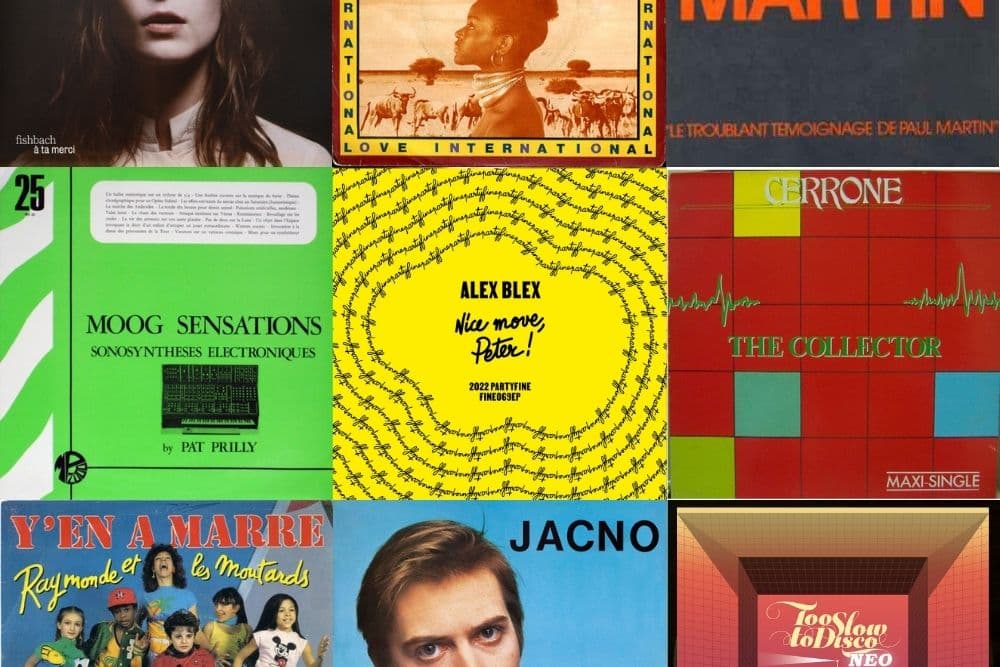 Alex Blex's Delicious French Disco Top 10
Like what you hear? To help support LV Online buy us a coffee via Ko-FI. Click HERE
Alex Blex debut release see's him team up with Yuksek's Partyfine label for the three track Nice Move Peter EP. Featuring three tracks of off the wall leftfield disco bliss it's an EP which combines deep disco dancefloor groove with a summery synth edged outlook. Combining two original deep rollers with a peak time Nu Disco jam courtesy of Yuksek's ace remix of the title track it's an EP which covers all corners from the poolside to the dancefloor.
Grab Alex Blex Nice Move Peter EP from: https://bfan.link/nicemovepeter
To celebrate the release Alex gave us ten of his favourite French disco jams from across the decades, it's a fascinating selection covering every corner of the disco galaxy.
Alex Blex – French Disco Top 10
Magnüm – l'Epée à la main (2019)
I'm in love with these guys, who may all have appeared in the French band Destin. I'm not sure that I understand 100% of the lyrics, even if it's sung in French but that doesn't matter. Moreover, it's perfect example on how to a use horn section without sounding cheesy! Nice Move, Guys !
Love International – Airport of Love (1981)
Sweaty synth bass line, colourful spoken words, engineered by Cassius' Boombass's father. First-class musical UFO. The same year they released another tuned called "Dance on the Groove (and do the funk)" featuring French actor Alain Chabat and that also deserves your attention. It's a very conceptual track that mixes a radio interview and an accelerating beat. That kind of one-or-two hits band that still count 40 years after.
Cerrone – The collector (1979)
Cerrone's thriller. Meticulous song writing and kind-of-freaky atmosphere. It's a perfect match. Cerrone is our disco superstar here in France, and his masterpiece Supernature remains a standard. He is definitely one of the 70's and 80's dance moguls along with his Italian peer Giorgio Moroder. But I still can't figure out which one of them best wears the moustache.
Long Courrier feat. Carson – Arcane Man – Wize Remix (2013)
An ethereal-progressive-disco piece by Long Courrier and talented Berlin singer Carson, remixed by Wize. What's interesting is comparing the remix the original and you see how Wize took an indie track and transformed it into a simple but efficient disco piece. Besides, I may have contributed to the writing of this one back at the time 😉
Jean Jacques Perrey – Indicatif Spatial (1971)
Fifth track of the chart – Interlude time ! It's hrd not to talk about a space obsession when talking about French disco. Acts like Space or Space Art or, even Belgian fellow Telex with their "rendez-vous dans l'espace" have tried to imagine and define in their own way what could be the sound from above our heads. My wife recently gave me a re-edition of the vinyl that NASA sent into space with the Voyager Mission. And that's actually the furthest a human object has ever been in the galaxy!
Fishbach – On me dit tu (2017)
Kind of "Rocky Horror Picture Show" ambience written and sung by the bewitching Fishbach. She comes from our French Carpates, a region called "Les Ardennes". This is a very woody place and that gives it a strange resonance you can feel in the track. Note that Fishbach is about to release her new LP in the coming days. You should definitely keep an eye on her.
Raymonde et les moutards – Y'en a marre (1983)
A classic French boogie gem, released in 1983. The original version includes kids singing on it. Raymonde on the cover seems to be the grand sister to dream of. French boogie is a very interesting niche musical movement that is worth your attention. French label Born Bad Records released a few years ago two compilations called "Chébran" which constitutes a perfect introduction to your research.
Jacno – Rectangle (1979)
How can we not talk about someone who released an EP with tracks named after geometrical figures and became the soundtrack of a chocolate powder ? I remember I was listening this song probably 10 times a day when I was a 3rd year student and my room mates were going completely mad at it. This song has this strange peculiarity that it carries with it of both happiness and sadness.
Paul Martin – Le troublant témoignage de Paul Martin (1977)
Like many, my musical education owes a lot to my older brother. Thanks Gui ! This track is an illustration of a more poetic side of the French disco. And it has a pretty long title that is, without being able to explain why, something I have always loved. I let you discover what Paul Martin has to tell you 😉
Juliette Armanet – Le dernier jour du Disco (live) (2021)
French disco has still beautiful days ahead…. That's all Folks!
Grab Alex Blex Nice Move Peter EP from: https://bfan.link/nicemovepeter
For more info please check:
Alex Blex Soundcloud: https://soundcloud.com/alexblex
Alex Blex Instagram: https://www.instagram.com/alexblex_alexblex/
Partyfine Facebook: https://www.facebook.com/Partyfinemusic/
Partyfine Soundcloud: https://soundcloud.com/partyfinemusic
Partyfine Instagram: https://www.instagram.com/partyfinemusic/
Partyfine Twitter: https://twitter.com/PartyfineMusic
Love this check out some more Yuksek and Partyfine related features HERE.
Tags:
Alex Blex
,
disco
,
French Disco
,
Partyfine