Nenor talks about his Take My Time EP on Razor-N-Tape, Rabo & Snob, Mahogani, Strictly Rhythm, Tel Aviv and more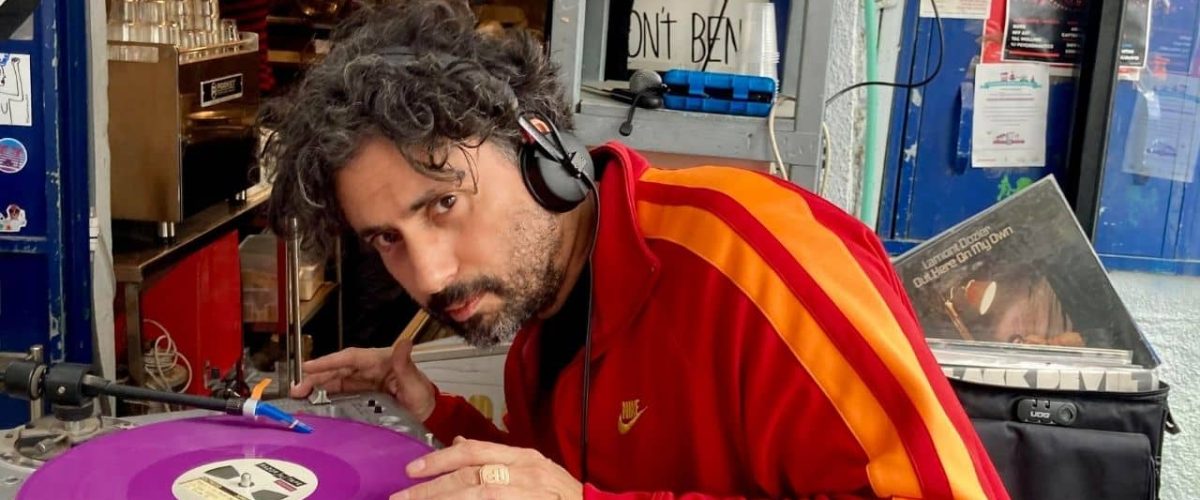 Nenor talks about his Take My Time EP on Razor-N-Tape, Rabo & Snob, Mahogani, Strictly Rhythm, Tel Aviv and more
Like what you hear? To help support LV Online buy us a coffee via Ko-FI. Click HERE
Nenor is a producer and DJ with a long history in the game. Having earned his DJ stripes in the late 90's and 00's as one half of Rabo & Snob, a duo who are still going strong today. He is also a hugely talented producer with releases on Heist, Strictly Rhythm, Yuksek's Partyfine, Whiskey Disco and Sol Power Sound under both Nenor and Sabbo.
His latest release see's him back on Razor-N-Tape's Reserve label with his second EP Take My Time following on from the ace On That Day EP. It's another triumph, four glorious house tracks which combines classic feels with contemporary production skills. You can check the tracks from the EP below and you can grab the EP via: https://razor-n-tape.fanlink.to/Nenor
We dispatched the Insider to talk to Nenor about the release, his career, living in Tel Aviv and his many releases with the likes of Strictly Rhythm, Mahogani, Sol Power Sound and much more.
He also put together this fantastic mix for us, please give it a share over on Soundcloud and help us spread the love.
Thanks for taking the time to talk. Where are you today and what are you up to?
Currently having my first coffee for the day at the studio. It's quite a busy day ahead, I'm scheduled to finish mixing two songs with an artist here.
Where are you from originally and where are you based now?
I'm originally from Tel-Aviv, lived most of my life here. In the last few years, I've moved to a place just a few streets from where I grew up, in the south side of Tel-Aviv. A quiet residential area, a bit away from the bustling city centre.
How is the scene where you are, are clubs and gigs happening like pre covid?
Tel-Aviv is a small, but very vibrant city. It was one of the first places where the population got vaccinated. It has been alive and kicking for the past year or so.
What is the main club to go to in the city for good house music?
There are no House dedicated clubs. In general, I can say that Tel-Aviv leans more into melodic techno or indie-dance. It's currently less 'funky'.
Do international DJs get booked a lot to play or is there a big focus on local talent?
It looks like there are going to be many international DJ's coming here this summer. Which was the case pre-covid. The Covid period combined with other unfortunate regional events actually helped the local scene. In many cases, our locals know best what works for the crowd, and there's plenty of talent here.
As a gigging DJ I guess the last few years have been a bit of an endurance test?
In the last few years, I tend to focus and rely less on DJ gigs, and try to expand my creativity and activities. I'm fortunate that a lot of my work is done at home in my studio, so I was actually mixing and producing for others even more than in previous years.
I really cherry pick my local gigs, and go for the ones that I'm likely to enjoy and play what I want.
Rewind back to the early years, so your dad was a DJ! What are your early memories of this? Where did he play? What did he play?
Yes! My dad is a real music enthusiast, even to this day. He was mostly doing events, and private parties, not clubs. He used to mix hits, but always with a strong sense for groove. I remember a mixture of some Disco with New Wave, and some local songs thrown in between. I used to go with him and help at many events, my strongest memory was when I accidentally turned an amp off. That was a good lesson 🙂
I read an interview recently where Henry Wu said that listening to his dad play 'Songs In the Key Of Life' changed his life. Is there an album you recall when you were a kid that had a big impact on you?
I can still vividly remember when my dad played and told me about James Brown's 'Sex Machine'. He explained how this drove people crazy on the dance floors, and how it was so 'repetitive' and that it was too long to fit on one side of a single, so it was continued on the B side.
Your family had a record shop. Where was it? What was it called? What kind of stuff did it sell?
The shop was simply called "Record", in one of Tel-Aviv's busiest streets, at that time there were no genre specific shops. They stocked a bit of everything.
Do you remember kicking around the shop as a kid? I guess this is where the passion was born?
I was quite young, I guess around 5 years old, so I don't really remember the music, just the huge collection, the turntables, and other gadgets. And definitely the ice-cold AC! Tel-Aviv can be very hot during the summer, and at that time AC's were not that common.
What were the first parties clubs that you went to?
I was 14 when I first got into a proper underground club in Tel-Aviv, this was called "The Penguin", a seminal underground place where they played a mixture of New Wave, Punk, and Industrial music. In a way, I was completely changed after this first visit. I came back every week and started exploring and buying the records I've heard. A few years later I found myself playing there as well for one night. Probably my first paid gig ever. Me and my friend played mostly some industrial and new wave stuff.
Can you remember some key records that remind you of that time?
Nitzer Ebb – Join In The Chant
Psychic TV – Ov Power
SPK – Metal Dance
Anne Clark – Our Darkness
When did you first get into Djing? Where did you play?
My first real club DJ gigs were at a spot called "Tamara's Lounge", this was around 99'. Me and DJ Rob (my partner in Rabo & Snob) held a weekly residency every Saturday.
Can you remember a few of your key records that you played?
A lot of Funk & Disco and some funky House later at night.
T-Connection – Do what you wanna do was our anthem
Musique – Keep On Jumping
Universal Robot Band – Barely Breaking Even,
Some Chic, Fela Kuti, Sly and everything funky we could find. At that time there were very few spots in Tel-Aviv to dig for those types of records, so whenever we found a good one, it got played regularly.
When was the moment you crossed over into production?
I started playing the guitar and the bass, collecting, and messing around with a drum machine, synths, and a sampler a few years prior to starting DJing. I was always into writing melodies, hooks and recording instruments. I started producing songs and remixing for some local artists.
I try to look at myself as a music producer first, and not specifically a house, or club producer. I love songs, and different genres and textures. I'm fortunate to have many songs on local radio here and even received the local equivalent of a Grammy!
What was the first release you put out?
I've been releasing a lot of music under different aliases (Mostly as "Sabbo" since late 90's, but the first Nenor release was "I Luv U" on Strictly Rhythm with remixes from Andres and Luke Solomon.
You've released on some very cool labels. How did you get signed to Strictly Rhythm? What was the release?
My manager at the time was in contact with Defected Records and sent them this tune. It was still a rough version that was just recorded straight out of my MPC3000. They liked it and asked who I would like to remix it. Andres was obviously one of the top choices.
Have you got a fave Strictly Rhythm that never leaves your bag?
Sooooo many great ones. The one that's on rotation now is 'Love Thang' (Catwalk Mix) by Benji Boys.
One of the tracks on your new Ep has shades of Larry Heard. Is he a producer that has inspired you?
I'm sure anybody who's into House music is knowingly or unknowingly inspired by him. Nobody forgets the first time they heard "Can You Feel It". "Do You Remember" from my EP is all about reminiscing this era, when dance music felt more fun, simple, and euphoric.
What other producers have inspired the music that you make?
My favourite artists are those who do not stick to a certain formula, those who change from one track to another and change over time. From Quincy Jones to Phil Spector to Rick Rubin, To Moodyman, to Inflo, I always listened and collected a lot of music, so I'm not directly or strictly inspired by 'dance' music.
You've released on Dam Swindle's Heist, Yuksek's Partyfine and Whiskey Disco too. Sol Power Sound is a really interesting label. Tell us a little about that release?
It's a great label from Washington DC, that focuses on more 'global' sounds, a lot of percussion and vocals. I have two releases with them, with vocals I've recorded in Ghana, and with a Congolese singer that lives here. They also loved some of my more futuristic-quirky-percussion tracks. This label is consistently releasing great music.
Gotta ask about "My Way Home" on Mahogani. How did this release come about? What was it like working with Kenny?
I'm still not sure about the chain of events that led to this, but I know that Kenny played some of my unreleased tracks that I've sent. I was already so happy about it, and when I got an email that he wants to release a 12" I was so honoured ! He's one the most innovative, creative, and diverse producers ever. A real LEGEND. To be picked by his exclusive label is to me more meaningful than any other commercial success.
We did hang out briefly in Amsterdam, but my contact with him is through his amazing staff.
You have your own label Nenorion. How long has it been going? What's the music and artist direction?
Nenorion started as an outlet for tracks that other labels didn't pick up. I sometimes feel that a lot of the labels try to stick to a certain sound and style, where my tracks are pretty diverse. I needed Nenorion to be able to release whatever I wanted.
The second release on Nenorion was called "Friends" and it was a compilation of tracks from my friends here in Tel-Aviv.
What is the label putting out next?
I'm still not sure. There was a long gap from the last release. I'm now in the process of going through tracks I've made in the last two years.
I read that you spent some time living and producing in Jamaica. What did you get up to there?
I was always into Reggae and Dancehall, so in 2003 I travelled there with Kutiman, with the intention of collaborating and recording artists.
We ended up staying for nearly a year, living in a small shack, and constantly making tracks. It is truly a magical and spiritual place and somehow we found ourselves with Damian & Stephan Marley at Bob Marley's house and studio. We actually sold them 4 beats, and hung around the studio while they recorded some songs.
We released some of the Jamaican tracks on an album called Sabbo & Kuti – Better Days
You have worked on a lot of different styles of music. Nenor today, how would you define your sound?
I try not to have any specific 'sound'. It's more of a feeling that I'm looking to create. My love for dance music comes first through Funk and Disco, so almost everything I do has that in its backbone, even when my tracks are more 'electronic', there's always something organic to it. I also don't have any specific creative method. Almost each track starts differently. I have a lot of old funky gear. Sometimes I'll connect other gear to the mixer, and it all turns out differently.
What's happening with Rabo & Snob these days?
We're actually sitting on some really hot tracks, but we're both so busy we can hardly find the time to sit down and finalise them. We spoke just a few days ago and scheduled something.
Tell us about your relationship with Razor-N-Tape. How did you meet? Have you played together over the years?
I had some of their releases constantly in my crate, and liked a lot of the music they released. I sent some tracks, and we compiled our first EP. We never actually met or played together, but I think they should come to Tel-Aviv so we can have a party here! I plan to go to the US sometime, it's been more than a decade since my last visit.
RNT is a really solid label. Why do you think they are so consistently good?
I think they guys at RNT have an open ear for different styles, while still keeping a certain vibe that's distinctly theirs. I know they also care a lot about the culture, and the longevity of their releases. They are not just looking for instant trendy club bangers, like so many other labels out there.
This is your second release on RNT. You feature Jenny Penkin on a couple of the tracks. What can you tell us about her? What else has she done?
Jenny is like my little sister! I've heard about her performing around the city, so I called her first to replace a small vocal sample on a track. She did it quickly and we had some session time left so I played her a sketch for something I was working on, and together we wrote "My Intuition" that was released on Defected. Since then, we've collaborated a few times. We recently had a local hit (in Hebrew) that got a lot of airplay. She just released her solo album and is working with her band "Masok" – you should definitely check them out. I also did a remix for Masok which has an up-tempo drum & bass feel to it.
Your new release is a VERY diverse EP. Talk us through the tracks a little.
Yes, I personally really like diverse releases. That's also how I DJ, I don't want to have any specific sound or style.
A1- Tell Me How Can I Be Free – I actually sent RNT a very early version of this, just as a test, and they really thought it could work. At first I was not sure about it myself, so I completely changed the bassline and wrote the vocal part for Jenny. Once she recorded it, I guess they heard the potential before I did. That's why it's very important for me to listen to how other people feel about my tracks.
A2- Gonna Take My Time – Maybe my personal favourite on this EP. I heard the vocal sample and immediately did the drums and bass to it. It didn't need much more. It's raw, and gets a crazy reaction when I play it at parties.
B1 – Do You Remember – It was made at a point where I felt that a lot of the music I was hearing in clubs, at least in Tel-Aviv, was a bit too serious, too dark, and I felt I wanted to do something that echoed different feelings. It's definitely a reminiscing track. I also used Jenny's vocals here and made her sound like a sample.
B2 – Work That – This was actually made really quick, one of those days at the studio that everything just comes together. It's simple, and quite raw. We had a different track lined up for closing the EP, but when I sent it to the guys we all agreed this should be on it.
What other projects are you working on right now?
I'm very busy producing and mixing local artists. But my plan for the next few months is to finish the work on my own album, which is quite different from the singles I've released. Some of Tel-Aviv's best Jazz musicians are on it.
Do you have some gigs lined up that you can drop here?
In Tel-Aviv the bookings are usually set on a weekly schedule, so I rarely know of anything ahead 🙂 In general I play very little nowadays. I plan to go back to gigging outside of Israel once I complete my album – so probably next year.
When you're not making music, what do you like to do to chill..
My favourite thing is going out for food with my girlfriend. Tel-Aviv has a lot to offer.
If we get to Tel Aviv, where should we head for a cold beer and some vibes?
For a cold beer and a hangout, you cannot go wrong with Teder, or Kuli Alma, "The One" is a (not so) secret spot. For clubbing I like a place called "Slippers". It's underground but still sexy.
Thanks so much for your valuable time.
Thank you !
Grab the EP via: https://razor-n-tape.fanlink.to/Nenor
For more info please check:
Nenor Facebook: https://www.facebook.com/obas.nenor
Nenor Soundcloud: https://soundcloud.com/obas-nenor
Nenor Instagram: https://www.instagram.com/nenor_ronen_sabo/
Razor-N-Tape Facebook: https://www.facebook.com/RazorNTape/
Razor-N-Tape Soundcloud: https://soundcloud.com/razor-n-tape
Razor-N-Tape Instagram: https://www.instagram.com/razorntape/
Razor-N-Tape Twitter: https://twitter.com/RazorNTape
Love this? Check out more on Razor-N-Tape here
Tags:
house music
,
Nenor
,
nu disco
,
razor n tape