On The Guestlist with Bill Brewster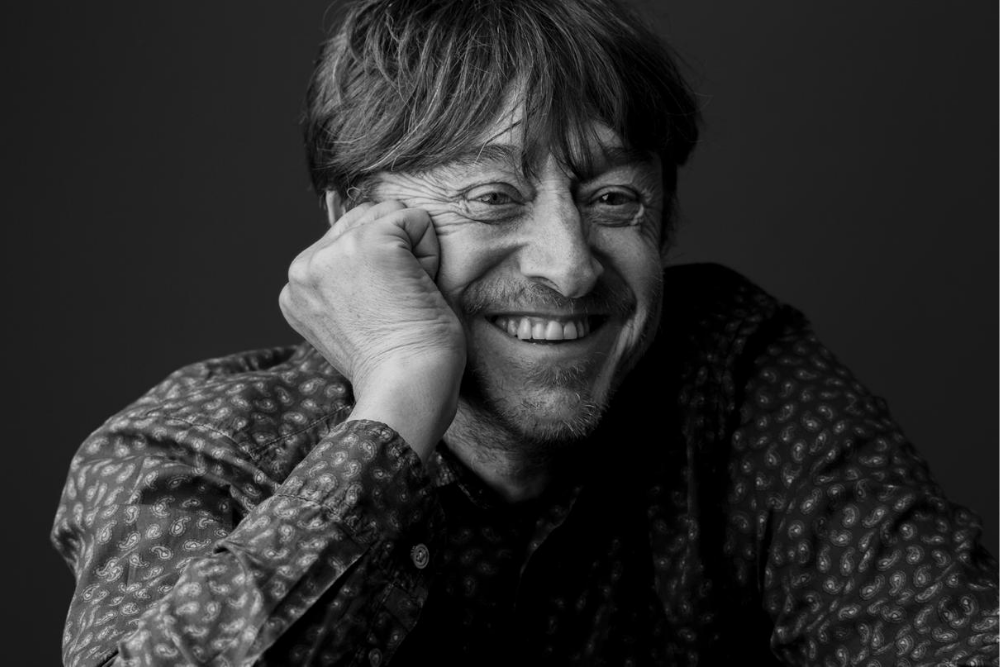 On The Guestlist with Bill Brewster
Bill Brewster is perhaps one of the most revered names in the dance scene. With a career spanning nearly four decades Bill has experienced virtually every facet of the industry. He's a renowned music journalist having spent two years running DMC's New York Offices during the heady days of the 90s. Bill has written, along with Frank Broughton, some of the most acclaimed books relating to the club scene Last Night A DJ Saved My Life, How To DJ (Properly) and The Record Players. He also recently published the wonderfully colourful Clubbed: a visual history of UK club culture with Rick Banks. Along with Frank he was also behind the DJhistory.com website, podcast and column.
As a DJ his encyclopedic knowledge of music has seen him in demand all over the globe spinning everything from house focused club sets to Balearic sun sets and pool parties. If you can think of a setting for a DJ Bill has likely not only been there but written an instruction manual on how to make it work.
He's been a club promoter, has released multiple compilations including for Easy Street and P&P and he has also had releases for Late Nite Tales for whom he also currently curates their Spotify Playlists.  And of course there is his expansive and utterly brilliant Tribal Rites on Eskimo. Bill has also been behind several record labels including running the renowned Tribal UK.
Recently he has been flexing his muscles as a producer with the excellent Frottage Cheese and the brand new Frottage Industry releases for excellent Manchester label Sprechen.
Grab Bills new Frottage Industry EP on Sprechen via: https://sprechen.bandcamp.com/
We spoke to Bill about his musical upbringing, his incredible career, working for DMC in New York in the 90's, the Sprechen releases, the current state of the music scene and loads more!
Hi there Bill,
Thanks for speaking to us today.
Going way back what was it in your musical upbringing which led to such a life long passion for music?
I didn't have a musical upbringing really. My parents were vaguely interested in music, there were Jim Reeves, Supremes and Carpenters albums knocking about, and I played clarinet in the school youth orchestra, but that was it. I was the eldest child so I didn't have anyone in the house influencing me. My mates who all lived on the same street were my musical buddies, especially Andy who lived opposite me. He did have an older sister, Sandra, who was into Bowie and Bolan. That was the start.
Can you remember the first record that you ever bought?
Ernie The Fastest Milkman In The West by Benny Hill.
Growing up you were a Punk rocker, what are your memories of that scene as it started to expand into the post punk period, which you explored with some incredible track choices on your Tribal Rites compilation for Eskimo, and how did that post punk funk, dub and reggae exploration inspire you as music moved towards the electronic era.
Punk had a profound effect on me. I was 17 when it was blowing up and it felt like something aimed at me and my generation. The Pistols played in Cleethorpes in December 1976 and from then on, I was planning to move to London which I did in May 1977. Punk naturally led into post-punk, but at the time, no-one was calling any of this music by a separate name, really, but I remember buying the first single on Mute by the Normal, from Rough Trade, 'Being Boiled' by the Human League, 'Nag Nag Nag by the Cabs, these records were my introduction into electronic music, really.
What was great about that era was how open everyone was to all of these ideas coming in from everywhere: Krautrock, Afrobeat, funk, soul, disco, reggae, dub, all being incorporated (with varying levels of competence) by young bands. I started a band, directly because of acts like A Certain Ratio, 23 Skidoo, Gang Of Four.
With regards to house music what are your first memories of the genre in clubs and what was your own journey into being so heavily involved in the genre?
I'd bought a few early 12-inches that I'd heard on John Peel ('Hey Rocky' by Boris Badenough was the first one), but when I heard it in a club, I didn't really like it that much to start with. I went to see Mark Moore play at the Fridge in 1987 and thought it was a right old racket.
Was there a specific house track or tracks which really piqued your interest in the genre when it all started to make sense for you as the UK clubs moved from Rare Groove and multi genre djing towards its long term love affair with the genre?
Not really, no. What I didn't like about it, was the fact that it replaced everything else, so suddenly there was no space for hip hop or rare groove or soul. Then an ex-girlfriend gave me a pill one night and I changed my mind 🙂
You have spent a good proportion of your life as a music journalist. One of those key periods was when you were running the DMC offices in New York in the 90's which must have been an incredible experience. How did you end up working for DMC in New York and looking back on it now what are some of your favourite memories of your time in New York?
I was editing DMC's trade magazine Mixmag Update, which was a weekly tip sheet aimed at DJs, and they asked me if I wanted to go out there and work in their office. I said yes and moved the following week. Obviously, it was pretty amazing to be living there. I met Frank Broughton the first week I was living there and he and I hit it off immediately. I met another guy Adam Goldstone, who sadly died, and he became another close friend (he was working for François K at the time). We started going out to the Sound Factory every Saturday religiously until it closed in February 1995. We were disciples of Junior and also Danny Tenaglia. Anywhere they played, we followed. I got to know both of them pretty well, especially Danny and I learned a lot from him just hanging out in the DJ booth watching him play. That era was killed off by the guest DJ phenomenon that was really brought over from the UK. In NYC when I first moved there, you had one DJ playing all night in the same club every Friday or Saturday (sometimes both nights). It lost a lot of its uniqueness after that. When you have a resident, they play differently, they know the crowd intimately, and there's a more intense relationship. I don't think that exists in the same way now.
You have now written five books on various aspects of djing and the club scene. How do they all knit together as a body of work, which order should we approach them and are there any plans to revise any of your earlier books to take into account what you have learned about the scene since you first wrote them?
Of the five books I've written, four of those were with Frank. I think there are three that fit together neatly: Last Night A DJ Saved My Life, How To DJ (Properly) and The Record Players. We'd love to revise both Last Night and especially How To DJ which is now really out of date, but our publishers are, sadly, not interested. In fact, Last Night… is not even in print in the UK. The only way you can currently buy it is via the American edition, but there are a few foreign language editions still in print (French, Russian, Spanish etc).
Were there any interviews which you would have loved to have done while you were researching for the books which didn't work out for any reason?
Shep Pettibone. He's very elusive.
Do you have any more books in the pipeline?
Yeah. We're working on an idea at the moment.
How would you describe your latest release Frottage Industry which is out now on Sprechen and can you give us a bit of history about the release?
I'm not sure history is the right word. I did something for Chris over a year ago and he suggested I might like to do something to follow it up. I'm always messing about with various half-completed ideas, so it's good to have some crack the whip and give you a reason to actually deliver something half-decent, and on time. Beyond that, I'm hoping I've delivered a few bangers and a couple of cool tunes to go with them.
You have been booked all over the globe as a DJ? What have been some of your favourite places to play which really took your ability to communicate your love of music to another lever be it through the setting, the system or the openness of the crowd?
The most amazing setting was a one-day festival on Waiheke Island, which is a small wine-growing island just off the coast of Auckland in New Zealand. It's stunning. The day we played, unfortunately, it pissed it down, but it didn't dampen the enthusiasm and everyone had a great time, including me. In the old days my favourite places to play where Naples (especially Dynamic Area), The Room in Madrid and the early years I was resident at Fabric, all three places had that magic combination of good sound, atmosphere and crowd. It makes your job so much easier when a club is run with the right intentions.
You record a weekly DJ History Podcast which can be found on your Soundcloud page. What can you tell us about the ethos of that series?
Actually, it's available on ITunes, Mixcloud, Soundcloud and anywhere else that you might find podcasts. When I first started doing it, nearly 12 years ago, it was mainly to use it as a marketing tool for our website, DJhistory.com. But the podcast has outlived the website and the name of it doesn't really represent the content anymore. I basically play my favourite new tracks, with a few old reissues thrown in for good measure. Listeners tell me they use it as a buying guide, because I'm lucky enough to get a decent amount of music upfront of release. I'm not sure you'd call it an ethos, when it's just me chucking a load of tunes on that I like.
Obviously the Electronic world has in many ways been stopped in its tracks due to the current Covid-19 pandemic which looks like it is going to affect our whole scene for a long time to come. It's very much a perfect time for the whole industry to take stock and a chance for re-invention. If you had a wishlist of how the industry could reinvent itself in a positive manner what would be on there?
The biggest change I'd like to see is promoters actually promoting parties rather than big name DJs. It's had a hugely damaging effect on the culture of dance music, because a lot of the major DJs are often pretty shit, but happen to have a big track out at that time. There are scores of brilliant DJ's who don't get anywhere near the work that they should either because they don't have big tunes out or they're not loudmouthed bullshitters.
If you could go back and give your Punk rock, football loving self advice on how best to build a long term and fruitful career in the music industry what would they be?
The key to everything is: do it yourself. Don't wait for someone to discover you. There is literally no one out there looking for you right now. If you want to make a career out of it, throw your own parties, make your own tunes, start your own label, teach yourself how play keyboard or sound engineer. Everything I've done has come from making things happen myself in the first instance. The more projects you embark upon, the more visibility your work will receive.
What else can we expect from Bill Brewster in 2020?
Well I've been running my not-very-mythical virtual nightclub the Paradise Farage all through the lockdown and I'm continuing with that for a while longer, until we have a clear idea of what the future holds. That's every Saturday at 8pm and it's on 16loop.com.
Frank and I are working on a book idea and we're trying to take back control of Last Night A DJ Saved My Life. I'm collaborating on an art project with a young designer, which I'm excited about. I'm trying to build a new website to bring all of my stuff into one place. And I'm currently running a Patreon campaign to give away 100 downloads in 100 days (details below on the Patreon link).
Finally, I'm currently working on two different compilations for Cherry Red, one is a solo career retrospective boxset of Chaz Jankel and the other is a three-CD post-punk compilation called Shake The Foundations. Is that enough stuff?
For more info on Bill Brewster please check:
Patreon: https://www.patreon.com/billbrewster
Mixcloud: https://www.mixcloud.com/billbrewster/
Instagram: https://www.instagram.com/bill_brewster/
Soundcloud: https://soundcloud.com/billbrewster
Grab Bills new Frottage Industry EP on Sprechen via: https://sprechen.bandcamp.com/
For more info on the EP check:
Sprechen Facebook: https://www.facebook.com/SprechenMusic/
Sprechen Soundcloud: https://soundcloud.com/sprechenmusic
Tags:
Bill Brewster
,
Sprechen Music