Peter Matson Talks about his Bigtime EP with JKriv, The Loft, Auntie Flo, Dicky Trisco, Razor-N-Tape and Heist Recordings.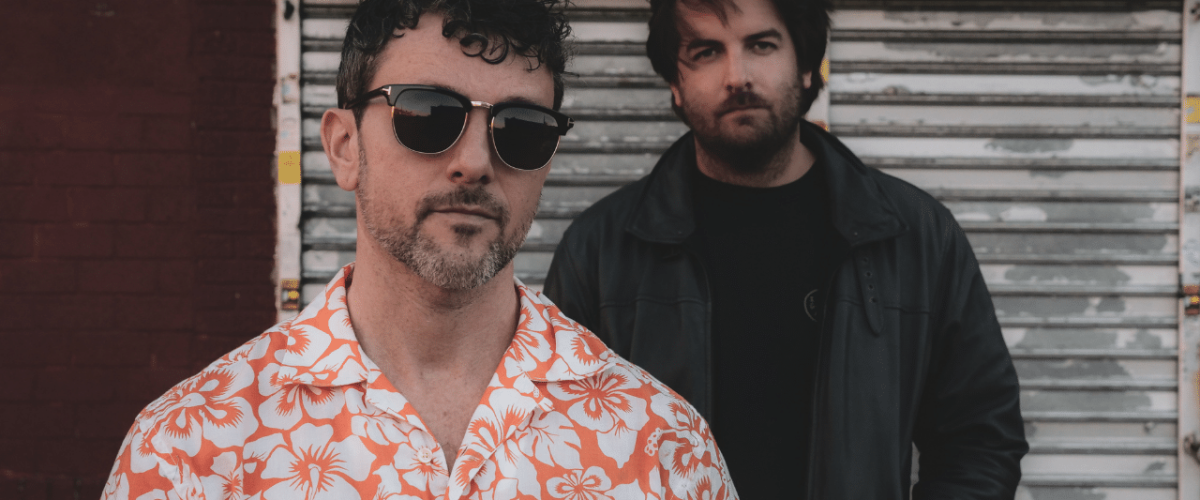 Peter Matson Talks about his Bigtime EP with JKriv, The Loft, Auntie Flo, Dicky Trisco, Razor-N-Tape and Heist Recordings.
Like what you hear? To help support LV Online buy us a coffee via Ko-FI. Click HERE
Cover photo features JKriv (Left) & Peter Matson (Right)
An Interview with the Insider for Le Visiteur
Peter Matson is a longtime NYC resident and leading light in the live scene in the city with his band Underground System and many other projects. His latest releases see's him team up with Razor-N-Tape boss JKriv to release the Bigtime EP via Heist Recordings. It's an EP which literally stands head and shoulders above all of the releases out there just now with it's electronic meet's live feel transcending genres including house, Disco, Afro, Acid and Balearic. It's a thoroughly enjoyable listen which really inspires and speaks volumes of what a brilliant place club music is in right now.
To celebrate the release The Insider spoke extensively to Peter about the project, JKriv, The Loft parties, Auntie Flo, Dicky Trisco, Carl Craig, Laurent Garnier, famous great-grandfather, Razor-N-Tape and Heist Recordings. He also put together this brilliant mixtape for us. Check it out and give it some love over on Soundcloud xx
Hi Peter,
Thanks for your time to talk. It's a rainy grey day here in the UK. How's it looking in New York today? How are you doing?
Thanks for having me! I can't lie, it's been absolutely beautiful the last few days in NYC, but….. as many nightlife participants and night owl musicians can attest, not so fun when we get to the part of the year where the sun sets at 4:30. Looking forward to longer days already haha.
Things have been picking up considerably here. Even though there's COVID cases, bars, clubs, and gatherings are happening in a measured way. What's going on in New York on the scene right now? You back to full steam?
It's been pretty crazy in NY these recent months. Not in a way it was before, but most spots and events have been quite packed once we were allowed to re-open with proof of vax and people have become comfortable with the idea. There have been some amazing, beautiful, sometimes even jarring moments beginning with the summer and transitioning into what is now comfortable indoor activity in the fall months. The past two weeks for me personally were a revelation; I had been DJing a bit already but it was the first time I played a couple of packed live shows with my groups that really sold some tickets and brought people out in Brooklyn, in two years….
Are you from New York Peter?
I have a bi-coastal upbringing where I was born in LA and then moved as a kid to the east coast and around NY. I went to high school in upstate NY and moved to the city full time for school after, then never left. Most of my family is from and lives in NYC; it's been home.
When did you first start venturing out onto the club scene? How old were you? What were the places that you went in your early clubbing days?
My first exposure to clubbing in NYC was a bit of an arc intertwined with me studying music in parallel, I came and went for a while. The moments of me really starting to understand what the proper underground club scene was would have been through some friends early in college who were really deep into the original UK dubstep scene, and various other bass music styles that were happening around mid aughts and you could get a taste of in NYC. They would throw their own nights and we'd go out to parties like Dubwar. I then had a bit of a hiding period from the electronic music scene as I was enrolled in conservatory here in town, and I'd say about 2007-2010 when I wasn't locked up in a practice room, I was at the Village Vanguard or other jazz, rock, and hip hop dives. By the time I had resurfaced and taken on DJing and producing dance music on my own steam, it was full on nu disco and vinyl renaissance time and the beginning of what I would call our current club era here (there were barely any of the same clubs that are now around Brooklyn in the 2000s).
Who were the artists you were into as you were growing up?
Oof, this is a loaded one huh. So many phases of listening to all kinds of music. Lots of what my friends put each other onto and popular jams of the moment, but I also have the blessing and privilege (and occasional curse) of coming from a very musical family; my dad is a composer and original Bay Area "I was there" rock n roll guy, and my great-grandfather was a famous American songwriter (Irving Berlin), so I was a bit inundated with different styles from all eras.
A few timeless artists/albums I loved as a youngster and when I was first seriously playing music: Talking Heads 'Remain in Light', The Who 'Live at Leeds', Mahavishnu Orchestra 'The Inner Mounting Flame', most everything Miles Davis recorded, Buena Vista Social Club. As a middle schooler on Long Island it was all about NY/Philly hip hop of the time, early Jay-Z/Biggie et. al, The Roots 'Things Fall Apart', and various waves of punk & ska like Operation Ivy, Sex Pistols, and Rancid, things like that. The key to the dancefloor DNA for me would have been through classic funk and r&b that bled into disco, hip-hop, and dance music. Earth Wind & Fire was the first entire discography I hunted down on wax. Moving into jazz school everyone does time with Dilla and surrounding aesthetics of Detroit and Soulquarians sounds, like a law of nature. All the other usual suspects, and then the whole revelation of Fela's music, but that's the end of innocence there.
Ok that was long winded but to summarize: as a 3 year old I used to know exactly where to find Madonna's 'Immaculate Collection' on the shelf, and then how to throw it on the stereo. My parents were probably so sick of it. 'Holiday' was my shit. And here I am now going out to club nights where Jellybean is playing…..
We dream of experiences and nights at the New York Loft parties over here. Even though we have had a significant club culture of our own, we dream of The Loft. Do you remember your first night there? What was it like? Who was there?
It's so much fun! I'm a newbie having only been a handful of times in the last few years so I won't speak on it extensively, but it's basically exactly what you hoped it would be. I've gone with JKriv the times I have been and an extended crew of friends, can't go wrong (except one night I mixed a few too many party favors, but it ended up fine…). It was special to me the first night, as the location it's at now is on the same block as my first NYC apartment where I lived quite a while ago. It felt like a full circle check in on where I was at with my music life years after being a green eyed 19 year old jazz student.
What track sticks in your mind from that time?
I've spent a lot of time performing Fela Kuti's music live, so hearing any of his classics recontextualized in that environment is amazing. 'Shakara' is a big loft jam I heard, and 'Upside Down' too I believe at a later edition, though I can't fully quote my memory on that one…. Another favorite is Nick Straker's 'Little Bit of Jazz'. I'm a total sucker for that 1980-81 era of proper disco crossing over into 'boogie' or 'r&b' and that one just does it.
Why has it been such a special place, do you feel?
Absolutely love the sense of community there and the intersection of generations that found a common bond in a certain approach to listening and partying to great music. It's such a diverse crowd many people will have their own experiences and unique takes on why it's so important, but the LSD mantra that bleeds through the approach to the musical programming is so simultaneously unifying and idiosyncratic, it's really special.
Both yourself and JKriv have been prominent figures on the NYC scene. Does this friendship go way back? Do you recall when you both met and bonded? Where were you? What was the occasion?
J and I had been circling around the same world for some years before we fully connected as 'new friends', as the story goes. An entertaining first moment of us meeting in club land would've been the first year Black Flamingo was open here in Brooklyn, I was DJing a night and dropped a then brand new but soon to be infamous rework of his and he sort of sauntered into the booth with a casual 'whatsup'. Probably just needed to make sure it didn't clear the dance floor, hahah. I kid…. he's not one known for that.
After that a couple years later we properly connected and built a rapport over tinkering with some music that led to where we are now, releasing this first EP. Throw a lot of pandemic pod hangouts in and some travels this year, and now working with my band, and the rest might be history.
We know Jason well as the globetrotting DJ, co-owner/ head of Razor-N-Tape, Escort, Tortured Soul, and his party Hot Honey Sundays! You have had an equally esteemed career. First let's talk about you as leader of post-punk, afro-beat live band Underground System. I'd love to know more about this and what you guys do?
Thanks! I'm a slight parallel of what J has been up to, music careers going on equal parts in live music and club land. Underground System is a pretty special project to me that merges these things together, the ideal. I co-lead it with my friend Domenica, and it's the band I started as a platform to exist in the NYC music scene, which is quite sink or swim. I was a flailing 23 year old coming out of school not feeling like I was playing any music I liked out, and realizing I had to create my own opportunity to make something happen. The band quickly became a community of deep connections between a lot of people, and while It took several formative years to find a voice, and any experience to know what the hell to do with it…. in our global dance band, downtown(ish) NYC, and groove/electronic worlds, even with the huge blow of the pandemic, we've got it to a place of real staying power as a musical group, and I hope a close to completely original feeling.
For the uninitiated, think Fela meets a DFA or new/no wave aesthetic. Throw in the fact that Domenica is trilingual and raised in Miami and Venezuela and we have a sort of 'Only in NYC' creation on our hands. The live show is the leader and how we began as a group, while trying to produce good records and occasionally DJ them is chasing closely behind, as that's quite an important pursuit to us as well. Our first LP we did with Soul Clap in 2018, and that developed into a bit of success and substantial touring in the EU we hope to continue in the coming years with pandemic restrictions beginning to subside.
https://www.undergroundsystembk.com/
You've released on the hallowed Planet E, right? What was that release? Tell us about that 
That was really a nice moment earlier this year! The first original song Underground System ever recorded, very much in the style of a Fela classic, called 'B.O.B.', got chosen by our friend DJ Holographic to kick off the latest Detroit Love release she curated. There's an old 12" of it out there, but It was quite nice to give that tune a little push out the door into digital platform land, and we did a fun Paxahau stream with Ariel to celebrate. We love playing in Detroit with the band and connected with her on our first visit there when she was at a music school in town. We then went on to do a big party at Marble Bar with her before also returning with a Soul Clap tour we were on. I remember meeting so many great Detroit musicians, Dez Andres playing with us, Carl Craig commenting on a couple vids of us playing people were posting, which was a nice starstruck realization. All those legends are still on the ground there holding it down. NYers take to this same ideal.
https://djholographic.bandcamp.com/album/detroit-love-vol-5
So future releases coming on Razor-N-Tape for Underground System in 2022! Can you give us the scoop on that or is it a secret?
Mostly secret for now….. But be on the lookout for some new music popping up early 2022, and releases continuing for a long time…. Hopefully some real touring and EU dates to follow. Nothing feels certain these days in music and touring life but we're still going to get excited, screw it.
You've got something coming up on Heavenly Sweetness. They put out something which I've placed in my all-time greats section on my record racks – Cotonete's 'Laila'. That's one hell of a label for you to be releasing on. Did you target them as a label you want to be part of? How did this release come about?
Yes, great record! Let's also call this semi-secret as well 😉 They are behind closed doors with Razor-N-Tape working to get Underground System into our next fully functioning era as a band.
Heavenly Sweetness, they understand exactly what we're doing stylistically and they love how we're pushing it live so it all is looking like a great fit. I mentioned before, but we did pretty well in the EU, and in particular France where we toured extensively in 2019, so It's a connection made through circumstance and looking to find a good partner to work with in that corner of the scene.
You've worked a lot in live performance. What do you play? Tell us a little about this aspect of you..
My first instrument is guitar, which I got serious about playing in high school. Took it to a logical conclusion at The New School here in NYC, the jazz program. Made a few lifelong friends and I still work with New School musicians constantly, but ultimately glad to have moved on from conservatory and academic musical environments and into the community I'm a part of now. It's rewarding to really be out in the field and finding our own way as artists. I've had some amazing times playing guitar over the years, some I'm really proud of, and can still dig in and go for it when I'm in the moment, but the passion comes from our community and working within my own intersection of musical styles, not a single instrument in itself. More often than not these days on a live stage I have a guitar strapped to myself and a Roland drum machine triggering an SH-101 in front of me. And then hopefully DJing an afterparty or the next night. That kind of speaks to the ideal of my current live performance environments, it's partly contextual.
In an interview with Laurent Garnier earlier on this year, he talked a lot about the Yeah! Festival in the South Of France. How did you get involved on this? What was it like? Looks like such an elegant affair…the setting, the wine, the crowd.
One of my favorite festivals I might have ever played, yes! We were lucky enough to be asked to headline, I believe Saturday night, in 2019. As the word of our live show and new album spread around EU I think it caught Laurent's ear as an idea for that year's programming, and we were thrilled to be selected and presented in that way. Laurent is a great person and it was an honor to be invited, it was a full circle 'Big In France' moment. 2 Many DJs were playing right before us. We're on at prime time up on a beautiful hill in a chateau in the town. Living the dream…. They bottled a custom cuvee of wine with the band name on it.
Together you and Jkriv have a pretty unique sound. I guess it's all of the years of knowledge and experience you both have coming together, right? How would you describe that unique sound that you make?
Thanks! Yeah, I think that actually pretty much nails it…. our shared knowledge and experience coming together and mutating into something fresh for both of us. J and I are interested in live and electronic music worlds and have spent lots of time performing and recording in both environments. The x factor possibly, this shared musical language is something that not a lot of people are able to show on the production level (often times it plays out like a single dance music producer who wants a live musician to record one part, but we're talking about a collaborative mentality in the whole process of creating the music), so it was this patchwork process we created for ourselves that I think gives it a unique stamp all its own.
It went something like: "ok… so this track we started it in point A as a simple electronic demo, but now we're going to point B, a friends live studio to record a full on drum performance, then point C where we will write and overdub horn parts, and then D we take it over here to another studio to mess with some spacey synth moments and pianos. We'll record our own guitars and instruments. And then back to A to edit and mix. By going through these layers of different processes in a considered way you create a sum that is unique by default.
I really appreciated the way the Dam Swindle guys described our sound to us, "It sounds huge without really trying" – not a traditional genre categorization but sort of nails it on the head, it's the 'Bigtime EP' after all. Huuuuge.
Bigtime – Talk us through the EP a little.
I hope people go and listen themselves, so I won't do a full spoiler on the EP! But the one guiding point; mentally I think it's easy to separate the A and B here. The B side are the slow burning instrumental tracks that heavily feature live performances recorded around Brooklyn, while the A is dedicated to what became quite a unique vocal jam thanks to a remote collaboration gone very right. Mr. Samy Love! He's a Cameroonian singer that hops around West Africa on various musical missions, and we were lucky enough to connect with to bring this EP further to life.
The vocal is a triumph. How did you find Samy Love? Has he done other stuff you were into?
Thanks! Samy is so great, right? We were looped in with him via our mutual DJ friend NIckodemus, who is quite the globe trotter and did an entire project in Chad with Samy and his crew 'Pulo NDJ'. I had a feeling there was a good chance we all could work well together, as he's very talented and clearly has a collaborative mindset with his own group. This was a lockdown 2020 recording. I've personally only produced a handful of tunes with remote vocal performances like this, but we quickly built a rapport through facetiming and developing the vocal arrangement, he really killed it. We did a couple other tracks together too. Will definitely keep in touch and it's a goal of ours to all connect and make music or perform together in person.
Bigtime is quite a curve ball for Heist. A wonderfully welcome genre-bending curve ball! Reminds us of a lot of Dicky Trisco's Secret Squirrel #2 which was HUGE in the Balearic scene here. Do you know this record? Do you think there are any similarities?
Love Dicky Trisco! Actually introduced to him through Kriv, as those guys are disco buds for a long time. We had some great nights out right before pandemia set in when he stopped through BK. He was renting a room from my bandmate Domenica without any of us realizing at first, haha.
I'm familiar with the Secret Squirrels series though I don't recall that particular # record but am going to go look it up shortly. Outside of the main point of difference which would be those are edit records while ours is an original production, I bet there are quite a few similarities! Great minds think alike? Maybe… at the very least we all like a sip of quality scotch.
Auntie Flo is a pretty special artist to have on board as a remixer. How did this happen? I guess you're a big lover of his work, right?
Definitely, big fan of Auntie Flo and the range of his productions. I have a couple dancefloor bombs I always end up playing out and he's a great remixer, but then there's a lot of excellent original music to sit back and listen to as well, I really enjoy the albums straight through.
I believe I threw that name in the hat to everyone initially as a remixer that I thought would be a great interpreter of our style, and just like that it all worked out!
Nice to be releasing on the mighty Heist Recordings. Why do you think they are such a consistently respected and successful label?
Yes, it's an honor! Going on around a decade of being a working DJ in NYC, I wore out lots of Heist records and plenty of Dam Swindle in my bag over the years and it feels like a nice full circle moment to be releasing with this label I've always looked up to and respected. It's a pleasure having an artist-run label where the stars of the show are hands on, straightforward, and helpful where they need to be, while also having some simple systems that streamline the release process and leave room for artistry to breathe. Lars and Maarten were very smart and communicative in terms of working with us to fine tune subtle details in the tracks, the artwork selection process was painless, the mastering really high quality, and the pressing very quick by today's standards. This attention to detail amounts to superior releases across the board. They're also very friendly and musically open minded, which is an all around great recipe for longevity.
It's hard to imagine you and Jason would have any time left with everything you fit into your lives! But what do you and Jason have in the pipeline together as I'm sure you have something cooking..
Ha yes! Things change every month these days and it's been a busy fall for sure. J and I are definitely up to lots of continuing musical collaboration, on a few different levels at this point. Outside of our EP coming out, I've also been involved with him launching a hybrid live/DJ club residency for Razor-n-Tape called 'A Joyful Noise'. Along with J and a couple others, I'm a member of the band that performs sets of all original dance music on a live stage, bookended by DJ sets. The kick off of the series we did in early November at Public Records in Brooklyn was a success, really looking forward to continuing the night.
We'll also be working together for the next couple years on the more meta level of him being one of the label owners of who will be releasing new Underground System music. We've been collaborating on a few of those productions for the band and some of his own solo work, and I'm sure we'll get back to releasing some more music under our names together at some point when timing allows.
Do you plan to do any live performances together?
Yeah, with the 'Joyful Noise' series that just launched, we're both on stage together, and we perform tunes from our EP. We've also been formulating a live/electronic duo set and will continue to DJ together as opportunities arise.
Tell us you are coming to the UK soon?
I really hope so! It has certainly been difficult as of late between pandemic restrictions and general customs/visa related red tape for foreign artists in the UK…. But it really is the top of the list when we can make sense of it all! I will definitely be back to mainland EU as soon as next spring to tour, and hopefully can branch out from there to UK too!
Grab the EP from: https://jkriv.bandcamp.com/album/bigtime-ep
For more info please check:
Jkriv Facebook: https://www.facebook.com/jkrivmusic
Jkriv Soundcloud: https://soundcloud.com/jkriv
JKriv Instagram: https://www.instagram.com/jkriv/
JKriv Twitter: https://twitter.com/jkriv
Peter Matson Facebook: https://www.facebook.com/petermatsonmusic
Peter Matson Soundcloud: https://soundcloud.com/petermatson
Peter Matson Instagram: https://www.instagram.com/petermatsonmusic/
Peter Matson Twitter: https://twitter.com/realpetermatson
Heist Facebook: https://www.facebook.com/HeistRecordings/
Heist Soundcloud: https://soundcloud.com/heistrecordings
Heist Instagram: https://www.instagram.com/heistrecordings
Heist Twitter: https://twitter.com/HeistRecordings
Tags:
disco
,
Heist Recordings
,
Jkriv
,
Peter Matson