Razor-N-Tape Talk Midnight Magic, BaianaSystem, Jimpster, Disco Edits and Artist Development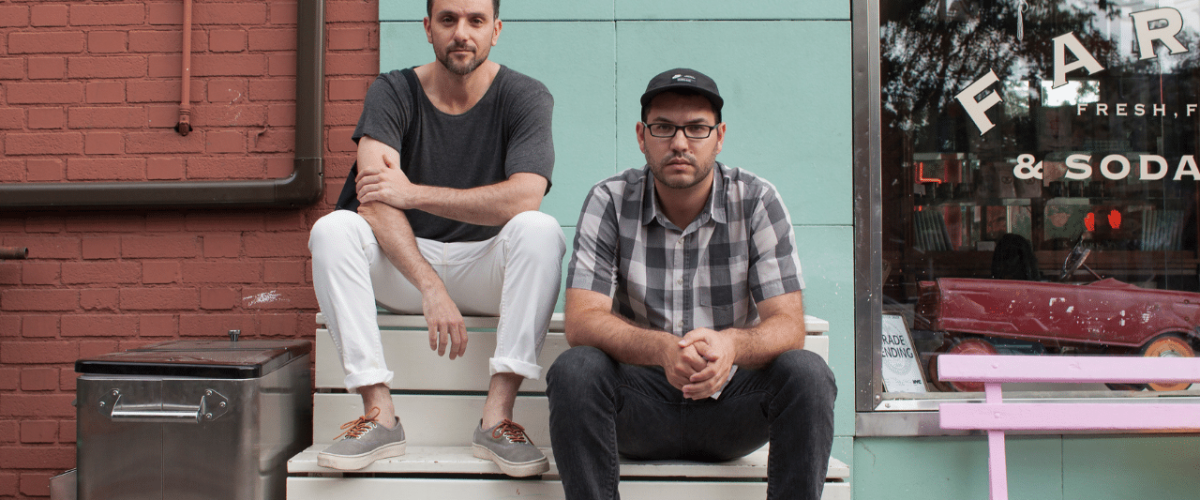 Razor-N-Tape Talk Midnight Magic, BaianaSystem, Jimpster, Disco Edits and Artist Development
Like what you hear? To help support LV Online buy us a coffee via Ko-FI. Click HERE
An interview by the Insider for Le Visiteur
Brooklyn DJ's, producers, label heads and party scenesters JKriv and Aaron Dae are Razor-N-Tape. Their 10 year old label was simply born out of a shared love for good beats. Both classy DJ's in their own right, together they've been pumping out hot disco edits faster than you can say Modern NYC Disco. Their white labels have boasted a host of talent including Danny Krivit, Dimitri from Paris and Al Kent. Sub label RNT Reserve has put out releases for Black Science Orchestra, Juan Maclean, Bosq, Fouk, Kraak & Smaak plus a ton more! Facing the new normal with an increased focus on original music and the nurturing of artists in their fold, they talk to the Insider about their latest releases and what's going down for them right now.
How are things for the good people of Brooklyn right now? How is the spirit in the city?
Brooklyn's hangin' tough! People are starting to come out of their forced hibernation and remember what it's like to socialize. It's looking like it will be a very nice summer.
Have you managed to stay musically motivated this last year?
JKriv – I had a pretty productive year musically, actually. I wrote and recorded a lot of new original songs – some by myself, and some in collaboration with other artists, and completed a bunch of remixes, all of which will be out in the coming months. Aaron, being the father of a 2-year-old at home during lockdown, was naturally more focused on family stuff. But we kept the label going strong the whole time and are very proud of the music and moves we were able to make. We're definitely coming out of this period even stronger.
Before the world stopped spinning, what was the vibe in the club scene where you are?
Really great. It's an amazing community of inspiring creative local DJs, producers, and promoters. Somehow there isn't the feeling of competition that you sense in a lot of other cities too – people are pretty encouraging and supportive. And the Brooklyn crowd is truly one of the best anywhere.
Is there talk of any of New York nightclubs opening yet? How do you see gigs and venues panning out this summer in your city?
Clubs with outdoor spaces are already open, in fact we played our first gig a couple weekends ago at the Sultan Room rooftop and it was incredible. We will definitely be doing more Sultan Room RNT day parties. NYC will be partying this summer…anywhere outdoors, or clubs that have enough space to accommodate large groups safely. J is also playing a new weekly Sunday party with some other folks called Hot Honey Sundays on the Greenpoint waterfront, a huge space with an amazing view.
When you think of Razor-N-Tape, it feels like the label has been going forever. When did it begin? Why did it begin? What brought you both together?
We launched RNT in 2012, not too long after Aaron moved back to NYC from Chicago and the two of us met. I had recently stopped playing with my band Tortured Soul and started to get more involved in production, making a bunch of edits and reworks that I was releasing on Soundcloud. Aaron had a bunch of edits that were given to him by producers he knew through promoting parties. RNT was born as a way to get these out into the world.
At the time you started the label what kind of vibe were you into and can you give us a track that reminds you of that time?
As mentioned above we were both really digging disco vibes touched up with some modern production. This Ron Basejam rework that came out on our 06 release is a perfect example:
Where were you playing out? What were the venues?
Our first regular gig together was a party called Just for Kicks at this basement spot called Stay on Houston St in the East Village. It wasn't the most glamorous place, but we had some very memorable times down there haha.
Who were the DJ's and producers you were into where you were you growing up?
J – Most of my earliest musical influences were bands and musicians, but as I got more exposed to the world of club music while touring with Tortured Soul, some of the DJs that really left an impression on me were Kerri Chandler, Norman Jay, and Danny Krivit.
A -When I first started going out to raves in the mid-90s, I was very much into DJs like DB, Scott Henry, On-E, Soul Slinger, D'julz, Dj Dan, Dante, Doc Martin, and loved live sets from Dubtribe. As the years went on and things moved more into clubs, I developed more of an appreciation for artists like Masters At Work, Danny Tenaglia, Joey Negro, Kerri Chandler, and Tony Humphries.
Did you start out with a music policy on RNT?
The only policy is it has to be good music, and we both have to like it!
What do you think are Razor-N-Tapes biggest releases?
LNTG – Do I Believe in God?
Oscar Sulley – Bukom Mashie (JKriv King Mashie Rework)
Elado – Blame
You're about to reach 100 mark on the label. That's quite a milestone. Respect! You are well known for you high quality edit output. Why do you think the label has been so successful? What's the key for maintaining such a high standard in your releases?
Thanks! Those 100 include releases across all 3 of our imprints, many of which are original music as well, or remix projects of original songs. Really our guiding principle is music that strikes a chord with us or is something we'd like to play out in our own DJ sets, so the A&R process really just follows from there. We only release music that we feel 100% about, and we take the time to develop every release.
Talk us through Razor-N-Tape Reserve imprint and RNT45? What are the defining lines between the three labels for our readers?
With the regular RNT white label series being primary disco edits, Reserve was created as an outlet for more housey content, but it has evolved to encompass lots of other genres and is now our primary channel for new original music we are releasing. We've done some great releases of remixes of live bands on Reserve such as the Jungle Fire and BaianaSystem records, and we've got a ton of great original music on the schedule well into 2022 on the label. The 45 series have been downtempo, boom-bap, hip-hop, Brazilian jazz and anything else we feel fits the 7" format.
What's up next on RNT Reserve?
BainaSystem – Água (Jimpster Remix)
And what's up next on Razor-N-Tape?
Midnight Magic – Beam Me Up (Prins Thomas Diskomiks)
Highlight a key release on RNT45?
Diogo Strausz – Emancipação
Do you think that there are some records that shouldn't be touched edit wise?
There are plenty of records that are perfect, as is. Sometimes the original purpose of an edit gets lost…to make a record more DJ friendly, or to extend sections that go by too quickly, and remove stuff that might take away from other aspects of the vibe. But we are not fans of editing for editing's sake! Here's a perfect one…don't mess with it:
Do you think there is a snobbery amongst some DJ's and music press about edits? What are your thoughts on this?
Hard to say…some DJs prefer not to play edits or only certain kinds of edits, which is fine. An edit is not the same thing artistically as an original piece of music, so it would follow that they don't get as much attention in press or other outlets that cover new music.
What other edit labels do you think do it well?
Most Excellent Unlimited, run by our bud Paul Raffaele has done a great job getting some classic Mr K edits out there.
As you approach your 10-year anniversary and your 100th release, we see the label moving in a new direction. Is original music the next phase in the continuing evolution of Razor-N-Tape?
For the past few years, we have been focusing much more on original music, and intend to continue to do so. We aren't closing-up shop on the edits yet, but we just feel at this point we'd like to use the platform we've built to bring some new music and hopefully future classics into the world!
Dropping this month – Midnight Magic's 'Beam Me Up' with a solid set of remixes by Prins Thomas, Kim Ann Foxman and Justin Strauss with Pask as Each Other. Talk us through this EP a little and what attracted you to the original source material?
Speaking of future classics…this is a record we're very excited about. Midnight Magic are Brooklyn homies and when Andrew Raposo brought this idea to us over a year ago and we jumped at the opportunity to collab on this 10-year anniversary release. The original song is really a seminal piece of recent NYC disco, and each mix captures a different vibe. Prins T on the percussive disco approach, Kim Ann goes deeper and darker with it and Each Other takes it straight to the peak-time rave.
This month also sees you releasing the stunning 'BaianaSystem – Aqua Remixes'. Talk us through this project a little? Tell us about the remixers onboard?
This is another project we are extremely proud of. Brazilian producer Diogo Strausz (whose Emancipação EP we released earlier in the year) connected us with BaianaSystem, a hugely popular modern Brazilian band who were looking to release some remixes of their track Água, which features absolute legends Antonio Carlos & Jocafi.
We brought in Jimpster, whose aesthetic and production approach fit the vibe perfectly and Diogo and J collabed on their mixes. Each remixer made a vocal and dub, in sort of classic house style, and the record was really completed with some beautiful artwork by The Myno.
You mention that artists development will be a focus going forward. Growing the label as well as the artists from the inside out. Tell us a little about that? Who are you working with right now?
We have EP releases on the way from Sentimental Animals (a new project by JKriv & Dicky Trisco), JKriv, Jungle Fire, Clive from Accounts and LP projects in the works from Felipe Gordon, Cody Currie and more. Artist development is a big part of what we are doing now, thinking more globally about how to help our artists best realize their own sound and build our profiles together.
If you weren't working in music, what do you think you would be doing now?
JKriv- Interior design.
Aaron – Running a brewery.
If we could visit this year, what should we do in Brooklyn?
Well, a couple of suggestions would be our parties we have lined up on the Sultan Room rooftop in June, July and August, or a new weekly Sunday daytime party that Jason is part of called Hot Honey Sundays on the Greenpoint waterfront!
For more info check:
Razor-N-Tape Facebook: https://www.facebook.com/RazorNTape/
Razor-N-Tape Soundcloud: https://soundcloud.com/razor-n-tape
Razor-N-Tape Instagram: https://www.instagram.com/razorntape/
Razor-N-Tape Twitter: https://twitter.com/RazorNTape
Razor-N-Tape Twitch: https://www.twitch.tv/razorntape
Razor-N-Tape Bandcamp: http://www.razor-n-tape.bandcamp.com
Razor-N-Tape Spotify: https://open.spotify.com/user/m25h7a3w9wp0nuhqgi6td3q3j?si=9ca5d4f2dc564d12
Tags:
disco
,
razor n tape