Red Rack'em – Influential Parties, Radio Shows, Berlin and That Wonky Disco Banger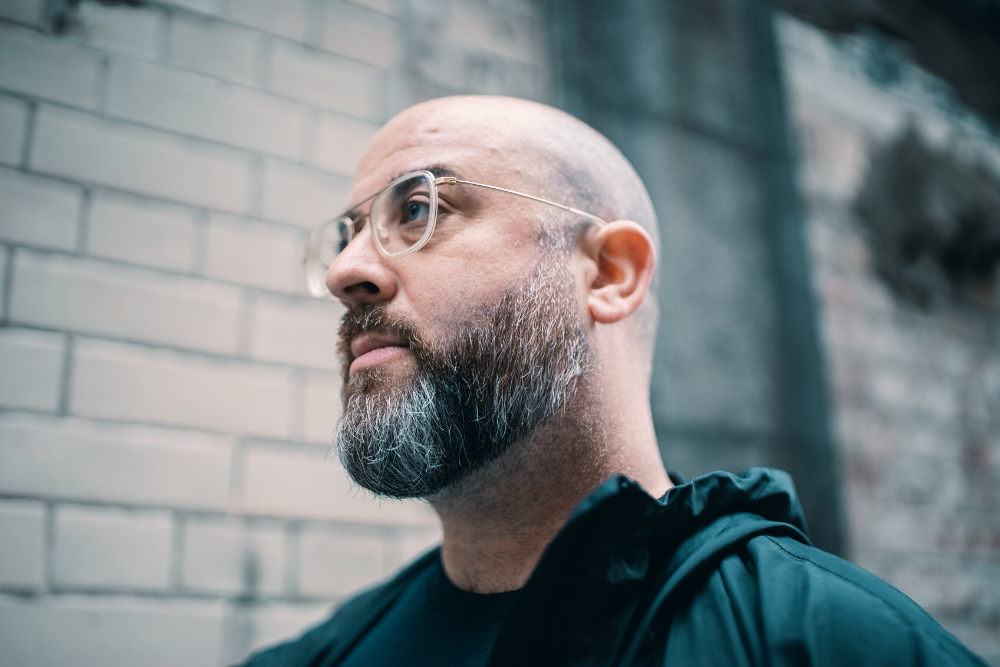 Red Rack'em – Influential Parties, Radio Shows, Berlin and That Wonky Disco Banger
All photos © Sean Delahay
Red Rack'em aka Danny Berman has had a pretty incredible career which has seen him travel from a small fishing village in Scotland, where he started his musical appreciation with a love of golden era hip-hop, via college in Nottingham across the globe touring and following his own musical passion. He lived in Berlin for many years becoming a hugely influential performer there before moving back to the UK to live in Bristol.
Along the way there have been huge records and multiple radio shows. Support for his productions has come from many of the key names on the scene including Moodymann, Giles Peterson, The Black Madonna. Danny has had a series of brilliant releases on the likes of Wolf, Philomena/Innervisions and Sonar Kollektiv. He has also remixed huge international artists such as Tricky, Jazzanova and Tinie Tempah.
Danny is very much a producer who has always followed his own path, creating incredible tracks which have set the club scene alight. Over the years his path has converged with the mainstream notably with what for LV online was track of the year in 2016 Wonky Disco Banger.
On top of all of this Danny has three record labels of his own and regularly tours the globe performing to ever increasing crowds over the last few years with sell out gigs all over the planet in 2019.
We spoke to Danny about his multi-faceted career, he also sent us this incredible live mix which was recorded at Echo Bay in Chongqing on the last night of his mammoth Asia tour last year. Please give it a share on Soundcloud and help spread the love.
Hi there Danny,
Thanks for speaking to us today.
My pleasure. Great to chat.
You have led a varied musical career with a style which is perpetually evolving. How would you describe the musical style of Red Rack'em right now?
Well it's more a case of what's NOT my musical style. I love many shades of house, techno, disco (old and new), electro funk, UK garage, hip hop, broken beat, footwork, ambient etc and I try to produce most of the types of music which I like. With varying results of course. Since moving back to the UK, I have really reconnected with the soulful side of my record collection. Raw house and techno made a lot of sense to me in Berlin when I was playing regularly at 9am on a Sunday or Monday but these days I am enjoying old school 80s/90s house a lot more. Maybe it's my age? I have been reunited with some of the records I left behind in Nottingham in 2011 when I moved to Berlin. So it's been a bit of a rebirth. I have also been buying a TON off discogs. I am also selling a load of stuff too which you can check via:(https://www.discogs.com/seller/namreb/profile, I've got to make way for even MORE records. I am definitely building up a bit of a discogs addiction.
Production wise though I am finishing off as much stuff as I can right now to prepare for the next phase. The amount of music I have to finish or release is getting a bit silly. The scale and variety is overwhelming sometimes – I love having my own labels but that also means I have to a+r myself which can be a battle sometimes.
Please can you give us three tracks from your discography which you would say are quintessentially Red Rack'em?
Ooh this isn't easy. It's tempting to just choose the most popular tracks… hmmmm
Red Rack'em – Wonky Bassline Disco Banger (Bergerac)
Wonky Bassline Disco Banger has been without a doubt the most important track of my career. Hits are strange things – you're grateful to have them but they also eclipse anything you have done before or since and it can be frustrating to be defined by one track. It's weird when I hear it these days as it doesn't even feel like I made it really. I self-released it on my own label Bergerac so I was super proud to see it become the biggest selling record of 2016. Licensing the digi to Classic/Defected helped take it to a wider audience too.
Red Rack'em – Tomato Pope (Bergerac)
Tomato Pope isn't the most clever track in the world but for me it sums up my approach to sampling. I managed to build a whole track out of just a random vocal shout from a heavy funk tune. I was inspired by the old Africanism vibe and tried to put a North African and Latin spin on my track. I really like using samples to create a 'scene' if that makes sense. With this track I imagine some kind of market or bazaar with some kind of circus performance going on. I can see the music video, I can explain a scene for every track I make really. I use my emotional imagination to create an atmosphere. Sounds wanky but also accurate.
Red Rack'em – Devon Analogue 4.2 (Bergerac)
Everything on this track is played in and written by me. NO SAMPLES BABY. I did this in Devon Analogue Studio (hence the title) in 2018 (I think) and it was on the B side of Wonky Techno Banger which came out in March 2019. This is really my own music if that makes sense. I love sampling but you're basically using other peoples ideas to make something new. I played bass on it, I sang on it, I programmed all the synths. Hearing Roman Flugel open up his Boiler Room in Melbourne with it was a nice surprise. It's one of those very personal tracks for me so I was happy it resonated with 'Da Fluge'.
Let's go back to the very start, when did you start to get really interested in music and what were the first avenues that you explored as far as you own music career was concerned?
Well, I remember when I was 6 years old I was playing xylophone in an end of term concert at my primary school and at the end of the song I played an extra note and everyone stared at me. I was like 'oh shit I messed up' but then the teacher said to me 'no well done it was in tune so you were improvising' or words to that effect. Hardly Chopin child prodigy vibes but it was the start of my fascination with music. I sang a lot at primary and secondary School and when I was about 12-13 I began playing drums as my high school had a few drum kits. I was fascinated by east coast US hip hop from around 1988 and I really got into breakbeats through that love of hip hop and sampling. My first ever forays into a music career were I guess when my friends and I began putting on live music events in our high school and also in local church halls when we were around 16. It was very low budget stuff with photocopied gigs posters and funny band names like Dirty Dogwater and Grasswagon. We did quite a few events but we always got banned from every place afterwards because our friends would all get super trashed and it was a bit edgy for the local churches who were hiring us the halls. I remember in one gig in Crail we played with the Khartoum Heroes who had people like Kenny Anderson (King Creosote) and Een Anderson (Pip Dylan) who became famous years later as part of the Fence Collective. We played a kind of P Funk/Meters type set. My friends sisters boyfriend came through from Edinburgh with a nine bar and the place was totally smoked out. I mean the fire alarms went off smoked out. We always got into loads of trouble but it was so much fun. That was the beginning for us.
You had a real passion for hip hop growing up including the work of Public Enemy, De La Soul and Gangstar. How did that early love of hip-hop help you when you came to start your own production career?
Very much so. I was hugely inspired by the sampling techniques and it's no surprise that my first ever Red Rack'em releases were actually hip hop bootleg remix twelves. I spent a huge amount of time from around 2002-2006 writing all types of hip hop and I still have a huge collection of beats I am saving for the right rappers. The biggest thing for me in all the music I love is the hip hop aesthetic – it doesn't have to be obvious but hearing all the jungle/drum and bass tunes sampling hip hop and the og sources like Lonnie Liston Smith etc around 94/95 was a huge green light for me. Also the Motorbass album blew my mind in 96 – there was a huge hip hop influence in a lot of my fave dance music as a youngster.
As well as the hip-hop upbringing you have a well documented love of multi genre DJ sets having extolled an interest in everything from Jungle to UK Garage and Grime as well as of course, House, Disco and Techno. What has all this experimentation done to help craft the sound of Red Rack'em?
I have spent 30 years studying the work of some of the finest producers in the world. I have been sonically inspired and mentored by them. DJ Krust, KDJ, Madlib, Marly Marl, Preemo, Titonton, EL B, Dilla, Zed Bias, Bugz, Horsepower, Pepe Bradock, Herbert, Isolee, DJ Wire, DJ Narrows, Wiley etc they ALL inspired me to dig deep in my own productions and DJing. It's an aesthetic if you like. There's something which connects Lee Perry, Motorbass, Metalheadz and Wookie for me. It's not just the obvious bass angle either. It's I guess some kind of cinematic, emotional vibe to the music and I love cross stitching that stuff in a club set. If you listen to tracks I did like 'Make Your Mind Up' on Telefonplan and 'Chirpsin' on Ramp – they are basically dark UK Garage rollers – I am not just making disco house. I don't want to be constrained by genres.
How often do you get the chance to do a cross genre DJ set and is this something that you would like to do more of?
It all depends on how open minded the promoter and crowd are really. I used to play very multi genre in the mid 2000s. But sadly it feels like with the dance scene become more and more sterilized, it's hard to mix it up because a lot of the crowds are often entry level and not so open minded. There's also this culture of entitlement where a DJ is supposed to please people with instant gratification rather than the crowd invest in following the twists and turns of a set. To be honest, before I moved to Berlin I was way more multi-genre. Especially in the mid to late 2000s. It was the only way I knew how to play really. I think it was a throwback from playing 3-5 hour bar sets for 3 nights a week for 10 years in Nottingham. You had to mix it up just to stop yourself falling asleep (especially after some of the weekends I was having in those days oh lord).
I think living in Berlin streamlined me in some ways – I developed a much more 4/4 based sound which was still pleasing to my UK roots but had enough oomph to move the more house/techno orientated crowds. Having said that though, a lot of the times I played at places like Chalet or Griessemuhle, the crowd was often full of British people on holiday so I could play stuff like Lone and people would love it. Berlin changed in the last 5 years or so and crowds became more open to breakbeats and bass. I guess it's just part of the overall effect of the musical trends. Some revivals are welcome and some things should be consigned to history's garbage bin.
When I first started playing regularly in Berlin around 2011, I was pretty polarizing with my sets. I don't think people were used to hearing that kind of mix. By 2016, it felt like it was more acceptable to play eclectic. I have to give props to Franklin De Costa for booking me on some great line ups at Mothers Finest when I lived there. I love playing across the boards but you need people who are not taking themselves too seriously and are willing to trust the DJ (sounds like a cliché but it's very pertinent these days) to take them off piste. I had some amazing times at Nottingham afterparties where we all DJd with our trousers pulled down to our ankles and stuff like that – sometimes you need a bit of that kind if vibe to really lose your shit
You have Djing since 94, which parties were key in your education as a DJ in the 90's and how does the scene from 94 compare with the scene in 2020?
Ah great question. Ok well key parties for me can be kind of mapped by cities I lived in or travelled to for the rave quest. Edinburgh had several nights which influenced me – Pure at The Venue in Edinburgh (where I used to dance to Twitch who was a resident there in the 90s) – to be honest anything at The Venue was great as they had an awesome sound system there. I remember going to Metalheadz there in 95 and hearing Doc Scott, Peshay, Goldie, J Majik etc there – blew my head off. I also used to go to some very rough and ready acid techno nights like Lift and Purple Moon – not the coolest music always but the hedonism was hugely inspiring for me. I lived in Bristol in 1996-97 and my friends had a huge 3 room drum and bass night called Apex which was insane. They used to have 3-4 big names in the main room and they all used to play for an hour each for about £500. Imagine your set only being an hour long – happy days! I saw people like Randall, Hype, Bad Company, DJ Kane, Brockie, Zinc, play there and it was hugely inspiring. Everyone had their own sound then so every hour it was a different vibe. I felt a long way from my Scottish fishing village during that period but it was also new and exciting. I remember some wild times before I fortunately moved to Liverpool. I was working as a television editor there in 1998 which was the heyday of Cream and Voodoo. Imagine being 22 and being paid about 350 quid a week and your rent was 250 a month including bills. I had never experienced having money before so it was the best time ever. I can remember being in the press box at Anfield (I was sports editor so had press tickets to whatever I wanted – was boss) post Cream but still going strong with the whole place singing 'Millennium' by Robbie Williams and I tell you what it was euphoric to say the least. I moved to Nottingham in 99 and it was ALL about The Bomb. That's my favourite club ever I think. It's up there with Barbarellas near Tisno but I think the Bomb wins as it's the place that taught me. I knew a lot of the promoters so I could blag my way on the list most weekends so I lived there for about 3-4 years. I saw all the greats there – Masters, Goldie, The Rider, Jazzy B, Jazzanova, Derrick Carter was pretty much a resident there. The Bomb was the place of legends. I made so many friends there. It was I think the best club I ever experienced. BUT I have to give a shout out to Plastic People too. Going to Co-op there during the bruk heyday was a life changing experience too.
Difference between 94 and now – in 94 the people made the party. Nowadays it's all on the DJ and production to create 'moments' – so it doesn't always feel like the crowd are really getting lost in the experience. I think there's way too little responsibility on the crowd nowadays to make the party a party. Back in the day the DJ played records – they weren't expected to perform magic tricks and entertain a bunch of swaying duffers with hand gestures. In the 90s people who tried to speak to the DJ too much when they were playing were punched and/or chucked out of the club. Nowadays you have people thrusting their phones in your face with requests. I miss the punching days now. I really do.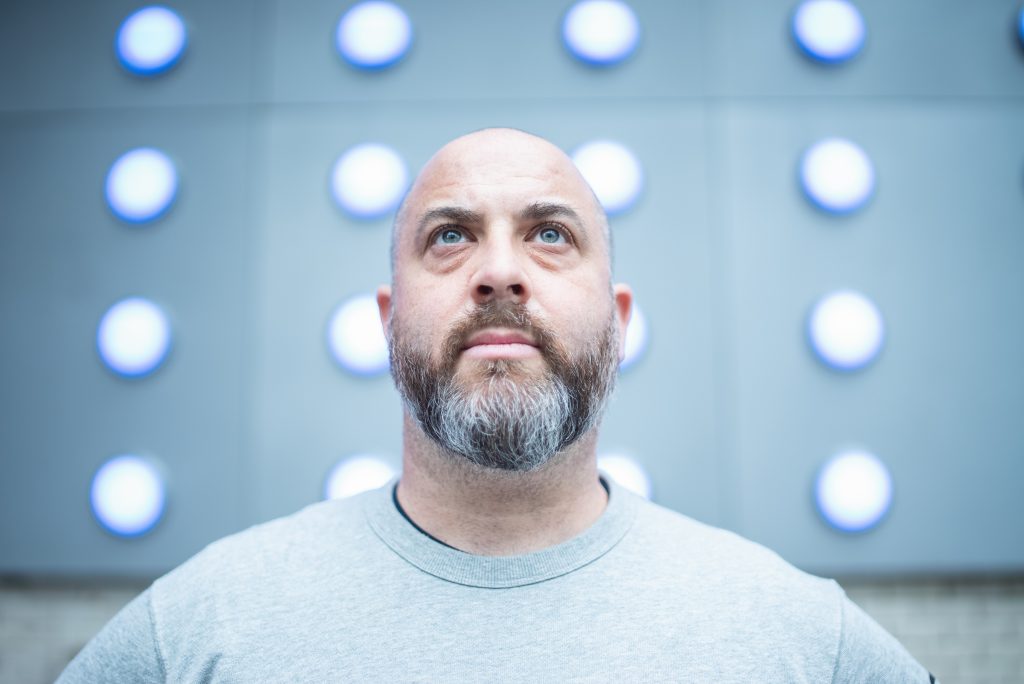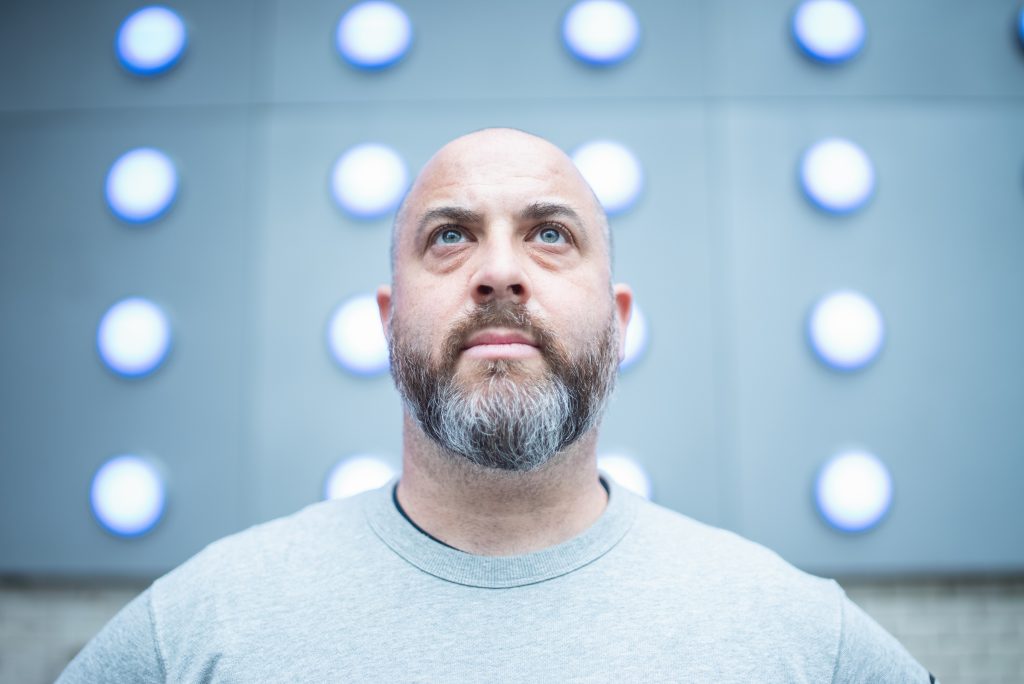 Red Rack'em
What was the first house record that you bought?
MC Hammer 'You Can't Touch This' on 7"
As well as your production career you are very well known for your radio shows having hosted the Smugglers Inn show from 2008-2018 and having appeared regularly on Myhouseyourhouse.net, NTS, KMAH, and Rinse. How did you first get involved in radio? And what is it you love so much that has led to 12 years of radio appearances?
My good friend Alex Traska (who designed the artwork for my 2 Red Rack'em albums) from Nottingham started an internet radio stations in the mid 2000s called Myhouseyourhouse.net. It began as just a few mates from different places livestreaming from our houses using super ropey software called Shoutcast. Alex is a talented web designer so he built a site with a player and a chatroom and a really nice community developed. I did a show for around 8 years called 'The Smugglers Inn' and it was quite popular as I was playing a lot of really upfront stuff. I didn't have a producer choosing tracks for me so it was really direct so I was a super early supporter of people like Floating Points, Juju & Jordash, Gerry Read, Medlar, Frits Wentink, Mark E, Bullion etc before they became widely known. It was a lot of work doing a 2 hour show back in those days as it was a lot more labour intensive to collect the music. I was using CDs as USB CDJs didn't exist so I used to burn all these CDRs for the shows but never write on them so I ended up with millions of mystery CDs which made DJing in clubs quite interesting sometimes. I stuck with radio because I have always loved presenting. I seem to have a natural flair for talking (an understatement) and I am super passionate about the music so radio feels like my natural home. I really feel like my long term future is on the radio. I feel very comfortable presenting and enthusing about music.
What radio shows do you have ongoing at the moment, where can we find them and what can we expect when we tune in?
I just started doing a new (almost) daily show on Twitch called 'The Berman Sermon' which is me playing records I love, talking about whatever takes my fancy and interacting with the chat room and having a laugh. The URL is twitch.tv/red_rackem – please follow and subscribe. It's something I have been planning to do for ages but with the current Covid lockdown, I suddenly had the inclination to connect with people on a daily basis. Doing the show has cheered me up a bit and a nice community is building up. I have been learning a lot of new skills from doing it on Twitch and I have been phoning up some of my music friends including Atjazz, Ashley Beedle, Jordan GCZ and Jimpster. It's great to have an informal chat with people and everyone's been refreshingly open. I really look up to those guys so it's great to hear them speaking candidly. Myhouseyourhouse.net is also back and I have enjoyed doing the odd show for them too.
I also have a regular show on Rinse FM but I don't actually have a set time, which is actually way more relaxing than having a deadline every month. I tend to record them when I go to London as I hate doing pre-recorded shows (after years of doing them I can't face it anymore) so I tend to do Rinse about once every 6 weeks or so. My last show was in January with Atjazz as a guest. Rinse tends to be pretty upfront stuff and I tend to play it pretty all over the place – it can be jazzy or it can be banging. I have really enjoyed the musical freedom at Rinse – they are very easy going so I feel really comfortable doing shows for them. I have really missed my trips to London to do Rinse so I hope it's possible again sometime soon. I also do a monthly show for Noods Radio in Bristol – that's from 2-4pm on the 3rd Tuesday of each month. I tend to do that show with more of a cratediggers vibe as my records are all in Bristol so I can really dig deep and play stuff from the vaults.
Check the Berman Sermon here: https://m.twitch.tv/red_rackem/profile
You lived over in Berlin from 2011-2018. What can you tell us about the scene over there in how it contrasts with the UK scene. What did you get up to as far as your music career is concerned and how did it help your career?
I had an absolute blast in Berlin! In terms of contrast, I would say that Berlin has the most successful club scene in the world. It's perhaps not always so musically diverse, but you would be hard pressed to find another city which has so many different underground clubs in operation on any given weekend. In the UK, being a DJ seemed like you were a bit of a Peter Pan type chancer who needed to grow up, whereas in Berlin it seemed like never growing up was celebrated and encouraged. Not always in the best ways but I felt like being a DJ/Producer was more of a viable career/lifestyle choice there – and there was a bit more respect for what goes into the craft. Institutions like De:bug, Groove, CDR, Electronic Beats, Beatport, The Boiler Room, Universal, Soundcloud, Native Instruments all had/have bases or outposts there which gave things a sense of legitimacy for me. Also there were of course many outstanding clubs, labels, record shops and distributors there as well. In terms of how it helped my career, living in Berlin meant that it was easy to build up friendships with touring artists from all over the world. There was always someone in town that you had to meet for the first time or have a reunion. A lot of US, Australian and Asian artists would come over every year and spend an extended time there, so I got to know a wide array of people. And in the same way – every week another artist would move to the city – so it was like a constant revolving door of connections and friendship building. Not so much collaboration from my side but I got to know a hell of a lot of todays electronic artists of note.
A few highlights of my time are as follows – in 2011, I released 'Kalimba' on the Innervisions vinyl only label Philomena and it was very funny how it worked out. I sent Kristian Ame the track before I moved to Berlin and it somehow found its way onto Dixons USB and he played it everywhere for over a year. But no one seemed to know who had made the track. I probably hadn't id3d it properly. Some people close to me picked up on the fact that Dixon was playing it and I contacted them and they immediately asked to release it. In a bizarre twist of fate, that's kind of how I became friends with Sandrino Tittel as well – I lived at Landsberger Allee 18 and I was chatting to him on FB about the Kalimba track which he loved. When I mentioned I lived in Berlin he asked my address and remarkably he lived at Landsberger Allee 16 – which was the next door building. We went out into the street and embraced and have been good friends ever since. Such was Berlin life.
Releasing my Hot Coins album with Sonar Kollektiv was another major highlight for me. It was such a pleasure to work with Oli Glage and Jazzanova as they really supported my musical vision and I had full creative control of how the album turned out. I am a huge fan of Jazzanova and I bought so many Sonar Kollektiv records back in Nottingham in my 20s so it was a dream to get to know Daniel Best and Jazzanova and work with Sonar Kollektiv. Really great people who are just always giving me a good feeling in my life and about what I do. I wouldn't have moved to Berlin without Daniel and the SK family opening the door for me in 2010/11 so I am hugely grateful to them.
It's really hard to put into words my highlights from living in Berlin as there were so many amazing experiences. Week after week. I enjoyed a very high percentage of my DJ gigs there – honestly it was super reliable – I think that's the beauty of the place. Playing outdoors during the day on my birthday at Ipse with loads of my friends from the UK in the crowd, several all day birthday parties at Griessemuehle in the outdoor area, programming the whole of Wilden Renate for my Hot Coins album launch party with Optimo, Hunee, Crazy P and many more playing. Closing Watergate from 7-1am on a Thursday morning in the summer, playing at Woodys birthday at Heidegluhen with Radio Slave and Marc Schneider, doing a 10 hour B2B with Franklin De Costa in the main room of Kater Holzig – I mean that's just off the top of my head.
Please can you describe your production set up for us and what is the one piece of equipment or plugin that you couldn't live without?
I work mainly in Logic using samples and soft synths. But it's mainly samples. I haven't used my midi keyboard in a long time. For me speed and ease of use is everything as I prefer writing music to working out how to connect up loads of hardware. My fave piece of equipment is my brain. I just hear things and then have an idea of how to make it into a full track. I recently discovered my wifes Yamaha electric piano which was languishing downstairs so I am gonna start learning piano – I can play a few chords but nothing official. I have often thought about buying loads of hardware but I don't always want that electronic feeling in my tracks. Everyone raves over an 808, 909, 101 etc but they are also the staples of dance so if I want my music to stand out I think it's better to stay away from them. I often find purely electronic music sounds a bit cold to me, I love arpeggiators so that's something I am often keen to add into my tracks. Having said that, I really enjoy going to Devon Analogue Studio to write and record using their hardware. The 'Wonky Techno Banger' EP was the first pure hardware release I ever made (well apart from sequencing it on Logic) and it was fun. I invested all my money in records really which I think shows where my heart truly lies. But never say never – I was looking at all the Behringer clones recently and thinking hmmm. Also the Boss RC 505 interests me. As does the MPC live.
Many of our readers will know you from your brilliant track Wonky Disco Banger. What are your memories of making the track and when did you realise that you had created something very special indeed?
I wrote it during an incredibly long weekend in 2014. It could have easily never happened as I lost the original demo due to my laptop battery dying and Logic not having an auto save. I had to remake it from memory the following morning when I felt like I had been beaten with sticks. That was 'interesting' mentally. I can remember the day that I was making it in a hazy way – I was partying the whole period while I was making it so it was just a way for me to try to remain sane while I was enjoying myself a bit too much in Berlin. I can remember people coming round and me being like 'check this out' and putting it on. My rationale at the time was 'if I can make music this dope then what's wrong with being totally smashed for 3 days' Any trick to justify things to myself. The good thing is, I can make music like that sober – I guess I just was a bit more loose at that time which is why the silly bassline sounded perfectly normal to me.
I had people in 2014 telling me it was 'career changing' so I guess there was a big buzz about it before it was even finished. I did feel the pressure to get it right and I just want to say thanks to everyone who contributed towards the success of that record. So many people helped get that record to where it ended up. Being record of the year at Juno and Phonica was the biggest thing for me in the end – the press might have to stick to the narrative but the sales don't lie. When there's that kind of buzz for a record – it's not possible through just PR and industry backhanders. It was real.
You recently released Wonky Techno Banger which was created on all analogue equipment. What can you tell us about that creative process and what made you want to get so hands on with the hardware?
I was in Berlin in 2018 and my wife and I were trying to move back to the UK so we didn't have a stable apartment as we were waiting for the visa to come through as my wife is Japanese. We were in a horrible limbo situation. It was a rough time mentally. Temp apartment after temp apartment and my music suffered big time. I couldn't write anything in Berlin as I didn't have that home feeling. So I booked myself in at Devon Analogue Studio while I was over playing a gig. Triston who runs Devon Analogue booked me years ago in London so it was great to reconnect with him and check the place out. What can I say – it was a dream environment and I wrote 8 tracks in 2 days while I was there. I hadn't used most of the equipment before so it was fun to use the Waldorf Wave, Deckards Dream and various other bits and pieces there. My main reason for being there was a creative retreat and it really was like that – the studio has a good vibe and the weather was gorgeous. I remember going for a walk on my own one day in the country and feeling elated. Tristan created a supportive environment for me so I could just let loose and get my ideas down. I hope to release more of the tracks I wrote – they are pretty much finished. I have just been doing my usual thing of sitting on things too long and then getting bored of them!
Check out Devon Analogue HERE: https://www.facebook.com/devonanaloguestudio/
Last year was your most successful year ever as far as touring is concerned with tours of the Asia and the US as well as gigs all over the globe. What are your favourite memories of the touring year, how difficult was it being away for such prolonged periods of time and what did you miss the most when you were on the road?
Last year was insane. Doing an India, Asia and US tour in the same year was pretty intense so I have spent quite a bit of this year recovering from all the lost sleep. It's really hard to pick a memory of course – I was just super grateful that people on the other side of the world respected my work and wanted to include me in their local scene. Hard to pick highlights as it feels unfair to miss some people out – but I would say for me the beautiful people and the universal language of dance music was the biggest highlight. The sheer range of clubs and experiences was mindblowing. Driving round Hollywood hills with Cromie in LA, playing dark techno at Tag in Chengdu, doing a studio session in Detroit with guys who've played with The Four Tops, Dwele and Amp Fiddler, playing Italo with the ace Wavecord guys in Pistil in Seoul, playing records freshly dug Disco records with Eli Soul Clap in the basement of the Black Flamingo in Brooklyn, spending a week exploring District 1 in Ho Chi Minh after my gig at The Observatory, playing Squarepusher 'Red Car' on a Sunday night on a rooftop in Bangalore… I could go on.
I would say the difficulty for me being away for so long is the lack of sleep – I am not the best sleeper at the best of times so sleeping in different beds every night for a month and all the travelling is pretty killer. I did 6 gigs in 6 cities in the first 7 days I was in the US. That's pretty hardcore. I LOVE touring but it does really affect my mental health if there's not enough downtime. Another issue is never really having any time alone – I am a social person and it was pretty exhausting constantly meeting new people – everyone was lovely but I wore myself out emotionally – so in future I will try to have more time alone.
The only thing I miss when I am travelling is my wife but we both noticed last year that if as I didn't drink any alcohol, I was a lot less emo. There were no departure lounge meltdowns and anxiety attacks this time. Last year was when I truly noticed the positive effects of my sober living. I had way more power and positivity. I sometimes feel a bit guilty that my wife isn't with me but the conditions aren't always the best for having someone with you and it sometimes feels a bit like damage limitation to do it on my own. We've both come to the conclusion that we need an actual HOLIDAY together rather than her coming with me when I am touring
Please can you give us 3 tracks which you would say have directly influenced your style of production
I'll leave it up to people to work out how these tracks influenced my music if that's cool.
2020 was shaping up to be a bit of a huge year as far as releases are concerned. What are your release plans and can we expect to see a year of releases followed by a year of touring perpetually going forward?
Well I was all set for a big year release wise but then Covid happened and it made me kind of re-evaluate my stance on releasing stuff. I think I have a tendency to associate clubbing and dancing with my records so having no parties happening has reduced my motivation to release stuff. I am taking the opportunity to do extra work on things and make sure the music is to a high enough standard. I find that balance quite tough when I am touring but as I am seeing, without the transcendental DJ gigs, I feel a bit less focussed on putting records out. I have spoken to several pretty prolific producers and it seems that people are 'waiting it out' a bit to see what happens. The good/bad news is, I have been writing EVER MORE new stuff – my creativity isn't affected – it's kind of illusory I guess – I just think about mythical clubs playing my music when I make it. Making a record for a live stream isn't so exciting for me.
You also have several other projects ongoing including releases as Red Baron and Direct Experience Network. What can you tell us about those and how do they differ musically from Red Rack'em?
Red Baron is me and Jim Baron from Crazy P aka Ron Basejam. Red Baron stuff sounds different from what we both normally do. I think having another set of ears/sharing the responsibility has really benefitted the music we've made together. We're ready to put out our first single which is called 'Fascinate/She Makes It Work'. The music is done – we just have to decide when to put it out. We've also worked on some other tracks together so hopefully there will be a second EP too. I have been friends with Jim for over 15 years and he's definitely someone who's supported me a lot over the years – helping me launch my Hot Coins album on Boiler Room, cheering me on from the crowd at Love International festival and many a 'sensitive bloke chat' over the years. I was really happy that we made some good music together – if it had sucked I think we both would be have been a bit gutted.
Direct Experience Network is a secret.
You are very much an advocate for vinyl releases with all your labels releasing on that format? How key a part do you think vinyl still has to play in our scene and what was the last record that you bought?
I am not a format snob and I understand that some people can't afford vinyl. Some people also choose to spend their money on other things and that too is a personal choice. For me it's more about the physical object and the fact that it's on display in an actual record store. I want people to see my music rather than it just be a file. I grew up digging in record stores – that's the culture which birthed the whole scene. Don't forget that 90% of the music people are attempting to emulate today comes from the times when there was only one way to play music in a club. For me, I just want to maintain the core values of dance music which I grew up with and I think if you're committing to making vinyl, then it's an indicator of a bit more intent to be around a long time I think. I totally understand that some scenes are very much revolving around digi like disco edits, trance and drum and bass for instance. But for the types of music I play, it just feels better for me to play it on vinyl. It's a personal thing. I do hate lugging them around though I must say – that's the bit I can live without. Living in Berlin was a godsend sometimes as I could play some of the best clubs in the world and be like 3 miles away from my record collection.
The last record that I bought… I just bought 19 records of discogs which are mainly 80s Jazz funk – the last one from that haul was Ronnie Laws 'Heavy On Easy' – that's my current mood. Get the bag out. (Joking honest).
What else can we expect from Red Rack'Em in 2020?
The Berman Sermon. Mentoring. Music. Stuff.
For more info on Red Rack'em please check:
Facebook: https://www.facebook.com/redrackem/
Instagram: https://www.instagram.com/therealredrackem/
Soundcloud: https://soundcloud.com/red-rackem
Bergerac Bandcamp: bergeraclabel.bandcamp.com/
Tags:
Berlin
,
red rack'em