Rush City – Mixtape 191 (Classic House & Electronica) & The Making of the Cosmic Vibrations EP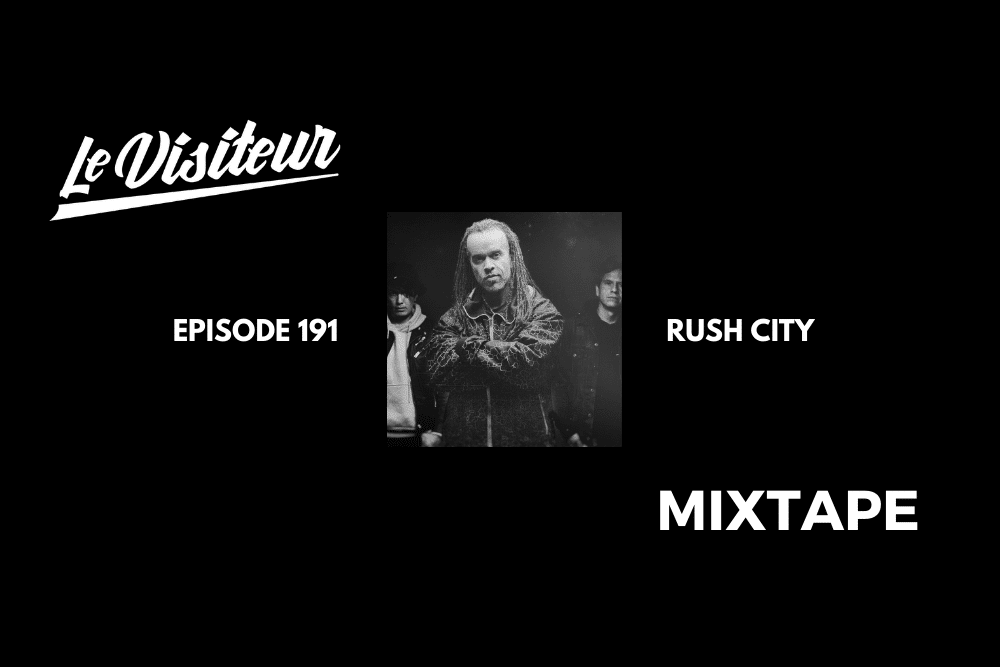 Rush City – Mixtape 191 (Classic House & Electronica) & The Making of the Cosmic Vibrations EP
Like what you hear? To help support LV Online buy us a coffee via Ko-FI. Click HERE
Rush City is a collaboration between producers Jonahlo and Joint4nine's Ivan Lozano. As well as being a super talented producer Ivan is also behind the ace Nomada Records, alongside another LV favourite Felipe Gordon, so has been a regular on the pages of Le Visiteur over the last couple of years.
Their brand new EP is a collection of four Nu classic house tracks that they created alongside London singer Handerk. Brimming with 90's cool and 20's production skills it's a strong statement with which to launch their brand new label Ritmo Terco. With a mission statement dedicated to paying tribute to the roots of electronic dance music they have certainly ticked all the boxes with this release.
We spoke to Rush City about the label and the EP and they also put together this brilliant mix for us which perfectly captures the essence of early 90's house and electronica. Please give it a share over on Soundcloud and help us spread the love.
Firstly how did you two meet and please can you tell us about your new label Ritmo Terco and the ethos behind it?
Hey, first many thanks for having us and supporting our debut release with Ritmo Terco. It's always cool to chat with you guys. Well we met each other around 2016, I remembered that at that time we booked Brame & Hamo and we threw a party with Nomada Records. Jhonny and Felipe were friends (They had an electronic indie band back in the day) so Felipe invited him to come over as he wanted to introduce him to me as Jhonny was doing house music with his moniker Jonahlo and we were looking for local artists to sign up on Nomada. We released three amazing EPs from him so I started to hang out with him frequently, we threw some parties together, we shared vinyl, music, studio tricks and we started playing extended b2b In my house, his house and some clubs so we realized that we have a similar love and taste in music. It wasn't until beginning of 2019 that we started doing music together though and that's how Rush City came together.
Meanwhile we were doing lots of music with Rush City, Jhonny had the idea to create his own record label in order to put out his music without problems so he talked to me about it and we created Ritmo Terco. He was the one who came up with the name; "hahaha" actually is a great name, We love it. Don't know if you guys are familiar with spanish but Ritmo is Rhythm and Terco is stubborn. We wanted to put out cool music; it doesn't matter if its House, Deep House, Acid House, Techno, Afro, Hip Hop, Reggae, Tribal, Breaks, Punk just anything that we consider unique and terco. At the moment we are focused on putting out our own music as Jonahlo, Joint4Nine or Rush City but you know we are open to receive and listen to demos. Our main idea is to put out the music first on vinyl and then on digital. We have a pretty good deal with deejay.de as our distributor so hopefully we can keep it and put music out constantly but as you know it all depends on how well the records sell so that we can find a way for the label to maintain itself.
Rush City is also a relatively new project for you both, please can you tell us about that, how did it come about and what is it that makes Rush City distinct from your own solo projects?
Yeah as we mentioned before we started Rush City in the beginning of 2019. Jhonny and I love 80's and 90's music and we like that minimalistic analog and raw sound that the producers achieved with a MPC, drum machines (707, 808, 909), the TB303 acid touch and analog synthesizers. We are heavily influenced by genres such as Italo Disco, New Wave, Punk, Dub, Reggae, Breaks, Hip Hop, Electro, Bleep, Tribal, Acid, House, Deep House and Techno and we want to put them all together on Rush City's signature. We want to sound old school, ravey and clubby but at the same time we want to express soul in our music. We are exploring different rhythms and genres and trying to not stuck with a formula structure and sound which becomes repetitive and boring. At this time we have released two digital EPs; the Old School Ways EP which was released on Midnight People (UK) and Natural fear which was released on Yung Dumb Records (CAN). If you listen to both EPs you will definitely notice how versatile we can get without leaving the old school essence behind.
For all those who are familiar with our solo projects and have listened to our previous works you will also notice how distinct Rush City is.
What can you tell us about your latest release, the Cosmic Vibrations EP?
There was an amazing underrated label by the end of the 80's called Warriors Dance from London. We love this label cuz for us the music that they put out represented the roots of electronic music. Its pretty cool to see how they were ahead of its time by blending Reggae, Hip Hop, Tribal, Acid, Bleep, House, Techno and Breakbeat. We wanted to do an EP with this concept and we wanted to sound old school.
Last year Jhoony's flat mate (Juan) met a rasta guy from london called "David a.k.a Handerk" in the park of the neighbourhood. David used to play his saxophone there and Juan invited him to his house to introduce him to Jhonny. They both met each other and started jamming in the living room; David with the saxophone and Jhonny with the bass. One thing led to another and Jhonny started showing to him his music and beats and boom surprise! David was also a super talented singer and he started rapping on it with a reggae and dancehall style so that was pretty cool as that was exactly what we were looking for Rush City's next EP.
Jhonny and I started producing the first track called Feel The Rush which is a UK Street-Style with a heavyweight bassline, hypnotic synth phrases and a catchy dub reggae speech vocal. We are based in Bogotá which is the capitol and sometimes It turns chaotic and stressful to live in the city so Feel The Rush is an invitation to get rid of the city's rush and start to look inside, to feel the vibe and move into the light where the unification is the most powerful and it's time to show the love. The second track Cosmic Vibrations is the single and it has an uplifting unification message. We wanted to sound House and Dub with a heavy Hip Hop beat and a hypnotic 303 acid riff. The track talks about someone who has been in many places and has experienced plenty of cultures and he is trying to explain that we all got skin, veins, bleed blood, feel pain and we are all the same and we're connected to planet earth trough the cosmic vibrations. Before we had started to work with David on the vocals we had finished a track heavily influenced by the deep movement that Larry Heard created with Fingers Inc in the 80's. There weren't vocals in the track only samples and that's it, so I told to Jhonny that I always wondered if there was a melody vocal for this track and we should try to do this with David so we tried it and it worked perfectly. Crush On U is a track made for all those who has a crush with someone and cannot wait to see or hang out with that person over and over again. Closing the release there is minimalistic 90's deep raved up version that we did for C-Rush On U.
All three of us are excited and happy with this release and for sure we will keep working on some new music together..
What can you tell us about the theme of the mix you have done for us and what are some of the key tracks for you?
We like to play plenty of genres when we play together but this time we wanted to do an old school sounding House Mix for you guys. The mix length is one hour and half and It features amazing music by Karlos Moran, Generation Next, King Sporty & The Extras, The Russel Brothers, Jovonn, Quentin Harris, Green Velvet, Bufiman, Natureboy, Shariff Lafrey, Moby, Marshall Applewhite, Us and among others. It includes an amazing new track by Jonahlo which is part of his forthcoming EP on Ritmo Terco.
For me (Ivan) my key tracks are: Tied up by Yello which is a madness tribal edit by Andi Hanley, I also loved the acid Sharif Laffrey's track that jhonny played called Turn It Up – Jonahlo's new track Acid Days is also a bombshell dancefloor. The last key track would be "Next Is The E (Synthie Mix)" by Moby which is a 90's breakbeat masterpiece.
For Me (Jhonny) my key tracks are: Detroit Techno Bass by Detroit In Effect is something that never gets old, I love the effect of playing a super fast track, slow and without Master Tempo; it brings a complete different vibe to the track. Jovonn – Don't Wanna Let You Go is a super classy raw vibe, so energetic and simple, love the feeling on it. Of Cosmic Vibrations by Rush City is one of my favorites, I'm in love with the way We put this record out, pure magic and good vibes.
What else can we expect from Rush City in the next 12 months?
We don't have anything planned at the moment, We are working on some new music and for sure a New Ep with Handerk is in the progress. With Ritmo Terco we have two releases in the pipeline by Jonahlo and Joint4Nine so We will be giving more info ahead..
Grab the EP from: https://www.deejay.de/Rush_City_Handerk_Cosmic_Vibrations_RT001_Vinyl__973305
For more info please check:
Rush City Facebook: https://www.facebook.com/rushcity2020
Rush City Soundcloud: https://soundcloud.com/rushcity
Rush City Instagram: https://www.instagram.com/_rushcity_
Ritmo Terco Facebook: https://www.facebook.com/ritmoterco
Ritmo Terco Soundcloud: https://soundcloud.com/ritmoterco
Ritmo Terco Instagram: https://www.instagram.com/ritmoterco
Rush City – LV Mixtape 191 -Tracklist
1. Mr80020 – Karlos Moran (Klasse Wrecks)
2. The Myth Of Miami – Generation Next (7daysent)
3. Do You Wanna Dance – King Sporty & The Extras (Danceflloor)
4. The Party Scene – The Russel Brothers (Portrait)
5. Hip Hop Be-Bop Don't Stop – Man Parrish (Importe/12)
6. Detroit Techno Bass – Detroit In ffect (M.A.P Records)
7. Millie Vanillie (Quentin Harris Mix) – Green Velvet (Relief Records)
8. Tied Up (Andi Hanley Edit) – Yello (Magic Wand)
9. Don't Wanna Let You Go – Jovonn (Clone Classic Cuts)
10. Turn It Up – Sharif Laffrey (Discos Capablanca)
11. Ahnonghay – Inner City
12. Yeah – Natureboy (Frame Of Mind)
13. Hoolock – Bufiman (DKMNTL)
14. Karma – Gemini
15. Lost Mind – Jonahlo (Forthcoming Ritmo Terco)
16. Next Is The E (Synthe Mix) – Moby (Instinct Records)
17. Ugly – Marshall Applewhite (Yo' Sucka)
18. Cosmic Vibrations – Rush City (Ritmo Terco)
Tags:
classic house
,
Nómada Records
,
Ritmo Terco
,
Rush City