Sam Redmore talks Universal Vibrations, Craig Charles, musical influences, The Tropical Soundclash Allstars and clubbing in Birmingham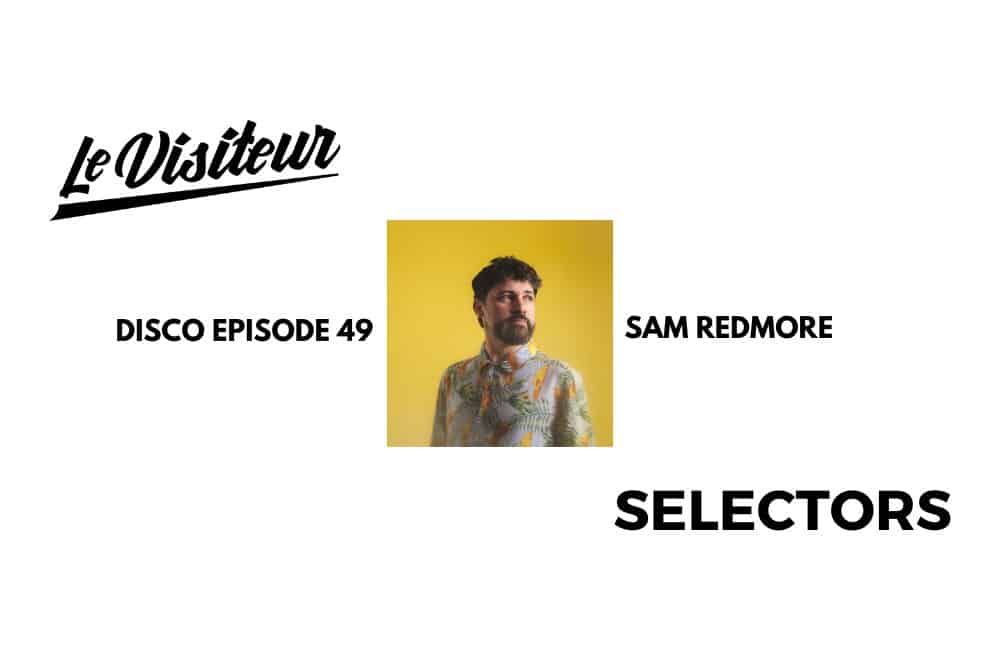 The first time I caught Sam Redmore was in the mix for Craig Charles BBC Radio 6 Funk and Soul show and it was a bit of a wow moment. That he is an extremely talented DJ is an understatement.
He is also a very accomplished artist having cut his teeth as many do creating edits and mash-ups for his dancefloors before moving onto crafting remixes and then creating originals and putting together his own 12 piece band.
Sam currently has a brilliant album Universal Vibrations out via the spiciest of UK labels Jalapeno and it's a must check combining disco edges with Vision-esque top class vocal house gems with, Soul Latin and afro flavours. It's an album which showcases a multitude of musical genres but which knits together perfectly as a rich musical experience. Indeed if there is any justice Universal Vibrations will see Sam's career trajectory quicken rapidly. You can grab the album via: https://samredmore.bandcamp.com/album/universal-vibrations
His recent single from the album 'One More Time' was also a bit of an monster with remixes coming from house legends Red Rack'em and Kid Crème. You can check out the Red Rack'em mix below and our review HERE.
With a brand new single 'Reach Out feat. Lumi HD' dropping this week on the 21st we thought it was high time to chat to Sam and ask him to step up to the Le Visiteur decks. He laid down our latest Disco Selectors mix for us which you can check below. Make sure you give it a share over on Soundcloud and help us spread the love.
Grab the new single here: https://SamRedmore.lnk.to/ReachOut
Hi Sam,
Thanks for speaking to us today. Firstly, where did you grow up and where are you based now?
I grew up in a sleepy town in England called Bury St. Edmunds, moving to Birmingham about 15 years ago in pursuit of more DJ opportunities. I'm still in Birmingham and I'm still DJing, so I guess it's worked out okay.
Please can you tell us a bit about your musical journey which has led you to where you are today?
I started DJing back when I was about 12 years old. My older brother picked up some decks, and I used to sneak into his room when he was out and have a go on them. After I left school I moved to Guildford for a year to study at the Academy of Contemporary Music. It was here that I had my first taste of music production. Once finished at ACM and having relocated to Birmingham, I started creating edits and mashups to include in my DJ sets. Over time this developed into full remixes (using stems/multi tracks), which started to pick up decent radio support. It took some time to move from remixing to making my own original productions, and that's where I'm at currently, having just released my debut album 'Universal Vibrations'.
For our readers who haven't come across your releases before, how would you describe your musical style right now in 2022?
It's difficult to sum up, as I take influences from all over. I guess the common thread really is that I make music for the dance floor, consisting of a mix of electronics and live instrumentation. I like to blend contemporary sounds like house, broken beat and disco with afro and latin styles including afrobeat, samba, salsa and cumbia.
Please tell us about the club scene where you are based. Which artists from your  local scene past and present have inspired and encouraged you and what parties that you love going to over the years have helped your musical evolution?
Although he's based in Oxford these days, Mark E was a big inspiration when I first moved to Birmingham. He ran a night at a place called the Bull's Head, where I was a bartender, and I heard some of his edits and productions being tested out there for the first time. In terms of parties, Leftfoot has been at the forefront of all the kinds of music that I love since before I even came to the city. From soul, jazz and disco through to house, broken beat, hip hop and much more, I've heard so much amazing music at their nights, and it has provided endless inspiration for my own musical endeavours.
Please can you give us three tracks from your discography which you would say are quintessentially Sam Redmore?
Just Can't Wait
Probably the most accomplished track I have produced. A nod to 70s NYC disco, featuring the sublime vocals of Lumi HD.
Nagu
I'd been testing this one out in my DJ sets for some time before it was released, and it never failed to hit the right spot on the dance floor.
Alegre
Something that showcases my love of latin music and always seems to go down well in my sets. One of those rare occasions when the idea I had in my mind before I started on the track pretty much played out exactly as I envisaged.
You have a new single 'Just Can't Wait' out right now on the brilliant Jalapeno Records. Please can you tell us a little about that single and how it all came about?
I had been listening to a lot of classic disco records, and Just Can't Wait was my attempt to capture some of the same spirit. I made the instrumental track first, enlisting the skills of Rory Simmons who is responsible for the beautiful string and horn arrangements throughout the album. Once the instrumental demo was in place I sent the track to Lumi HD, who wrote and recorded a demo for the vocals. The original plan was to have another singer record the vocal, but once I heard Lumi's demo take I knew she was the perfect fit for the track. Recording the backing vocals took a long time and a lot of post-production to get it sounding so big, but I'm really happy with the outcome.
The release also has remixes by house legends Kid Crème and Red Rack'em. How did you manage to get them involved and what do you think they brought to the track?
The hookup with Kid Crème came about through my record label (Jalapeno Records), with whom he has had a good working relationship for a number of years. It's been a long time since KC's last official remix, so it was a real honour to have him rework one of my tracks, and as expected he absolutely nailed it with his trademark bass-driven disco house sound perfectly complementing Lumi's vocals. Red Rack'em meanwhile is somebody I have known for a long time. I actually booked him to come and play at a club night I ran in Birmingham many years ago, and we have kept in touch ever since. He's always been really supportive of my music, and it felt like there was a nice serendipity to having him remix one of my tracks. I love his take on One More Time, taking it in a slightly off-kilter tribal house direction, something that sounds incredible on a huge soundsystem.
You have an album 'Universal Vibrations' out now on Jalapeno. What can we expect from the album when it lands?
Well it's out now (released 9th September) so you can check it out in its full glory straight away! I would say it's a melting pot of many of the sounds and styles that I love.  When I started working on it I didn't know exactly where it would end up, and had a vague idea in my head of making some electronic beats that I could fit into a DJ set. However, once I started getting other musicians involved the scope of the project changed considerably, with the final product something I don't think I would have believed I was capable of producing in the beginning. So you'll hear many guest musicians on the album – from vocalists including Lumi HD, SANITY, Auden Allen and Andrea Brown through to live instrumentation including horns, strings, bass, piano, percussion and much more. I'm proud of what I've come up with, hopefully other people dig it too!
Please can you describe your production set up for us and what is the one piece of equipment or plugin that you couldn't live without?
To be honest, it's a very simple setup. My studio consists of a computer, two speakers, an old midi keyboard and a pair of headphones. Much of the live instrumentation for the album was recorded externally, but it always comes down to just me and Logic Pro after that. In terms of a plugin I couldn't live without, this probably doesn't sound particularly exciting but Fabfilter Pro-Q is easily the best EQ plugin I have come across and is used on just about every sound on the album. It's got loads of useful functions beyond the standard features. I could go on about it all day!
I first came across you in the mix for Craig Charles on Radio 6 Music. How important do you think Craig's support across the years has been for your career?
Yep, very important. Craig Charles has been the single biggest supporter of my music since back when I first started putting out re-edits and without him I doubt many people outside of my friends and family would ever have heard of me.
Your sound has a very worldly feel pulling in vibes from across the globe. Which producers have been instrumental in your own musical upbringing?
Quantic
Quantic has been a huge inspiration from day one. He is unbelievably prolific, with his music moving in many different directions throughout his career. He was one of the key players in introducing me to a lot of wonderful sounds from South America.
Louie Vega
The word legend gets used far too often in the music world, but I think Louie Vega can genuinely be considered just that. So many incredible, groundbreaking productions whether it's under his own name or with Kenny Dope as Masters At Work / Nuyorican Soul. Still putting out music of the highest quality.
Swindle
It was Swindle's music that first made me think about using brass sections on bass-heavy club tracks. I love the mix of live instrumentation with huge club sounds he has incorporated into much of his work.
You also lead a 12 piece live band 'The Tropical Soundclash Allstars'. Please can you tell us about the band. What can we expect when we come to see them live?
There's a lot of us and a lot of energy when we're on stage. My intention is to land somewhere in between a club set aimed straight for the dancefloor and the live element that brings musicianship and raw, upfront energy to the fore. We're made up of myself plus a full horn section, live bass, keys, percussion and sometimes strings, plus exceptional vocalists in Lumi HD, Andrea Brown and Auden Allen, who hosts the show.
What can you tell us about the theme of the mix you have done for us and what are some of the key tracks for you?
It's 60-minutes of disco heat, featuring some of my all-time favourite tunes. Personal highlights include Sylvester's 'Over & Over', the incredible Walter Gibbons mix of Loleatta Holloway's 'Catch Me On The Rebound' and Chaka Khan's 'I Know You, I Live You', which kicks off the mix.
How does the style of mix here compare to how you would approach a live DJ set?
Well it's all material I would and have played in my DJ sets. I guess the mix is a little more refined than some of my live DJ sets which tend to go all over the place in terms of genre (disco, afro, latin, house, broken beat and much more). This mix is focused much more closely on disco.
Which other artists DJ mixes do you find yourself coming back to time and again and do you have a favourite that you gravitate towards?
There are plenty of mixes I've come back to many times over the years. This one from DJ Muro stands out, for both track selection (loads of great tunes I'd never heard before) and the skilful way it's put together.
This Henrik Schwarz DJ Kicks mix is an absolute belter too. Musically varied and yet it all fits together so well. From the opening notes of Moondog's 'Bird's Lament' you know you're in for a treat.
And finally, what else can we expect from Sam Redmore in 2022?
The album is out and available to listen to/buy in all the usual places. I'll be taking the live show around and about over the coming months, and there is also a new single that you won't find on the album out on 21st October. Beyond that I'll be spending the rest of the year working hard on new music for album number 2. It took me many years to get the first one together and I'm determined it won't be such a long wait for the next..
For more info on Sam Redmore please check:
Sam Redmore Facebook: https://www.facebook.com/samredmoremusic
Sam Redmore Soundcloud: https://soundcloud.com/samredmore
Sam Redmore Instagram: https://www.instagram.com/sam_redmore/
Sam Redmore Twitter: https://twitter.com/samredmore
Jalapeno Records Facebook: https://www.facebook.com/jalapenorecords
Jalapeno Records Soundcloud: https://soundcloud.com/jalapeno-records
Jalapeno Records Instagram: https://www.instagram.com/jalapenorecords/
Jalapeno Records Twitter: https://twitter.com/JalapenoRecords
Like this? check out more from Jalapeno HERE
LV Disco Selectors 49 – Sam Redmore – Tracklist
Chaka Khan – I Know You, I Live You (Danny Krivit Re-Edit)
Buari – I'm Ready
T-Connection – Do What You Wanna Do
Rod – Shake It Up
Gladys Knight – It's A Better Than Good Time (Walter Gibbons Mix)
Pat Lundy – Work Song
Thelma Houston – I'm Here Again (Danny Krivit Re-Edit)
Bob Williams – I'm Alright
Sylvester – Over & Over
Gregory Andre & Two Plus Three – I Want To Be With You (Al Kent Edit)
Herbie Mann – Waterbed
Loleatta Holloway – Catch Me On The Rebound (Walter Gibbons Mix)
Tags:
Jalapeno Records
,
Sam Redmore