Le Visiteur talks to Slim from Shimmy Discotheque ahead of A/V show C'est Chic landing at this stand-out Bath Club!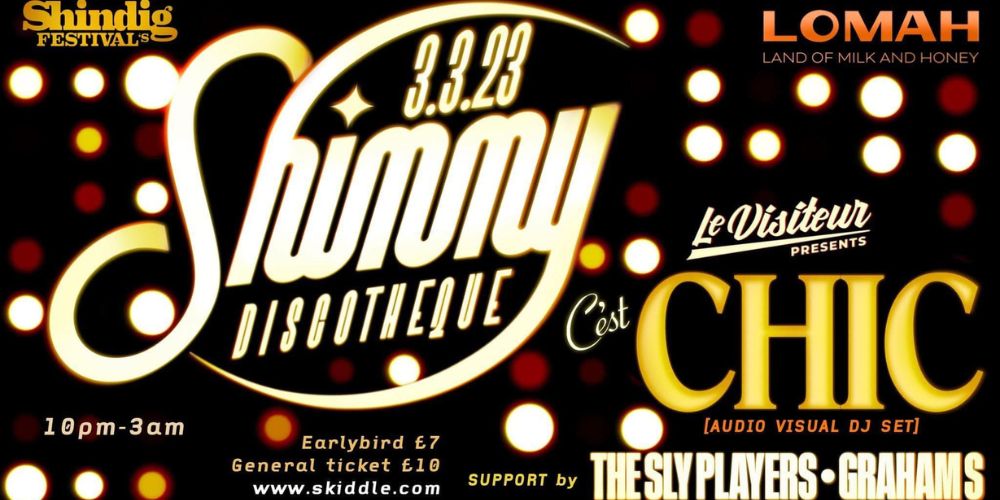 Next Friday, 3rd March, see's Le Visiteur landing at lauded Bath club night Shimmy Discotheque with the much hyped C'est Chic audio / visual show.
If you haven't caught C'est Chic previously it's a celebration of the music of the Chic Organization featuring specially crafted club focused remixes and reworks of artists including Chic, Sister Sledge, Diana Ross, Norma Jean Wright, Sheila & B. Devotion, David Bowie and many more superstars who had their music touched by Nile Rodgers and Bernard Edwards. The music is fused with live footage with bespoke animations for a completely unique show. Designed specially for the 2023 dancefloor you can expect non-stop, feel-good, hands-in-the-air disco.
More info and tickets for the Bath show can be found here: https://www.facebook.com/events/947571999946750
Ahead of the show I spoke to Slim who is behind both the club night and is also one of the heads behind the well loved Shindig festival.
Hi Slim,
thanks for speaking to us today.
Whats your background in music and how did you end up getting involved in Shindig?
I have DJed for nearly 30 years and promoted nights since the early 90s, lots of different genres but house and disco is at my heart. In the early 00's I got into the world of funky breaks and started Goodgroove Records in 2008 which then inspired my next label Ghetto Funk in 2010. We got quite a large fan based and started doing venues at festivals that ended up being over 1000 people in size. When one of the festivals we did stopped in 2013 we decide to try putting on our own and called it Shindig Festival. It sold out in its first year and is now 12500 capacity in 2023.
You are behind Shimmy Discotheque which started life as a venue at the Shindig Festival and is now a club night in it's own right Please can you tell us a little about how the Discotheque came into being and the ethos behind it?
Yes I created the brand Shimmy as a venue at our festival, its the home to all our house and disco at the event and is a 1000 capacity. We are lucky enough to have had an amazing line up over the years, Francois K, Ashley Beedle, Greg Wilson and Terry Farley all played last year. As disco and house are my roots I wanted to make sure we had a really good place for people to dance and see some legends of the scene. The festival has 8 stages/venues and each one has a different style of music and decor, its gives people a lot of choice over the 4 days.
What made you make the decision to take Shimmy Discotheque out as a stand-alone club night?
I live in Bath and it was lacking a good dance night, Club Lomah opened a couple of years ago and was the prefect venue to start a Shimmy Discotheque club night, it has an mazing Void sound system and is very luxurious with a top notch selection of cocktails and drinks. Having a club night helps people see what goes on at the main festival, so we get a new crowd from it to as a bonus.
You are also the resident at Shimmy Discotheque, what can you tell us about your own vibe?
I am the only resident DJ at Shimmy and go under my disco alias The Sly Players, I also warm up and close down on all the clubs disco/house nights so have had the pleasure of recently playing with names such as Dimitri From Paris, Gilles Peterson, Jazzie B, Horse Meat Disco and coming up soon Nightmares on Wax. It great to have a scene in my home town that I really enjoy and bring new crowds into the music style.
The Sly Players – The Disco Scene DJ Mix
Who are some of the guests that you have had play at Shimmy Discotheque?
The club night has been running for just over a year and have had a lot of local talent but also some headliners like Sean McCabe, Terry Farley and Mark Archer come and play. In the Festival venue we get to have bigger names a few mentioned earlier and over the years that has includes Todd Terry, Graeme Park, Kenny Dope, Crazy P, DJ Alfredo, Danny Rampling and many others, its a real treat to have them all involved.
What are some of the big Shimmy Discotheque tracks which really nail the vibe of the club night?
We love the classics at Shimmy but also have some more recent tracks that are getting a lot of people dancing..
I Was Born This Way (Moplen Dub 1)
Gladys Knight & The Pips – Bourgie', Bourgie' (Dave Lee RMX)
Sylvester – You Make Me Feel (Mighty Real) (Soulwax For Despacio Remix)
In My World – Micheal Gray
End of the night action
Chaka Khan – Ain't Nobody
Please can you tell us a little about the venue Lomah and what can clubbers expect when they come down to Shimmy Discotheque?
Club Lomah is below its own restaurant, the food is some of the best in Bath, so a lot of clubbers book a table upstairs then come down to dance. The club itself is intimate and very luxuriously decorated with a void sound system and air conditioning perfect for a really good party. As Shimmy we add in the disco feel with our own decor and lighting, its like going back to Studio 54 but with modern fidelity.
Why do you think that house and disco in particular have had such a renaissance over the last decade?
House and disco is true dance music. Its was created for people to dance to, always has been and always will be. Music genres come and go, but people still need a good solid beat to dance to. The new wave of producers have given it new life and what I really like is that the disco element is back after it going quite deep in the early 00s.
What tips do you have for any budding promoters out there on how to build a successful club brand?
Create a strong brand and get it out there, build a fan base and listen to them, get acts they suggest, play tracks they like to dance to. Everything else should start happening from there.
What do you have instore for the Shimmy Discotheque at the Shindig festival this summer? 
This year we have a vert special headline duo coming the play, Norman Jay and his nephew Melvo Bapiste, it's one of the first times they have played back to back, so really looking forward to that set. Also I am excited about the new decor we have planned for the venue, A giant mirrorball DJ booth and lots of Shimmer across the whole venue.
What else can we expect from Shimmy Discotheque in the next 12 months?
More club nights outside Bath, we are planning to start nights over in Bristol and many other cities, then Shindig festival 2024 will be huge as always.
For more info on Shindig Festival and Shimmy Discotheque please check:
Shindig Festival WWW: https://shindigfestival.co.uk/
Shindig Festival Facebook: https://www.facebook.com/shindigfestival/
Shindig Discoteque Instagram: https://www.instagram.com/shindigfestival/
Shimmy Discoteque Facebook: https://www.facebook.com/ShimmyDisco
Tags:
C'est Chic
,
le visiteur
,
Shimmy Discotheque