Surprise Chef Talk Mr Bongo, Melbourne, Masters At Work, Harvey Sutherland and College Of Knowledge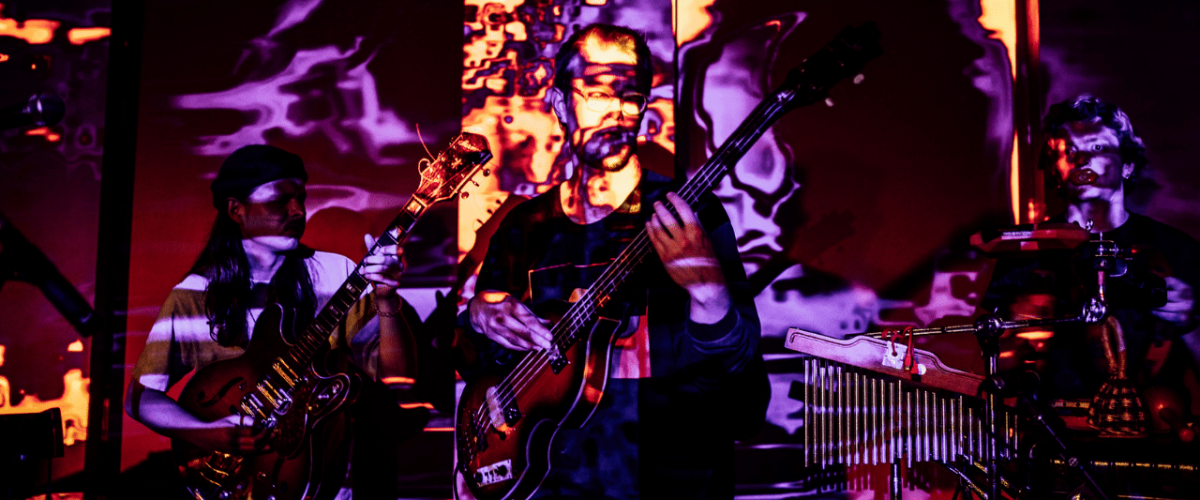 Surprise Chef Talk Mr Bongo, Melbourne, Masters At Work, Harvey Sutherland and College Of Knowledge
Like what you hear? To help support LV Online buy us a coffee via Ko-FI. Click HERE
Photo By Izzie Austin
Surprise Chef have a strong history with Mr Bongo and their latest release with the label is already turning heads on pre release. Indeed the brand new EP features a dream team of Masters at Work and Harvey Sutherland on remix duties.
To celebrate the release they put together a rather outstanding mix for us under their College Of Knowledge guise, you can check more on the mix including the tracklist HERE. They also spoke in depth to the Insider about the release, Mr Bongo, their hometown of Melbourne
Surprise Chef on their brand new 12″
"We're stoked to present this 12" that connects the dots from NYC dance music all the way to our home of Melbourne / Naarm. Masters At Work and Harvey Sutherland represent two facets of a living legacy in club music; Kenny and Louie are stone-cold legends, with a catalogue that's been making freaks dance for a period of decades, and Harvey Sutherland is an icon of our town who's carved his own path with a funky sound that we've been getting down on consistently since his first record came out. Kenny and Louie have contributed much to many of the areas of music that inform Surprise Chef, from funk and soul to hip hop and beyond, so it's an honour to have them put their stamp on two killer takes of Crayfish Caper. Harvey Sutherland is a guy whose sound has always resonated with us, and hearing him flip New Ferrari like it's a bona fide Harvey cut is an amazing feeling. Both have put genuine soul and taste into their re-imaginings of our tunes. We can't wait to hear these cuts on a dancefloor."
Thank you for talking to us today! How are things for the good people of Melbourne?
We've been in lockdown for the best part of the last 18 months, so needless to say it's been a trying time. With that said, people in Melbourne (Naarm) have been really resilient for the most part. We're proud of our community for looking after each other and sticking tight in a difficult time.
What's the vibe in the city? Are bars and clubs open? Have any festivals happened?
Everything is closed at the moment, but that will change very soon. There is an absolute deluge of great festivals and events ready to go next year – we're looking forward to local independent festivals like Hopkins Creek, Strawberry Fields, Sun Cycle and Meredith, and great clubs Colour and Angel Music Bar.
Do you think that the pandemic has had any lasting effects on the music scene? 
We'd like to think that the pandemic will have a positive effect on the music scene in the long term. We hope musicians and DJs will come out with a renewed sense of purpose and vigour. With that said, a lot of people in the scene are feeling incredibly fatigued by the pandemic.
Even though you're on the other side of the world, we know well that Melbourne is a melting pot of musical culture and hive of quality activity on the soul, neo-soul, jazzy-funk front. Why do you think that Melbourne has cultivated that particular sound so much?
There are so many factors to this – Melbourne is definitely a melting pot containing a lot of different musical cultures, but the same can be said of countless cities. We have a handful of music schools that function as small hubs for musicians to meet and connect with one another; a lot of the players in our circle met at music school. Those institutions generally centre on jazz music, so naturally they tend to produce players that are interested in jazz or jazz-adjacent styles.
Hiatus Kaiyote's 2012 'Tawk Tomahawk' EP did a great deal to popularise the neo-soul / future soul sound within this particular community. The explosion of that sound in Melbourne can really be traced back to that record. Prior to that, bands like The Bamboos and Cookin' On 3 Burners really championed the rare groove thing.
One factor that can't be overstated is that we've benefited greatly from the welcoming attitudes of our seniors in the jazz/soul realm; when we came up through our first forays into writing original music and playing gigs around town, there were always older musicians that welcomed us into the scene and gave us gigs, advice and support. Certain aspects of Melbourne's scene can be cliquey at times, but on the whole we've found that there's a distinct absence of competitiveness and hostility. That counts for a lot.
Bradley Zero loves Melbourne. I know he spent time there and was signing acts for Rhythm Section, like 30/70. Are you guys so aware of UK labels and the neo-soul, broken scene over here?
No doubt – the UK jazz thing is big here. You can hear the influence in heaps of bands in Melbourne. Many of the bands making more jazz/hip hop sounding stuff 5-8 years ago are now making stuff that's more attuned to the London jazz sound. La Sape is an example of a local label championing that sound on the ground here with artists like JK Group, Horatio Luna and ZFEX.
We used to do this thing called – guest chef. You basically cook in a mates' house, but you don't have to do the washing up. Does your name have a similar story?
Surprise Chef was a goofy TV show that was on air in the early 2000s. The host would accost people in the supermarket and try to convince them to let him come to their house and cook for their family using whatever they had in the cupboard. Recommended viewing.
Talk me through who makes up Surprise Chef and what parts you play?
I (Stuckey) play guitar. Jethro plays keyboards, but he also played guitar on our first 7". Carl plays bass and Andrew plays drums. Hudson Whitlock provides the vibraphone and percussion on the recordings and live shows, he's our guiding star in many ways. Henry Jenkins produces all the music, and he's as big a part of the way the band sounds as any other factor. Most respect and gratitude to that great man and his great mind.
When did you start out as a band? What brought you all together?
Jethro and I (Stuckey) started the band around late 2018. We met on the first day of music school in 2012 and have pretty much been inseparable since. We'd spent years listening to NYC instrumental soul like El Michels Affair and The Menahan Street Band, as well as local shit like Karate Boogaloo and The Cactus Channel plus records in our collection from David Axelrod, Isaac Hayes, Bob James and the like, and wanted to start making music from that world.
Carl (bass) and Andrew (drums) were mates from music school, we'd played together in a sessional capacity in various bands, but Chef was the first original band we all got to collide in. Carl had a band called WVR BVBY at the time, and Andrew was busy with plenty of session gigs and touring. We wrote a couple of tunes and recorded them with Henry Jenkins in Karate Boogaloo's studio in an attic in Collingwood, a space then in its infancy. We started a label called College Of Knowledge to issue that 45. 
How would you best describe the sound that you make?  
Leon Michels (El Michels Affair) coined the term 'Cinematic Soul', and as far as genre identifiers go, that one has always seemed to fit. To me, it unifies sounds from film scores, funk instrumentals, library music, hip hop samples and the like under an umbrella term that makes sense. We take a lot of arrangement cues from Leon, Tom Brenneck and Isaac Hayes.
Who are some of the artists that inspire the music you create today?
Karate Boogaloo: https://karateboogaloo.bandcamp.com/music
The Pro-Teens: https://thepro-teens.bandcamp.com/
Let Your Hair Down: https://letyourhairdownmusic.bandcamp.com/
El Michels Affair: https://elmichelsaffair.bandcamp.com/
David Axelrod
Isaac Hayes
MF DOOM
Is there a record throughout time that you wish Surprise Chef had made?
I wouldn't quite put it that way, but when I heard the first Pro-Teens album 'Tumultuous Times', it blew my mind that something representing all my musical sensibilities could be made, and so much better than if I had tried to do it!
The College of Knowledge looks like a very interesting place. What happens there?
These days it's pretty much wake up, drink lots of black coffee, record music, pack College Of Knowledge orders, play video games and repeat. It's a deeply blessed routine.
Who makes the pancakes?
Jethro is by far the most accomplished chef in the house. We'd be eating rocks without him.
What came first the studio or the label?
The label came first. We recorded the first 7", and in the absence of another label in Melbourne that was releasing instrumental soul music, we opted to start our own and figure it out for ourselves. Karate Boogaloo had a studio space and a tape machine, so recorded the first few releases there. Once we bought our own tape machine, we set up the studio in our house and recorded All News Is Good News. The releases on College Of Knowledge are recorded either at our place (Surprise Chef's two LPs, The Pro-Teens 'I Flip My Life Every Time I Fly + others forthcoming) or at KB's space (Karate Boogaloo's records, Let Your Hair Down's album etc).
What releases have you put out on the College of Knowledge label?
As well as Surprise Chef there are LP's and 7″s from Karate Boogaloo, The Pro-Teens, Snooch Dodd & The Pro-Teens and Let Your Hair Down.
Check them here: https://collegeofknowledgerecords.bandcamp.com/music
Your album – All Good News – made a fair impact over here. Gilles Peterson loved it. How does that feel to have someone so key into your releases?
It's cool that Gilles digs the music. I met him in early 2020 when Crown Ruler brought him to town. Craig The Giant (real name redacted) had a couple too many fireballs, so I had to step in and drive him around after the show. Surprise Chef had just put out our All News Is Good News, and I think he got a copy of the LP from Melbourne's main man of funk, Chris Gill at Northside Records.
How did the Mr Bongo relationship begin?   
I was working at a record store called Plug Seven, and Heather Sheret from the Mr Bongo team came in when she was here in holiday. We'd just released the Surprise Chef / Karate Boogaloo split 7", and she took a copy back to Brighton. Mr Bongo kind of championed that release, and when All News Is Good News came out, they asked if we wanted to work together on releasing records.
Your album 'All News Is Good News,' Mr Bongo have re-issued this album. So, you put it out on your own label first? How did that go?
When we first released the record, we only made 300 copies worldwide. We didn't have a lot of cash, and we didn't expect the record to go further than the usual funk heads on the scene here. Those copies sold out in the first weekend, and there was more demand overseas than we expected. It was great to work with Mr Bongo rereleasing it, learning how their process differed from our very improvised release strategy. We learnt a lot from the great Matthew Neale at Mr Bongo, who can take credit for much of the success of that record.
How many releases have you worked on now with Mr Bongo now?
https://surprisechef.bandcamp.com/album/daylight-savings
https://surprisechef.bandcamp.com/album/all-news-is-good-news-2
Mr Bongo have released both Surprise Chef albums (All News + Daylight Savings), and recently signed the Pro-Teens for a few records. They were also the exclusive EU stockist for Karate Boogaloo's stone-cold killer 7" Stay Healthy / Empowered, Bye The Sadness (independently released by the band on the short-lived Frollen Records imprint) that we uncovered some copies of and rereleased last year.
On this new remix EP how did you get the dream team – Masters At Work – on board? That must feel pretty special..
Definitely – Kenny and Louie have well and truly solidified their place in the enduring culture of funky music in America. Kenny has had his hands on a lot of music that's made a mark on us over the years through his Kay-Dee label alongside Keb Darge. 
Have you all been fans of MAW over the years?
For sure. Jethro is the deepest into collecting house records and spinning those sounds out of all of us, he knows what's up in that realm.
I was listening to the original Crayfish Caper. The MAW interpretation is pretty incredible! What do you think attracted them to that particular track?
That's a good question! I'd love to know myself. Crayfish Caper was one of the very first Surprise Chef songs we ever wrote. Arrangement-wise, it's a big nod to the stylings of Thomas Brenneck's linear guitar and bass lines, which are rooted in both American soul and Ethiopian music from the 70s. There's a lot of space in the tune; each part is designed to stay in its own lane and not compete for attention with other instruments. All of our recordings are produced by the great man Henry Jenkins (Karate Boogaloo), whose ability to make shit sound hot is, in our opinion, unmatched by any engineer in Australia. No doubt his production of the track made it an appealing option for Kenny and Louie.
Harvey Sutherland has taken 'New Ferrari' from your most recent album. He seems like a natural choice. He's in Melbourne so I guess you guys are mates?
No doubt, Mike is a good friend and a truly fantastic musician. We've been fans of his records and live shows for years. I'd hazard to say that his first few records had a lot to do with Jethro getting into keyboards and synthesizers (Jethro was a guitar player before Surprise Chef formed). We've worked on music with him before, and he was the first and only choice when it came to selecting someone to rework a tune for the dance floor. In true mad dog style, the only stems he used from the track were the flexitone track and a tiny snippet of guitar – the rest he replayed from scratch on his own gear. Truly baller shit.
Love to know about your live performance. Where have you played thus far? Are there additional musicians that come on board for the live?
The Surprise Chef live show includes the crucial factor of our good friend and honorary 5th member Hudson Whitlock. He plays vibraphone and a huge Ikea bag of percussion instruments that's perpetually spilling over with bits and bobs. Hudson is the lynch pin of weird funky instrumental music in Melbourne / Naarm, and his creative energy, natural exuberance and indomitable sense of humour keeps everyone going in every long studio session, late night gig and gruelling car trip. His bands Karate Boogaloo and The Pro-Teens are way cooler than Surprise Chef, I urge anyone with ears to check them out.
I know you had to cancel your European tour last year. Are there plans to do that again? Will we be welcoming you to the UK soon?
With any luck, our ill-fated 2020-turned-2021-turned-2022 European tour will be good to go next year. It's been disappointing to miss out on coming over to connect with crew over there this many times, but it will only make it sweeter when we finally make it to the Northern Hemisphere.
What would you say your next ambition is for Surprise Chef?
Make more records, have fun and learn as much as we can along the way.
What's in the pipeline for you release wise?
Stay tuned! There will be more new music before the year is out, and plenty of exciting stuff + new music in the next chapter that 2022 will bring.
So grateful for your time. Wishing you the best of luck with the stonking EP. But I doubt you'll need any luck as it's just so bloody good…
Grab Surprise Chef's new EP from 22nd October via: https://bfan.link/masters-at-work-harvey-sutherland
For more info please check:
Surprise Chef Facebook: https://www.facebook.com/aristosthefunkysurprisechef
Surprise Chef Instagram: https://www.instagram.com/surprisechef/
Surprise Chef Twitter: https://twitter.com/surprise_chef
Mr Bongo Facebook: https://www.facebook.com/mrbongoworldwide
Mr Bongo Soundcloud: https://soundcloud.com/mrbongo
Mr Bongo Instagram: https://www.instagram.com/mrbongoworldwide/
Mr Bongo Twitter: https://twitter.com/therealmrbongo
Tags:
College of Knowledge
,
Harvey Sutherland
,
masters at work
,
Mr bongo
,
Surprise chef