LV Disco Selectors 29 – College Of Knowledge / Surprise Chef [Mr Bongo]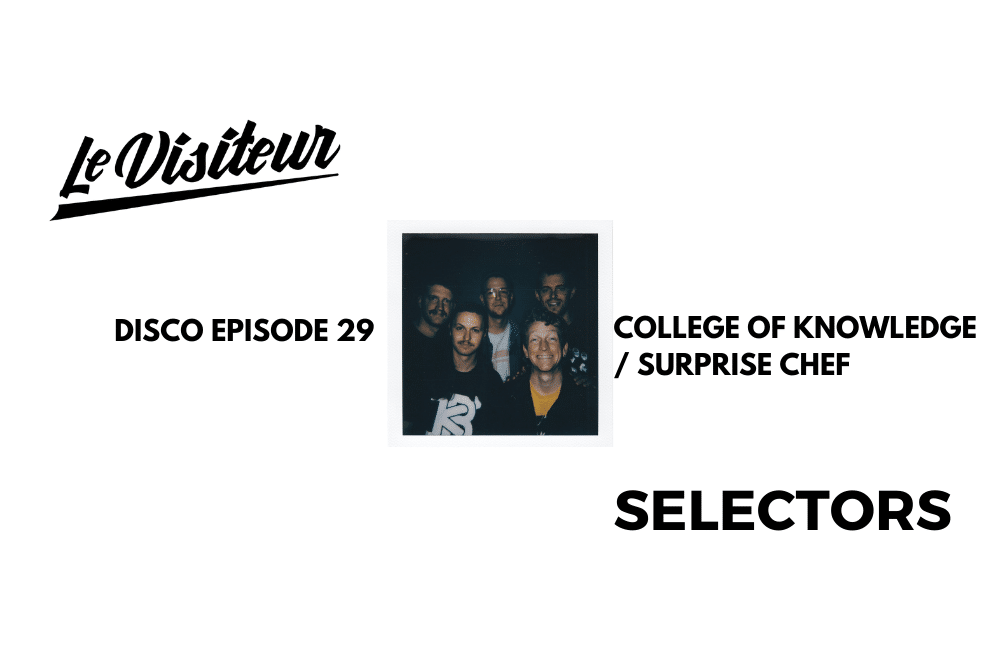 LV Disco Selectors 29 – College Of Knowledge / Surprise Chef
Like what you hear? To help support LV Online buy us a coffee via Ko-FI. Click HERE
Photo By Izzie Austin
Hailing from Melbourne / Naarm Surprise Chef are a band who are creating a rather large buzz across the globe as well as in their own backyard. Working out the College of Knowledge stable which encompasses a studio as well as the record label, and is also their DJ moniker when playing out, they have an intoxicating laid back soulful sound which encompasses the funkiest of riffs, hooks and a seriously impressive rhythm section.
Their latest EP see's them enlist the unquestionable skills of Harvey Sutherland and Masters at Work who cook up both a MAW remix and a Nuyorikan Soul remix for the package. Safe to say it's a rather tasty release which lands on the 22nd of October via Mr Bongo.
Get intimate with the EP via: https://bfan.link/masters-at-work-harvey-sutherland
We have a full interview incoming with Surprise Chef this week to talk about the release, the band and of course those remixes. In the meantime they have put together this rather outstanding mix for us and we had a quick chat to them about the mix. You can also check the full tracklist at the bottom. Enjoy xx
Q1: What can you tell us about the theme of the mix and what are some of the key tracks for you?
We centered this mix around the inclusion of the two cuts off the Surprise Chef remix 12″ (Harvey Sutherland's New Ferrari Weird Flex and Nuroyican Soul's Crayfish Caper Broken mix). We don't often get into the heavy electronic cuts when we DJ as College Of Knowledge, so this was an opportunity to use some other areas of our record collection, digging into electro, house and techno, whilst also flexing our usual disco, modern soul and dub cuts. Key cuts include a Asphalt Jungle – Freakin Time (a 45 that never leaves the box in dancefloor situations), Jah Shaka – Prayer Of David dub (crucial UK 90s roots) and Borrowed CS – Balance (killer 12″ from our man Cory Champion in Aotearoa, released by the great Planet Trip Records from here in Australia).
Q2: How does the style of mix here compare to how you would approach a live DJ set?
Given the mix is only 60 minutes long, we covered a lot of musical territory in a more rapid way than we would usually in a live set. We wanted to touch on a few crucial areas of what we do as DJs, whilst also reaching into some of the more electronic parts of our collection. It was fun to jump around genres a bit in a shorter mix.
Q3: Which other artists DJ mixes do you find yourself coming back to time and again and do you have a favourite that you gravitate towards?
Too many to mention here: Miss Goldie from Melbourne is a heavyweight soul DJ with a collection no one can test. Her radio shows and mixes are always top level. Our good friend and booking agent Jamie Bennett aka Jimi Dawg (Crown Ruler) is a truly respectable head with acute attention to detail, and his mixes are always dope too. DJ JNETT is a legend of our city and her mixes take us to school time and time again. Mike Who is a true don with freaky sounds up the wazoo, the man's well of obscure dope shit runs deep and every mix is quality. Last but certainly not least, we have to big up Hudson Whitlock who plays percussion in Surprise Chef. He is an incredible DJ with a brilliant mind and great sense of humour; both of which come through undeniably in his DJing and record collecting. Here's a killer mix he recently did for Mr Bongo's Record Club series that we've been running on repeat.
For more info please check:
Surprise Chef Facebook: https://www.facebook.com/aristosthefunkysurprisechef
Surprise Chef Instagram: https://www.instagram.com/surprisechef/
Surprise Chef Twitter: https://twitter.com/surprise_chef
Mr Bongo Facebook: https://www.facebook.com/mrbongoworldwide
Mr Bongo Soundcloud: https://soundcloud.com/mrbongo
Mr Bongo Instagram: https://www.instagram.com/mrbongoworldwide/
Mr Bongo Twitter: https://twitter.com/therealmrbongo
LV Disco Selectors 29 – College Of Knowledge / Surprise Chef – Tracklist
Nancy Wilson – Sunshine (Capitol)
Tony Silvester & The New Ingredient – Cosmic Lady (Mercury)
Asphalt Jungle – Freakin Time (TEC)
FF Yellowhand – You Want Every Night (Fire-sign)
Silver, Platinum & Gold – Just Friends (FARR)
Surprise Chef – New Ferrari (Harvey Sutherland's Weird Flex)
Troy Rainey – Tricky Tee Rap (Heavenly Star)
Synergy – Project "5" (Time Trax)
Mad Professor – Schizophrenic Dub (Ariwa)
Jah Shaka – Prayer Of David Dub (Jah Shaka Music)
Prince Jammy – Throne Of Blood (Trojan)
Rhythm & Sound w/ Jennifer Lara – Queen In My Empire (Burial Mix)
Surprise Chef – Crayfish Caper (Nuyorican Soul Broken mix)
Borrowed CS – Balance (Planet Trip)
Mayday – Tic Tic Tic (Pheerce Citi)
Tags:
College of Knowledge
,
Harvey Sutherland
,
masters at work
,
Mr bongo
,
Surprise chef