The Quick 6 – Carlo – LV Selectors 25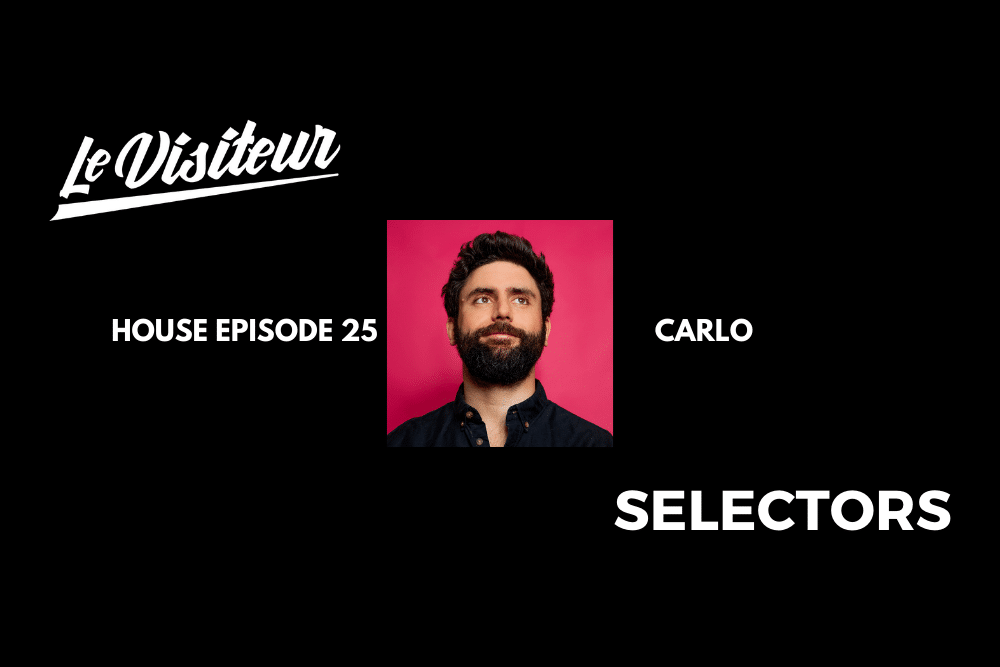 The Quick 6 – Carlo – LV Selectors 25
Berlin based, Spanish born, producer Carlo has built a strong following over the last few years through both his own releases and via his exciting label Aterral which has recently released great EP's from Black Loops and Lis Sarroca.
His latest release the Mediterraneo EP, which lands this week on Aterral, is a serious collection of timeless house tracks fusing a number of styles to create four tracks which are high on drama and full of dancefloor nous.
To celebrate the release we spoke to Carlo about his career to date, the new EP, influences and his studio. We also asked Carlo to put together a mix of our Selectors series, check it out below and please give it a share on Soundcloud and help spread the love for this talented artist.
Grab the Mediterraneo EP via: https://carlo.bandcamp.com/album/mediterraneo
Q1: Who is Carlo?
Carlo is a Spanish dj/producer who truly loves House music and is trying to bring some new flavours to the genre while paying respect to the roots. Since I was a kid I have always been influenced by disco, funk, jazz, house and all sorts of music that were falling into my hands. I started playing bass guitar in some bands on the late 90s and slowly I got into electronic music.
As I did not have many chances of develop a career in my hometown of Malaga I moved to London in my early 20's. In UK not much happened with my music but I learned to work hard. Afterwards I lived for one year in Barcelona until I moved to Berlin 10 years ago. Berlin has been the most worthwhile experience of all so far as I always dreamed to be an active part of the music scene of this city. Being a resident of the Koffain parties at IPSE playing with people like Folamour, Dan Shake, Paul Johnson, Demuja and Harrison BDP and curating my own event at Watergate every two months has brought a lot of beautiful musical experiences into my life.
On the label side I've been running Neovinyl for 11 years and recently I started my own label Aterral. As a producer I have been putting music out on labels like Classic Music Company, Madhouse and Bestefreunde. My music has been played by names like Moodymann, Kerri Chandler, Session Victim and Fred P among others.
If there is something I need to highlight from my sound it would be the joyful mood that you can always find in my productions and my mixes. I think this comes out of the cheerful lifestyle of the south of Spain which will always remain as a part of my identity.
Q2: What is your latest release?
My latest release is an EP named Mediterraneo coming out on Aterral. This is a release where I try to develop my concept of house adding some 2021 flavour to an old school sound. When I was selecting the tracks for this release my intention was to communicate which kind of sound that I want to establish for the label on this 2021.
Also as I haven't had the chance of visiting my hometown and my family for more than a year, this record is a little tribute to them. Every track has something related to the smells of the city (azahar is the flower of the Lemon and Orange), the tastes (naranja amarga is a very particular orange which tastes extremely acid) and of course the people (mijilla is a word only used in Malaga to say a very small quantity of something).
Q3: Who are your greatest influences as a producer?
Anthony Rotter
When I first started making electronic music, I made a lot of electro pop. I never felt so excited by a new genre as when I discovered Anthony Rotter and everything he was doing. This tune and his style totally changed the way I wanted to make music.
Matthew Herbert
There is one day when suddenly you discover that glitches and noises can make beautiful music. Matthew Herbert opened a whole new world of possibilities for my music. He is one of the producers that really shaped me.
Luomo
I don't understand why Luomo is so underrated. I love the way he keeps the tension in his tracks with such graceful simplicity. I remember playing this track over and over in an old cd player in my kitchen while I was cooking. I still get goose bumps every time that I listen to it. This is the artist who really got me into deep beats.
Q4: Please tell us about the electronic scene in Berlin where you are based. Which artists from the scene past and present have inspired and encouraged you and what parties that you have loved going to pre Covid have helped your musical evolution?
The scene in Berlin pre Covid was like a big family, everyone knew each other and we had a lot of possibilities as every day the city was full of great events. This allowed me to have the chance to see many known and unknown DJs developing their sets through never-ending parties. I will always remember the first time I went to Panorama Bar after I moved to Berlin where I got to see a four Hour set from Hunee when he wasn't that big yet. I was not so familiar with soulful music on the dancefloor by then and he blew my mind track after track. That day was a game changer for me.
My favourite parties were at IPSE, Heideglühen, Wednesdays at Watergate and of course Panorama Bar is a must for any house lover. For the local artists that shaped my taste I'll go for all the underground heroes in the city like Cecilio, Black Loops, Sugarfree, Laurine and Lewin Paul to name a few. I'd also like to mention a couple of clubs that do not exist anymore, Soju Bar and Farbfernseher, those places were really good.
Q5: You are also behind the label Aterral on which this EP is landing. With recent excellent releases from Black Loops and Lis Sarroca it's very much a label on the move. What can you tell us about the ethos of the label and how you plan to develop it in the coming years.
To be honest I don't have an exact plan of how I want this label to develop but my idea behind it is just to release music I like from people I love. Whatever is coming out of there can only be good because I'm putting all my heart in the project. One thing I'd like to achieve with the label is to raise the awareness of underground dance music in Spain and to try and start a sort of House movement in my hometown where this music is not so popular (yet).
Q6: What else can we expect from Carlo the artist in the next 12 months?
Right now I have a couple of upcoming records on Honey Butter and Shall Not Fade and then I would like to focus on my first album. That's basically 2021 for me.
For more info please check:
Carlo Facebook: https://www.facebook.com/carlothings
Carlo Soundcloud: https://soundcloud.com/carlothings
Carlo Instagram: https://www.instagram.com/carlosthings/
Aterral Facebook: https://www.facebook.com/aterralrecords
Aterral Soundcloud: https://soundcloud.com/aterralrecords
Aterral Instagram: https://www.instagram.com/aterralrecords/
LV Selectors 25 – Carlo – Tracklist
Duran Y Garcia – Heavy Piano
Carlo – Mediterraneo
Toka Project – Cafe Style
Da Players – Gentle Touch (Da Players '98 Rework) (Richard Marshall Remix)
Dez Andres – As We Rock On
Peter Croce – Love Peace and Joy (Edit)
SOS Band – Take Your Time (Do It Right)
Rafa Santos – Back To The Dancefloor
Carlo – Azahar
Carlo – Rabia y Miel
Geena Bess – How Hard I Search (Flying High Mix)
Philly Devotions – I Just Can't Say Goodbye