Welcome to the Hideaway | February 2021 – Making a Connection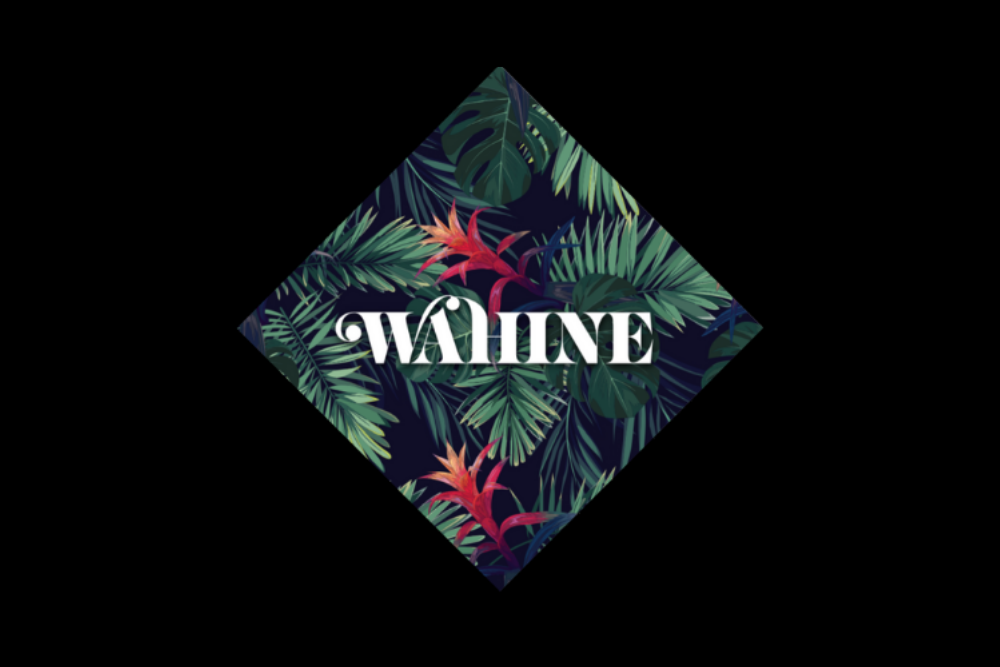 Welcome to the Hideaway | February 2021 – Making a Connection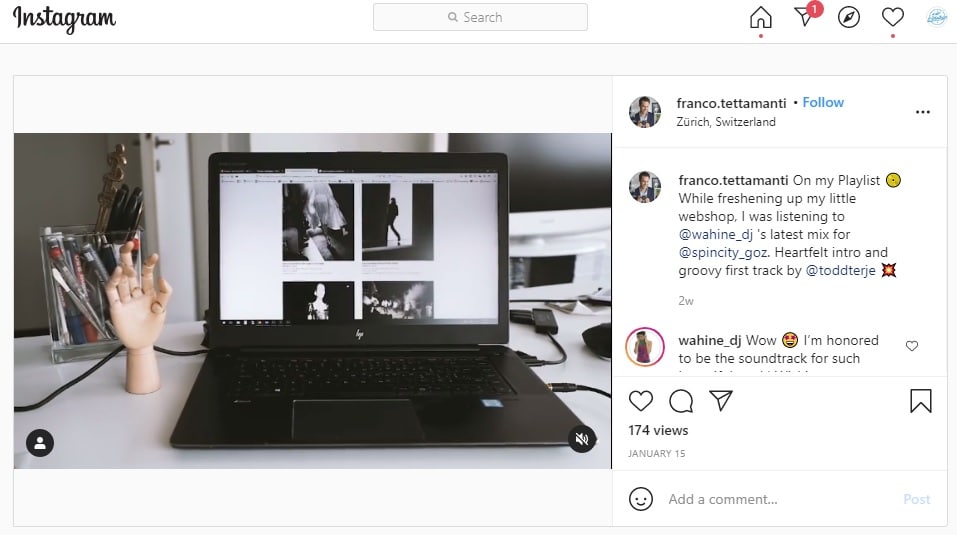 Friday, January 18th, 7:30am. Bleary-eyed, I'm shutting off the alarm on my phone. With one eye open, I notice an alert. Instagram is trying to tell me something. I'm all thumbs at that early hour and unintentionally click on the notification. I am instantly taken to a very crisp and polished video of a laptop screen that is scrolling through professional black and white photography of fashion, architecture, and fine art. The imagery is beautiful, but foreign to me. The accompanying soundtrack, however, is familiar. I immediately recognize the song as Todd Terje's, "Preben Goes to Acapulco," which I used as the opening track of my first mix of 2021 for my residency with Spin City. Still squinting at the screen in a combination of half-sleep and confusion, both eyes pop open when I hear my own voice over the music.
Still confused, I read the caption for more context:
"On my playlist. While freshening up my little webshop, I was listening to @wahine_dj's latest mix for @spincity_goz. Heartfelt intro and groovy first track by @toddterje" 
My heart swelled with joy and validation. Recording voice overs is new to me. I am still finding my voice, working through the nerves, and getting accustomed to the strange sounds that come out of my own mouth, but I push through and give myself permission to be imperfect. I recently discovered that if I smile while speaking what I've written down, the warmth in my heart translates to the words I speak.. But it's not about me, it's about the message and setting the tone for what people will be listening to. 
I immediately responded to the post with a comment and ended up having a lovely little exchange with the owner of the Instagram account—the talented and accomplished Zurich photographer, Franco Tettamanti.
Then I went down the rabbit hole: elegant candids of luminaries from every creative corner of fashion, art, and design—Vivienne Westwood, H.R. Geiger, the graphic designer that created the Avenir font. I am particularly fond of a playful image of Christian Louboutin. A colorful beaded mask is perched on his head, and his nose is firmly planted inside a shoe bearing the same meticulously beaded design. A wry grin peeks out from the side of the stiletto pump.
Can an image be both stark and approachable? Few things simultaneously achieve both warmth and elegance. His work is exquisite. I too am inspired, and decide to purchase a copy of his coffee table book Showtime, featuring his backstage photography from Paris Fashion Week as a reminder of the exchange we just shared. Also to remind myself that my fashion sense has not been completely diminished to little more than pajamas, sweatpants, and loungewear when I'm feeling "fancy."
A few days later, our warm exchange was still on my mind. I decided to reach out via direct message on Instagram.
Hello Franco!
I hope this message finds you in good health and spirits. I wanted to take a moment to say hello and thank you for being a bright spot in my day when you tagged me in your post last week.
DJing has been a strange endeavor over the last year with in-person shows cancelled, but you reminded me that inspiration can happen other ways, and over long distances in these online formats. It's nice to know that someone is listening and you helped renew my sense of purpose. I appreciate it greatly!
Your beautiful photography and impressive portfolio of work with world-renowned creatives also reminded me that style and aesthetics are something that I want to focus on for the coming year.
I purchased a copy of "Showtime" as a reminder of this moment of inspiration we shared. I look forward to pouring over it when it arrives.
I guest blog for a house music site called Le Visiteur, and I may just include our exchange of inspiration in my column. A lot of my colleagues in the industry are having a hard time finding purpose in what we do at this time. I hope this can be a reminder to them that what they do still matters to people–perhaps even more so right now.
Thanks again for connecting and I wish you all good things in 2021!
Once he realized that I had purchased his book, the conversation moved to email:
Dear Lauren
Thank you very much for taking the time to write me a message and mentioning that I was a bright spot in your day. You were and are the same to now as I read your lines.
The pandemic has been a catalyst for a lot of things in the last year, in the sense that it was accelerating transformational processes that were already on their way. But it has also been unfair and hard to businesses and people who were doing the right thing in producing a good that was actually appreciated and demanded, but they were halted on behalf of security measures.
I think it is obvious that wherever people gather together, the risk of virus transmission increases. But it is very unfortunate that somehow the cultural world has not been considered of systemic importance. Unlike transportation for example. I would be pretty sure that there would be a possibility to be on a dancefloor with similar safety measures.
Psychologically, one should not expect that work makes one happy, But it sure shouldn't be the other way around. An important aspect of work is the purpose to enable you to live a life, with money. If, for example, all your income sources as a DJ are cancelled, you of course start to question the purpose of your work. But I can assure you that music and rhythm is and always will be an endlessly important aspect of all humankind.
If I only could inspire you. I recently saw DJ Fat Tony playing a set in a fish market in London. It was fantastic. Maybe you have to find dancefloors in other areas such as clubs, maybe supermarkets, malls or larger corporations.
Be safe. And thank you again for the connection and inspirational exchange.
Franco
I shared a challenge to our listeners to live in possibilities. He heard me and the words resonated with him. He used technology to make a connection over the long distance. I got curious, and was in turn inspired by his work. Energy was exchanged between Atlanta and Zurich. Inspiration and a feeling of gratitude between strangers was sparked on opposite sides of the planet simultaneously. That, my friends, is magic. 
There's no howling-with-delight crowd jumping, twirling, and posing before me. In the age of covid, my live sets are limited to an audience of two: my husband ticking away at a computer screen with our friends in a livestream chat room, and our dog tightly curled into a neat little ball, while quietly tolerating the blaring speakers. The instant visual, visceral and aural feedback we are used to receiving as DJ's has essentially disappeared. That is why this moment mattered to me. I need periodic reminders that people are still out there listening, dancing, and being inspired by the music. 
How do I know they're still dancing? Some of them tag me in their dance break videos on Instagram and I live for it! 
Al is a yoga instructor in Baltimore. He twirls fire and encourages all of us to let shit go and be less judgemental of ourselves. He demonstrates what "dance like nobody's watching" looks like through his carefree improvisations, while sporting the biggest "is it all over my face" love-dancing grin. 
Christian is a life coach, and former event photographer who makes glittery erotic art. He sends me a video message with every new mix to tell me, "Girrrrl! You are magic!", while snapping his black fan and spinning around his flat in Portugal. He was also kind enough to connect me with two other female DJs so that we could start a mastermind group and support each other's endeavors as minorities in the scene.
Before the pandemic, Franco, Al, and Christian were beyond my awareness, but they stumbled upon my mixes and felt a connection. They were courageous enough to reach out to a stranger and I am grateful because now, they're friends. That is the magic of this music.
My mission as a DJ and event producer is to bring people together and create a space for the magic that can happen when the beat drops and the right people are in the room. At the start of the pandemic, I wondered how we were going to fulfill our need for that dance floor connection without in-person events. Over the last year, the answer has been revealed to me as I've become immersed in an online community of DJ's and House Heads—a roving band of disco gypsies who make the weekly rounds at various online radio shows and livestreams in our genre. The rotation goes like this: Hot to the Touch and DiscoDaze on Fridays, one of us livestreaming on Saturdays, Spin City on Sundays, and The Black Light Disco on Mondays. 
The Disco Waltons
Several months ago, we started calling ourselves "The Disco Waltons," poking a little fun at the very polite way that we all take the time to say 'goodnight' to each other in the chat rooms. It is very much in the spirit of the long-running, family values show set during The Great Depression, "The Waltons." 
If you're unfamiliar, we were referencing the scene that closed out each episode of the show's nine seasons in which every member of the family takes the time to say 'goodnight' to the others by name in a large, multi-generational household. It takes time. I suppose it's like back in 2019 when it would take 20-30 minutes to depart from the club because we wanted to hug all of our friends goodnight. 
We're celebrating a Walton Family birthday, so we've organized an online lineup of livestreams and radio shows that will likely span 4 hours or more. Have I mentioned that I haven't met any of my Disco Waltons in person? And yet, I am probably in touch with them more frequently than anyone outside of my own household. We've never met, and yet we are all crystal clear on the fact that these are our people. We often joke in chat about what a spectacular mess it will be when we all finally meet. A Disco Waltons world tour is being discussed for the post-pandemic period. I seriously can't wait.
Now that I think about it, chat rooms were my daytime stomping grounds when I first started in the house scene. If I wasn't ruling the dancefloor, I was toggling nonstop between Radio FG and Ministry of Sound Radio. I simply couldn't get enough of The French Touch DJ's and "Ministry of Sound Dance Party" hosted by Rob Sharp back when Africanism was influencing me more than I could ever know, and Defected Records was just a few years old. Back then, my chat room family was known as "The Usual Suspects," which is how Rob would shout us out during the show. I'm not sure who came up with the name, but 20 years later, I am still in touch with some of those folks. 
In fact, Demetrius, the head of that crew, lives here in Atlanta. Demetrius booked me for my first Winter Music Conference gig when I was just getting started as a DJ. We had never met in person until Miami, but he heard my mixtapes and believed in me. A few years later, he brought the crew all the way out to Los Angeles for a weekend of events at the beach spot where I was a resident at the time. When I arrived in Atlanta over a decade later, he was kind enough to make sure I got hooked into the house scene here. And thank goodness he did, because I probably wouldn't be DJing right now, if he hadn't.
At the moment, the magical spark that comes from human connection might not appear in the form of sweaty bodies swaying unison on a dancefloor in Atlanta, Lisbon or Zurich. However, I can attest to the fact that the possibilities of connection, inspiration and magic are just a few clicks away.
Where have you found unexpected sources of community, inspiration and magic during these trying times? Drop a comment and a link below.
Where I find community AKA where the Disco Waltons roam. Join us!
Recent Sources of Inspiration and Magic: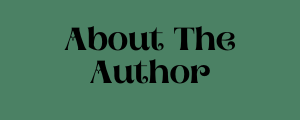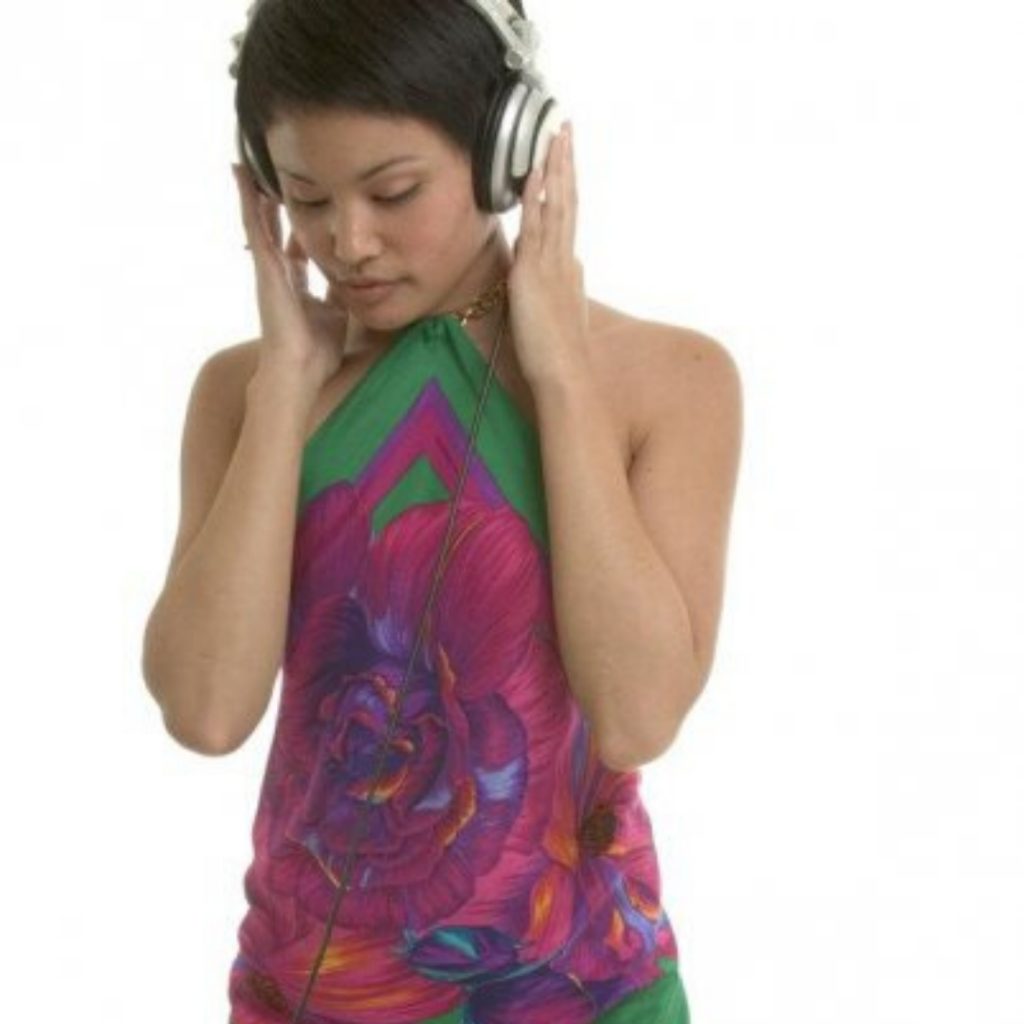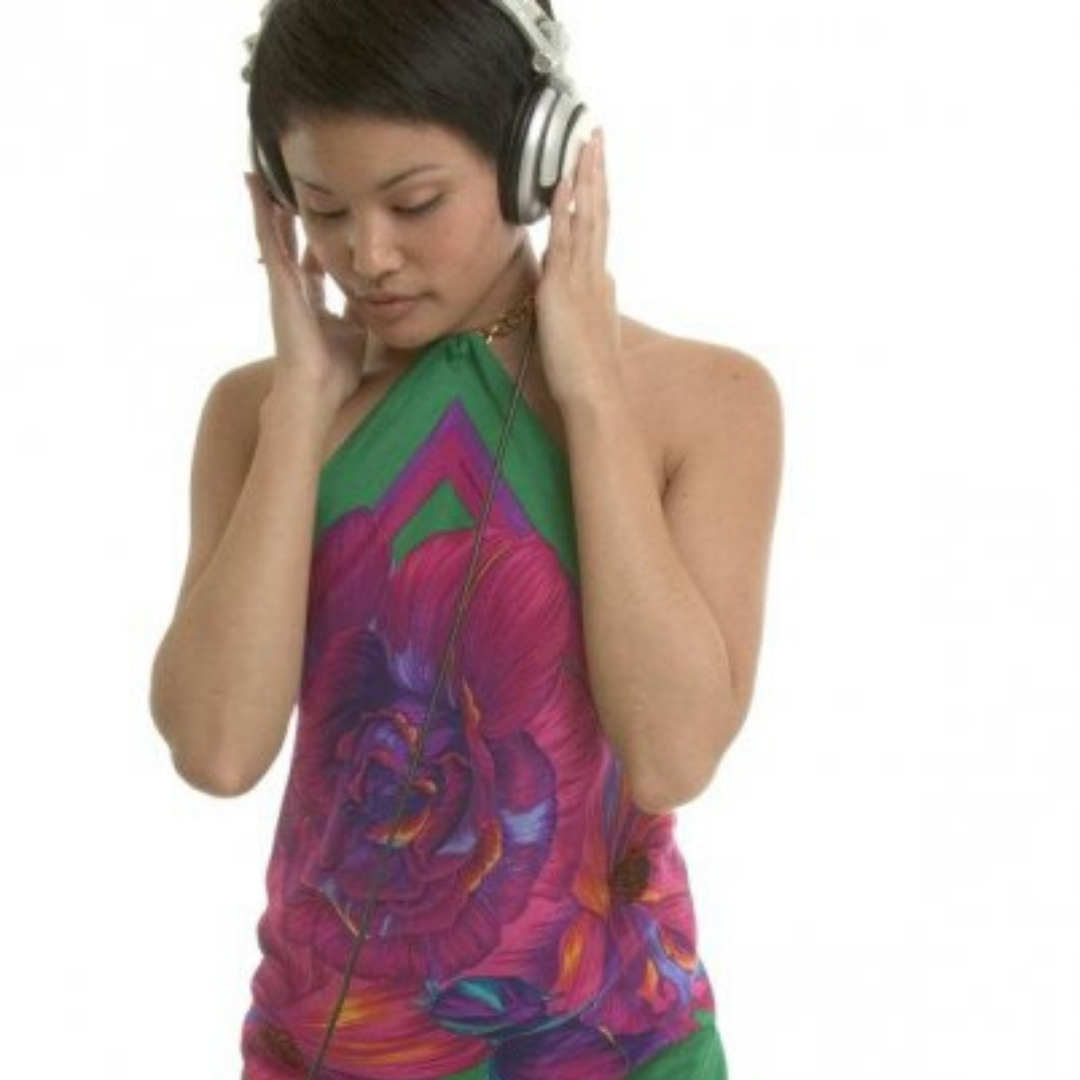 Wahine has been a breath of fresh air on the disco scene over the last couple of years. With unbridled energy and passion and a bountiful knowledge about the genre her mixes have kept regularly kept us entertained. We're not the only ones as her listening numbers are hugely impressive. Wahine is also a resident on the hugely rated Spin City radio. You can also catch her streaming via twitch.
For more info on Wahine check: 
Facebook: https://www.facebook.com/wahinedj/
Instagram: https://www.instagram.com/wahine_dj/
Soundcloud: https://soundcloud.com/wahinedj
Twitch: https://www.twitch.tv/wahine_dj
Twitter: https://twitter.com/wahine_dj
Tags:
disco
,
Wahine