The Scottish House and Disco Festival – Saturday 16th April – SWG3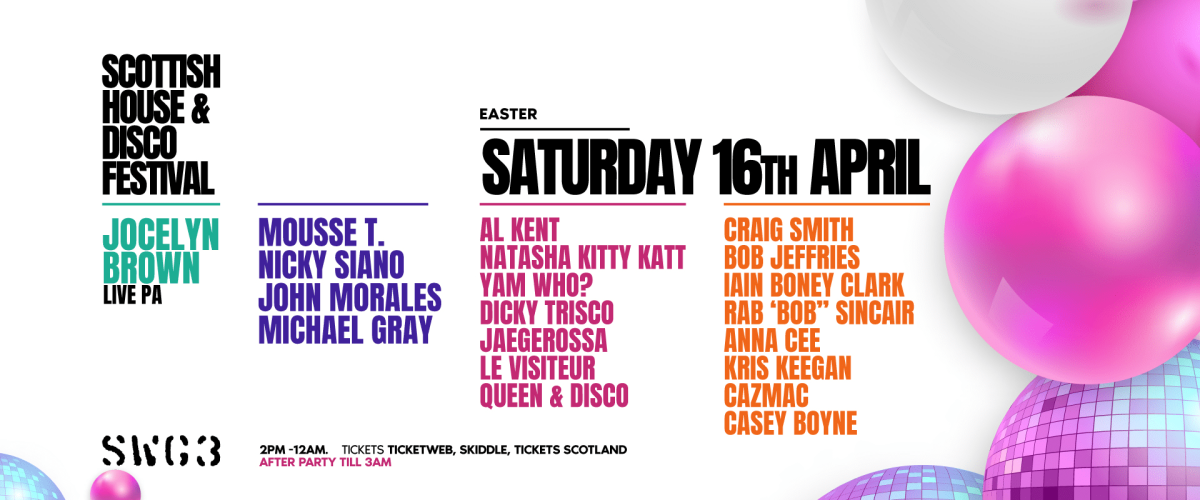 The Scottish House and Disco Festival – Saturday 16th April – SWG3
Over the last couple of years the UK has seen some superb Disco and house festivals pop up with Liverpool and Brixton especially standing out. Now the latest jewel in the UK's disco crown is the Scottish House and Disco Festival which fills that disco ball shaped hole north of the border. Put together by a hugely experienced team the festival teams up legendary artists with some of the cream of Scotland's house and disco fraternity and sees artists travelling from the length and breadth of the UK for what is a packed and extremely talented bill.
Headlining are Jocelyn Brown one of the finest ever voices in the disco and house world and a woman whose vocal delivery can cause a dancefloor grown adults to cry tears of joy, I have witnessed such a scene. She's simply a do-not miss artist.
On the decks are German legend Mousse T, a producer who has effortlessly walked the line between underground cool and commercial success since the 90's with a string of chart topping original tracks and go to DJ favourite remixes. His output is always straight from the top drawer and has seen him become on of the biggest selling electronic artists of all time.
Bringing some of that original New York disco magic to the event are Nicky Siano and John Morales. They are two artists who between them have helped establish the worldwide sound of disco with roots back to the nascent days of the disco phenomenon.
Among many accolades Nicky Siano was owner and resident at the incredibly influential Gallery and his clubs and approach to djing, which included being one of the first DJ's to mix records together seamlessly, inspired owners to build The Paradise Garage and Studio 54, where Nicky was also resident. He was also instrumental in launching the careers of Grace Jones, D.C. La Rue, Loleatta Holloway, Larry Levan and Frankie Knuckles.
Here is is in conversation with another one of the Scottish legend Yogi Haughton who is also appearing at the Scottish House and Disco festival.
During the same period John Morales was literally a hit making machine, on his own and as one half of M&M productions. Learning to edit tracks with razor and tape he was one of the first DJ's to create extended mixes to play out and his skills were such that he was soon in heavy demand as a producer in the 80's and 90's. During those years he would create more than 650 mixes for some of the luminaries of the music scenes including Jocelyn Brown, Tina Turner, The Rolling Stones, Aretha Franklin, Dan Hartman, Candi Staton, James Brown & Marvin Gaye, helping bring the disco and boogie sound to the very top of the worldwide charts. After a break from the music industry for a few years John came back at the end of the 00's picking up where he had left off creating some truly spellbinding remixes which have seen him sign and sell out compilations with the likes of Motown, BBE, Philadelphia International and Quantize.
As the official blog partner of The Scottish House and Disco Festival we have some brilliant features incoming so watch out for those as we will be chatting to many of the artists who will be appearing on the bill about their life's and experiences.
If you want to be part of this brilliant day of music put Saturday 16th April in your diary and grab your tickets via: https://www.skiddle.com/whats-on/Glasgow/SWG3/Scottish-House–Disco-Festival/36011408/
Early birds are a snap at £2+ BF for 10 hours of incredible music.
For more info please check: 
Web: http://houseanddisco.co.uk/
Facebook: https://www.facebook.com/ScottishHouseAndDiscoFestival
Tickets: https://www.skiddle.com/whats-on/Glasgow/SWG3/Scottish-House–Disco-Festival/36011408/
Tags:
disco
,
Jocelyn Brown
,
john morales
,
Nicky Siano
,
Scottish House & Disco Festival
,
Scottish House and Disco Festivak
,
Yogi Haughton