Get to Know: Reece Johnson & Love 'The Mix 01'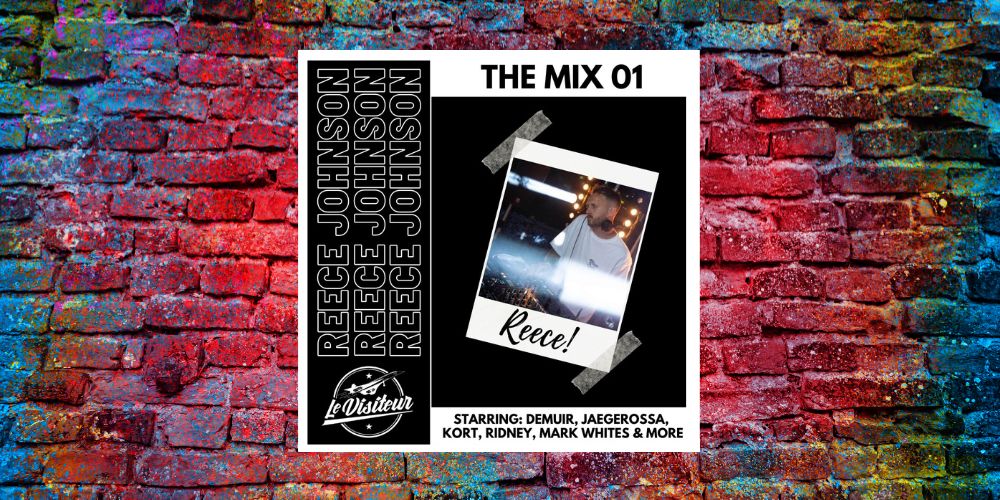 Reece Johnson is an artist I have kept a close eye on since his distinctive track Newt Life landed on Marcel Vogel's Lumberjacks In Hell back in 2018. Since then he has been a man posessed releasing some serious club ammo on the likes of Moment Cinetique, Robsoul, Tropical Disco and Hot Digits.
His latest see's him land on Midnight Riot with the excellent disco house groover Have Faith with it's head turning synth lines and a seriously classy vocal from Vanessa Jackson, as well as a super smooth Yam Who? Remix.
I thought it was high time that Reece stepped up to the Le Visiteur decks which he has done in style for the first edition of our brand new mix series The Mix. There is more on the mix below, including the full tracklist.
I also had a long chat with Reece about his career, Have Faith, his studio, his favourite producers and much more.
Where are you currently based Reece?
Currently based in Cornwall, but originally from Sheffield (well, 5 minutes away from Sheffield).
Who is Reece Johnson?
I've been producing on and off for around 12 years now. A good friend of mine taught me the basics in Ableton, and I've just been carrying on trying to learn from YouTube and stuff since. I dabbled a bit in Logic, but always ended up coming back to Ableton. I first started out making what I thought was like Chicago/classic house stuff and have now progressed into funkier, disco house and disco edits, it's a lot easier on the ears!
I used to run events in Sheffield with some friends called DE:BUG back in 2010ish. We hosted the likes of Dyed Soundorom, The Martinez Brothers, Dan Ghenacia, Crazy P, Eats Everything and Jordan Peak plus loads more. Sheffield is where I spent the best part of every Friday and Saturday nights in my clubbing days at clubs like Bed, The Republic, Fez Club and .zero. I spent a good part of my clubbing days going to Ibiza twice a year, once in the summer then for the closing parties, also travelling to the likes of Sankeys, Fabric and the End club.
I've been in Cornwall coming up to 7 years now and have a residency in Plymouth with a brand called Sonar. It's a wicked day and night party run by some good friends, and held in an ideal location (The Terrace Bar & Café) overlooking the sea. Perfect on sunny days!
How would you say your own productions have changed over the last 15 years since you started producing music and what would you say are the three key releases across your career so far.
I started off making like classic house/Chicago style house, and have progressed to more funkier beats in disco house and disco edits now. I still try and make the odd classic track but always end up with the more funkier stuff.
Let's Dance – This was my first ever edit I signed to the awesome Roots For Bloom Records, ran by Jamie Trench. It was part of the S.H.A.G. (Second Hand Audio Gold) Edits, a series I'd loved from the label and been trying to make something that would fit. We'd booked Jamie for our DE:BUG events so I'd regularly keep in touch with him over socials and was buzzing when he signed it, and it was my first signing for a vinyl release.
Reece Johnson – Neyt Life – Another edit, but this one I would say has done the best for me in terms of chart placement, air time and support. Funny thing is it nearly didn't happen. I'd sent a handful of demos to Marcel Vogel and unfortunately at the time he passed on them, which is fair enough, rejection is all part of the process, we just have to keep going. Fast forward a few weeks or months and I was working from home and saw Marcel post on facebook along the lines of "which artist sent a demo called Neyt Life" and basically an A&R 101 of artists adding metadata/labelling etc when you send your demos out to labels. It's a good job I saw the status otherwise I would have missed out big time. The track went on to be played at some pretty big events, ADE being one, and I also went to see Dan Shake DJ and he opened his set with it which was unreal to witness.
Reece Johnson – Slow Burner – Selected Grooves Vol.1 (Robsoul) – I've chose this one because it was an absolute dream to sign to Robsoul. I've followed Phil Weeks and Robsoul for years and to get a track signed to the label, and also feature on an EP with some absolute legends was an additional bonus.
How would you describe your music ethos right now?
I think my musical ethos right now is to just make music that will make people dance and be happy, and smile, really.
Please tell us about the electronic scene where you are based. Which artists from your local scene past and present have inspired and encouraged you and what parties that you love going to have helped your musical evolution?
This is a bit of a tough one as my musical journey falls between 2 destinations, Sheffield and Cornwall.
To be honest, there's not that much of a scene in Cornwall for disco house or disco (that I'm aware of). There's plenty of tech house and DnB etc. There's and artist here called Jazz Mango who's really talented, he plays the trumpet, keys and percussion when he DJ's! His productions are decent as well! One to keep an eye on for sure! We keep saying we're going to get together and make some tracks but findiing the time is difficult.
I spend most of my time at gigs in Plymouth, and the scene there is wicked. There's aways loads of events on, including my residency *PLUG* at Sonar, but there's also 2 new nightclubs opened as well as plenty of quality house and disco events to take your pick from.
Who are your greatest influences as a producer?
Dan Shake – Dan's productions are ace. I've kept in with his stuff from the beginning with is release on Moodymann's Mahogony. He's made some awesome edits as well as some disco house belters that you can play early doors or late on. This is one of my faves – Dan Shake – Buy yourself friends
Phil Weeks – The master of the MPC. I love the simplicity of his tracks and the damage they can do! Phil Weeks It's the Inside That Counts
Moodena – What can I say about Moodena. Everything he makes/touches is gold really. From the remixes to his own tracks. Every one of them sure to get feet tapping and bums moving. Rhyze – Do Your Dance (Moodena Remix)
Tell us about your latest release Reece?
Have Faith was originally started at the back end of the dreaded lockdown. It's a lot different to what I usually make, more slower and has kind of a relaxed summer beach vibe to it. I originally sent it to Melvo Baptiste for the Glitterbox label, but after a few conversations it didn't quite hit right, but he kindly sent the track to Andy (Yam Who?) at Midnight Riot to see if he'd be interested in taking it on, which thankfully he did, and the rest is history! Really grateful for Andy taking it on, and providing a tasty remix which has done really well in the charts. I'd been sending stuff to Phil (Jeagarossa) for some time as Midnight Riot has always been a bucket list label so when Andy accepted the track, I was really happy!
Grab have Faith via: https://www.traxsource.com/title/1983527/have-faith
Your Studio: Please can you tell us about your studio. What is your production set up? What is your indispensible piece of equipment or plugin that you use for your sound and what is next on your studio shopping list?
No massive studio here. I have a Macbook Pro and some beyerdynamic dt990pro headphones, more often than not I use my Sennheiser HD25's until I can get a more permanent place set up to produce, as I have to produce between caring after my young family.
Please can you give us your three favourite studio tips for up-and-coming producers?
Practice, practice, practice! Haha! I tend to research and watch a lot of youtube tutorials to help me with certain aspects of my tracks, there's some great resources out there if you can't afford to pay for a course. Also, try not to compare your journey to similar artists. Their situation to how they got to where they're at could, and more than likely will be, different to yours, so don't beat yourself up if someone is getting on differently to you, just keep going!
What can you tell us about the theme of the mix you have done for us and how does the style of mix here compare to how you would approach a live DJ set?
The mix I've prepared is more of an early evening set. Kind of the stuff I'd play early warm up for a day party. I tend to have a variety of set times so would approach each set individually depending on the time and who I'm following on from or warming up for. I usually do a bit of research on the people on before and after so I can tailor the beginning and end of my sets, so the night flows well for the punters.
Which other artists DJ mixes do you find yourself coming back to time and again and do you have a favourite that you gravitate towards?
Totally depends what mood im in, and also the company I'm with…
Richie Hawtin & Sven Väth The Sound Of The Third Season 2002
When I'm with my old mates or reminiscing old times with them, this mix (or compilation), always gets mentioned. Anything Cocoon/DC10 from 02-07 will always bring back some fond memories.
Folamour | Boiler Room x FLY Open Air 2019
– This one is always nice to get into on nice sunny days. Folamour is a quality selector and this set hits right!
As Heard on Radio Soulwax Pt. 2
One last one – this is always on in the car. Feel good, funnky and some absolute heaters in there. If you're not heard this, it still sounds awesome after all these years.
What else can we expect from Reece Johnson in the next 12 months?
As well as the worldwide release of "Have Faith", I've got forthcoming digital releases with Pomme Frite and Tropical Disco Records, and I have some vinyl releases with Caffe Carretto Edits, ESUOH and Lego Edits.
In terms of gigs, I have my summer residency with Sonar over in Plymouth as well as gigs with other brands such as Dancers Hip and a vinyl only night too which should be fun! Hoping to get to one or two festivals this summer as well, Rock Oyster Festival was awesome last year.
For more info on Reece Johnson please check:
Reece Johnson Facebook: www.facebook.com/reecejohnsonmusic
Reece Johnson Soundcloud: www.soundcloud.com/reecejohnsonmsc
Reece Johnson Instagram: www.instagram.com/reecejohnsonmusic
Reece Johnson Twitter: www.twitter.com/reecejohnsonmusic
Reece Johnson – The Mix 01 – Tracklist
The Dead Rose Music Company – Tryin
Demuir – You Must Pay
Mike Nasty 'Jazz Club NY' ft. Omari Clarke (Extended Mix)
Igor Gonya – Beyond Retrieve
Reece Johnson feat Venessa Jackson – Have Faith
Thierry Tomas – Signor Pomidor
Jose Nunez – In My Life (Jazz N Groove Nu Disco Mix)
Baustaff – Feeling You (TMX Remix)
Jeagarossa – Side of Soul
Adelphi Music Factory – Jazz Hands (Extended Mix)
Mark Whites – Be with U
KORT – Make Ya Mine
Ridney & Andy Joyce x Richard Earnshaw – Reachin (Extended Revision)
Love this? Check out more from Midnight Riot here
Like what you hear? To help support LV Online buy us a coffee via Ko-FI. Click HERE
Tags:
Midnight Riot
,
Reece Johnson