Prime Distribution light up Record Store Day 2023, this Saturday 22nd April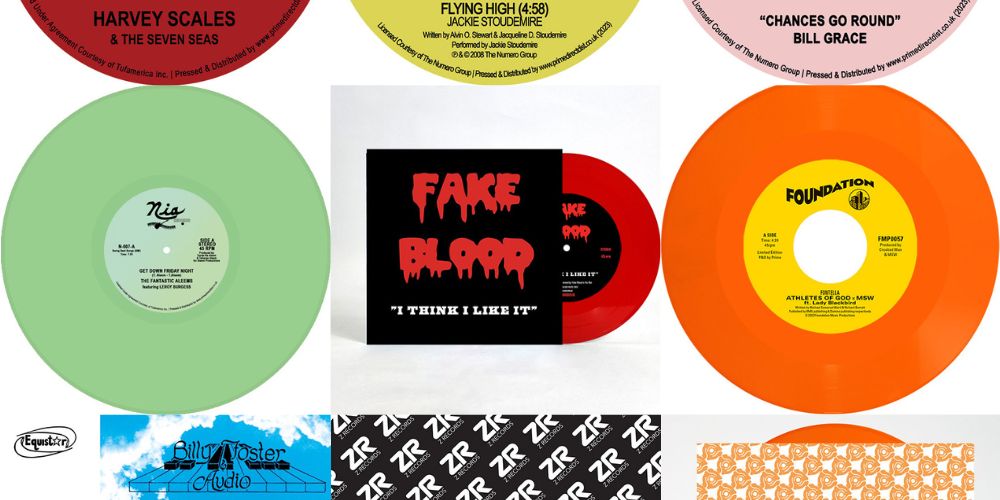 The one day of the year that all the vinyl collectors out there look forward to and which always succeeds in making my wallet a ton lighter is upon us. Record Store Day 2023 UK, lands this Saturday, 22nd April.
I don't know about you but my alarm clock is set to a ridiculously early time for a Saturday so I can land myself at the front of the que and grab some disco, funk and house gems.
One of the hottest catalogues to look out for is Prime Direct Distribution's who have some real rarities, reissues and quality albums, 12's and 7″s up for grabs.
There are 24 releases in total from Prime including Richard Caiton, The Gaturs, Willie Tee, Athletes Of God / MSW Featuring Lady Blackbird, Cunthia Sheeler, Hyla Parker, The Dome City Rock Orchestra, Billy Foster & Audio, Fake Blood, Smithstonian, TOny Tooutman, Larry Bright, Latin Blues Band, Velvet Hammer, The Chuck Boris Trio, Artful & Ridney, The Sunburst Bnad and Dave & Maurissaa.
One thing many of these have in common is that if you were to try and get your hands on one of their original pressings then you would be parting with some serious £££££.
Here are some of my favourite picks to look out for this Saturday.
The Sunburst Band / Dave & Maurissa – Secret Life Of Us / Look At The Stars
[Z Records]
Dave Lee's double header of the Sunburst Band's Secret Life of Us and his remix of Dave & Maurissa's Look at the Stars which featured on Produced with love II lands as a 7″. Disco bliss.
Jackie Stoudemire – Flying High / Guilty
[Tap Recordt]
Jackie Stoudmires Flying High which has never been pressed to vinyl before and was recorded during sessions with Gene Redd, Jeremiah Yisrael and purportedly Barry White's Love Unlimited Orchestra. This one just exudes class.
The Chuck Boris Trio – Funky Nassau / Shaft
[Selector Series]
Two reimagined classics from The Chuck Boris Trio in the shape of Funky Nassau and Shaft pressed on Ltd orange vinyl with the Selectors Series Picture Sleeve. Funky Nassau is a bomb.
The Fantastic Aleems / Leroy Burgess – Get Down Friday Night
[NIA]
The Fantastic Aleems / Leroy Burgess / John Morales Get Down Friday Night. This one is a bit of a mouthwatering proposition on it's first reissue since it's release in 1982. New York Boogie Royalty mixed by John Morales, one of the finest ever to do it. Limited edition green vinyl, another must have.
Fake Blood – I Think I Like It
[Blood Music]
On a house tip Fake Blood's 2009 Nu Disco bomb I Think I Like It lands on red 7″. This one was a monster club jam and the Fix Your Accent EP on which it featured now changes hands for upwards of £100.
Harvey Scales & Seven Seas – Trying To Survive / Bump Your Thang
[Magic Touch Records]
Harvey Scales & Seven Seas Trying To Survive, two super rare tracks from the Magic Touch Back Catalogue these go for exorbitant sums on Discogs. Truying To Survive has a touch of the across 110th street about it and is one of the great social-consciousness anthems./
Bill Grace – Chances Go Round / Lonely
[ASP]
Bill Grace's Chances Go Round is simply a monster synthesised disco gem, his only solo release on ASP it would lead onto a contract with West End and rubbing shoulders with none other than Larry Levan.
Billy Foster & Audio – Billy Foster & Audio
[Equistar]
Billy Foster & Audio synthesiser pop gem I need your love was recorded in 1983 in Gary indiana a city which had fallen on hard times.
Whilst never quite cracking it first time round when it was released on Equistar over the years it has become a bit of an underground club holy grail.
You can find it on their self titled album Billy Foster & Audio which is landing with it's original picture sleeve on remastered heavyweight 180g vinyl.
Velvet Hammer – Party Hardy / Happy
[Soozi]
Velvet Hammer crossed many genres in their hey day and this 7″ pairs together two of their finest moments in tasty disco groover Party Hardy and Soul gem Happy. Arriving on Red vinyl in a black sleeve this one looks as good as it sounds.
Check out the full list of Prime Record Store Day 2023 heaters below and I'll see you in the que on Sunday trying to land some of these beauts x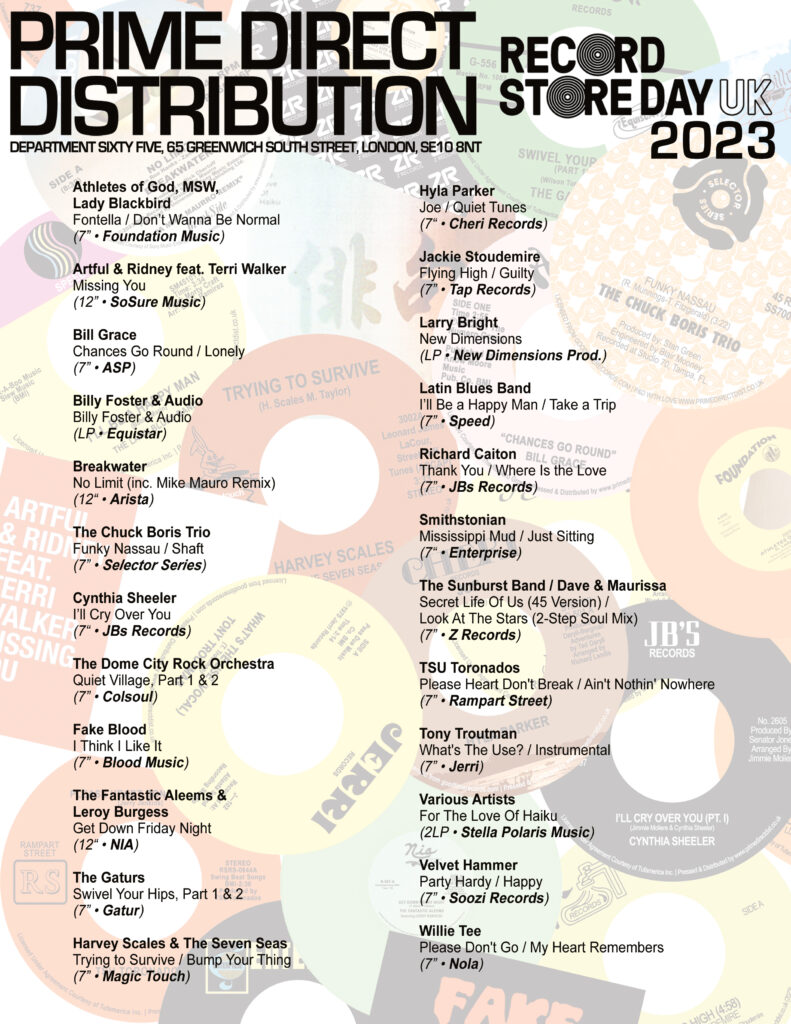 Like what you hear? To help support LV Online and help us keep the lights on in 2023 click HERE
Tags:
Prime Direct Distribution
,
record store day