LV Disco Selectors 48 – Caffe Corretto Edits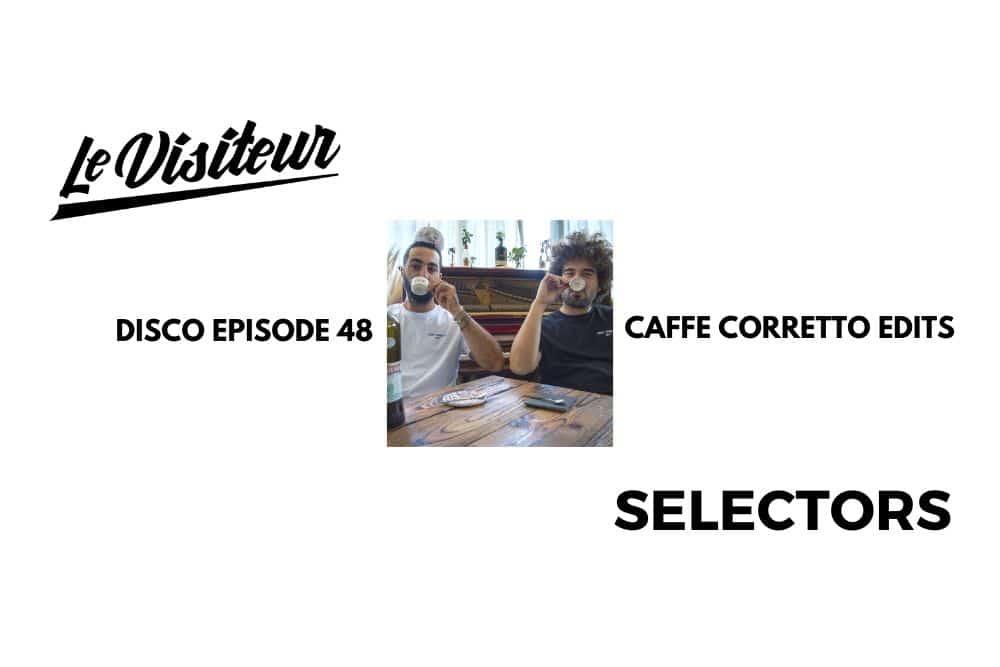 With a brand new EP landing imminently, Caffe Corretto Edits 004, we thought that it was high time to get this talented Italian duo on our Disco Mix series. Their edits EP's have become heavily sought after, quickly selling out each time, and Edits 004 will be no exception. Check our premier of Discoffee below and grab the EP via: https://caffecorrettoedits.bandcamp.com/album/caffe-corretto-edits-004
They are also highly regarded DJ's so we have been really looking forward to this mix and they have delivered a cracker. Please give it a share over on Soundcloud if you love it as much as we do and help spread the love.
We also had a quick chat with Caffe Corretto about the mix.
What can you tell us about the theme of the mix and what are some of the key tracks for you?
The mix we delivered today representing Caffè Corretto, is basically our idea of a DJ set even though it's recorded with no crowd as reference. We love to play looking at the dancefloor! Some of the key tracks surely are: Enzo Avitabile, Tullio de Piscopo, the Funkin machine. We chose those records as they truly represent our musical culture past, present, and hopefully the future of Neapolitan funk.
How does the style of mix here compare to how you would approach a live DJ set
60 minutes is definitely too short to fully express what we have to say, musically speaking. Even though the essence of this mix could be the same as a live DJ set, over a much longer amount of time we could be more eclectic, so basically this is be the main difference.
Which other artists DJ mixes do you find yourself coming back to time and again and do you have a favourite that you gravitate towards?
The DJ mixes we usually listen to are the ones from: MCDE, Hunee, Antal, Kamma e Masalo, Moodymann, Maw, Daniel Wang and so on. We can state that one of our all the time favorite is for sure Antal.
We think this mix, below, is just perfect and perfectly represents our idea of a DJ set. We can't add anything to it with words, just push the play button and enjoy it!
For more info on Caffe Corretto Edits check:
Bplan Facebook: https://www.facebook.com/bplan.italy
Bplan Soundcloud: https://soundcloud.com/bplan_music
Bplan Instagram: https://www.instagram.com/bplan__music/
Fab_o Soundcloud: https://soundcloud.com/iaconofabiok
Fab_o Instagram: https://www.facebook.com/Fab1Music
Caffè Corretto Soundcloud: https://soundcloud.com/caffecorrettoedits
Caffè Corretto Instagram: https://www.instagram.com/caffecorrettoedits/
LV Disco Selectors 48 – Caffe Corretto Edits – Tracklist
01 – Enzo Avitabile – Napoli Dance
02 – Yusef Lateef – Robot Man
03 – Norman Connors – Stella (Joey Negro Jazz Ride)
04 – The Funkin' Machine – Affittacamere funk
05 – BPlan & Fab_o – Midnight Espresso
06 – Le Croque, Carla Prather, Moplen – Love Yourself (Moplen Disco 3000 Reprise)
07 – Eli Escobar – Seven Eleven
08 – Semi skimmed Edits – Real Hot
09 – BPlan & Fab_o – Discoffee
10 – Jean Paul Pognon – Limiè (Mendel Edit)
11 – Doug Willis – Dougswana (Emmaculate Extended Mix)
12 – Giovanni Damico – Quan U Teng Tu Dong
13 – Tullio De Piscopo – Accattateve o'mbrello
Love this Check out more on Caffe Corretto Edits here
Tags:
Caffe Corretto Edits