FSQ's Glorious 11 Women of P-Funk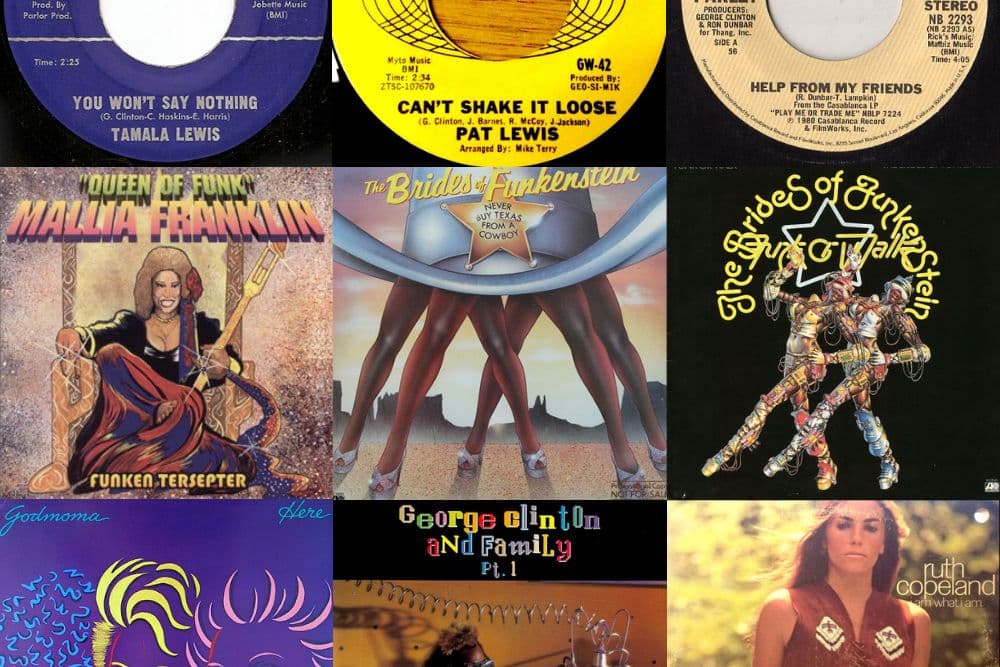 With a brand new album now available Reprise, Reprise Tonight FSQ's star is burning brightly. Joining up with Soul Clap Records to follow up their ace Reprise Tonight album from a couple of years back they have drafted in some of the finest producers from across the globe including Tom Moulton, Michael The Lion, Ray Mang, Birdee and Charlie Soul Clap to give their takes on the original album tracks. The result is an album full of funk delight with tracks to cover pretty much every house, disco and funk dancefloor. We premiered Michael the Lion's ace remix of Vibe out now a few days ago, check that below and FSQ's Chuck "Da Fonk" Fishman also put together a brilliant worship mix around the work of Funkadelic's Billy Bass Nelson which is a must listen.
We are big fans of both FSQ and P-Funk so we managed to persuade Chuck to put together a chart for us featuring some of the finest ever P-Funk outings by some of the women of the genre. Check it all out below.
Grab the album via: https://soulclaprecords.lnk.to/FSQRepriseTonightRemixes
FSQ's Glorious 11 Women of P-Funk
In my tribute mix, which you can check below, I covered the recording session work of Parliament-Funkadelic bassist (and guitarist) Billy Bass Nelson. Now for this P-Funk chart, let me turn my attention to the amazing women of this legendary and behemoth group.
P-Funk had two primary female led vocal groups, Parlet and Brides of Funkenstein, both of which launched in 1978, and are very much the similar and respective counterparts to Parliament and Funkadelic. Yet there are many more P-Funk produced projects within the empire that have women leading the efforts, and this chart explores my favourite female P-Funk releases, as ranked by my own ears.
George Clinton got his start in the music business as a Motown songwriter, and he wrote for many women in his early days. I don't think many people notice this, but I would say George's lyrics are always very vulnerable, have a feminine quality to them, and carry a special sensitive wit. He's a co-writer on many of these songs I have listed and to me it makes total sense that he writes such great lyrics for female vocalists. Many of them were also co-written by Motown / Holland Dozier Holland songwriter Ron Dunbar who joined the P-Funk empire in the late 1970s.
1) Brides of Funkenstein – Never Buy Texas From A Cowboy
Likely my favourite all time P-Funk song from a song a catalog of almost 1000 songs! If it's not the top choice today, it is at least in my top 5. An epic journey spread across 15 plus minutes, it features one of the greatest all time Eddie Hazel guitar solos and more Bernie Worrell synth squiggles than any other P-Funk song, plus the most beautiful piano work from Worrell. This is a song about a mother's wisdom that she shares with her daughters, and the vocal delivery of that message will touch your heart. George joins the Brides vocalists Dawn Silva, Sheila Horne, and Jeanette McGruder (aka Satori Shakoor) on "Never Buy Texas" and they all turn in beyond stellar individual performances, but when they are all singing in soulful harmony you will really be moved. Because this super long song is so entertaining, it feels like it is only 3 minutes long – it goes by in a flash, and then you press repeat.
2) Brides of Funkenstein – Birdie
This cut is from the Brides of Funkenstein's first album which simply features two vocalists, Lynn Mabry (later of the Talking Heads) and Dawn Silva, but their harmonies are so tight you think it's maybe 12 vocalists providing an epic funk choral sound. Keeping with the more romantic themes often presented by songwriters Clinton and Dunbar, this song is about being open and ready to love someone. This is the first song to ever feature bassist Rodney Skeet Curtis, a Baltimore native who has quite the signature sound; he brought to the group a very new and jazz approach to bass playing. The drums just bounce too, supplied by my favourite P-Funk drummer, Jerome Brailey. There's a lot of space and room for this groove to breathe too, it's not overdone like some heavy P-Funk tracks.
3) Étienne De Crécy – Scratched (Featuring Belita Woods)
What is a French dance music record doing on this chart? Michael "Clip" Payne from P-Funk teamed up with Étienne De Crécy to produce his 2000 release, "Tempovision". Clip brought along P-Funk vocalist Belita Woods for the recording sessions and she's singing all over the De Crécy album, but "Scratched" is the tune from this release that I constantly have on repeat. Belita Woods toured and recorded with P-Funk from the mid 1980s until her death in 2012, but maybe more well known for her work as lead vocalist of the disco group Brainstorm. I simply adore her sound and she is sorely missed.
4) Pat Lewis – Can't Shake It Loose
I love George Clinton's early work as a Northern Soul songwriter and producer. While this cut may scream Motown to you, George's Detroit sound is a bit more loose and honestly more listenable because there always little things to pick up on in the mix. Pat Lewis really delivers a precise and lush vocal performance. If you listen to this song a few times, it will stick in your head and like the song title says you won't be able to "Shake It loose".
5) Parlet – Help From My Friends
Probably the strongest song from the final 1980 album from Parlet, "Play Me or Trade Me" (now not available digitally for some reason, while the first two Parlet albums are). This is really a top P-Funk jam / work out with a full-on horn section, shiny synths, plunky pianos and a rock solid groove provided by drummer Tyrone Lampkin. The women of this line up of Parlet – Jeanette Washington, Janice Evans, and Shirley Hayden – are not as loose here as their counterparts the Brides of Funkenstein, and they really mainly sing together as one unit. This tune is all about female bonding, like the chant goes "Can I get a little help from my friends?" and the lyrics are written by Ron Dunbar.
6) Brides of Funkenstein – Mother May I
Another selection from the 1979 "Never Buy Texas From A Cowboy" album, a release which is so great from start to finish it's hard to pick your favorite tracks. This song also about "mothers" and has a family vibe as the Brides are joined by George Clinton's son TreyLewd both as a vocalist and a co-writer. This song is wildly dynamic because it goes from a ballad to a whole on funk freak out once it hits the change. Sonically complex, it has sections with scorching rock guitar solos, and others with disco strings set against jazzy horns and Brazilian percussions. In my lifetime of listening to music, I have never heard any other song cover so much musical ground in 5 minutes. And I have not even talked about the incredibly soulful vocals yet!! It's also fun to hear TreyLewd interrupting the Brides with his own vocal lines and also singing with his dad, who also appears on "Mother May I".
7) Tamala Lewis – If You Can Stand Me
Another family affair here – Tamala Lewis and George Clinton's son is TreyLewd. Tamala Lewis aka Vivivan Lewis turns in her lone 45 single release from 1965 with the lead being a tune called "You Won't Say Nothing" but this flip is my favourite, with Clinton being the sole writer on the tune. And you hear George prominently singing in the mix and his vocal group The Parliaments backing Tamala. The lyrics are cheeky, "I'm yours if you can stand me" – it's a sentiment I can totally pick up on from George. It exactly expresses his persona if you know him personally like I do. I love Tamala's singing on this, it's super unique and very youthful.
8) Jessica Cleaves and George Clinton – Send A Gram
George Clinton's solo career does not include any duets with female singers. Nor did the Parliament or Funkadelic albums feature any big vocal trade-offs with women and the lead singers, those albums were primarily all-male affair vocal affairs. Sure, you hear George in the background of the Brides of Funkenstein and Parlet records, adding in little sing-songy lines, but I believe "Send A Gram" to be his only official vocal duet with a woman.
Jessica Cleaves has tremendous vocal range, something like eight octaves, and she is known for being a member of the groups Friends of Distinction and later Earth, Wind and Fire. This was probably recorded 1979, 1980, with drummer Tyrone Lampkin but it was not released until the early 1990s when George opened up his vaults in a series of records known as "The Family Series". Cleaves is incredibly operatic on this duet with George and he tries his best to match her epic performance, maybe more than he ever vocally has offered before. "Send A Gram" is a sublime ballad with a lot to offer including very gentle parts that dance with an orchestral string section and wonderful flutes, and big funky get downs with a full horn section and slap bass.
9) Godmoma – A Taste of Magic
Godmoma was a female led group produced and put out into the world by Bootsy Collins, and their lone 1981 album "Here" was released at right at the end of a run of P-Funk album releases before the groups would all semi-retire for a year or two as the P-Funk machine was imploding about this time. Despite coming at the very tail end of a strong P-Funk era, this is a solid album with a "A Taste of Magic" is being my favourite of the release, an upbeat stomper that's part boogie woogie jazz, part straight ahead funk, and a little bit new wave. I can listen tune to this over and over again because there's always something new to catch upon the next listen. This sonically diverse track also features the legendary Horny Horns – Fred Wesley and Maceo Parker. The ability of Godmoma's vocalists Cynthia Girty, Carolyn Myles, and Tony Walker to all sound so smooth together show they can easily match the abilities of the Brides or Parlet. Bootsy also makes his vocal mark on the track too.
10) Mallia Franklin – Rat-A-Tat-Tat (At My Door)
Mallia Franklin was with P-Funk along time – so long in fact she's the one responsible for introducing George Clinton to Bootsy Collins in 1970. Of course, Bootsy wound up joining P-Funk based on Mallia's recommendation to both parties that the similarity between George and Bootsy's visions was an opportunity to not be missed. She was later a vocalist for Parlet, appearing on the group's 1978 and 1979 albums. I don't know much about her 1995 solo release "Funken Tersepter" which seems to be partially pulled from P-Funk recording sessions of the late 1970s and early 1980s. This is the standout track from the Mallia album – "Rat-A-Tat-Tat" has a funky as all get out bridge with a driving drum break and female power chants like "my momma told me not to give it up yet". Then later, after the Horny Horns take their turns on this very rare P-Funk track, Eddie Hazel wails on and on, giving one of his most special guitar solos of all time.
11) Ruth Copeland – Suburban Family Lament
UK born vocalist Ruth Copeland put out two albums with the Holland Dozier Holland led record label known as Invictus. Her backing band on these efforts happens to be the entire group of Funkadelic, which make her releases "Self Portrait" and "I Am What I Am" two super special albums in the P-Funk main canon. While George Clinton wrote most of the lyrics on both albums, this tune's lyrics are penned by Ruth Copeland and it is her take on an unhappy, modern marriage. The music on this song was written by Eddie Hazel and over the course of three minutes replete with his funky chicken guitar scratch and blazing solos, Hazel makes sure to let you know that is album is indeed, Funkadelic with Ruth Copeland, and maybe not the other way around.
For more info on FSQ and Soul Clap Records check:
FSQ Facebook: https://www.facebook.com/fsqofficial/
FSQ Soundcloud: https://soundcloud.com/fsqofficial
FSQ Instagram: https://www.instagram.com/fsqofficial/
FSQ Twitter: https://twitter.com/fsqofficial
Soul Clap Records Facebook: https://www.facebook.com/soulclaprecs/
Soul Clap Records Soundcloud: https://soundcloud.com/soulclaprecs
Soul Clap Records Instagram: https://www.instagram.com/soulclaprecords_/
Soul Clap Records Twitter: https://twitter.com/soulclaprecs
Love this? Check out more from FSQ HERE
Like what you hear? To help support LV Online buy us a coffee via Ko-FI. Click HERE
Tags:
FSQ
,
P-Funk
,
Parlet
,
The Brides of Funkenstein