Elliot Schooling – Le Visiteur Featured Artist and Mixtape 040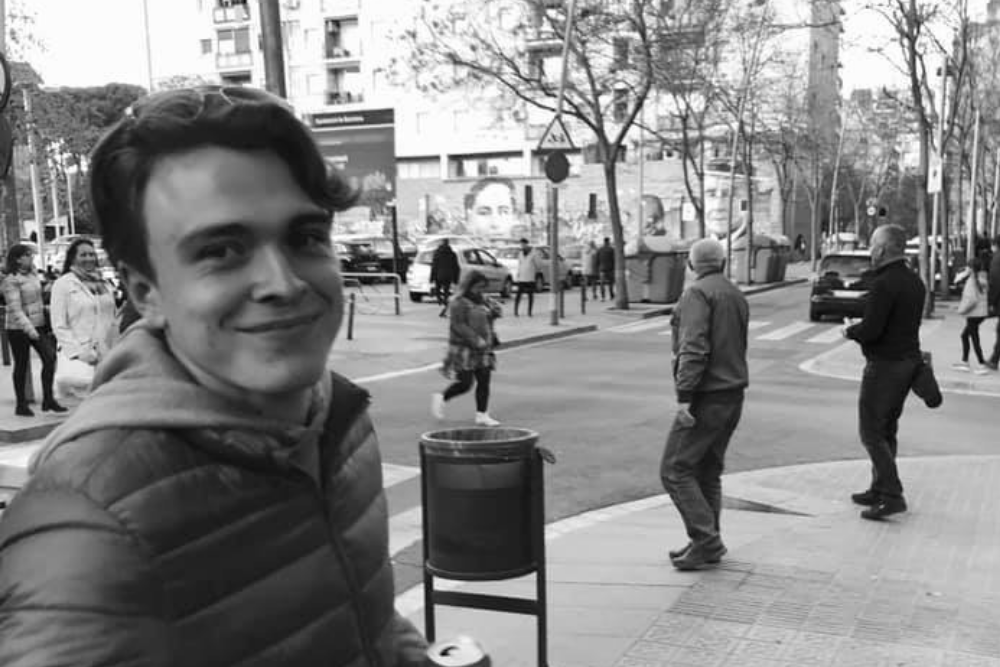 Elliot Schooling – Le Visiteur Featured Artist and Mixtape 040
Hailing from London Elliot Schooling is 21 and picked up his first set of decks when he was 15 before starting his first steps into production at the age of 18. Three years of hard work later and he has just released his debut EP on Phil Weeks' brilliant Robsoul label. It's hands down one of the releases of the year for us packed with four tracks of sublimely cool disco infused house music. A DJ's dream EP. Not content with Djing and promoting Elliot also runs the hugely exciting Appetite Parties in London.
We were blown away by Elliots 'Disco Riddims EP' and tracked him down to discuss the EP, his studio, his Appetite parties and his influences. He also dropped a very tasty mixtape for us which you can check below.
Hi there Elliot,
Thanks for speaking to us today.
For our readers who haven't come across your releases before how would you describe the musical style of Elliot Schooling?
Ha! My musical style would be, groovy, hypnotic and fun!
How would you describe your debut EP 'Disco Riddims' which is out now on Robsoul and can you give us a bit of history about the EP?
Yeah so these tracks were made around summer time last year and eventually finished around January 2019. I played them out a few times before they got sent to Phil. I actually came up with them on a really chilled one, not really thinking about it just making tracks totally for fun and for myself. To see them being loved by people is an amazing feeling for me. Funnily enough I cut the sample for 'Doing my thang' on a flight to Vegas with my Dad.
Phil Weeks is a proper legend of the house game, what has it been like working with him to get the EP out and what tips did he give you when you were putting the EP together?
For sure. He's an OG. Phil is a producer & DJ I have always looked up to ever since I got into house music. We booked Phil to come to play at our party back in March, at the time I started building up a stack of tracks and thought why not send some stuff over to him see what he thinks. A week later he said he liked some of them, send me all you have. I sent him some more that I had and within a couple of days the EP was there! A tip he has given me recently is to keep on making more and to keep putting in the hard work.
Please can you describe your production set up for us and what is the one piece of equipment or plugin that you couldn't live without?
I have been through two drum machines (Aturia Drumbrute & Electron analog Rytm). The Rytm was super convenient to use, and has a wicked sound to it but I felt I wanted something to act more of a hub in my studio. So I'm looking at MPC 2000XL at the min. It has been hard finding one in good condition. I don't use too many plug ins to be honest, but if I had to choose one it would be Ableton's Multiband Dynamics. It helps me when sampling but think I am going to invest in the Metric Halo Metric's one, heard its great
Please can you give us 4 tracks which you would say have directly influenced your style of production.
Quincy Jones feat. Patti Austin – Betcha' Wouldn't Hurt Me
Quincy is probably my all time fav producer and this track says it all.
Kerri Chandler – In The Morning (Bigga Mix)
I love this track, the rawness and pattern of the drums and the heavy bass. Also the arrangement of the track is fantastic.
Oneiric – Blue Envelope
Quite a hypnotic track, but I found out about this track about two or three years ago and it properly took the limit of what I thought I could make. I love the layers of sounds. Timeless.
Roy Ayers – Running Away
I listen to this track most days. The groove and the repetitive vocals get me. Just listen. The steez.
You run the Appetite parties in London, please can you tell us a little about the ethos of Appetite?
The ethos is to bring in electronic artists from all over the world to the party who we love! It can be any genre, we don't want to limit ourselves. We just wanna have a party.
What events do you have coming up that you are particularly looking forward to?
Yeah we have some cool parties in the pipeline one on the 29th of June with Rossko. Then a couple of little ones over summer. We are also are returning back to 93 Feet East in Winter time. Check our socials at @appetiteldn
What do you think is the current state of clubbing in London and which parties do you enjoy checking out as a clubber?
I think the current state of clubbing in London is pretty good. I feel like electronic music is more popular than ever. There are a lot of huge events which host thousands of people so that doesn't leave too much room for the really small promoters. As a clubber I love partying at The Cause where we hosted Phil! If you're in London check it out. There are lots of cool underground parties happening all over London, you just need to keep an eye out. I also think the programming at XOYO is sick as well. A label which I am loving at the minute though is the Armadillo brand, wicked music from that label
What 3 tips do you have for the budding producers out there?
1) Listen to what you love and be inspired and then enter the stage of making a beat see how things work out.
2) If you are feeling emotional or in a certain way, try and express yourself through the music, some of the music which I am most proudest about was me expressing my feelings.
3) Keep working hard and be persistent.
What else can we expect from Elliot Schooling in 2019?
In 2019 I am going to keep working hard and keep producing tracks. I have a bunch of tunes here so my plan is to find homes for them, I will be djing quite a bit too. I am working on lots of different projects at the moment.
When you are Djing what is your "If all else fails track"?
A track for me which saves the dance floor is 'Tommy Vicari Jnr – Hiding In Plain Sight – the plot lost remix' or 'Kerri chandler – something deeper'
And finally, please can you give us 4 tips for a great day out in London. A place to buy records, a place to eat, a place to drink and a place to dance?
A place to buy records – Phonica Records
A place to eat – Portobello market
A place to drink – La Bodega Negra
A place to dance – The Cause
For more info on Elliot Schooling please check:
Facebook: https://www.facebook.com/elliotschoolingmusic/
Soundcloud: https://soundcloud.com/elliotschooling
Tags:
Appetite
,
Elliot Schooling
,
house music
,
phil weeks
,
robsoul