Fouk Worship Mix – Heist Recordings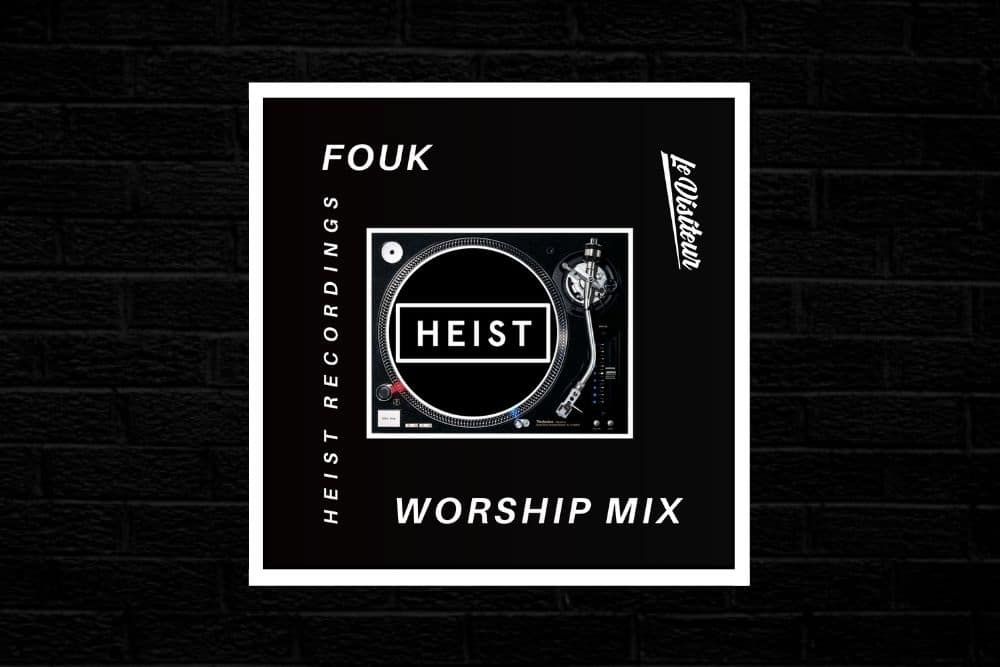 Fouk Worship Mix – Heist Recordings
Like what you hear? To help support LV Online buy us a coffee via Ko-FI. Click HERE
Fouk are just about to land another absolute sure fire EP Blue Steel with the always impeccable Heist Recordings. It's another moment of class for artist and label alike.
From the heavy bass and sax jam that is title track Blue Steel via the peak time looped up disco jam of Don't You Want To Boogie and onwards to the slamming acid of Money it's an EP packed with sure fire dancefloor heat aplenty. Adding to proceedings is a wonderful Girls of the Internet rework of Blue Steel which takes things off on a deeper and slightly trippier path. It's perfect for those smokey basement clubs and early morning listening sessions.
All round this is an early contender for one of the EP's of the year so make sure you get your order in as soon as it lands as it won't be around for long.
Grab it from: https://www.juno.co.uk/products/fouk-blue-steel-ep/818482-01/
To celebrate the release we asked Fouk to put together a Worship mix for us and they have chosen to honour Heist Recordings bringing together their favourite moments from the label to create something extremely special for us. The full track list is at the bottom.
We also spoke to Fouk about the mix which you can check below.
What can you tell us about the theme of the mix you have done for us and what are some of the key tracks for you?
The theme is Heist Recordings most special tracks for us. But we had to restrain ourselves because there are so many great tracks to choose from the mix could be a lot longer 😉
And we put in two tracks from our Blue Steel EP.
Some of our favourite tracks from the mix are:
Andy Hart – Merkin. We played the whole EP to death back in the day!
Max Graef – Ignorance Is Bliss, this was one of the key EP's back in the day on Heist, it's a classic!
Frits Wentink – Ligament. Stomping kick + wonky sampling, Frits is in a league of his own. Always very impressed by his productions!
Fouk – Blue Steel (Girls Of The Internet Remix). We really love what GOTI has turned our track into, very emotive and the deep bassline gets you in the best mood 🙂
How would you say that Heist Recordings has influenced you and impacted on your own career?
This is naturally when we released Kill Frenzy on Heist, it gave us a huge step up. It was the perfect timing and a lot of hype followed 🙂
It put us into the bigger picture, so Heist has been key in launching our career so to say. And they've been very supportive over the years with great advice and they pushed us with each new release for better creativity.
What is your all time favourite release from Heist Recordings and why?
Max Graef – Broken Keyboard EP. We have so many warm memories of this EP, so picking one track as our favourite was too difficult. So we'd rather say the EP in total is our favourite. It takes us back to the beginning of when it all started, with Heist and for us personally as Fouk. It's one of those EP's that was hugely influential for the scene (and to us for that matter).
For more info please check:
Fouk Facebook: https://www.facebook.com/justsayfouk/
Fouk Soundcloud: https://soundcloud.com/justsayfouk
Fouk Instagram: https://www.instagram.com/justsayfouk/
Fouk Twitter: https://twitter.com/justsayfouk
Heist Facebook: https://www.facebook.com/HeistRecordings/
Heist Soundcloud: https://soundcloud.com/heistrecordings
Heist Instagram: https://www.instagram.com/heistrecordings
Heist Twitter: https://twitter.com/HeistRecordings
Fouk Worship Mix – Heist Recordings – Tracklist
Nebraska – Y'miss Me Baby?
Andy Hart – Merkin
Alma Negra – Endless Summer
Dam Swindle – In Reverse
Nachtbraker – Hamdi (Bil Mix)
Max Graef – Ignorance Is Bliss
Fouk – Money
Crackazat – Class One
Hugo Mari – Get Loose Ft. Zodiac (Kai Alcé Ndatl Instrumental)
Adesse Versions – E to E
Frits Wentink – Ligament
Fouk – Blue Steel (Girls Of The Internet Remix)
Tags:
Deep House
,
fouk
,
Heist Recordings