James Curd – 7 Tracks Which Massively Influenced My Career (LV Legends)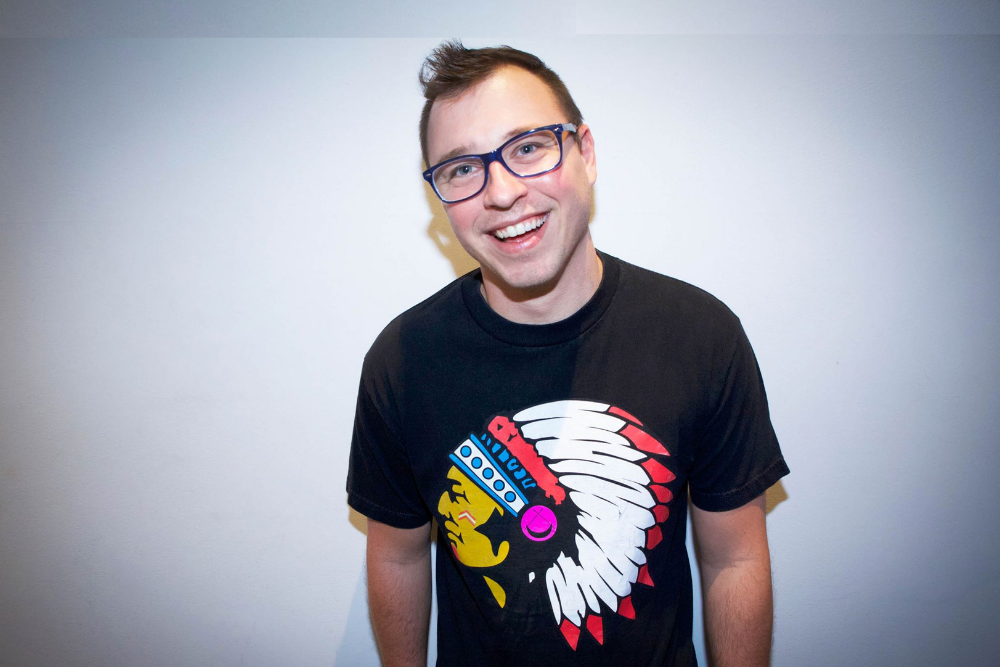 James Curd – 7 Tracks Which Massively Influenced My Career (LV Legends)
A DJ since the age of 15 when he used to sneak into events to play as he was underage James Curd has carved out a huge career in the music industry. Releasing his first track at the age of 19 on the Basenotic label James would go on to found Greenskeepers with whom he would have huge success on the Classic label being one of the first producers to fuse swing and Chicago house and also coining the term G-Swing. Indeed he would in turn launch his own label under that name with Basenotic.
4 Greenskeepers albums would follow alongside an incredible series of releases under his own name on some of the greatest labels electronic music has to offer including DFA, Exploited, Eskimo, OM and Ministry of Sound.
As a remixer he has also been in huge demand reworking tracks for the likes of Juan Maclean, Herucles & the Love Affair, Groove Armada, the list is extensive featuring a who's who of the best electronic acts around.
Along the way he has had multiple tracks picked up for TV and film including Greys Anatomy and CSI. Games designers have also come calling including Rockstar who used a track on Grand Theft Auto
All of this success has seen James tour the globe as a DJ playing everywhere from Australia to London to Las Vegas.
James is very much as busy as ever and has just released a brand new EP with Midnight Riot. The Love Motion EP which you can check below and grab from the following Link: https://www.traxsource.com/title/1124593/love-motion
We spoke to James about the tracks which helped kick start his career and which have influenced him over the years. From Disco gems to Chicago house anthems from club cut ups to vocal goodness it's a superb list with a pile of bonus tracks to check out for good measure.
James Curd – 7 Tracks Which Massively Influenced My Career (LV Legends)
Evelyn Champagne King – Love Come Down
When I was little I used to hang out in the basement with my two older sisters listening to the old ass silver boombox set to WBMX. It was the highlight of my week. My parents would go bowling and leave me home with my sisters babysitting me with some pizza money and nobody to tell us to turn the music down. When it was my bedtime I used to pop in a blank tape to record another 30 minutes so I would have something new to check out in the morning. I don't know which one of the Hotmix 5 used to always play this song but it was my jam. That station was my early education of house music.
Opus III – It's A Fine Day
So at this stage in my life I was all about skateboarding. Somehow this song infiltrated the playlist on the mixtape in the car stereo on the way to skate spots. It was so out of place in between Fugazi, Beastie Boys, Pailhead, and Primus. It was polar opposite but we loved it. It's funny to listen to now but it does bring back great memories.
Dajae – U Got Me Up (Cajmere's Underground Goodies Mix)
Now I'm telling my parents I'm sleeping over at a friends house and heading down to the city with my fake ID that says I'm 17. I was only 15 but at Medusa's you just needed to be of age to not legally have a curfew to get in. It's actually nuts to think about now. There were 17 – 50 year olds at the same spot partying. If I remember right They gave out different color wristbands so people under 21 couldn't buy drinks. That would never fly today. This was played a couple times a night and if we were lucky on the radio on the way in… All the music played in that club was amazing. Cajmere is still one of my favorite artists.
Romanthony – The Wanderer Journey Man Thump
I owe a lot to this record. At this stage I'm full fledged raver. Out in some dirty warehouse or loft 3 nights a week. Listening to Derrick Carter, Mark Farina, Diz, Spencer Kincy, Justin Long, Traxx, Mystic Bill, Mark Grant and so many other great DJ's. I saved up enough money by pocketing my lunch money for school everyday and not eating. I bought some second hand turntables and now I was splitting my time between skating and DJing in my basement. Sometimes I would go to school…. There was a big 3 day fest called "Even Further" a few hours outside of Chicago. It had proper line ups that started from 10pm and it's actually the first place Daft Punk DJ'ed in the states. Before 10 it was just a free for all and you could just sign your name up on a board to have a set. I went up the the DJ playing in an empty tent and asked where I needed to sign up. He said he had been needing to use the toilet for 30 minutes and I could start next record. I ran back to our van and grabbed my milk crate full of records. I turned off the turntable his last record was on and played The Wanderer. The tent went from zero people to completely full by the end of the song. I played for an hour for the first time outside of my basement. A great guy Terry Martin who threw parties in Chicago was there and booked me for a massive party called Submerge along side Afrika Bamabaataa and an insane lineup. He gave me my first DJ name "Jimminny Cricket"
Chez Damier & Stacey Pullen – Forever Monna (Mix1)
This is one of my favorite house songs ever. I could never find the record and my friend Terry even asked Chez Damier if he could get the DAT from him for me so we could press up a personal acetate for me to play. One night I was at a loft party and Diz played it. I went up to him when he was done and I told him I would give him all the money in my pocket for the record. He laughed and gave it to me for free right on the spot. We have been friends ever since. I think I had 60 bucks in my pocket.
DBX – Phreak
Now I'm 19 and I have a residency in a club called "Tunnel" I'm not legally allowed to be in. I played every Friday and Saturday night along side Gene Farris, Diz, Danelle Spencer and Mazi. This is where I really became a pro. I would do 3 hour sets or more all the time. I always loved the bounce and simplicity of this track. Super analog and walks the line between house and techno. It would always amp the mood of the club and everyone would know I was playing.
The Magi – Come On Clap Your Hands
I loved this song instantly the first time I heard it. It was a cult record in Chicago. The problem was it was impossible to find. No shazam, no downloading… It took me ages just to find out what it was called. DJ's used to cover labels up all the time. Then when I found out it's was weeks and weeks of digging at record shops. I remember finally finding it at Gramaphone records. It was legit the best feeling. I wore this record out. I think I've collected about 5 or 6 copies of it. I couldn't not buy it if I came across it. It's also the best mash up record ever done before mash up was a thing. Derrick Carter was way ahead of the game.
Honorable Mentions..
Taxi C.A.B – Chunk A Nova (Red Dog Mix)
Another amazing mash up from Chicago DJ Chunkabud before mash up was a thing!
Paperclip People – Throw
Tested legit DJ's! Has a little hiccup that you have to be ready to lightly lay your finger on the platter to keep it on beat. What a track!
Pepe Bradock – 18 Carats
Inspiring as a producer.
Markus Nikolai – Bushes (Derrick Carter 2nd Creation)
Was a hit at Miami Music Conference year 2000. Inspiring as a producer to have a track that was also a song.
Josma – Voices In LA
One of my favorite songs to DJ
Yellow Magic Orchestra – Tong Poo
Was so into listening to this on a tour in Japan. My next stop was Melbourne and I opened my set with it and the place went nuts. What a fun song!
For more info on James Curd check:
James Curd Facebook: https://www.facebook.com/jamescurdmusic/
James Curd Soundcloud: https://soundcloud.com/jamescurd
James Curd Instagram: https://www.instagram.com/jamescurd/
James Curd Twitter: https://twitter.com/jamescurdmusic
Love this? Check out more from James Curd HERE
Tags:
Cajmere
,
Chez Damier
,
Dajae
,
DBX
,
Derrick Carter
,
Evelyn Champagne King
,
James Curd
,
Midnight Riot
,
Opus III
,
paperclip people
,
pepe bradock
,
romanthony
,
Stacey Pullen
,
The Magi
,
Yellow Magic Orchestra