Javi Frias Discusses Disco, NightShift Records & Collecting Vinyl Over Digital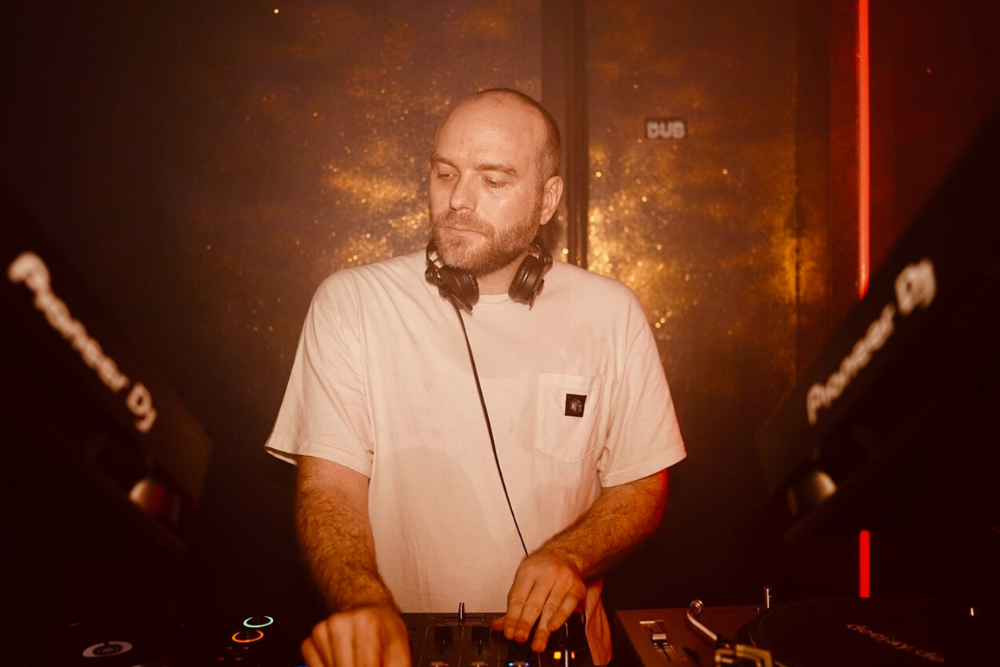 Javi Frias Discusses Disco, NightShift Records & Collecting Vinyl Over Digital
Hailing from Madrid Javi Frias began Djing in the 90's and hasn't stopped playing since. Along the way he developed a major love and knowledge of soul, funk, disco, boogie and house putting together a major vinyl collection as he went. It's a passion which has taken him across the globe playing international festivals and the finest clubs.
Over the last decade he has worked tirelessly to sharpen his skills as a producer which has lead to a multitude of releases on Street Edits, Giant Cuts, Disco Pocho, Midnight Riot and Boogie Café. He has also picked up a long list top name DJ supporters including Danny Krivit, Detroit Swindle, Red Greg, Horse Meat Disco, Jacques Renault, Rahaan, Marcel Vogel, Get Down Edits and Frank Booker.
In 2017 he took things further launching his own label Night Shift Records a label focussing on reworks and edits of disco and house.
Out with the current lockdowns Javi is also the resident DJ and booker at Discotizer, the best disco, boogie and house weekly party in Spain taking place every Friday at Marula Café Madrid where he has played alongside a long list of the finest DJ's on the planet.
We spoke to Javi about his career, his label and his club night, he also put together a sublime mix for us, check it out and please give it a share on Soundcloud and help share the love. The Full tracklist is at the bottom of this interview.
Hi there Javi,
Thanks for speaking to us today.
For our readers who haven't come across your releases before how would you describe the musical style of Javi Frias?
Hi John! Thanks so much for inviting me, it's a pleasure to be part of Le Visiteur.
If I have to describe my style, I would say that it is disco but with a great influence of funk, boogie, house and soulful music.
Please can you give us three tracks from your discography which you would say are quintessentially Javi Frias?
Sure, there you go:
Deserve To Dance (Street Edits)
This was included in my first vinyl release out on Rahaan's label Street Edits, and I think a lot of people knew me thanks to this song
Discotizer (Giant Cuts)
Another track that gave me a lot of exposure, and also used as the name for my club night.
Hard Edge & Paint (Night Shift)
Included on the first release on my label, a lot of people are asking me yet about a repress because this track has been very popular on the soul scene.
Can you remember what it was that sparked your love of disco and underground music in particular?
My first serious contact with music was during my adolescence through punk, and from there I discovered Jamaican music (reggae and ska) and then soul, especially from the 60s. But my passion for black music had not yet started. After a little digging I discovered the seventies and eighties sound of dance music: funk disco and house. Also, at that time (late 1990s), I kept listening to online radio shows from people like Norman Jay and Gilles Peterson, giving me the opportunity to discover a new world of sounds.
What parties were you attending in the 90's which really cemented your love of disco and house and can you remember some of the DJ's who inspired you at the time?
During the 1990s I was quite young, so I didn't really start going to parties until the middle of the decade. At that time I was very involved in the northern soul scene, so I went almost exclusively to soul & reggae all-nighters, but thanks to some Spanish DJs and diggers with an open mind about sounds I discovered modern soul, disco and house. And as I said before, it was essential to be able to listen to Norman Jay's radio show to finish opening my mind to other kind of music.
What was the first disco record that you bought?
I don't remember exactly, but surely it could be some Philly Sound record, maybe The O'Jays or Archie Bell & The Drells. They are still some of my favorites!
How has the changeover from analogue to digital changed your buying habits over the years. Do you still seek out the vinyl first or are you happy if you can grab a good digital copy of a track?
Until relatively recently I have continued to DJ exclusively on vinyl, but recently I am buying more music on digital than ever. The reasons are varied: the first is there are many releases that are only published digitally, especially new stuff. I have also stopped carrying my records when I go to DJ, I prefer to play with CDJs since it gives me a stylistic and technical freedom that unfortunately turntables do not give (in addition to avoiding technical problems). And finally, since I have been a father I do not have all the space necessary to continue accumulating…
Outwith the current lockdowns you are also resident and the booker for the renowned Discotizer club night. What can you tell us about the event and what are some of your favourite moments?
I started with Discotizer three years ago as a meeting point in Madrid for lovers of disco, boogie and house. The idea was, in addition to playing myself every week, to be able to invite some of my favorite DJs, both international and local. When I think about some my moments, it would be being able to enjoy artists such as Louie Vega, Danny Krivit, Joey Negro, Detroit Swindle or Horse Meat Disco in a room that can hold around 100 people with a magical atmosphere.
Which producers have been the most influential for you on how you have developed as a producer of the years?
There are many producers that I have followed and admired since I started producing, but if I had to choose perhaps I could keep these:
Dimitri From Paris
Without a doubt, one of the fathers of disco sound in the last 30 years. HE has millions of songs that have influenced me, but perhaps I would stick with this classic by Teddy P.
Joey Negro
Another of the greatest artists of the genre with an unbeatable discography. I'm going to choose Everybody as that was one of the first ones that I bought on vinyl.
Rahaan
I have always loved the energy and knowledge of Chicago DJ's and producers, of all my favourites I would choose Rahaan. In addition, I have been fortunate to release my first vinyl record on his label and to DJ with him several times in Madrid. I usually play a lot of his edits, but if I have to choose one it might be this.
You are also behind Night Shift Records, what can you tell us about your journey to launching the label and what is the ethos of the label?
After spending some time releasing on other labels, in 2017 I finally decided to create my own, especially so that I could have full control of what I want to publish and do it whenever I want. The ethos of the label is to release disco and house edits on vinyl and digital, especially my own productions, but also from other producers who make music that touches my soul. So far we have released 6 EPs and the response has been great since they are all sold out
What tips do you have for our readers about setting up and getting the best out of running a label in 2020?
My label is quite small so maybe I'm not the ideal person to give advice on the subject, but if you publish on vinyl, perhaps the most important thing is to get a good distribution of your records globally, as well as some promotion, since be it through premieres, radio shows, or by sending your music to influential DJs who can play it.
Where do you see yourself going in the next five years with your musical career?
Just in the last year I had started to have more presence as a DJ worldwide touring the USA, Mexico and Egypt and playing throughout Europe: London, Paris, Berlin, Amsterdam, Prague and Lisbon. However, this Corona Virus affair and the possible consequences leave a very uncertain future. I hope to continue with the progression I was having in recent months, but I have no idea what will happen.
What else can we expect from Javi Frias in 2020?
In terms of new music, I have a couple of tracks that are going to be released on Tropical Disco Records. I would also like to release a new EP on my Night Shift label and another 7 "on Disco Pocho before the end of the year.
As for DJ sets, I hope to be able to return to my Discotizer club at Marula Café Madrid as soon as possible (I have The Reflex as my next guest in September) and have the opportunity of keep playing around the world in the not too distant future.
For more info on Javi Frias please check
Facebook: https://www.facebook.com/javifriasdj/
Soundcloud: https://soundcloud.com/javi-frias
LV Mixtape 133 – Javi Frias Tracklist
1. Buscrates – Lost & Found feat. Sally Green
2. HP Edits – Joy (Yam Who? Mix)
3. Michael The Lion x Amy Douglas feat. Steven Klavier – FInd A Way (M+M Main Mix)
4. Roman Truth – Magic Jiffy (Roman Truth Edit)
5.GZZ – Don't You Know
6. Jakob Apelian – Vilda Musen
7. Risk Assessment – Bionic Lover
8. VIGI – This Feeling
9. Birdee & Andre Espeut – Can't Get Enough (Extended Mix)
10. Da Lata feat. Diabel Cissokho – This Is Not Your Job (Art Of Tones Afrobeat Dub)
11. Freeform Five & Carolyn Harding – Strength (JKriv Extended Remix)
12. Munky Fike – Change the World (Original Mix)
13. Massiande – Dancing Stuff (I Love The Way)
14. Mindbuster – Feel My Love
15. Seamus Haji feat. Bryan Chambers – I Got You (Seamus Haji Extended Glitterbox Mix)
16. Les Inferno – Yeah C'mon
Tags:
disco
,
Javi Frias