John Rocca – I want it to be real (Late Nite Tuff Guy and Farley 'Jackmaster' Funk Mixes) [South Street]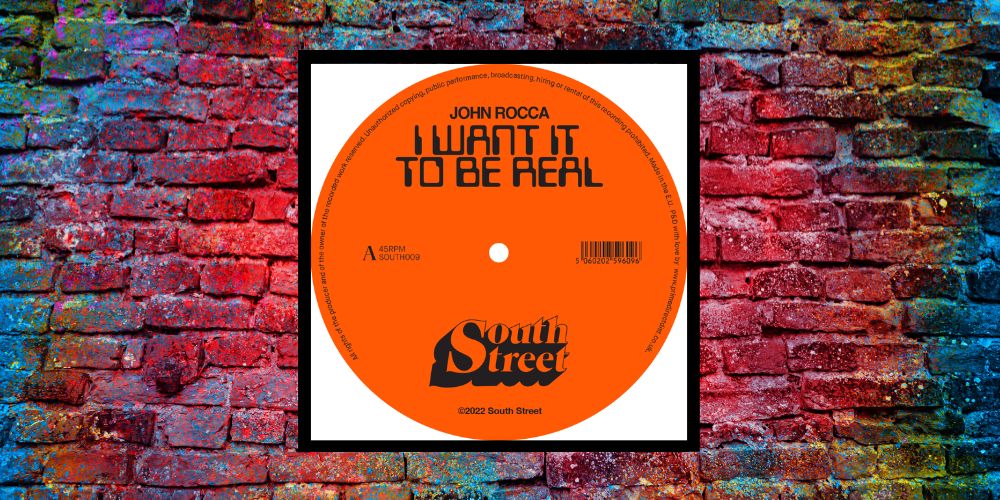 John Rocca's I want it to be real originally dropped in 1984 via the streetwise label. Pushing the boundaries of disco and Brit Funk and fusing them with electronic sounds, it quickly became a club classic rocking clubs from the states to the UK and across Europe. Having cut his teeth in lauded UK funk band Freeze, who were behind classics Southern Freeez and I.O.U, and alongside Paul Oakenfold in Electra, Rocca was no stranger to crafting universally loved club sounds and on I want it to be real he crafted one of his finest moments.
It's a track which really captures the essence and excitement of the era. Rocca packed in infectious synth lines, sound effects which captured the then current boom of arcade machines, a pulsating bassline, fresh and captivating programmed drums, lush pads, shimmering arpeggios and a wonderfully effusive vocal packed with both emotion and and off-the-wall UK sense of humour. It was a unique track which had all the elements required to take the underground club world by storm.
I want it to be real still sounds effervescent today and is definitely deserving of it's current release via the excellent South Street label. Landing on a quality 12″ pressing they have commissioned a brand new rework from Australian edit king Late Nite Tuff Guy, a producer who it's safe to say knows more than a little about fusing the sounds of disco with electronica. His edit takes much of what made the original so special in the first place, the throbbing bassline, the wonderfully ear-worm synth solos and vocal effects and crafts it into a modern euphoric deep house track utilising smooth pads and more than a hint of Detroit Machine funk.
Over on the flip they have teamed it up with Farley 'Jackmaster' Funk's now classic 1987 'Farley Hot House Piano mix' which is packed with an abundance of innocent early house hands-in-the-air goodness. As you expect from house music of that era and especially from Farley, who was in inspired mood right at that moment, the keys and energy are immeasurable. A perfect combination of UK electro funk and Chicago house, it's a definitive track in the fusion of sounds which went into making house music the all conquering beast that it has become.
John Rocca's I want it to be real is a sonic landscape which transports us back to the dancefloors of the era, a vibrant and explosive track which laid the groundwork for much of what disco, house and electronic music would go onto become and as such it's great to see it back on vinyl.
Make sure that you grab your copy before this pressing disappears into the ether via: https://www.juno.co.uk/products/john-rocca-i-want-it-to-be/888534-01/
Incidentally the original has perhaps one of the classic 'most 80's' videos ever. Check it below. John Rocca, is still active and recording to this day and has just released a wonderfully Balearic album Reflections of the Sun… which is worth tracking down if you are getting ready to kick back in the summer sun.
For more info on John Rocca, Late Nite Tuff Guy and South Street please check:
John Rocca Facebook: https://www.facebook.com/JohnRocca.MuziK
John Rocca Instagram: https://www.instagram.com/john.rocca.music/
Late Nite Tuff Guy Facebook: https://www.facebook.com/LateNiteTuffGuyOfficial
Late Nite Tuff Guy Instagram: https://www.instagram.com/late_nite_tuff_guy/
Late Nite Tuff Guy Twitter: https://twitter.com/LateNiteTuffGuy
South Street Facebook: https://www.facebook.com/southstreetrecords
Love this? Check out more from South Street HERE.
Like what you hear? To help support LV Online buy us a coffee via Ko-FI. Click HERE
Tags:
John Rocca
,
Late Nite Tuff Guy
,
South Street