LV Premier – Joi N' Juno – Namaseo (Art Of Tones Remix Feat Amane) [Tropical Disco]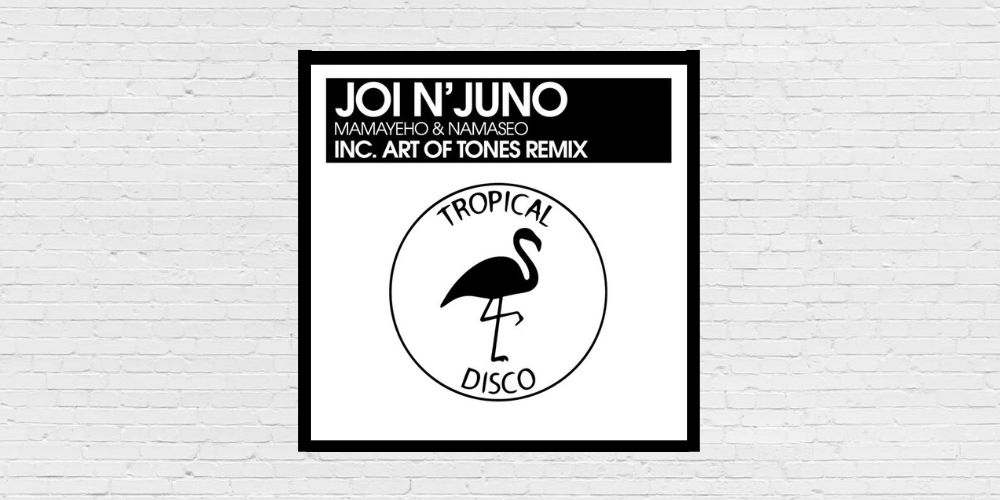 Art of Tones proves yet again why he is one of the hottest producers on the scene with this rather brilliant mix of Joi N' Juno's Namaseo which he has sprinkled with a whole bag of dancefloor gold. Packing in ear worm brass, hip shakin' guitar licks, deft percussion and floor shaking drums it's a winner from the first beat to the last and that's before you take into account the effusive vocal.
The EP also features the original version of Namaseo and another Joi N' Juno original Mamayeho which is all kinds of fun in it's own right.
This is a properly exciting EP throughout and we will definitely be keeping an eye out for more from Joi N' Juno whose effervescent energy certainly stands him out from the pack.
For more info on Join N' Juno, Art of Tones and Tropical Disco check:
Joi N' Juno Soundcloud: https://soundcloud.com/joiandhappinessmusic
Joi N' Juno Instragram: https://www.instagram.com/joiandjuno/
Art of Tones Facebook: https://www.facebook.com/artoftones/
Art of Tones Soundcloud: https://soundcloud.com/llorca
Art of Tones Instagram: https://www.instagram.com/artoftonesmusic/
Art of Tones Twitter: https://twitter.com/ludollorca
Tropical Disco Facebook: https://www.facebook.com/TropicalDiscoRecords
Tropical Disco Soundcloud: https://soundcloud.com/tropicaldiscorecords
Tropical Disco Records Instagram: https://www.instagram.com/tropicaldiscorecords/
Tropical Disco Bandcamp: https://tropicaldiscorecords.bandcamp.com/
Love this? Check out more from Art of Tones HERE
Tags:
art of tones
,
Joi N'Juno
,
Tropical Disco