Kapote Q&A & My Record Collection in 10 records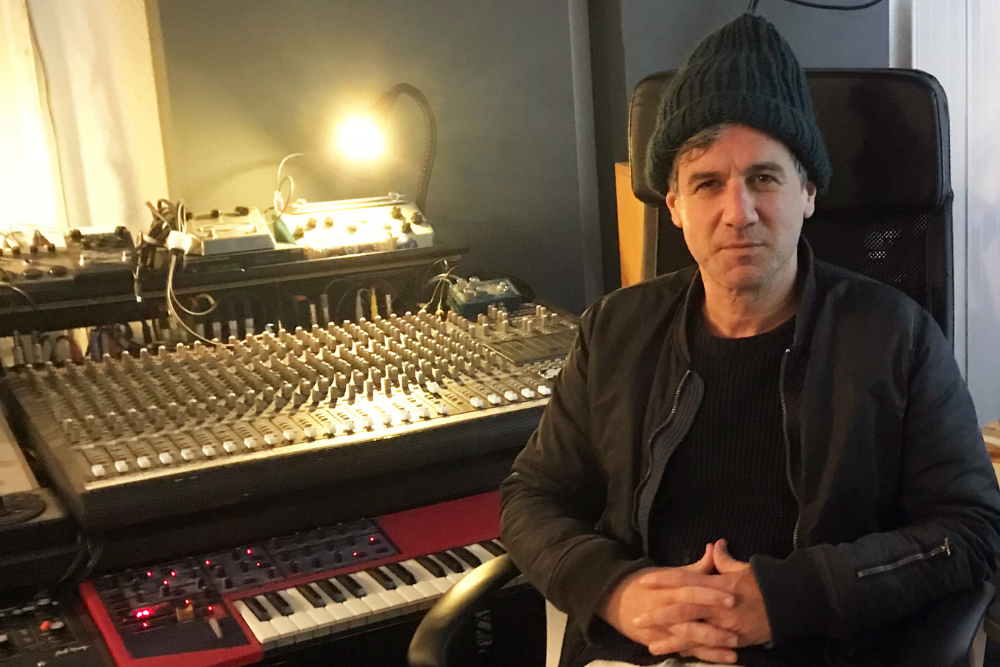 Kapote Q&A & My record Collection in 10 records
Hailing from Berlin Kapote (Mathias Modica) is the man behind the Toy Tonics Label which has hosted brilliant releases from Black Loops, Luke Solomon, COEO, Art Alfie, and one of the tracks of 2018 Ray Mang's remix of The Phenomenal Handclap Band.
With a superb reputation for quality and extremely cool releases it has built a strong following with the likes of Harvey, Kerri Chandler, Moodymann, Gerd Jansen, Gilles Peterson and The Black Madonna as well as landing in Mixmag's Top 10 labels of 2018.
The label is currently gearing up to release Kapote's debut album. We've had a sneak peak and it's everything you would expect packed with sublimely cool house music with hints of the coolest of disco and funk and discernible jazz inflections. It's an album which would move any dance floor but equally has the class for repeat home listening.
You can check the album out and buy it from: https://www.juno.co.uk/products/kapote-what-it-is/727794-01/
Mathias is also the man behind the Munk pseudonym and runs another huge Le Visiteur favourite label Gomma. It's safe to say that whether as a producer, A&R or DJ Kapote is a man who knows quality when he sees it. We caught up with him for a short Q&A and to ask him to take us through his record collection in 10 records, a tough task which he has delivered on brilliantly. His choices are below the Q&A. You can also check out one of the tracks from the album below.
Hi there Mathias,
Thanks for speaking to us today.
Your brand new album 'WHAT IT IS' is going to be one of the releases of 2019 fusing multiple different genres into a melting pot of sublime house music. Please can you give us a bit of history about the album, what made you do a full album when so many artists are moving away from the format and how long did it take to pull all the tracks together.
Hi! Thanks for your interest. The story goes: I have been making freestyle electronic music as MUNK on my older label Gomma for a couple of years. Trying to avoid concrete genres, instead inventing new styles and mixing up unusual elements and vibes whilst using a lot of the skills which I learned when I was a jazz piano student.
I also had a deep passion for dance music, especially Italian and American undergound disco.. and black house music.. Moodymann and Masters at Work etc.. So I started the Toy Tonics label with my alter ego Kapote to focus on that funky, jazzy side of Disco House and dance music. Also because we live in Berlin where formulaic Techno and very cold and dark and white house music is coming from which I think are very boring 🙂
I did several singles as Kapote when I started the label and we have built up so many fans that I thought it might be good to do something like a Kapote / Toy Tonics MANIFESTO. That way I can show what Toy Tonics is all about. Disco grooves, lots of live bass, keyboards and drum sounds that we mix with Jazz samples from rare old records, unexpected structures in dance music, warm organic, Balearic, cosmic, sunny, soulful vibes. We also aim for an extremely high musical quality that u can see in the complex harmonical chord structures, syncopated basslines, interesting arrangements and rolling beat patterns all the while trying to avoid clashes whilst bringing in unexpected styles.
As I play keyboard and bass on many of the other Toy Tonics artists' records it made sense to make a full album for myself first. Others will follow.
Toy Tonics is one of the stand out labels in electronic music currently, if you could give would-be label owners 2 tips for success what would they be?
1 Don't try to be like other big labels. Everybody has their own way and the more you do your own thing and don't try to copy then the bigger the chance that people will discover you and fall in love because you are unique.
2 Never do it for the fame. Do it because u love music, not because u want to look cool behind DJ decks.
What else can we expect from Kapote and Toy Tonics in 2019?
Remixes from the Kapote album by Art of Tones, Artwork and Rahaan are coming in September
Also Toy Tonics: New EPs once a month. By our lead artists Coeo and Rhode & Brown and Phenomenal Handclap Band. Their latest EP is out now with mixes by Marcel Vogel, Wajeed and Superpitcher.
We are also starting a little sub-label with Berlins OYE records. Called Toy TOYE Records. Just reworks of 1970's Jazz tracks for the dance-floor by me and OYE boss Delfonic. We are launching this in July.
Please can you give us 4 tips for a great day out in Berlin. A place to buy records, a place to eat, a place to drink and a place to dance.
1) Eat: Find me regularly at OSTRIA SIPPI in Neukölln. Lots of artists run the place and hang out there. The food is super good.
2) Drink: I really like SAMEHEADS in Neukölln. It's a bar with a dance-floor below where u can find people like Cosmo Vitelli, DKML or even some Toy Tonics guys spinning records in a weird place.
3) Dance: We start to do party's now at GRIESSMÜHLE. That is THE place right now. Come! 😉
4) Buy records at OYE records – Neukölln or Prenzlauer berg area.
Kapote – My record Collection in 10 records
Motorbass: Pansoul
I didn't get into 4 to the floor music until I was 19 or so. I though it was dumb. But then I heard Motorbass (on weed) and Masters at Work (on pills) and everything changed. I understood that there was a way to create body and funk music when you combine short cuts of samples grooves with loopy but syncopated drum machine patterns. I think this album never went out of fashion. I also recomend their work as LA FUNK MOB on Mowax. So fresh again.
Moodyman: Silence and other albums
I come from Jazz and from real instrumental music – playing with bands. I need musicallity and organic vibes and human grooves in music. If you are looking for this in electronic music Moodyman is the boss. And as I live in Berlin I am so bored about all that cold, static, formulated, white music made by producers who don't have skills as musicians and just trust the computer algorithms and quantising. Moodyman is different and his work sounds more futuristic and long living then 95% of todays electronic music most of which dies 1 week after it was released. Yes its a diss!
Kano: Its a war album
Italo Disco: Many people like it for the easyness of certain melodies or because the style becomes hype every couple of years and its a curiosity that Itaians had their own style. But what most people don't know: without Italo Disco there would be no House and without House no Techno.
The story goes: In Italy in the late 1970's there was an explosion of Discotheque culture. Long before there was a mainream disco fashion all over Europe in Italy they built crazy massive temples to dance. They were inspired by new York dance culture Studio 54 etc.
There was a lot of mafia money involved and by 1981 Italy was full of big room dance temples. Only problem was that there wasn't enough music as the disco sound was rare and had to be imported from US. But there were many talented musicians and all these new machines, drum machines and keyboards with futuristic sounds. So many musicians started to copy American bands (real musicians) with their machines and created many different styles of electronic disco music. They pressed these records for their own scene and very quickly there was a huge radio / club / record business all over Italy. First it was received as 'cheap' but then people like Moroder, Pet Shop Boys, Donna Summer, Erasure etc and many others heard about it and started to be influenced. And then some black kids in Chicago heard about it too.
They imported these records to the US and started to copy them. But they had less skills then the Italians. because the Italians most of the time came from bands and played in bands. The Americans were just DJs. So they copied the Italian ideas in a cheap and bad way and played it on their radio shows and at their Warehouse party's. That Crew was called HOT MIX 5 and they called their sound HOUSE.
Thats how it started. (Fun fact: while in the US the DJ still was in the corner, in Italy they were already in the middle of the club and toured all over the country and became superstars..)
Kano is one of the greatest artists
Allessandro Allesandroni: Prismo Sonoro
Italians also figure highly in movie scores. That's why so many of them later moved to the US and influenced the Hollywood music business. The biggest one was Ennio Morricone who did scores for many Sergio Leone movies like 'Once upon a time in America' etc.
But Morricone had a co-composer. And that co-composer was the guy who invented many of the signature sounds that Moricone made famous.
The guy was Allessandroni.
Salami Rose Joe Louis: Son of a Sauce
She is American and she has that amazing bubbling sound that kills me. Its music from today and I think it will be big soon.
Miles Davis: Dark Magus
All the albums by Miles from 1968 till 1979 are magic but this is one of the craziest. Miles had 'stolen' Michael Henderson, the bass player from Steve Wonder who was known for having the funkiest licks ever, he came from the black rare funk scene in the early 70's where funk was basically invented. So the drums and solos are sick, but the basslines are more in a melodic ultra syncopated style.
This music gives me chills. Little fun fact: If u get bored with the solos and just want the groove: listen to this only on the left channel. then you just hear drums bass and percussion + keys. killer!
Stravinsky: Le Sacre Du printemps/ The Rite Of Spring
Composed in 1913 this piece was played for the first time at the Paris Opera House where people started to scream and insult the orchestra and ballet dancers. Its an ultra rhythmical, evil beauty. One of the greatest compositions of all time for me. And somehow even 105 years after it has been written it seems there is people that don't understand it.. Do you feel it? Just listen!
Funkstörung: Appetite for Destruction
German artists Funkstörung co-invented a sound in the early 2000s that was the blueprint for lot of the electronic music of today.
They were working alog with Aphex Twin, Boards of Canada, Choocolate Indutries and others on that noisy distorted broken beat sound. that sounded irritating 20 years ago, but it is normal now. They are friends and I play piano, cello and bass on some of their songs.
I think they deserve more fame for their groundbreaking work
For more info on Kapote please check:
Facebook: https://www.facebook.com/kapoteee/
Soundcloud: https://soundcloud.com/thekapote
Tags:
Allessandro Allesandroni
,
Anderson paak
,
Coeo
,
Funkstörung
,
Gomma
,
Herbie Hancock
,
Kano
,
Kapote
,
Miles Davies
,
Monk
,
Moodymann
,
Motorbas
,
Phenomenal Handclap Band
,
rhode & brown
,
Top 10 Records
,
toy tonics