Thatmanmonkz – LV Featured Artist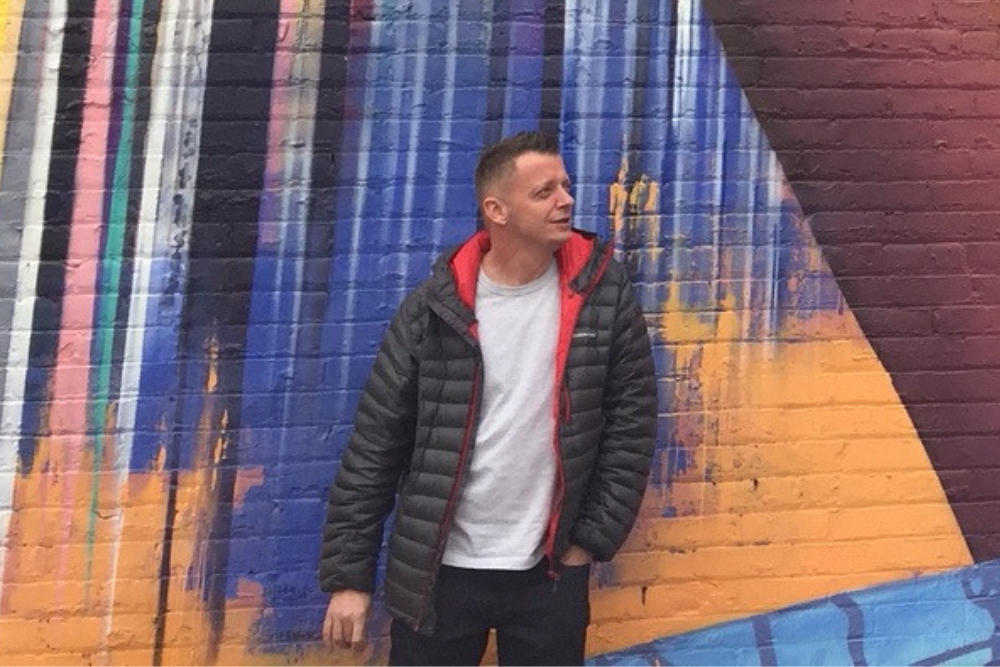 Thatmanmonkz – Le Visiteur Featured Artist
Something of an underground legend 'Thatmanmonkz' has been a go to name on the scene for much of the last decade if you are looking for some truly classy music. He has released a string of brilliant tracks on some of the finest labels out there including G.A.M.M., Dirt Crew, Music For Freaks and Classic as well as his landmark album Columbusing on Delusions of Grandeur.
Very much a DJ's DJ he is very much at home working in a fusion of genres from downtempo to soulful groove fuelled MPC jams leading to him being in huge demand worldwide. He happily juggles the travel with his production schedule and the rigours of running 2 record labels.
Kicking off a very busy year ahead which will include a brand new artist album he has a brilliant double sided single coming on May 17th Easy, Still / Wash Good on his own Shadeleaf label. You can check the release below on Soundcloud and buy it from: https://shadeleafmusic.bandcamp.com/album/sm-20-thatmanmonkz-easy-still-wash-good
We caught up with Thatmanmonkz to discuss all of the above along with his studio, his favourite Thatmanmonkz tracks, his favourite DJ's, places to visit in Sheffield on a day out and some other fascinating insights into his career.
A fascinating interview with this enigmatic producer!
Hi there Thatmanmonkz,
Thanks for speaking to us today.
For our readers who haven't come across your releases before how would you describe the musical style of Thatmanmonkz?
My tastes have always been pretty eclectic, and, I guess my production style and Deejaying are now a reflection of that too! Though my biggest records so far have probably been MPC sample style tracks with a strong Detroit/Midwestern influence, I'm honestly blessed to feel just as comfortable making analogue style tough tracks, disco edits, or hip hop productions. I'd say pretty much anything goes if I find it funky, and I'd probably rather be known for that, than for being stuck on one sound or sub-genre, if that makes sense?
How would you describe your latest release Easy, Still / Wash Good which is out on 17th May and can you give us a bit of history about the release?
"Easy, Still" is with my bro Pete Simpson (aka A Brother Is…) who is one of my best friends and most frequent musical collaborator. He's been on nearly every project I've done in some capacity, as either a vocalist or multi-instrumentalist, and brought Darren and Mike (Bass/Sax) to the table for this one, which is basically a reimagining of an old track of ours. It's very much a live instrument based disco/funk influenced house track for summer dancefloors, and, the second half is a little nod to one of my musical heroes, Lil Louis. "Wash Good" is a lot darker and more minimal, and aimed much more squarely at the red light in a sweaty basement crew. I picked up the vocal sample in Detroit a year or so ago, it's pretty rare, and very difficult to spot as it's been through a lot of studio treatment!
Which 3 tracks of yours would you say are quintessentially Thatmanmonkz?
I have different favourites at different times, the best known ones are probably "For Bae" and "Girl I Know It", or, "The Assassinator". The ones I'm thinking of as I do this interview are :
The Feeling
With my man Pete Simpson again, this is from right at the beginning of my solo career on the Tone Control label, and, I've always had a soft spot for it.
Jus Anutha Wunna Deez
A track from my debut LP, but, I always remember that I made it in a few hours right at the end of finishing the album, and, still find myself playing it out a lot.
Ooh Wee
This one features Detroit's Nikki O, who I'd always dreamed of working with since I first heard her on Mahogani Music, and came out on Classic last year.
Which artists inspired you to get into production and how would you say your sound has developed since you started producing?
I'd probably have to say the works of Moodymann and J Dilla were probably the main reason I wanted to actually get into producing. I'd loved people like Larry Heard, Lil Louis, Q-Tip etc before that, but, something about the sound and feel of those guys records were the tipping point in terms of me deciding to actually try and do it, rather than just DJ, and collect music. The other thing I noticed very quickly when starting out as an artist/producer is that your influences are actually the people you work with and collaborate with, probably a lot more so than the people that you're into listening to. For me Pete Simpson, Ross Orton, Chris Duckenfield, and Malik Ameer are probably my biggest influences as they've schooled and shaped what I can do, creatively, and what I'm capable of doing in the artistic, sonic, and business aspects of music.
My 'sound' was very full, and sample based early on, and, I've probably started to move away from that a little over the years. I still do it when the vibe comes, but, what was once one of the most interesting sub-genres in house has maybe become a bit oversaturated in recent years, which led to me moving away from it a little, maybe subconciously as much as anything. Also, getting to make and release hip hop has made it easier for me to not have to express that side of my production in my house work as much, though it will probably always be there. I'd also say that regular Deejaying around the world informs your production style and development, as you know what works out there on the dancefloor, which makes you want to make it more effectively yourself!
Please can you describe your production set up for us and what is the one piece of equipment or plugin that you couldn't live without?
You know, I'm always really hesitant to talk about 'gear', as it runs the risk of becoming or sounding elitist, and we've got a real problem with class in dance music right now. It really doesn't matter to me what anyone uses, or, how they make music, as long as it's dope! I have a fairly basic set up at home (Logic, NS10 Monitors, MPC, Bass Guitar, Guitar, couple of synths, ribbon mic), but, luckily have access to friends equipment and studios where I can get to use/borrow other things as and when I require them… Oh, go on then, I couldn't live without Soundtoys Decapitator plug-in. 😉
You also run two labels the vinyl only SWAT and Shadeleaf, how would you describe the ethos of the labels and which releases on each label are you most proud of ?
SWAT is basically 'Shadeleaf Weapons And Tactics', which is much more minimal in terms of branding and promotion, and, gives me an outlet to put out anything I want, and, get it to vinyl quickly. Shadeleaf is more traditional in terms of having a brand image, and a style/sound we try to go for, and in it being focussed on digital and vinyl equally. I'm about to start a Disco Edits vinyl only sub label too. I'm proud of them all in different ways and for different reasons, so it's really tough to pick/have a favourite from them…
SWAT, AmeriKKKan Poets
This one is by Malik Ameer, Leron Thomas, and I. The work Malik and Leron did on this record is phenomenal, and I'm really really proud to have made it with them. Also, I really couldn't choose between DJ Nature and Pontchartrain (the other SWAT releases), so had to go with my own one to be diplomatic as well as nepotistic!
Shadeleaf , DJ Applejac "Adinkra"
To get to put out records like this, by guys as talented as ATL's DJ Applejac is one of the best things about having a label! Miles Bonny killed it on the horn too. In terms of favourite Shadeleaf records, I have to give a shout out to MannMadeMusic and Simba too, they've both been on the label more than once and are very much part of the family!
You recently started up the hip hop duo Madison Washington, please can you tell us a little about that project and what prompted the step into Hip Hop?
To be honest I've always been just as into Hip Hop as I have House music, and I've always made them both since I started writing music. Starting a solo career as a Producer/Beatmaker/Artist was a lot easier in the House genre being from the UK, but the intention was always to try and do both. When I got to do my debut album ("Columbusing" on DoG in 2016) I insisted on there being a lot of downtempo tracks on it, to illustrate that it was very much a natural part of making music for me. My friend Malik Ameer was on that, and was someone i'd been talking to about collaborating more with anyways, and, we decided to start up the Madison Washington project after that. He's also friends with Pan Amsterdam, which led to me producing that project too, and, we've all got a lot more in the pipeline.
If you were asked to collate your perfect club night which 3 artists would you book and why?
So, I'll curate a House based night for a smaller venue with a great sound system, with excursions into both disco and techno. (You'll note i'm not picking any "Top 50/Hard Ticket seller/Instagram hand waving for selfie" types as that's not really my thing 😉 ).
Norm Talley – a great guy, great recording artist, and, if you're 'the DJ's DJ' in Detroit, which he is, then you really do know how to get down!
Chris Duckenfield – Pretty much my mentor, plus, he's probably the most criminally slept on DJ in the UK. From Disco to Techno he knows, and, he reads the room like Neo reads the Matrix.
Ash Lauryn – The most exciting DJ I've heard in a while. Atlanta via Detroit, often musically somewhere on that awesome fine line between proper techno and proper house, and, you really should check out her blog "Underground and Black" too.
You are also heavily in demand as a remixer and also do adverts and movie soundtracks. What aspect of your music production career do you enjoy the most and how do all the different strands feed into each other?
They're all satisfying in different ways you know? I feel very lucky that people trust me enough to let me work in different genres and areas of the industry, and, they all kinda lead into and inform each other really. A track made for one purpose often triggers an idea for something with another, and, if I'm having a lil' block in one department, i'm usually being productive in another, so, it means I get to (and had to learn to) utilise my time productively and efficiently, as, there's always something that needs to get done. Nothing quite tops working on a new piece of original music for the dancefloor, and that feeling you get when you first realise you're onto something, that's still very much my favourite musical buzz.
When you are djing what is your 'if all else fails track'?
Awwww man, that's an almost impossible question. There's a good few of them and it depends on the time, place, and my mood… For today I'll go with Norma Jean Bell – I'm The Baddest Bitch, Sylvester – Over and Over, and, Main Source – Looking at the front door. My favourite track this year so far is DJ Kemit's rework of Robert Glasper's "Enoch's House", that has worked for me every time and place I've played it.
What else can we expect from Thatmanmonkz in 2019?
Busy year ahead hopefully! I'm currently finishing up a solo album release for my own Shadeleaf label that will be out in a few months, there might be a further single release from it before that… I have a remix coming out on Dicky Trisco's new 'Dead Horse' imprint for my dude Simba's next EP, which is a great release from one of the nicest and most slept on dudes going. I may also have a firm hand in new vinyl only edits label "Hot Peas N Butter" which launches in June. I'm also doing some work on reimagining the back catalogue of library label KPM, but, can't say too much about that yet… I'd think there'll be some hip hop with my man's Malik Ameer and Pan Amsterdam coming too, and, I'm gonna have to find some time to get some gigging and sunshine in over the summer months as well!
And finally, please can you give us 4 tips for a great day out in Sheffield. A place to buy records, a place to eat, a place to drink and a place to dance.
So, we'll head over to Abbeydale Road for a dig at Low Profile records, which is run by my man Danny J, who is also one of the very best DJ's in the city (mind you, the 'wreckastow guy' nearly always is everywhere, right?).
Then we'll head into town to grab a bite at The Blend Kitchen, my girl, who's a chef, works there and does amazing things with Caribbean fusion food!
Down to Kelham Island for a few drinks, we'd start in my favourite real ale spot, the Kelham Island Tavern, and head to a few other nice hangouts after a couple in there…
As for dancing, the bigger names can be found at Hope Works, and, my man Chris Duckenfield is usually on resident duty there too. For a smaller more intimate underground vibe, there's a new spot opening shortly called Bal Fashion Social on Exchange Street, which i'm gonna be throwing a few parties at…
For more info please check:
Facebook: https://www.facebook.com/shadeleafmusicUK/
Soundcloud: https://soundcloud.com/thatmanmonkz
Tags:
Thatmanmonkz