LV Selectors 72 – Laroye (Local Talk)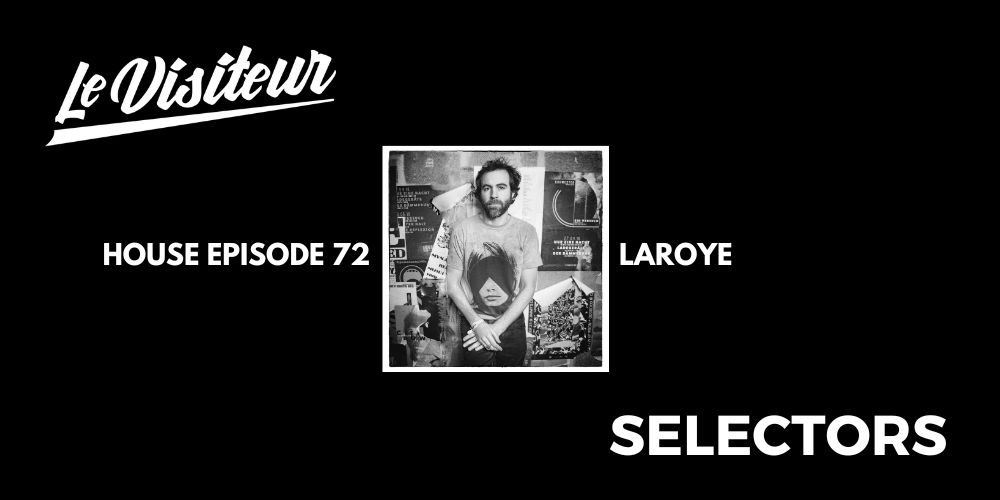 I have been waiting with bated breath for the Laroye album to drop and release day is finally upon us this Friday, 26th. Laroye is an artist who stands out as crafting sublime deep house, broken beat and beyond. The production values of his tracks are always sky high, he's and artist who exudes a serious passion for what he does. If you love quality music tracking down this album on Local Talk is a must.
Grab it here: https://tomlaroye.bandcamp.com/album/let-it-go
To celebrate the release of Let It Go I asked Laroye to step up to the Le Visiteur decks to lay down a mix for our Selectors series and as you would expect he's put together something very special for us.
We also spoke briefly about the mix and you can grab the full tracklist at the bottom.
Q1: What can you tell us about the theme of the mix and what are some of the key tracks for you?
Let's say it's a mix to celebrate Life! The entire experience with its ups and downs dark and light. The key tracks are The Geridau "Take a stand for Love", "Precious day" feat Humphrey that I composed 15 years ago in my first studio in Paris. And two tracks from the album "Beauty in Motion" with Abi Flynn opening the set and "Grateful" with Jerry Clavier closing the mix.
By Mixing and connecting sounds like Broken Beat, Soulful, Deep & Classic House, Afro & Cosmic Jazz… My idea was to create a Journey that gives a real representation of the different aspects of my work. Hope you'll enjoy the ride.
Q2: How does the style of mix here compare to how you would approach a live DJ set?
The only thing that changes is that I don't have any crowd to interact with and take inspiration from… But in terms of style that's exactly what I would play in a club night. A bit of Jazz, Latin, House, Techno, Soulful Brazi with an uplifting energy.
Q3: Which other artists DJ mixes do you find yourself coming back to time and again and do you have a favourite that you gravitate towards?
I don't really have time to listen to DJ mixes to be honest haha .. but I would say that I loved listening to Louie Vega's lockdown show shows during the pandemic, and also Dj Spinna's shows where incredible, but probably the one I dig the most is Osunlade and his Yoruba soul radio.
Here is a link to Osunlade'shows:
https://m.twitch.tv/yorubasoultv/home?lang=en
I always love his way of mixing jazz, afro and soul, really deep and sophisticated tunes. Always a subtleness and great taste in the selection. It's always a place where you can make great discoveries in so many styles. Highly recommended 🙂
For more info on Laroye and Local Talk please check:
Laroye Facebook: https://www.facebook.com/tomlaroyeofficial/
Laroye Soundcloud: https://soundcloud.com/tomlaroye
Laroye Instagram: https://www.instagram.com/tomlaroye/
Local Talk Facebook: https://www.facebook.com/LocalTalkRecords
Local Talk Soundcloud: https://soundcloud.com/localtalk
Local Talk Instagram: https://www.instagram.com/localtalkrecords/
Local Talk Twitter: https://twitter.com/thelocaltalk
Love this? Check out more from Laroye here
Like what you hear? To help support LV Online buy us a coffee via Ko-FI. Click HERE
LV Selectors 72 – Laroye – Tracklist
1- Pegasvs – Closer To the sun ( laroye reprise flute mix feat Ben Hadwen & Abi Flynn )
2- Laroye & Abi Flynn – Beauty In Motion
3- Laroye Feat Humphrey – Precious day
4- Domo Domo – Happening In The Streets (Domo Domo Rework)
5- Geridau – Take A Stand For Love ( Blaze Mix )
6- Queen Latifah – How Do I Love Thee (Remastered Extended Club Mix)
7- Lanu x Allysha Joy – Rewind
8- Laroye – Get Down ( The moonfunk Dub )
9- NLite-, Sio – Between Realms (Jullian Gomes Remix)
10- Izy – Frantic (Zepherin Saint Tribe Vocal Mix)
11- Demuir – Mind, Body, And Soul. Call Me (Original Mix)
12- Charles Earland – Leaving This Planet ( Laroye Rework )
13- Karizma – Tambourine K2 Redit
14- The Mechanical Man – Harmattan
15- Laroye – Nothin' But Trouble
16- K Alexi Shelby – Dancer (Glenn Underground Remix)
17- Laroye & Jerry Clavier – Grateful
Tags:
Laroye
,
local talk