Le Visiteur on the The Sound of Midnight Riot Podcast with Jaegerossa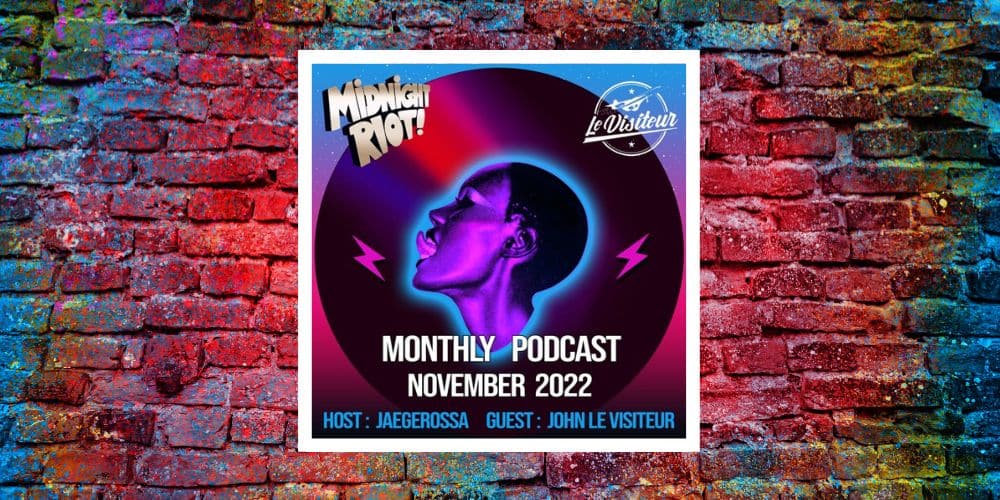 This month I had the pleasure of appearing on the Midnight Riot podcast. It's a Podcast that I have supported here on the site and always make a point of checking out every month. Jaegerossa is an excellent host and the music is always packed with high class disco goodness and the guest DJ's who anchor the last hour are always out of the top drawer.
For my appearance on the podcast I did something a little special.
As I'm sure you know Le Visiteur Online hosts Yam Who's Disco Juice column every month.
It's a well loved column which always gets a ton of views and has helped break some of my favourite disco releases of the last couple of years.
You can check the all the Disco Juice columns here: https://levisiteuronline.com/category/yam-who-disco-juice/
For my mix I trawled through all the tracks that Yam Who has shared via Disco Juice since it's first appearance on Le Visiteur and put together a Disco Juice themed mix and it turned out to be an absolute cracker. I hope you enjoy it!
The full tracklist for my hour of the mix with starts at 1.03 is:
Leroy Burgess – One Plus One (Dave Lee Club Mix) [Z Records]
Elado – Big Baba [Razor-N-Tape]
Sonny Beau – Delicious [Tropical Disco Records]
Keni Burke – Let Somebody Love You (Dimitri From Paris Super Disco Blend) [Le Edits]
King of Nice Days (A Marc Roberts Edit) [Moton Records]
Homegrown Syndrome – Party Vibes [Athens of the North]
Young Pulse, Natalie Nova – Free (DoWatchuWant Disco Dub) [Funky French League]
Fire Island Ft. Loleatta Holloway – Shout to the top (Hifi Sean mix) [Plastique]
Mystic 2 – Free to Be Me (Original Mix) [Midnight Riot]
Montego Bay – Gotta Deep Dancing (Original Mix) [Razor-N-Tape]
JB Edits – Leapy Looker  [SoSilly Records]
Black Hawks of Panama ft Bisi – Freaky Dance (PanAm Club Mix) [Midnight Riot]
Sylvester – You Make Me Feel, Mighty Real (Soulwax For Despacio Remix) [Soulwax]
DC LaRue – Let Them Dance (Dr Packer's Robotic Dub Mix) [Only Good Vibes]
For more info on Midnight Riot please check:
Midnight Riot Facebook: https://www.facebook.com/MidnightRiotRecords/
Midnight Riot Soundcloud: https://soundcloud.com/midnight-riot-records
Midnight Riot Instagram: https://www.instagram.com/midnightriotrecords/
Midnight Riot Twitter: https://twitter.com/MidnightRiotRec
Love this? Check out more from Midnight Riot HERE
Tags:
Jaegerossa
,
le visiteur
,
Midnight Riot
,
Midnight Riot Podcast