Le Visiteur Online – Top Tracks of 2018 – Guest Picks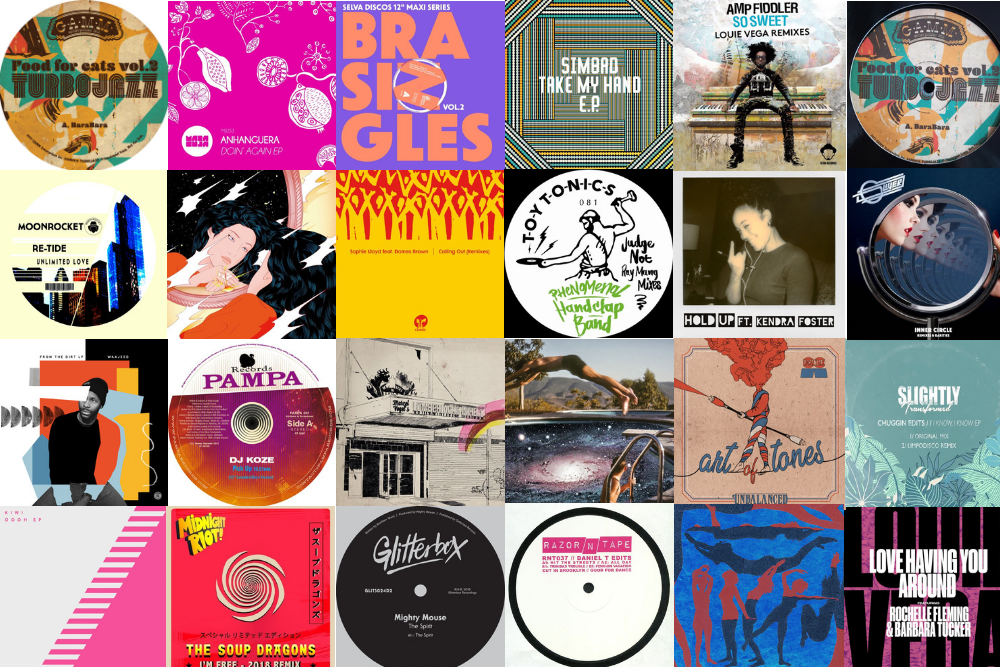 Le Visiteur Online – Top Tracks of 2018 – Guest Picks
For our end of year feature for 2018 we talked to some of the hottest artists, DJ's, producers and club promoters who we have covered on Le Visiteur Online this year and asked them to each give us their favourite tune of the year and a few words about the track. It's turned into a spectacular snapshot of 2018.
It's been a truly brilliant year for electronic music and most especially for house and disco and this list show cases some of the key tracks which have stood above all others this year. These are the tracks which have lit up clubs and soundsystems across the globe.
A HUGE thanks to everyone who got involved in helping us put together this fantastic list, make sure you give them some love. We have also pulled all the tracks which were up on Soundcloud into a playlist which you can check out HERE. The perfect soundtrack for that end of year party.
We have also collated all the track available digitally into a chart over on Traxsource. You can buy them HERE
80's Child (Masterworks Music) FACEBOOK
My Pick – Adelphi Music Factory – Javelin (Calling Out Your Name) [Weapons]
It's been years since I heard a track that made my hairs stand on end!! Javelin wins the year hands down for me!
Alkalino (Audaz) – FACEBOOK
My Pick – Turbojazz – Bara bara (Gamm)
Its one of those tracks I played quite often this year. It has all the right elements: jazz, groove, funk and soul.
Art of Tones (Local Talk / Monoside) – FACEBOOK
My pick – Daniel T – Trinidad Trouble (Razer N Tape)
I think this is the track I played the most in my DJ sets. You could argue it's only a "re-edit" track, based on a biiiig Lancelot Wayne sample, but it's so clever and brilliant in the way he did it, and so much fun to play – and the groove is irresistible ! And i also hammered "Hit The streets" (same EP) so the whole record is 2018's best EP for me, period. If I had to name a second and third, that would be Mr fries "Nocturne" and Soulphiction "B3B4URD1" !
Andy Buchan (Alpaca / Masterworks / Chop Shop) – FACEBOOK
My Pick – Kiwi – Oooh [17 Steps]
I could have chosen a few different tracks for this – Parquet Courts 'Wide Awake' and Krystal Klear 'Neutron Dance' come close – but this Kiwi track is brilliantly different. There are any number of bangers in the world, but this is a stunning bridging track, a largely beatless, melodic house track with stunning chords and a chorus of 'Ooh's (hence the name) fluttering in and out. The best dancefloors have ups and downs, and this is an amazing bridge between the two.
Tomi Chair / Tominori Hosoya (TH pressing) – FACEBOOK
My Pick – Mark Hand feat. Greg Blackman – Midnight [Soul Print Recordings]
Really beautiful detroitish & soulful house music!! This makes me hot always!
Chuggin Edits (Slightly Transformed) – FACEBOOK
My Pick – Change – Glow of Love (Cody Currie's Re – Work)
My fav track this year was the Codie Currie version of Change's Glow of Love, it is unreleased and was I was pleased he gave it to me
Don Dayglow (Midnight Riot / Hot Digits) – FACEBOOK
My Pick – Peggy Gou – Han Jan [Ninja Tune]
This is a track which manages to sound both fresh and classic at once. The gritty, raw 808s contrast with the restrained instrumentation and woozy vocals in a future classic both knowingly cool and wildly danceable
Amy B Douglas (Glitterbox / DFA) – FACEBOOK
My pick – Childish Gambino – Feels Like Summer [Wolf+Rothstein / Liberator Music]
If Marvin Gaye were alive today and hanging out with The Dust Brothers and DJ Premiere or Prince Paul that's what it sounds like to me.
David Elders (MFSB Edinburgh) – FACEBOOK
My Pick – Quart – Life is Beautiful [BBE]
Just a beautiful track, full of emotion and feeling. Proof positive that the best tracks don't need to be bangers.
Felipe Gordon (Exploited / Toy Tonics) – FACEBOOK
My Pick – Felipe Gordon – Nebiancater [Lovedancing]
I love the sound of the chords and the drunk AF beat
Final DJS (NDYD / Soave) – FACEBOOK
My Pick – Oliver – My City
This song really stands out over all the other releases I heard this year. It has that perfect lovely mood. The connection between oldschool disco vibes and synthwave sounds is perfect and I dance everytime I hear it. A true masterpiece!"
Fingerman (Hot Digits Music) – FACEBOOK
My Pick – Vincenzo De Bull – Champ 1 [Whiskey Disco]
One of the most infectious grooves of the year for me thats full of energy and cut up to perfection. Big big tune!
My Pick – Mighty Mouse – The Spirit [Glitterbox]
This is a energetic track that I received in October this year and I must admit it this tune has energy for days. It is a throwback to the 1990s house sound using a hot disco loop, manipulated and a whole new song is borne from it. Aside from my own tune "FIRE" on Midnight Riot Records with Philadelphia Legend Vocalist Shirley Lites, this has been in almost all my sets. I have experienced the same results each and every time played. When the volume is on maximum the people will throw there hands up and you will see the smiles and experience the dance floor lifting. To truly understand the production process check out Patti Label "In The Spirit" and you will hear how Mighty Mouse made this into a current dance floor stomper. One of the best of the year in my opinion.
Hemi (NDYD /  High Above The Ground) – FACEBOOK
My Pick – KiNK 'Leko' (Session Victim Remix) [Burek Music]
Kink has been the producer I've been most influenced by for the last decade. This track is taken from a remixes EP out this year which included an amazing Session Victim remix! The thing I love about KiNK is how he blends disco elements into techno in such unqiue way. And what Session Victim did was make it smoother and "Hamburgy".  I wouldn't say it's indispensible for DJ Sets but an amazing tune to listen to and play in the calmer hours of the clubs or open spaces.
George Kelly (Chop Shop) – FACEBOOK
My Pick – Hp Vince & Dave Leatherman – Loveland [Chop Shop]
This Dutch duo has been around since the 90s and in the recent years they have focused on disco and house. Great sampling and flawless production on this single as per usual, really works for every occasion.
Get Down Edits – FACEBOOK
Our Pick – Phenomenal Handclap Band – Judge Not (Ray Mang Disco Mix) [Toy Tonics]
There has been so much great music this year and a lot of great tracks to choose from but we will go with this brillant piece of music from Mr Ray Mang. Such a jam!
The Last Trip To Gandahar (City Fly) – FACEBOOK
My Pick – Jank – 78% Pure Fragment [Mysterious Works]
This has to be my track of 2018. Jank delivers with this sublime track that has been in the Gandahar record bag since the summer. 78% Pure Fragment has everything you want from a heavy baseline to a soul/funk element and groovin Rhodes in-between.
Yogi Haughton (MFSB / Black Riot) – FACEBOOK
My Pick – Sophie Lloyd featuring Dames Brown – Calling Out [Classic Records]
It's a very special rekkid that has the power to suck bodies onto a dance floor on its first play and it's an even bigger rekkid that folk remember instantly the second time it's dropped and it's a MASSIVE tune that is played TWICE in one day at MFSB and we don't generally play a track twice in one day, perhaps THAT is why folk remembered it! Probably the biggest track nationwide this year I would argue?
Jonna Iliffe (City Fly / Mysterious Works) – FACEBOOK
My Pick Simbad – Take My Hand ft. Brian Temba [Freerange Records]
Simbad is one of my all time fav producers so it was no surprise when he delivered with this one. Smooth Vocals, Twisted Hypnotic Melodies with the UK grit… Me all over!
Intr0beatz (Just Fine / Moment Cinetique) – FACEBOOK
My Pick – Kevin Over – Penthouse Boogie [Madhouse Records]
I've been following Kevin for a bit over a year now and I think this guy isn't able to make anything but heat. Penthouse Boogie had just all the elements that I like in a tune and it just works so well on the floor. Dope percussion, super tight drums, the sub is perfect, the vocal sample on point plus it's super musical. What else do you need?? 10/10
Natasha Kitty Katt (Ghetto Disco) – FACEBOOK
My Pick – Cirandisco – Anhanguera [Maracuja]
This was my track of 2018. I absolutely love the contemporary disco vibe, topped up with the perfect audio bites and driving strings. A superb piece of work that has made its way into the majority of my sets in 2018.
Krewcial (Lumberjacks In Hell / Mysterious Works) – FACEBOOK
My Pick – Cotonete, Dimitri From Paris – Parribean Disco
It's a perfect blend of all my favourite music : the band's jazzfunk origins that shine through in the guitar and keyboard solos, the reggae vibe in the reverbs, the latin influence in the percussion and horn stabs, the disco drums, and the house vibe in the keys. Dimitri From Paris mixing it to top it all off. As a result it's a dreamtune for DJ's like me with a broad taste and who mix various genres. It simply is a future classic.
Frederico Luyo (Double Cheese Records) – FACEBOOK
My Pick – Elias Kazais, Maria Zigomani – Infinity Lines (Double Cheese Records
Still circulating as a DJ promo, this deep Afro tinged track really stood out as the year's last banger. Greek producer Elias made it simple and effective and I can't wait for more.
KS French (Maison Du Groove / FKR) – FACEBOOK
My Pick – DJ Koze – Pick Up [Pampa]
The short nostalgic sample and energetic bounce that he give to the track with some vocals! Simple and perfect creativity.
Pete Le Freq (Alpaca / That Needs An Edit) – FACEBOOK
My Pick – Chic – Thinking of You (Dimitri from Paris Remix) [Glitterbox]
From his remixes album. I've had it for 3 months and played it EVERY time. Just a properly organic rework.
Love Drop (Home Taping Is Killing Music) – FACEBOOK
My Pick – Louie Vega – Love Having You Around [Nervous]
He's probably my favourite producer and here he recreates a classic with a fantastic arrangement, wonderful instrumentation, and the usual ruff bass and beats. It's every bit as good as the original!
Ray Mang (Toy Tonics / Mangled) – FACEBOOK
My Pick – Barbatuques – Baiana [Optimo Music Selva Discos]
This amazing track by the São Paulo vocal percussion group from their 2005 album O Seguinte É Esse gets a 12″ release on Selva (Augusto and Millos's label)!
Michael The Lion (Soul Clap Records / Razer N Tape) – FACEBOOK
My Pick – Jamie 3:26 & Masalo – Testify (Terrance Parker remix) [Local Talk]
I don't think I played any song more this year than Terrance Parker's remix of Jamie 3:26 & Masalo's "Testify." Just an unbelievable house tune. I developed a particular way of mixing it that really made it a high point of my tour sets and I loved the energy it generated.
Mighty Mouse (Glitterbox) – FACEBOOK
My Pick – DJ Koze – Pick Up [Pampa]
So much great music this year but this track is a stroke of genius, futuristic and retro at the same time. Very very clever with a ridiculous amount of emotion
Moody Manc (3 AM / NicetracksUK) – FACEBOOK
My Pick – Nasser Baker – Say Something
"Ok, this is always the sort of question that I dread! I like to play right across the board so there's a lot to go at, then there's the 'what criteria do you choose on?' aspect, then there's the 'if I choose THAT, people are going to think that I'm THAT kind of a DJ, then….Ah well, on first impulse one track that stayed in the 'bag' and got played a lot this year was "Say Something" by Nasser Baker. It's not been a 'floor destroyer' or anything like that but what I really liked about it was that it's quite original; it's a song for starters, it tells a story (and I don't really play a lot of full on 'songs') and it's a quirky song at that, and it describes something which you see in clubs all over the world, always have, always will and a situation that everyone I'm sure will relate to from one perspective or another. The vocal delivery, arrangement and production gets the mood 100% right, the beats have a brilliant bounce and it's structured in a great way. In fact what's not to love about it? More please!
John Morales (M&M / BBE / Glitterbox) – FACEBOOK
My Pick – DJ Spen – Free Love [Quantize]
DJ Spen, is not only a good friend but an amazing producer. He took the classic Jean Carne – Free Love  hit, and turned it into a Soulful House classic true to the original but yet super dance floor friendly, like only he can do, Spen can do no wrong with his productions.
Motte (Midnight Riot / Purple Disco) – FACEBOOK
My Pick – Slam Dunk & Chromeo – No Price (Art Of Tones Remix) [Glitterbox]
I think that this one has all the ingredients that a modern Disco track should provide. A driving bassline, funky guitars, topped by superb strings and harmonies. Then this female vocal that brings back memories, I don't know where from…  And the male vocal that has a touch of French house at it's best. This is definitely a 10/10 release.
Opolopo (Defected / Good For You / BBE) – FACEBOOK
My Pick – Moon Rocket & Re-Tide – Unlimited Love (Club Rework) [Doomusic]
Excellent use of the old Alan Parker track with it's killer bass line and lush strings. Was previously released as "Track Two" but this updated 2018 club version is such a great tool for transitioning between soulful to deeper territory. Killer!
Phil Rose (Jaegerossa / Midnight Riot Records) – FACEBOOK
My Pick – Idris Muhammad – 'Could Heaven Ever Be Like This (Crissy Kybosh – Reach Up Edit)
Sometimes a record can be sampled in the wrong way or re-edited to its detriment, this is not one of those tracks. Firstly taking on such a monumental record from this legendary American jazz drummer is no mean feet. The orchestration and production of the original alone makes any re-edit a task in itself! Crissy's edit has managed to keep the raw elements all in the correct place while at the same time using that iconic baseline to drive any dance floor to an almost religious place. Guaranteed to take you away with Idris into his heaven without doubt. Hats off to Chrissy for doing what a lot of re-editors/producers sometimes cannot do, making an amazing record sound even better ! This has been my secret Weapon for months and will continue to be for months to come !
Phonk D (Salsoul / Nitegrooves) – FACEBOOK
My Pick – Phenomenal Handclap Band – Judge Not (Ray Mang Disco Mix) [Toy Tonics]
When I visited DJ Harvey's Resident Night at the Pikes Hotel in Ibiza this summer, I immediately noticed this tune. Luckily I found the title over Shazam but no further hints about it online. A few months later Toytonics announced the record with a small video of this night and I was very happy to finally get this record. It's an amazing song that I'm currently playing in every set.
Kris Santiago (NDYD) – FACEBOOK
My Pick – Krystal Klear – Neutron Dance [Running Back Records]
The 'Inspector Norse of 2018', brought back some of the Hi-NRG disco vibes that were lost in translation for many years and that supposedly analog synth bass can now be found in many productions coming out towards the end of this year.
Shit Hot Soundsystem (Midnight Riot / Chopshop) – FACEBOOK
My Pick – Chuggin Edits – I Know I Know (Limpodisco Remix) [Slightly Transformed]
A hard one because there's been so many great tracks out this year but the track one that stands out to me is I Know I Know (Limpodisco Remix) – Chuggin Edits. The groove is rock solid and that bass gets stuck in my head for days after whenever I hear it. Both are staples in my current set and I always look forward to playing them out
Frank Situation (Situationism) – FACEBOOK
My Pick – Amp Fiddler – So Sweet (Louie Vega remix) [Vega Records]
The original 12" on mahogany Just turned up out the blue which was nice! I've been playing it since it came out and boy what a tune! Louie Vega has been on fire this year!
Craig Smith (6th Borough Project / Fifty Fathoms Deep) – FACEBOOK
My Pick – Afronaut – Stash Your Skunk [CoOpr8]
2018 saw the reemergence of some of the key players and new artists in the "Broken Beat" scene. Releases from IG Culture/ Dego / kaidi Tatham and the Selectors Assemble crew made it a strong last 12 months for West London and beyond
Super Drama (Discotexas) – FACEBOOK
Our Pick – Sascha Funke – Surumu (Original Mix) [Hippie Dance]
We haven't been able to stop playing this in our sets, it's the perfect way to make an entrance.
Twisted Soul Collective (Midnight Riot / A&R) – FACEBOOK
My Pick – The Soup Dragons – I'm free (Yam Who? and Andy Dixon remix) [Midnight Riot]
There were so many brilliant tracks this year, but I think the one for me was I'm free by the Soup Dragons remixed by Yam Who and Andy Dixon from the take it to church album.
It's an incredible, intelligent way to take a classic tune and put a whole gospel spin on it. The production is amazing. I really love the way that it builds into the main hook of I'm Free. Every single time you play it nobody really knows what the track is until that main hook comes in which is the joy of it and everybody's into it up until that point and when it comes to that point its hands in the air time.
John Le Visiteur (Midnight Riot / Spirit Soul / Street King)
My Pick – Tom Noble – Lord I'm trying [Lumberjacks In Hell / BBE]
Many of the tracks which we played religiously in the office are already represented on this list. Ray Mang's Incredible mix of The Phenomenal Handclap Band, Art of Tones 'Where The One Is, and Simbad's 'Take My Hand' could all have been my pick. I've gone for Tom Noble's gospel tinged stomper 'Lord I'm Trying' from Marcel Vogel's ace Lumberjacks In Hell album on BBE. It's just a brilliant club track from the Rhodes piano to the smooth vocals, it's a track that makes me want to leap about behind the decks and it has gone off every time I've dropped it.
Marcel Vogel (Lumberjacks In Hell) – FACEBOOK
My Pick – Waajeed – My father's Rhythm [Dirt Tech Reck]
Why this? The whole album 'From The Dirt' is brilliant. I have much respect for Waajeed's history and what he stands for. A producer with immense integrity and influence walking his own path. My father's Rhythm is just one of many favourites from the album. But I have to admit, pinpointing the one moment of 2018 that opened everything up is incredibly hard. My favourite tunes to DJ usually haven't been released yet, bits for the label or promos from friends. Or they are 30 years old. It takes longer than a year to really become intimate with a tune. Waajeed though embodies the culture and the sound I really love. X
Yam Who? (Midnight Riot) – FACEBOOK
My Pick – Lonely C – Hold Up ft Kendra Foster [Soul Clap Records]
Its been such a massive year for disco and I wanted to bring a little light to this beast of a tune by Lonely C. Slightly overlooked but it still tore it up in Ibiza plus vocally & sonically it's one the strongest house jams in years.
Young Pulse (Gamm / Masterworks) – FACEBOOK
My Pick – Art Of Tones – Where The One Is [LOCAL TALK]
This has been one of my favorite tracks to play this year. It's heavy and elegant at the same time, and has this type of bass line that keeps you groovin'. The construction is perfect too, it has all the ingredients that work for me for this type of house music with a strong disco feel. Or a disco tune with a strong house music feel. It works both ways
From Le Visiteur
We hope you enjoyed our end of year list, thank you for all your amazing support in 2018. We'll be back in 2019 with more incredible music!
Please help us spread the love by giving this feature a share!
Tags:
2018
,
80's Child
,
Amy B Douglas
,
andy buchan
,
art of tones
,
Chuggin Edits
,
craig smith
,
David Elders
,
disco
,
Don Dayglow
,
Final Djs
,
fingerman
,
Frank Situation
,
Frederico Luyo
,
george kelly
,
get down edits
,
Hemi
,
HOUSE
,
john morales
,
Jonna Iliffe
,
Kris Santiago
,
ks french
,
last trip to gandahar
,
Lenny Fontana
,
love drop
,
marcel vogel
,
michael the lion
,
Moody Manc
,
motte
,
natasha kitty kat
,
opolopo
,
pete le freq
,
Phil Rose
,
Phonk D
,
ray mang
,
shit hot soundsystem
,
Super Drama
,
Tomi Chair
,
Twisted Soul Collective
,
yam who
,
Yogi Haughton
,
Young Pulse